WWWRN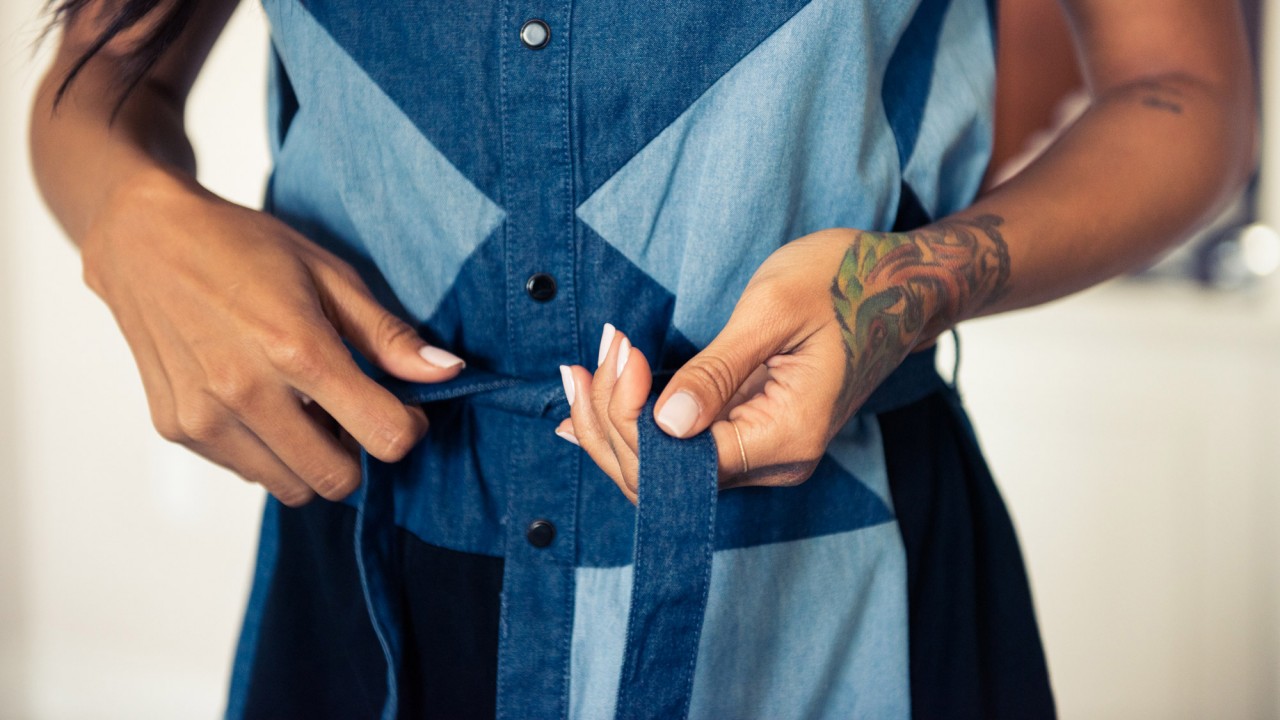 18 Under-the-Radar Denim Brands We Can't Stop Talking About
From jackets to jeans, we're adding it all to our carts.
There's no denying that jeans are the foundation of the modern woman's wardrobe (and if not, all the credit to you, girl), but with so many amazing new brands out there, it can be hard to sift through them all without getting overwhelmed. Luckily, we love nothing more than finding the latest and greatest labels, especially for denim, since you can do so much with the details. Zippers! Stitching! Stretch! High-waisted! Jackets! Shoes! The possibilities are endless, which means you can definitely justify a slight obsession. (Guilty.) Check out the 18 denim brands we can't stop talking about this season.
---
Hannah Baxter
Editor
1. Ji Oh ANOTHER 003 Denim Jacket: You can never have too many denim jackets, in my opinion; especially ones that are not only stylish, but environmentally friendly, as well. This Ji Oh deconstructed style is fully sustainable, and the cropped length is perfect for throwing over a spring mini dress. I need it!
2. Closed x F. Girbaud Pedal Pusher Cream White Denim: White denim and I have a special relationship, since there's nothing better than a white-on-white colorway—white tee, white jeans, white shoes: perfection. While I'm always on the hunt for vintage Levi's, this cream style is making my little heart so happy. And to be honest, I already have at least three pairs of Closed in my wardrobe—that's how great they are. Sensing my denim obsession?
3. The Ragged Priest Dazed Jean: I spotted these jeans online a few weeks ago, and while I loved the stitching and pull-tab zipper, I wasn't exactly sure how to style them. Finally, I walked into my favorite shop in Bushwick, and there they were—it was meant to be. They're super versatile, especially with ultra-feminine tops, and I get so many compliments when I wear them. Highly recommend!
---
Katie Becker
Beauty Director
1. 3x1 Moxy Jumpsuit: Wrap me up in denim and still make it sexy? Well done. I also have a known love for this brand, which can also create custom pieces for you in their store on Mercer Street in SoHo. We can practically look into their storefront from the Coveteur HQ windows!
2. Rachel Comey Legion Jean: These fit me really well and make my waist look tiny! Plus, the big butt pockets help my otherwise non-existent rear. I love everything about this cut.
3. Eve Denim Kaila Striped Denim Jacket: I can picture this striped jacket over floral summer dresses or paired with some light-wash denim. Even though it's a classic boxy denim jacket, the stripes help it look slimming. (That's not important to everyone, but it is to me!)
---
Sarah Conboy
Editorial Intern
1. SJYP Two-Tone Distressed High-Rise Wide-Leg Jeans: Two-tone denim is always a great way to spice up the basic "jeans and a t-shirt" combo. I used to own a pair, but unfortunately it got lost in a suitcase that I shipped back from Italy. For my replacement, I've been eyeing this pair by streetwear brand SJYP.
2. Jean Atelier Distressed Relaxed Straight Jeans: Co-founded by Jerome Dahan of Citizens of Humanity, this denim line is stepping up the game. This pair has the perfect amount of distressing, a fun foldover waistband, and is made in the U.S.A. What's not to love?
3. ALEXACHUNG Denim Slingback Pumps: Taking some fashion lessons here from the always stylish Gwyneth Paltrow. A Canadian tuxedo, plus some denim shoes on top of it? Now, that's a look.
---
Ivanna Martinez
Social Media Associate
1. Johanna Ortiz Nuevo Mexicana Denim Trench Coat: A super fun twist to a typical denim dress/trench. This Colombian designer really knows how to make a piece look classy, flirty, and feminine all at the same time. As a Mexicana myself, I'd wear this to any fun backyard occasion this summer!
2. Re/done Relaxed Crop Jean: I own three pairs of these, but can you blame me? The denim is great quality, and the straight fit really does make the legs look great. The raw hem also allows for a customizable length, so crop as you see fit (literally).
3. Nightcap Clothing Chambray Apron Top: This is a perfect top for festival season. It's great if you're not a huge fan of the crop top, buttt still want to show some skin. I'd wear it with some high-waisted ripped jean shorts, my white Dr. Martens, and call it a freakin' day.
---
Jodi Taylor
Associate Editor
1. Boyish The Kirby The Birds Jeans: This brand has been popping up everywhere lately. From Patricia Manfield to Olivia Perez and Stella Maxwell, it seems as if everyone is wearing them, and I'm game to join in on the fun. A slightly cropped straight-leg pair of denim is perfect to pair with a t-shirt and sneakers, so it looks like these guys will be my introduction to the brand.
2. Tre Billie Two-Tone Boyfriend Jeans: In my mind, you truly can't beat the fit of a boyfriend jean. Add two-tone and straight leg to the equation, and I'm sold. It looks as though Tre may just be a new go-to brand for me.
3. Lorod Zip-Through Jeans: I've had my eye on zip-through jeans for a while. I think it's finally time to take the leap and try them out. I'll kill two birds with one stone, as I've yet to own anything from Lorod. Looks like a win-win situation to me.
---
Curranne Labercane
Editorial Intern
Part of the series:
WWWRN