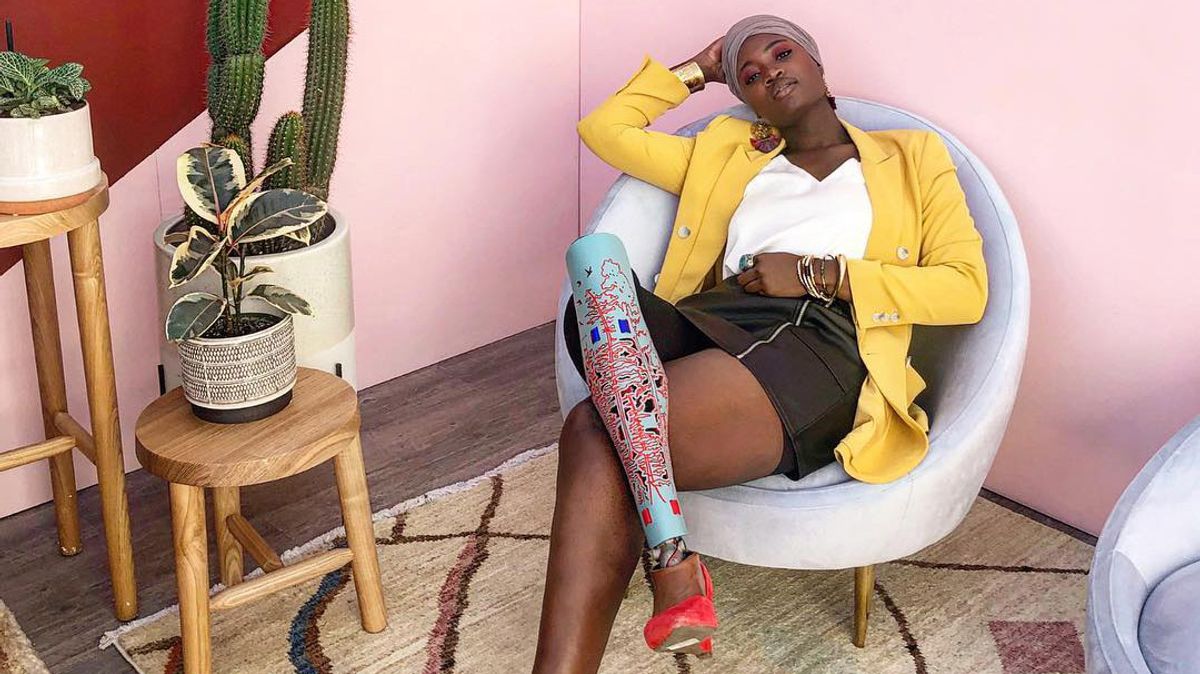 Models
This Influencer Has Body-Positive Wisdom We Can't Stop Thinking About
"I shared my experience with cancer, but also my journey to self-love—by unlearning society's definition of beauty."
Every so often, someone on Instagram catches our eye and sucks us into the IG vortex. That's exactly what happened a few weeks ago, when Cov staff noticed the magnetic profile of Cacsmy Brutus—or
Mama Cax
, as she prefers to be known. The Haitian-American Brooklyn-based influencer sports signature headwraps, brightly colored pantsuits, and an inimitable personality (let's not forget her recent campaigns for
Tommy Hilfiger
and
ASOS
). And after losing her leg to bone and lung cancer in her teens, she's also doing important work as a body-positivity advocate.
---
Like most twentysomethings in the early era of IG, she started out posting food pics but soon found a following with something more personal: "I shared a picture of myself—with my prosthetic leg—and the picture went viral. People were curious because they'd never seen a black girl with a prosthetic before." Or one with 18 ultra-chic
Alleles prosthetic leg covers
on rotation.
The accidental influencer turned role model is expanding the definition of beauty on social media one grid post at a time. Inspired by both her outfits and her actions, we caught up with Mama Cax to learn more about her journey to self-love, her hopes for the future of the body-positivity movement, and why she believes kindness conquers all.
On gaining confidence post-surgery:
"Before [the surgery], I definitely stayed away from certain patterns and colors because I thought they would attract attention. Even [with] makeup—the most I would do is red lipstick. Very minimal. But now I might as well go all in and put on a show [
laughs
]. Usually my outfit matches my leg cover. And sometimes I dress around it when I'm too lazy to take it off."
The moment she felt most courageous:
"After I shot for
Refinery29
in a bathing suit [showing] some of my scars, I was known as 'the girl redefining beauty.' I shared my experience with cancer, but also my journey to self-love—by unlearning society's definition of beauty. I hope people realize my courageousness doesn't come from loving this new body, but from challenging myself to step out and be seen."
Mama Cax is what Sasha Fierce (or B) is to Beyoncé.
"When I started college, I was just really shy and reserved. I decided the only way to come out of my shell would be to transfer colleges—[to have] a fresh start. As soon [as] I got to the other college, I don't want to say I changed completely, but [this persona] was my way of making friends and becoming the person I knew I could become. Mama Cax is a person that's much older, much wiser, and someone I can look to for advice."
Her definition of beauty:
"Being comfortable. When someone is comfortable, you can just feel it in the way they walk. They have confidence. And kindness. It completely changes [how you feel about someone], once you realize how kind they are."
On the future of the body-positivity movement:
"What makes me hopeful is seeing—from time to time—more inclusion in the space. Body positivity is a way to include not just bodies that aren't represented, but not accepted. I think the movement has the potential to include all of these people, but [right now] it's still very much restricted. The face of it is almost always the same. When someone who's plus-size is included, it's always this person who is white and curvy with a flat belly… It seems a bit watered down. I don't want to say [let's] change the narrative, but [let's] add to the narrative."
Top photo: Courtesy of Instagram/@mamacaxx