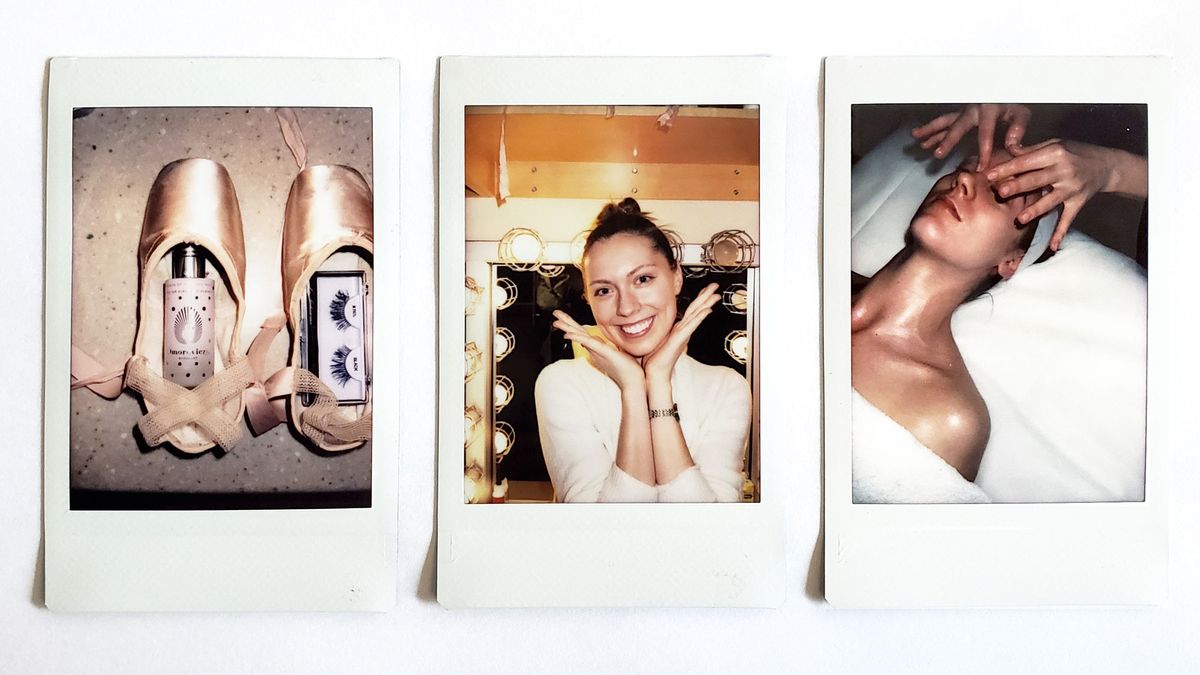 Skin
9 Products Ballerinas Swear By for Glowing Skin
Brb, running to Sephora.
Jodi Taylor
It's not uncommon that we turn to ballerinas for advice on everything wellness and skin care. After all, they're active (usually) seven days a week, and nine times out of ten, they have next-level glowing skin despite the fact that their performance makeup can be as thick as the sole of a Balenciaga Triple S sneaker. For this exact reason, we decided to pop in for a visit at NYCB's David H. Koch Theater one day with hopes of walking away with all of the ballerinas' skin-care secrets.
The day we visited was a little different than others. Different because propped up in the center of one of the main studios was a facial table manned by an esthetician from cult beauty brand Omorovicza, and ballet dancer, Isabella LaFreniere, on top. We also sat down with LaFreniere and her fellow dancer, Mary Elizabeth Sell, to quiz them on all of their skin-care go-tos. Spoiler: They know a thing or two about removing layers upon layers of makeup, and both have ride-or-die products that they would never give up.
---
The one product she can't live without:
"My exfoliator. It's Eminence Strawberry Rhubarb Dermafoliant. It's all-natural and fresh. It gets off all the grit and grime from the day—makeup and everything. I use that every night."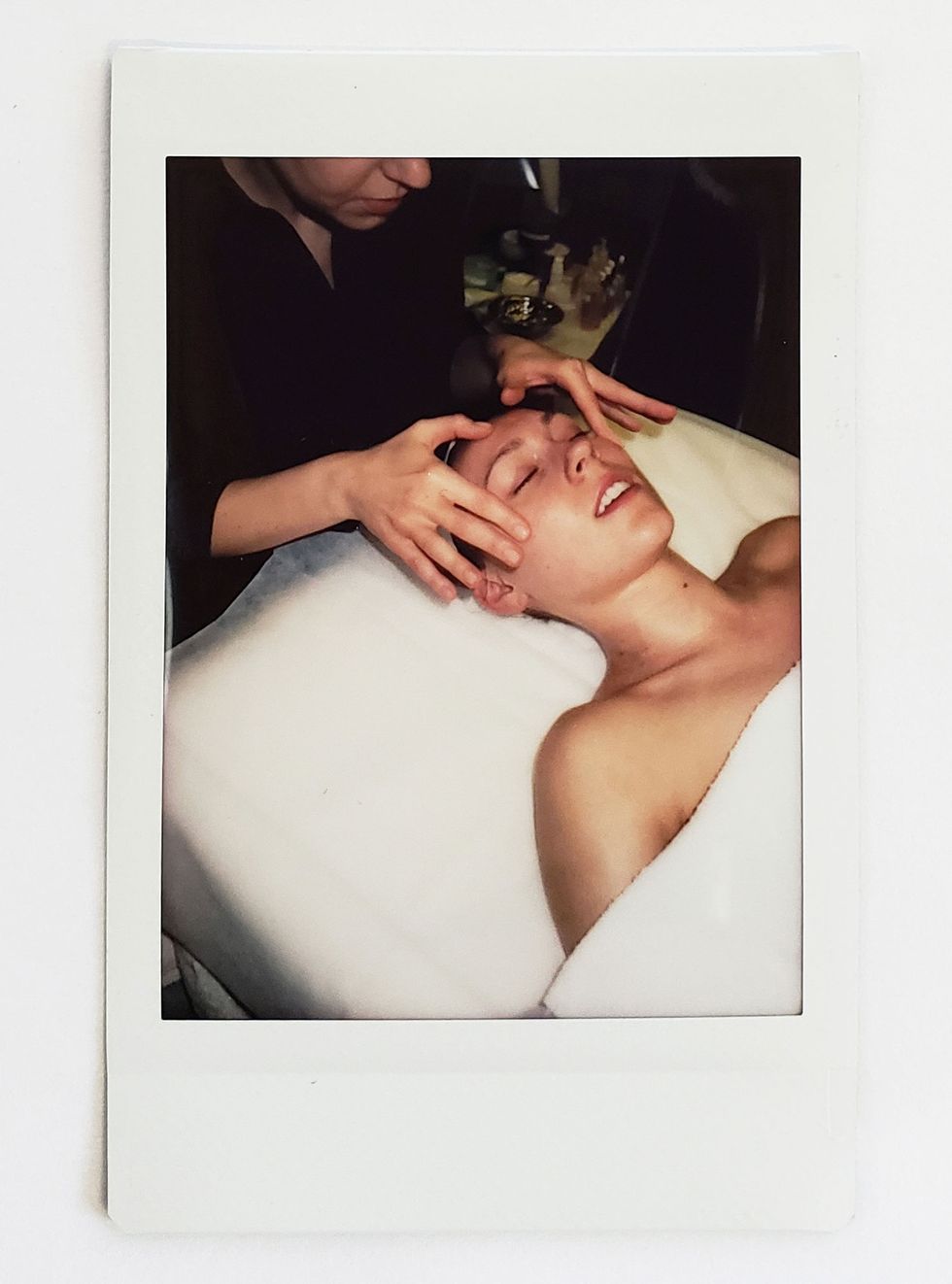 Her post-performance routine:
"After a performance, I'll use a makeup wipe to take off my makeup. Then I'll go home and I'll use my Eminence Coconut Milk Cleanser and my Strawberry Rhubarb Exfoliant. Then I'll put a little bit of the Omorovicza [Instant Perfection] Serum and Omorovicza Balancing Moisturizer after that."
How she freshens up between rehearsals:
"I use the Omorovicza [Queen of Hungary] Mist in-between rehearsals to freshen up. You can put it on over makeup—although I usually don't wear much makeup during the day—and I'll spray it for a hydrating, refreshing boost."
Facials are her newest go-to for de-stressing:
"This was my first facial. I've never had this after-glow facial feeling before. It's a first for me! It was really relaxing, which is exactly what I need right now because I'm in major busy crunch-time."
Dark circles and pimples don't stand a chance at NYCB:
"The grease that we use [for makeup] really helps with the dark circles under the eyes. For pimples, you don't want to pop them before putting on makeup because that's just going to leave open skin—that's a big no-no [laughs]. So I deal with that later, after my cleansing routine."
The one product she can't live without:
"My hero skin-care product is the Microdelivery Exfoliating Facial Wash from Philosophy. This changed the game for me a few years ago. I have such dry skin that no amount of moisturizer ever seemed to get rid of the flakiness. I started using this exfoliator every morning because it is very gentle, and it immediately refreshed my skin, helping it to look clear, moisturized, and glowing."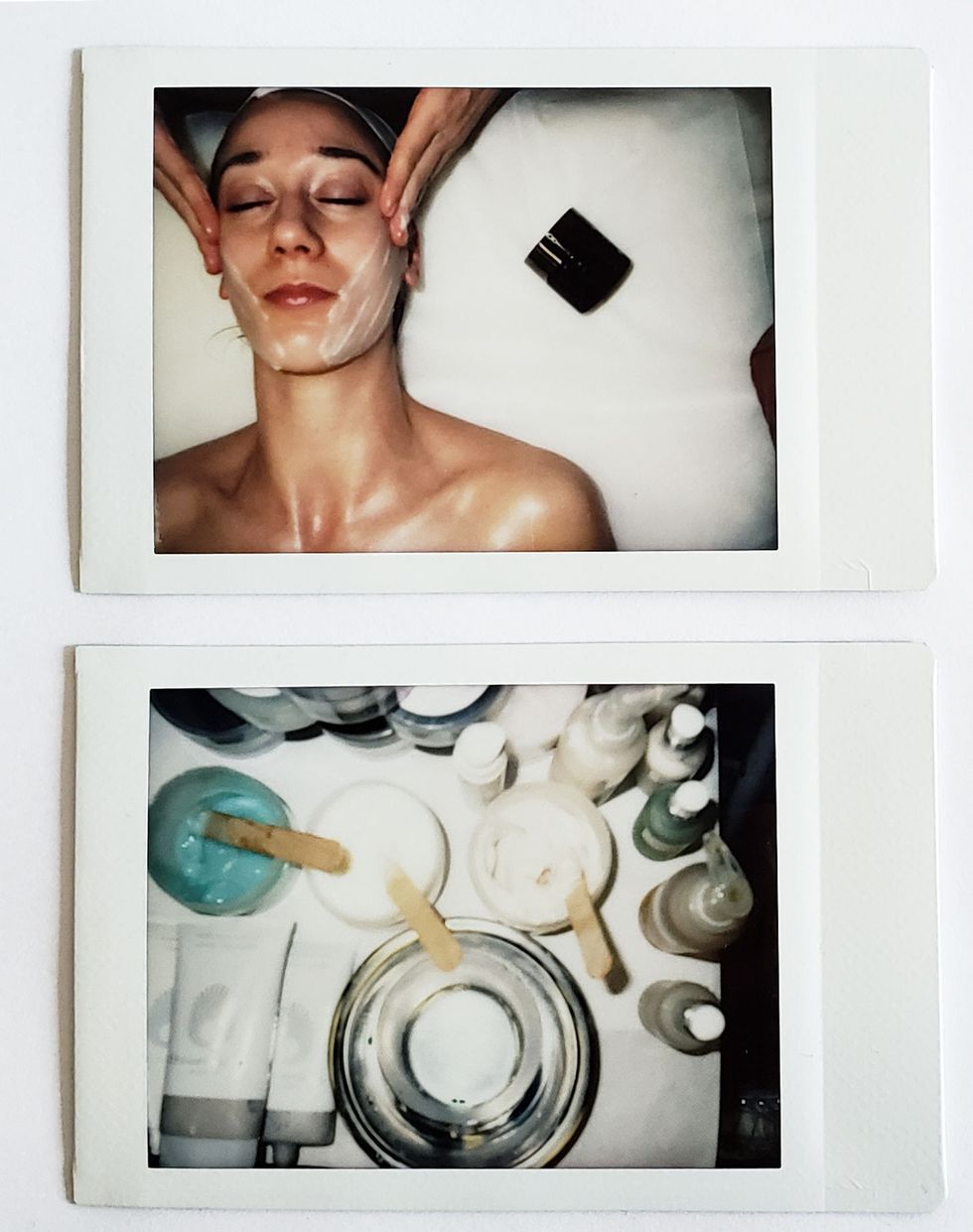 Any favorite face masks or facials?
"I don't do many face masks, but I do like to slather my face with a nice thick layer of Vaseline at night when I'm feeling extra dry and dehydrated—it's my old-fashioned quick fix. I have started to explore some of the under-eye masks that have become really popular. I like to go for ones that say anti-aging!"
She finally found a product that works with her heavy stage makeup:
"I tried a few products from Omorovicza for the first time this year, and I fell in love with the Gold Flash Firming Serum right away. Because of my exceptionally dry skin, I always want to wear a moisturizer under the heavy and severely drying stage makeup. I've tried dozens of products, and most will make the foundation smear right off. This serum is the first and only product that actually allows me to put my pancake foundation over it. I also love to spritz the Omorovicza Queen of Hungary rose water all over my face and body as a refresher between rehearsals."
Her tricks for removing stage makeup:
"Removing stage makeup can be a challenge. I've tested a lot of products over the years and have found the Bioderma Micellar Cleansing Water works really well. I follow that by washing my face with a foaming cream cleanser; I like the one from Lancôme."
The weirdest thing she's ever tried in the name of beauty:
"Shaving the little baby hairs on the back of my neck. I always have my hair up in a bun, which exposes my low hairline on my neck. I thought it would make my already really long neck look longer if I shaved off all those fine, wispy hairs on my neck. I actually maintained this for a few years, but gradually the shaving got higher and higher until I had a totally unnatural hairline in the back. I've been growing out what is now a large section of my hair in the back for over a year. This was definitely a huge mistake, but it taught me to accept and appreciate my natural self!"