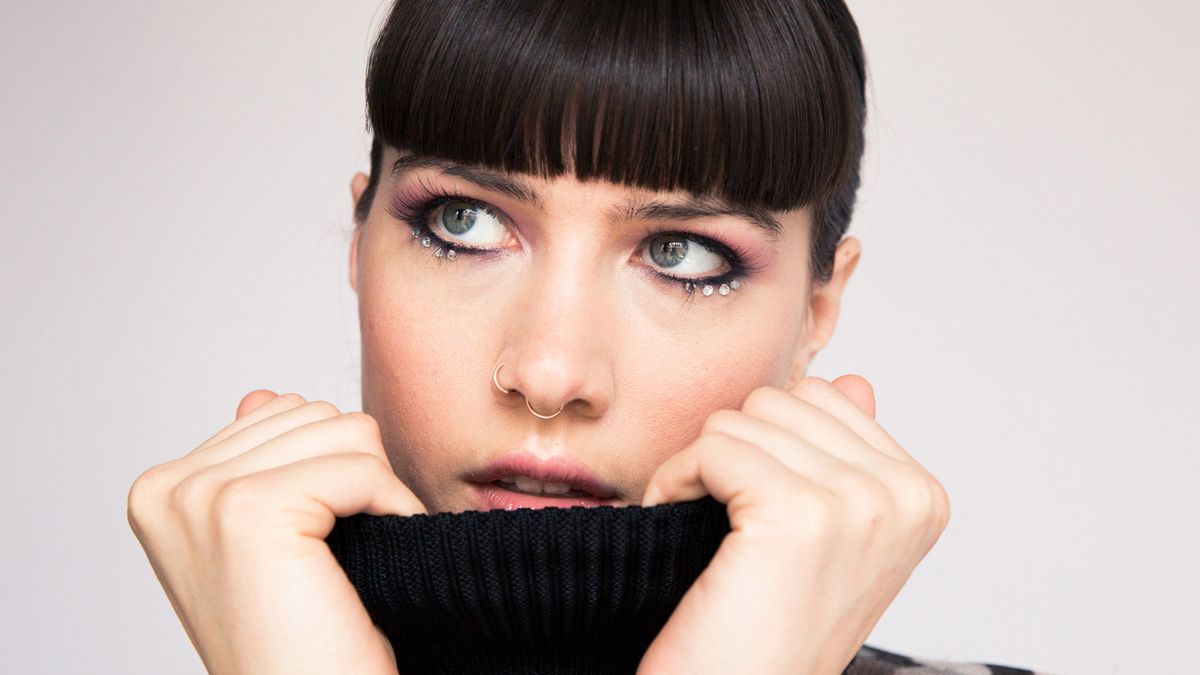 Makeup
4 Glamorous Lash Trends We're Obsessed With for Spring
Model-of-the-moment Jess Miller shows us how to rock a pair of falsies.
Alec Kugler
Hannah Baxter, Tara Gonzalez
Hair
Corey Tuttle, Makeup: Meredith Lacosse
Beauty Assistant
Sarah Conboy
In modern times, the standard for a successful model has been long limbs, a lithe figure, and an otherworldly (if often silent) beauty. But it's 2018, and we're happy to witness a changing tide in the fashion world—a public outcry for models that are not just a pretty face, but interesting, outspoken, and engaged with their fans. One of our favorite new faces to emerge from this movement is 25-year-old Seattle-native Jess Miller, who won a Universal Standard modeling competition and a contract with The Lions agency in New York.
Aside from shattering stereotypes about what a plus-size model can accomplish, Miller is also the owner of an envy-inducing set of bangs and the kind of doe-eyed lashes we dream about in front of our bathroom mirrors. Who better to show off this season's most glamorous (and colorful!) lash trends? We're especially digging the nod to '60s-era Twiggy and the classic spider eyelash. Pro tip—a couple of carefully placed falsies can work wonders on otherwise minimal makeup.
---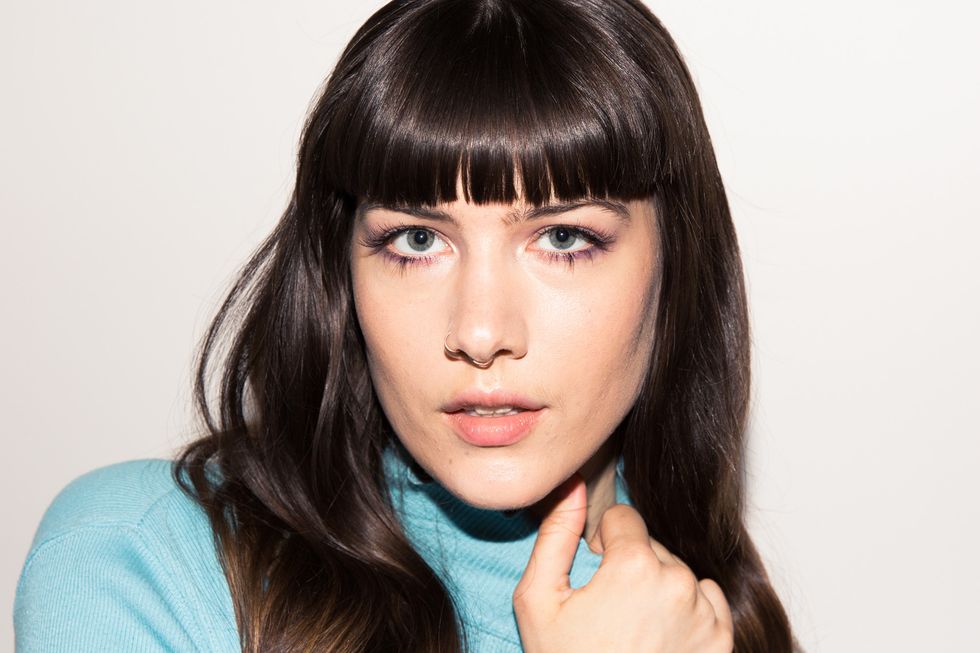 Lips: Glossier Generation G in Like, Elizabeth Arden 8 Hour Cream; Eyes: Marc Jacobs Eye-conic Multi-Finish Eyeshadow Palette in Frivoluxe 730 Shade "Outrageously," Glossier Lidstar in Lily, Ardell Eyelashes: Natural knotted flair, medium flair, underneath, Charlotte Tilbury Rock 'N' Kohl in Eye Cheat
"I have been loving bold colors a lot more," admits the budding supermodel after we wrap the final look, which features the It-color for spring—a stunning electric blue mascara from Tom Ford. "I think it's happened [because of] moving to New York. I would wear a lot of black back home, and I feel like now I've fallen in love with color in a way I never have before." Although she's only been in the city for a few short months, she's quickly acclimated to East Coast style. "There's not a huge fashion scene [in Seattle]. Patagonia is like our Gucci—no shade. So I knew that moving to New York and being with other like-minded, creative folks, you're moving at a much more rapid pace of fashion."
Since signing to her agency in November, Miller has also been outspoken about her role as a category-breaking model, namely identifying as both a Christian and queer, two labels that are rarely mentioned in the fashion industry. "There are so many false binaries and broken stereotypes that exist in ourselves, but people are so vast. I don't think any one person fits inside a box to begin with; we force ourselves into that, sometimes because that's what we're told that we have to do to survive or to thrive, or that's all we're seeing people around us doing."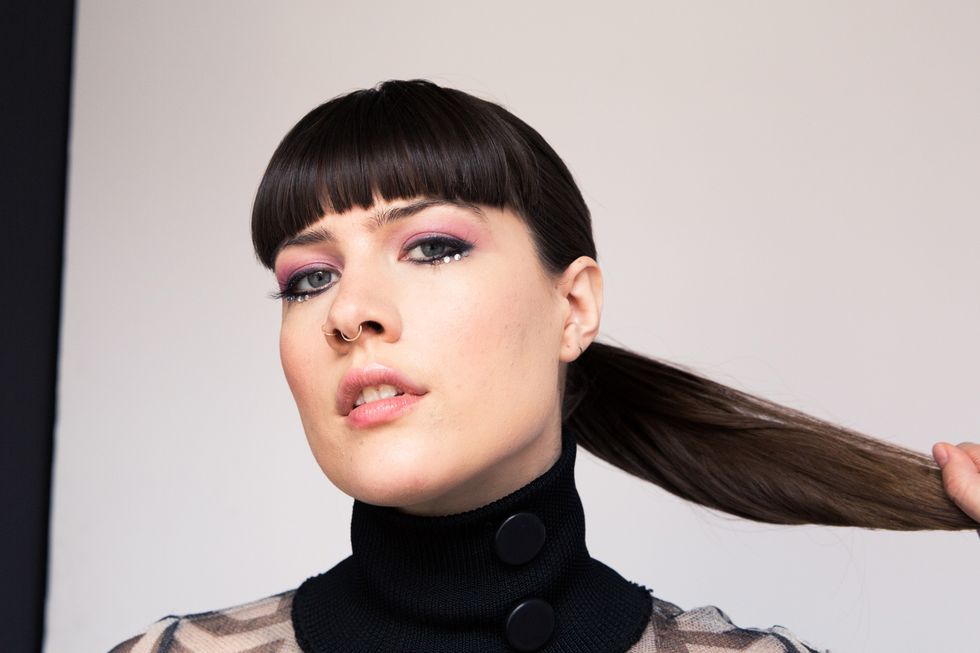 Eyes: Marc Jacobs Eye-conic Multi-Finish Eyeshadow Palette in Dusty Plum and Magenta 710, Shade: "In Bed," Glossier Lidstar in Slip, Marc Jacobs Fineliner Ultra-Skinny Gel Eye Crayon Eyeliner in Blacquer, L'Oreal Voluminous Carbon Black Mascara,  Charlotte Tilbury Rock 'N' Kohl in Eye Cheat, Ardell lashes, rhinestones
We ask what she hopes to accomplish with her newfound platform. "My overarching goal, just as a person existing in this world, is to be honest and vulnerable and empower others to do the same. As a plus-sized person, I still feel like I'm breaking boxes, because I don't look like what people imagine when they think 'plus-sized model.' I'm representing a lot of real women who exist. It's not like you're either a size 2 or a size 16 woman. There're so many different sizes, shapes, heights, ethnicities— the list can go on and on." As she slips her *amazing* jumpsuit back onto her 6'2" frame, she cuts a stunning figure, even after cleaning the last speck of crystals and eyeliner from her face.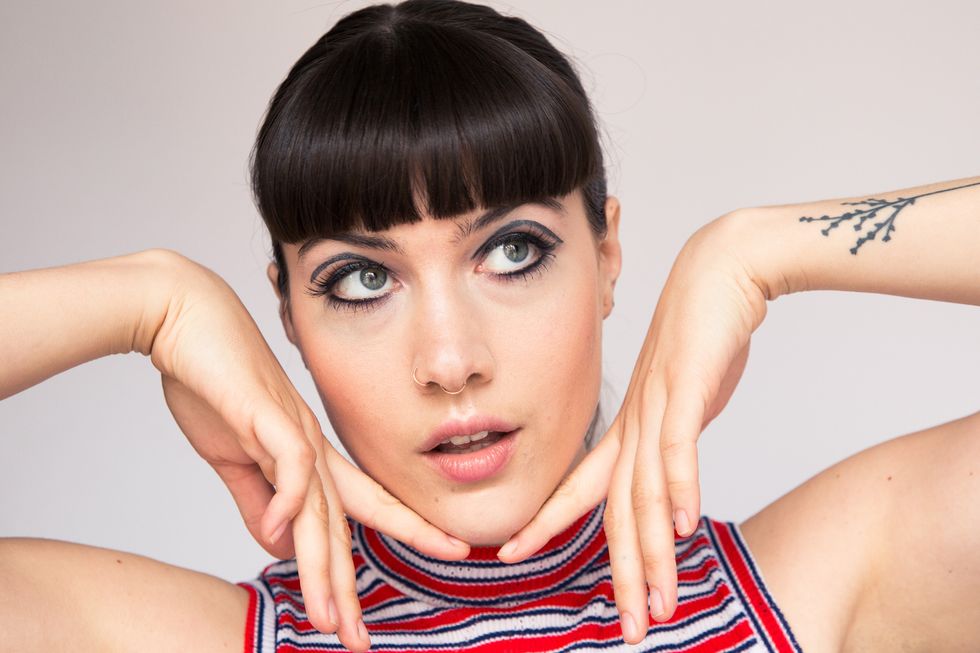 Eyes: Marc Jacobs Magic Marc'er Precision Pen Waterproof Liquid Eyeliner in Blacquer, L'Oreal Voluminous Carbon Black Mascara (four coats), Charlotte Tilbury Rock 'N' Kohl in Eye Cheat (in the waterline), Burberry Highlighter Fresh Glow Highlighter in Pink Pearl, Added spidery look with pinched clumps of Ardell lashes
With shows like America's Next Top Model and modeling competitions like Universal Standard showing no signs of slowing down anytime soon, what advice would Miller give to other young women who are hoping to make their mark on the industry? "I think with any role model, you don't want people to become you," she muses. "I don't want a ton of 'Jess minions' out there. I don't want everyone to think that their way to be successful is to become someone else. But I hope that me living my truth empowers other people to name and define their truth and their identity, and to live fully into that."
So, with her first summer in the city looming before her, and fashion week shortly thereafter, Miller is eagerly awaiting the next chapter in her career. "I think 2018 is just a year of newness for me. I'm a model living in New York and learning about myself in ways that I never have before. These are things that I feel like I've never been able to say. So it's the year of going after your wildest dreams, and not writing anything off because you think it's not reachable or attainable." We look forward to seeing her as the face of many a campaign in the months ahead.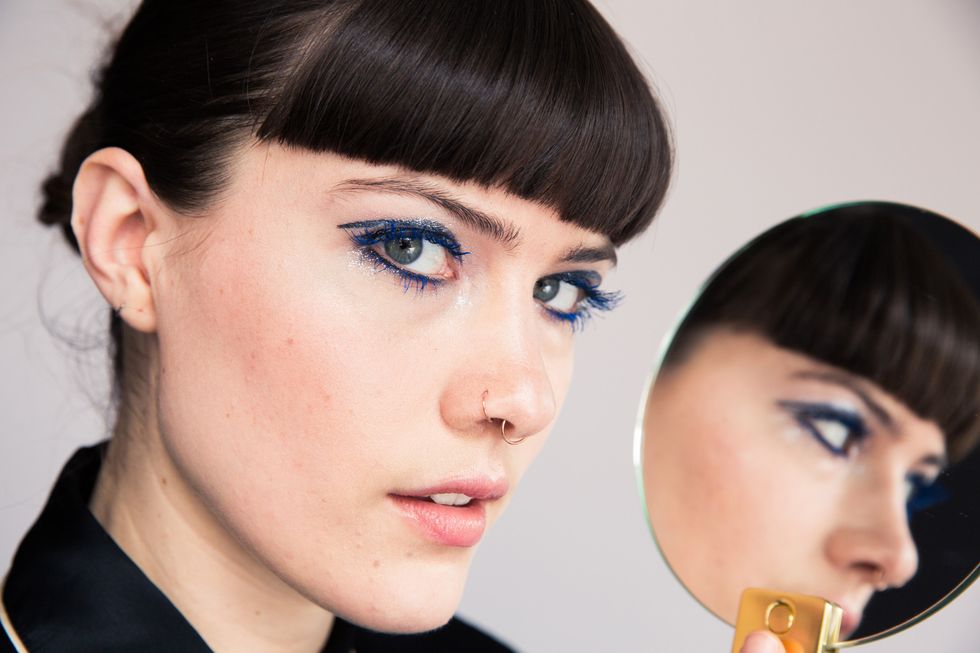 Eyes: Tom Ford Extreme Mascara in Blue, MAC Glitter Pigment in Reflects Pearl
SHOP THE LOOK