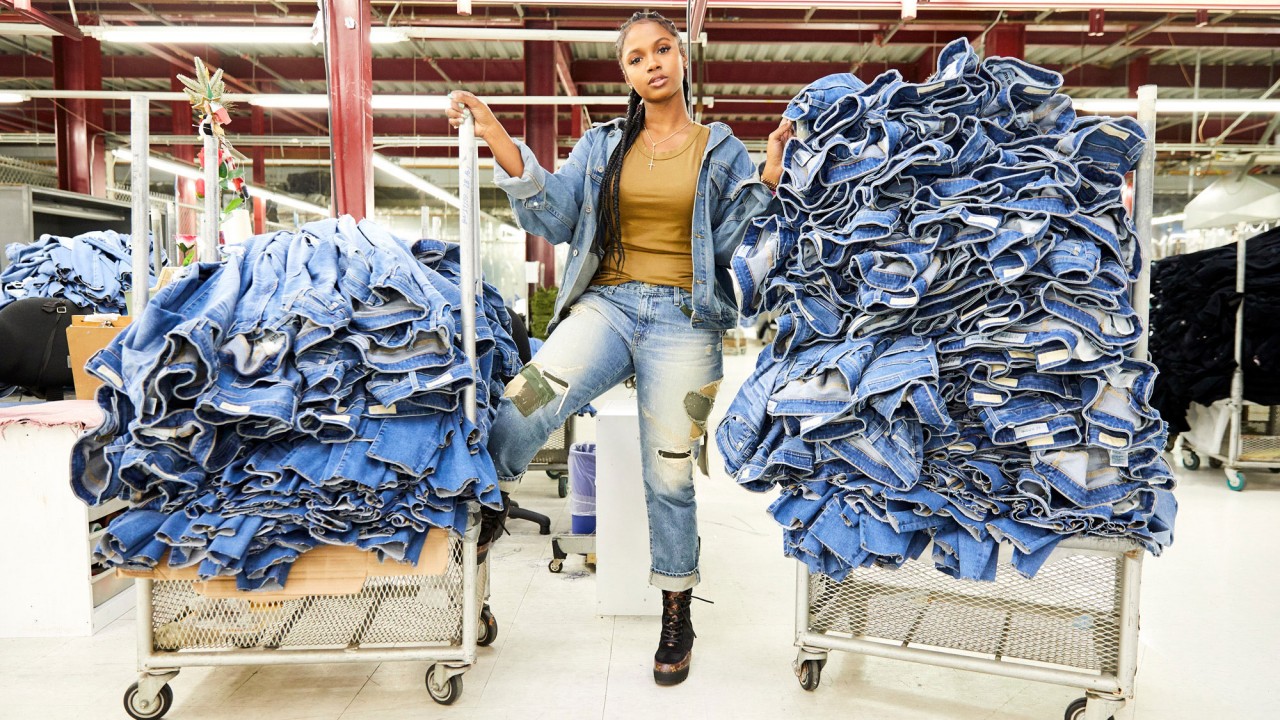 We Got an Exclusive Tour of the AG Denim Factory
One afternoon, 12 influencers, and so…much…denim. In collaboration with AG Jeans.
"It takes all of this to make a pair of jeans?"
It was a fair question, posed by DJ and recording artist MAAD as she weaved her way through the AG factory in Los Angeles. A self-proclaimed denim obsessive (same), MAAD was one of 12 influential style enthusiasts who joined Coveteur as we charted the making of a pair of AG jeans—from the arrival of fabrics from Japan and Italy, to the final steam and press before they're shipped to stores worldwide and eventually end up in their forever home, our closets.
The afternoon started with a relaxed ride to the factory—complete with snacks and wifi, of course—and ended with a denim customization party on the AG design floor. We capped it all off with a *superb* dinner at downtown L.A.'s Faith & Flower (there were tempura string beans and tequila cocktails involved).
Ahead, a rundown of what we learned and observed, plus a behind-the-scenes look at our day in denim heaven.
It all starts with shipping, receiving, and fabric spreading
AG sources most of its denim and other textiles—including corduroy and twill—from leading purveyors in Italy and Japan. They arrive in massive rolls (which serve as great Instagram backdrops, as hairstylist Kahh Spense showed us) and are then spread out into sheets to be cut. Before going under the cutting machine, the fabric sits for up to 24 hours to relax back to its original size.
Next comes cutting and bundling
Pattern markers are uploaded to a cutting machine, which then cuts pockets, pant legs, and other pieces needed to make a great pair of jeans. The department overseeing this step of the process uses a computer program to ensure that as much fabric as possible is used; only 10 percent is left over. Once cut, pieces are bundled by size and style.
Then it's time for embroidery and leather patches
Six machines work simultaneously to embroider 20 pockets at a time with AG's trademark insignia. Afterwards, the AG logo is lasered onto leather patches.
On to assembly
So, back to those bundles of pant legs and pockets. They're all carted to a massive sewing floor and assembled one step at a time. Each of the 300 people on the floor specialize in one specific operation. Suffice it to say, they're all experts at what they do, which is one of the main reasons your AG denim fits so well.
Achieving that perfectly lived-in look
Are you a fan of jeans that look both totally modern and also like they've lived five lives? AG Jeans achieves this a few different ways: New denim is distressed by hand-rubbing sandpaper directly onto the fabric; for more intense deconstruction like creating rips and frays, a hand tool called a grinder is used. For aged denim, lasers burn off the top layer of indigo according to distressed patterns stashed in the brand's extensive denim archive.
Washing and drying
Fun fact: Woven fabrics begin in a natural or white color, and denim begins in a straightforward shade of indigo. They then get their color or wash from dyes and water loaded into industrial-size washers (and by industrial-size, we mean taller than model Kristin Hoppe…in heels). Once they're washed, the jeans are transferred by conveyor belt to a dryer—can't have anybody's hands touching them and potentially altering the wash.
Finishing
Lastly, excess threads are trimmed, buttons are applied, and garments are steamed and pressed. From there they go to a distribution center where they're shipped to stores, and eventually they end up where they're truly meant to be—with all of us as permanent pieces in our wardrobe.
Fascinating, right? And while, by virtue of this meticulous process, no two pairs of AG jeans are the same, we decided to kick things up a notch with a post-tour customization party, set to an exceptional Brittany Sky playlist. A few embroidery requests, some fabric paint, and lots of imagination later, and voilà! We all headed to dinner with our dream denim in tow.