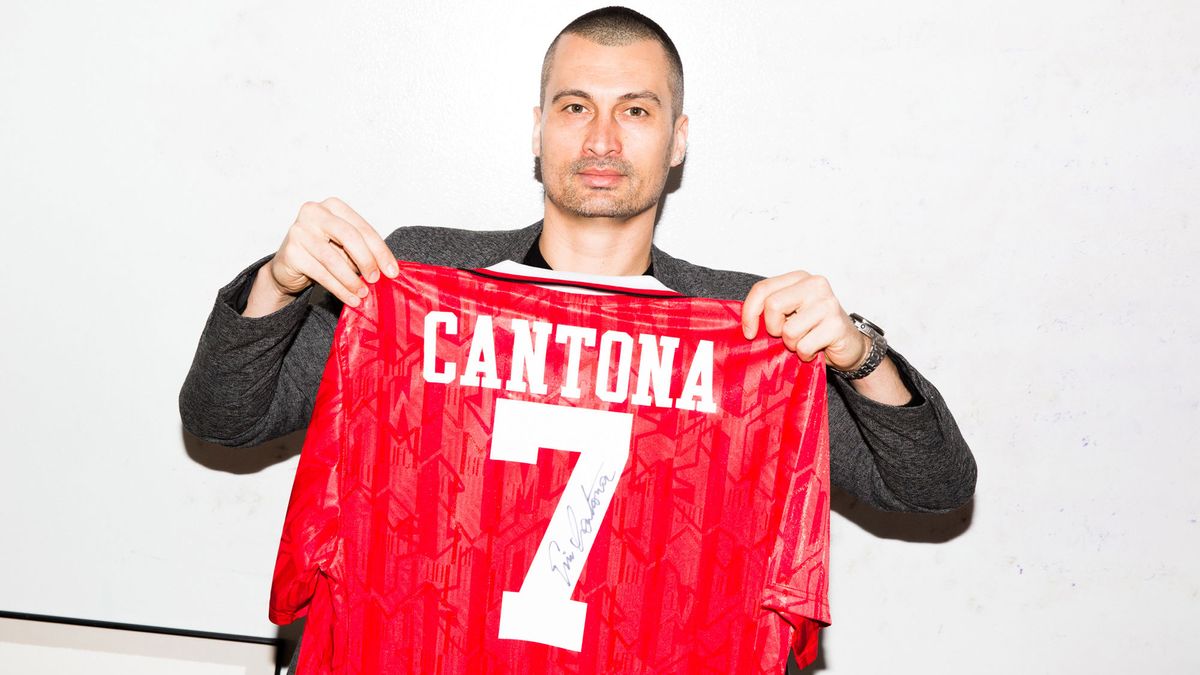 Career
As the founder of ICNCLST, Sky Gellatly orchestrated some of the art world's greatest collaborations.
Alec Kugler
Collaborations are the name of the game these days. Heck, Supreme and Off-White seem to be churning out collabs weekly. Same with Nike. These newfound creative relationships between designers, musicians, artists, and mega brands have blurred the rudimentary lines of what products and experiences should be. In that grey space lives a whole other realm of opportunity, and consumers have taken notice. But let's go back a decade, to when purveyors like Sky Gellatly—co-founder of creative agency ICNCLST—forged connections between artists like Baron Von Fancy, Futura, and 13thWitness, and big megabrands like Nike, Kith, and Google, and saw the opportunity before it was a ~thing~. He and his team have carved out a whole new space for the artists they represent to partner with brands in a vast array of creative opportunities.
Remember Alexander Wang's fall/winter 2016 graphic tees? That was an ICNCLST orchestration with typeface artist David Rudnick. How about that adult playground at Refinery29's 29 Rooms last year? A collab between Google and ICNCLST's artist Nina Chanel Abney. As for what's in store this year, well, Gellatly gave us little hints at his NYC office, like his work with New Museum. We sat down to chat about his unexpected entry into the industry, how he saw an entirely new market for artists before anyone else did, and how he ended up at dinner with Jay-Z.
---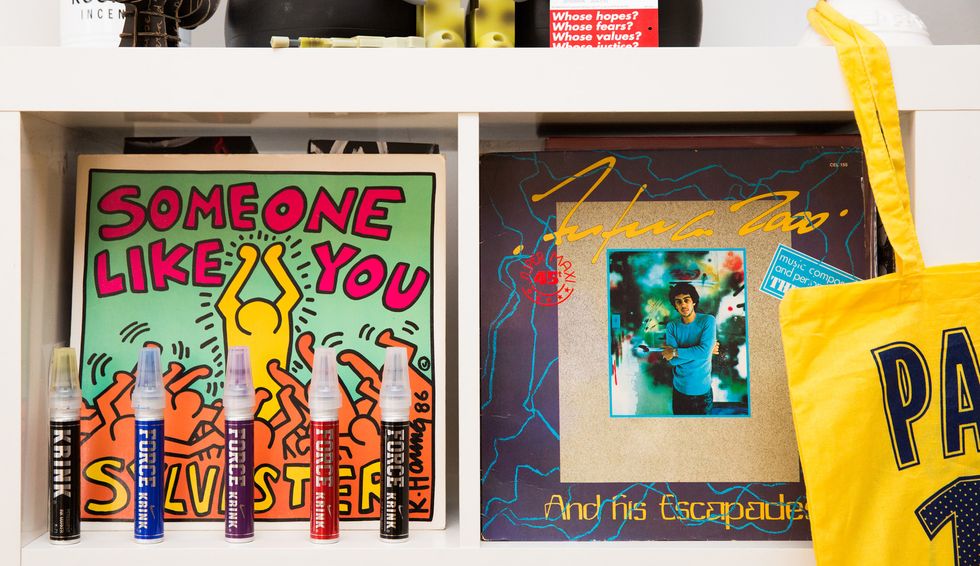 He had a humble start:
"My mom and dad ran their own coastal marine tugboat and oil tanker company. All the men in my family work on boats, except for me. So growing up, in between doing normal kid stuff, I had to paint boats in the summer and clean out oil tanks—a very non-typical summer job for kids. I went to college and was the captain of the soccer and track teams. I had a good career as a college athlete. I deejayed parties, did college radio—I had a hip-hop radio show—was on student government, on the judicial board for the college English literature program. I was a very busy undergrad.
"The summer before my senior year in college, I got one of these crazy Wall Street internships. I came out of the internship and knew I didn't want to go into the financial services industry. But, at the same time, it was great because the amount of money I made at that internship pretty much paid for my last year at college. As much as I was a great student, an athlete, and all that sort of stuff, I didn't have a lot of direction. I'm not from a family with a professional network of uncles and cousins and parents' friends that do crazy jobs for different companies. I'm from a very creative, but very normal family. And so I found myself saying, 'I don't know what I'm doing.' I was trying to get jobs being an English teacher at some boarding schools—that didn't work out. I called my college soccer coach, and I was like, 'Coach, I don't have a job. Do you have any ideas?' And of course he came through. So right after I graduated college, I was a college soccer coach, and I was a teaching assistant for the English department."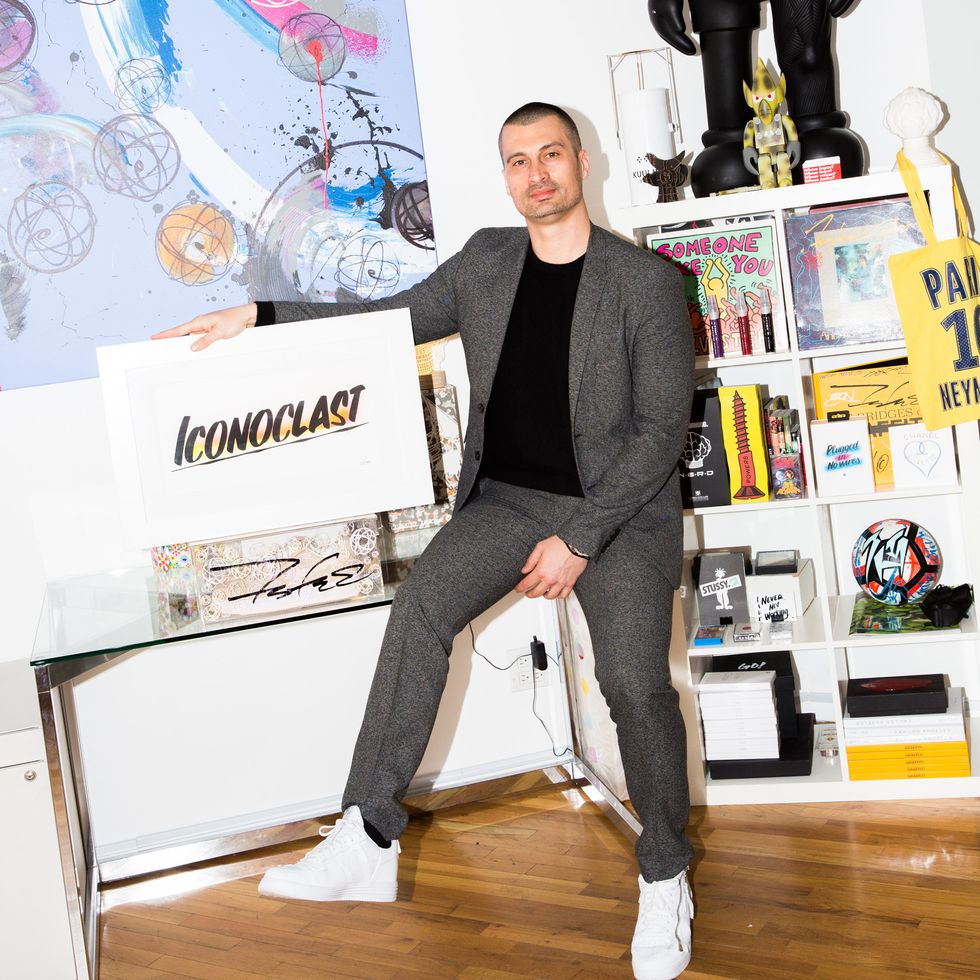 Reading his first Complex magazine changed it all:
"During my senior year, Complex magazine came to my college—they might have been two issues in. I was fascinated by it—how its structure is very similar to how I view the world. It was obvious that it was a magazine that promoted cultural diversity. How it positioned culture and style—that was pretty progressive at the time. When I was working as a teaching assistant and a soccer coach, I applied to a bunch of magazines in New York for internships. I didn't know anybody. I just blindly interviewed with people. I got a job working at Complex, so that's when I moved down to New York City for the first time. I wasn't getting paid, so my godfather, who was a restaurant guy in New York, gave me a job. I remember I could buy lunch once a week, and I could buy dinner once a week. And I was surviving on apple-cinnamon oatmeal from Quaker that I would make in the microwave at Complex.
"Eventually I got hired at Complex as an editorial assistant. I got a couple of bylines on stories at Complex. I did Swizz Beatz's tour bus, and I had to interview Jason Segel one time, which was really funny. The editor-in-chief of Complex left and went to head up digital at MTV, and because we got along—and he knew that I had the least funding at Complex—he was like, 'Do you want to come with me to MTV? You can get a real salary; you can get health benefits.' Those were the days when MTV had incredible pop culture news, interviewed incredible musicians, and it was a progressive thing to do digital editorial, so I went over to MTV. While I was [at] MTV, I created a show about sneaker collecting."
That very "Mariah" Mariah Carey video that taught him how to work with celebs:
"I was really lucky that I was there at the right time. Video was going online at scale, and I learned from really seasoned video producers how to produce video content; how you write a script for video for somebody else—I got a crash course working with videographers how you transfer the written word to video format. MTV was crazy. Interviewing Pharrell was cool. N.E.R.D is my favorite brand. They were really emerging. I had to interview Mariah Carey once, and she actually asked to be interviewed that day with no direct lighting and candles. There's an interview somewhere—I'm not on camera, I'm the guy asking questions—and Mariah Carey is surrounded by 80 candles. Just very Mariah Carey."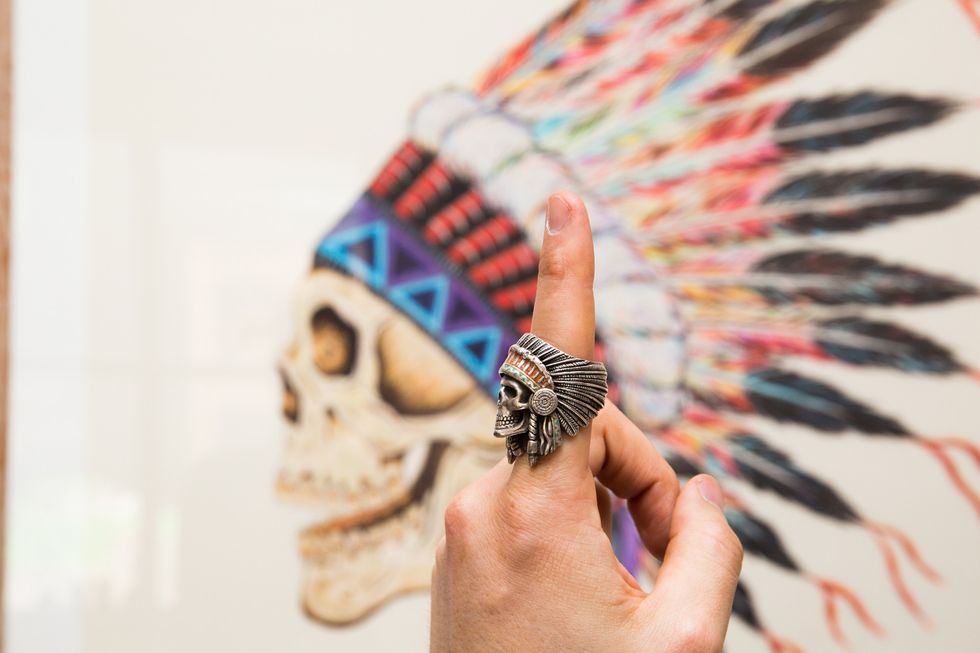 How he ended up having dinner with Jay-Z:
"My professional network had grown. I did a variety of things. I had an online e-commerce store selling streetwear brands that my friend and I ran out of his apartment. At one point, I was freelancing for a startup in Mountain View, California, that was a mix of a Facebook plus blogging from a bunch of artists, musicians, etc. We put together this website called Riot. It's not on the internet anymore. Around the same time, my best friend from high school and his best friend from college launched Flight Club. I was helping Flight Club with marketing. I was doing a variety of things. Journalism and basic consulting and marketing for a sneaker store. I also started managing talent for the first time. I was managing this guy named DJ Neil Armstrong—a very successful DJ. I was a huge fan of his. Somehow my friend introduced us, and I was like, 'I love your music. I can help you out.' Fast-forward to 2008-2009, Neil had been hired to be Jay-Z's DJ for two and half years. He also became a global ambassador for adidas—I got him an endorsement deal, and he got to tour with Jay-Z, which was crazy. Jay invited me out to dinner once or twice. It's like, 'I'm doing what I love, but I am eating dinner with Steve Nash and David Lee at the Spotted Pig? Do you guys know that I'm not like you? [laughs]' I just went with it, and Jay was really amazing. I remember seeing him two weeks after we had dinner, and he actually asked me how my soccer team at Chelsea Piers was doing, because he remembered that I was a soccer player."
A short stint back to magazines finally pushed him to going solo:
"I still had the editorial itch; I took a job at Details magazine as a multimedia editor, which is now a brand editor or brand editorial director [role]. I'm pretty ambitious, and my run at Details was about a year. And I left with the advice from Dan Peres, who was [then] editor-in-chief of Details. I left, and 13thWitness was my first artist client. I felt like there was a future creating credible editorial content for brands. He was a photographer—his real name is Tim[othy McGurr]—he had just moved back from Japan. He needed a manager. From then on, we did a ton of things—we did video content for Pepsi at Coachella. I was doing consulting work for Epiphany—I was head of strategy for the agency at the time. All of sudden, John Mayer starts following Tim on Twitter, and Tim hits me up. So he DM'd him. And of course John replies back. And the next day, we're in John's manager's office. And then we went on tour with John Mayer for a year and a half. So Neil was out on tour with Jay-Z, and Tim was out on tour with John Mayer as a photographer/videographer—I was like, 'Hey, there's something really cool here with artists working with brands or other artists.' But I never knew it would evolve into what it is now."
A few years later, he started repping bigger names:
"In 2012, I linked up with Futura, who's Tim's dad. Until that point, my intention never was, nor would I ever think I would have the opportunity—out of respect for who Futura is—to represent him. He was Tim's dad, and Tim's dad was an incredibly iconic artist and figure. Futura and I had the same accountant, coincidentally, and our accountant told us that we should meet and talk about business. I was like, 'I'm up for it, but I don't think I'm good enough for that, honestly. But hey, it's Tim's dad.' I asked Tim if he thought it was OK. He's like, 'Yeah, talk to him.' That's how I started working with Futura—it was really organic."
How ICNCLST was born:
In 2015, I had been doing a ton of work with Nike as a consultant—made partner at the agency. I just had this sixth sense. Nikel [Guzijan] who is the other co-founder of ICNCLST—he and I have known each other since I was 10 and he was seven. We grew up in the same town and went to the same college and played college soccer together. I brought him into the business. I was working with Futura. I knew I couldn't manage all this client work I was doing with Nike. We did art shows in Shanghai and Paris. For the balance of our career, we worked extensively with Nike, Jordan brand, and a variety of other clients.
"I hadn't worked with an artist that produces bonafide art shows and also puts artwork on apparel. With Futura, we did collections with Converse and Motorola; we did a project with CHANEL at the end of last year for the closing of Collette. Working with Furtura and 13thWitness birthed the concept of how much opportunity there is between artists and brands."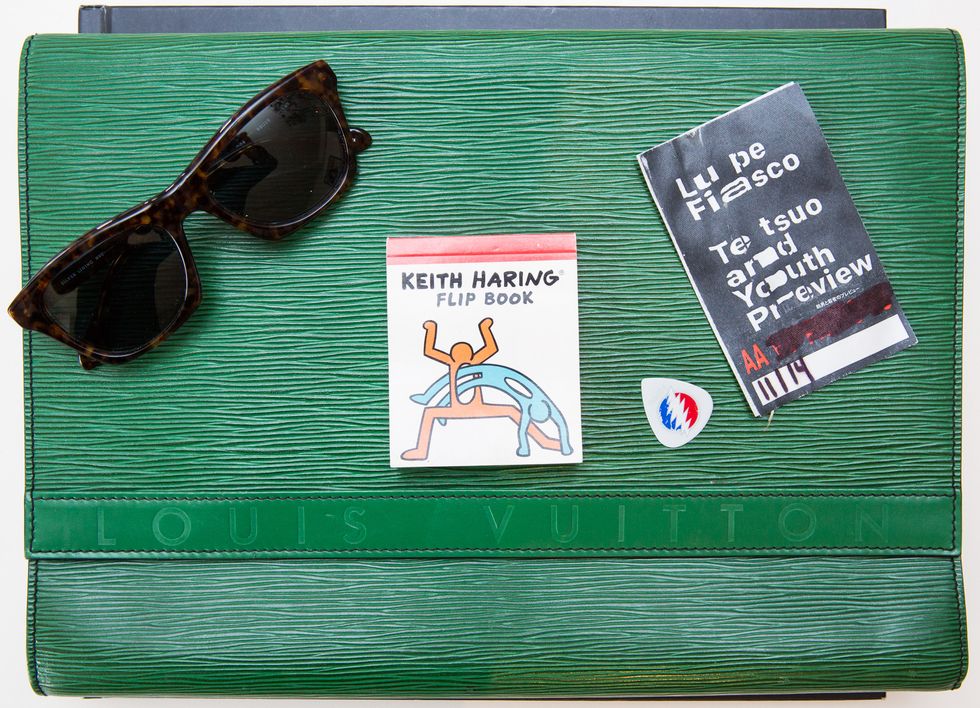 The first-days struggles of starting ICNCLST:
"There are a bunch of challenges when starting a business. I was partner sitting atop an 80-person agency with a ton of infrastructure, amazing staff, and a lot of different people who would help bring things to life [at Epiphany]. And then all of a sudden, it's you and one of your best friends saying, 'Hey, we're starting a new business.' You start from zero. We had no paying clients. We needed clients and to develop the identity for the agency. You're invoicing, you're reading contracts, you're account-managing clients, you're telling artists what's going on, while you're also pitching new business. It takes a while to get business because people have to wrap their heads around this new type of agency."
A typical day usually involves communication with many time zones:
"I can sleep a little bit, which is awesome [laughs]. I wake up at six. My dogs also wake me up that early. I have coffee, [then] go to the gym. I usually write a lot of emails in the morning. Very often, if we have calls from clients from Europe, those happen before I get to the office. We have an office in New York and in Los Angeles now, which is amazing. I always have a ton of calls, I'm always out pitching clients, doing studio visits for artists, and at in-person meetings. I'm usually in the office until [at the] earliest 6:30 PM. I'm trying also to strike a balance between work and life, and just go do something that's not related to what I do all day."
The Google Pixel phone cases were one of his artist collabs:
"Last year we worked with the artist Nina Chanel Abney and Google during the launch period for the Pixel 2 phone. Those were cases that we designed with Nina. One part of that collaboration was a huge installation with Google at Refinery29's 29Rooms. We designed a huge jungle gym for adults to play on and to feature her artwork. It was great. There was a huge slide, a swing, and a seesaw-type thing. It was really fun."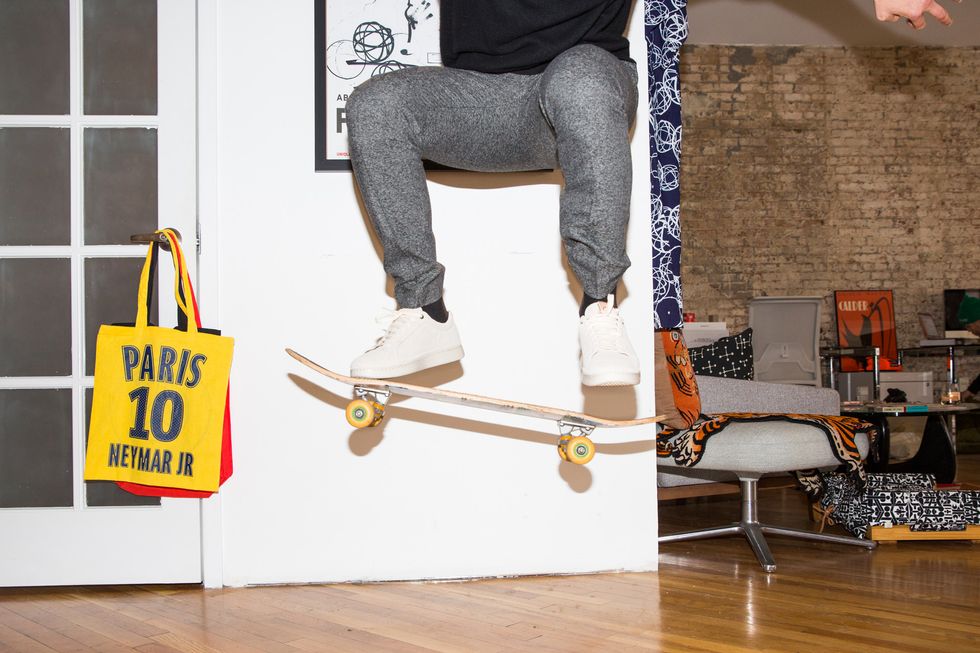 On acquiring those Damien Hirst skate decks:
"Damien is an artist that I do not represent [laughs]. I think those skateboards are a good marriage of Damien Hirst and his attitude as an artist—things are pushing non-traditional and at the same, approachable. Damien Hirst aligning with Supreme is really smart. There were three of them, and I just felt, when would you have the chance to potentially even buy them? I picked them up. It's super cool, and I grew up skateboarding. I felt like it would be something fun to get."
On the Interview Magazine cover and polaroid:
"Nigo has just been a really big inspiration, even when I was much younger. He's [part of] one of the first generations of art director/creative directors. He's a polymath guy that goes across architecture, retail, clothing, music, et cetera. I bought that Interview magazine issue that he was on the cover of in the late 2000s. And in the last couple of years, working with Futura, I've been fortunate to work with [Nigo] on a bunch of projects. We did a Uniqlo collection with him last year. We did an arts and culture festival last year in China. When you go to his studio in Tokyo, sometimes he takes polaroids of you, and and he'll give it [to] you and sign it. That was just cool. Somebody you're actually inspired by [turns into] somebody that you're co-creating with years later."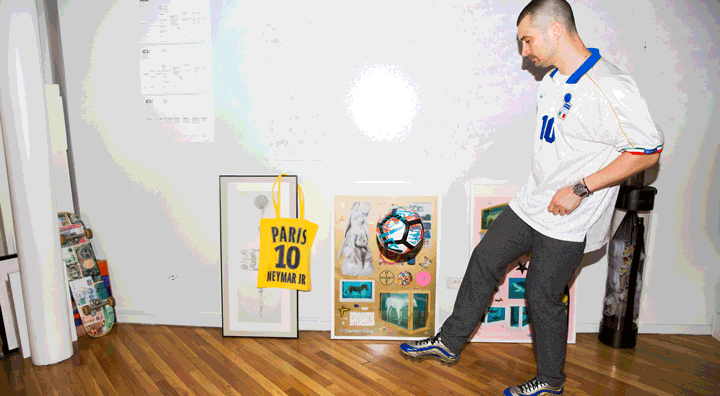 His best piece of advice for an artist looking to break into the industry:
"Really master your studio practice. Why are artists so powerful? Because they have a voice. They have a unique point of view. And if you create your own style, you really are the only human on the planet that's capable of making the range of creative that you make. Your ability to create that and then own it is really the only empowering thing an artist can do—being a master of your own craft."
The best piece of advice he's ever received:
"Be yourself. When you get to a certain point in your career, if you're all smoke and mirrors, people can see right through it. Own who you are and what you want to be. Don't ever feel like you have to be someone that you're not because you'll never end up being that person."
 
Want more stories like this?
This L.A. Home Is Decorated with Warhols, a Motorcycle, and a Mini Shrine to Prince
Inside the Stadium Goods Sneaker Basement Filled with Thousands of Exclusive Pairs
5 Incredible Stories from Sneaker Icons