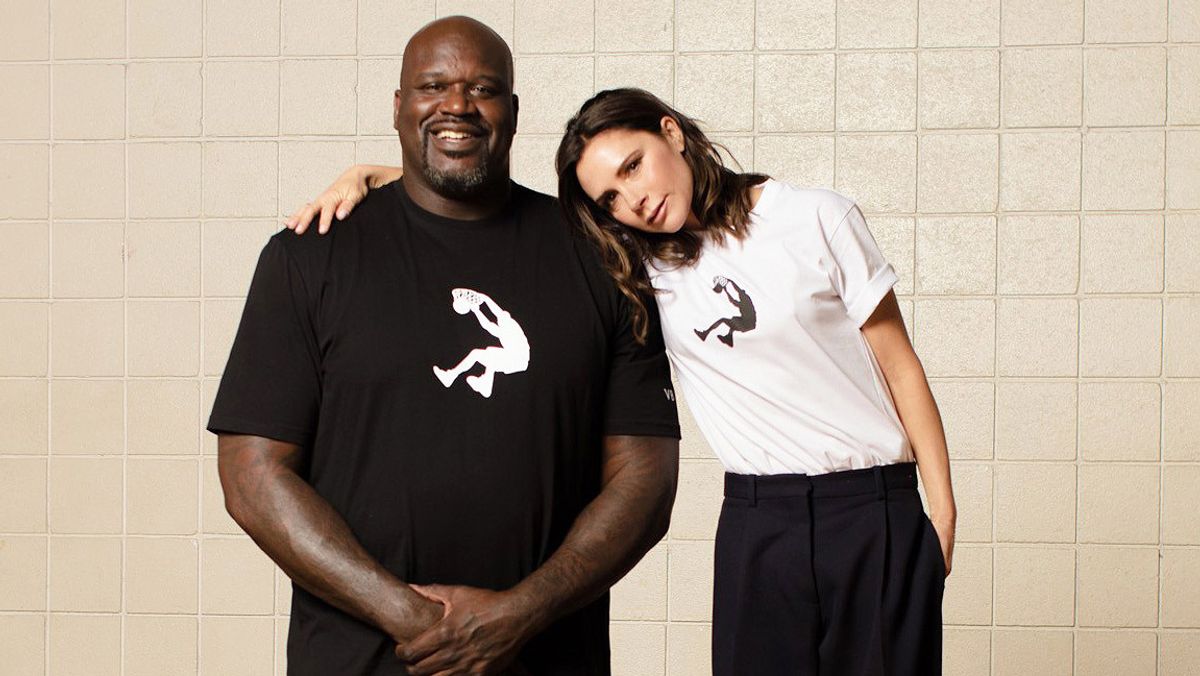 Celebrity
Victoria Beckham & Shaq Talk '90s Style & Her First Reebok Collab
We spent an evening with the duo to celebrate the launch.
Leave it to Reebok to bring together two of the most influential figures of the '90s—the 7'1" basketball legend Shaquille O'Neal and former-but-soon-to-be-reunited Spice Girl turned inimitable designer Victoria Beckham—for their latest collection. And requisite celebration in L.A. last night.
Since announcing last fall that Victoria Beckham was trading in her stilettos for a pair of Reebok Classics (for the right occasion, of course) and partnering with the athletic giant on a collection launching later this year, there has been little to hint at its would-be inspiration. Yesterday, the first drop, an ode to Shaq and Reebok's '90s-era archive, came by way of a jersey. Not what you expected, right? Us either. But VB (it's what we affectionately call her at Coveteur HQ) and Shaq's sports connection and friendship goes way back. "When I was young, I wanted to be the best athlete in the world after Michael Jordan left. After a couple of years, I thought I was, and then there was this good-looking dude named David Beckham," O'Neal laughs. "I was always number two, so I was always chasing [after him]. We finally met when I found his wallet one day. I said, 'David, this is Shaq. I have your wallet,'" he quipped as he sat next to the 5'4" designer—their friendly banter projected into the room. "She's wearing them for me," he chimes in when Beckham is asked when the right occasion is to wear heels (she was wearing a pair of 6" patent black pumps, btw). "I've actually been in trainers all day, but we came straight from a TV show, and I didn't have time to change. It's been a pretty full-on day, hasn't it?" she charms in response.
Before we shuffled outside for a garden dinner with the entire Beckham clan, we caught up for a few minutes of facetime with Victoria Beckham to talk power suiting, which Spice Girl she'd have on her basketball team, and of course, '90s style.
---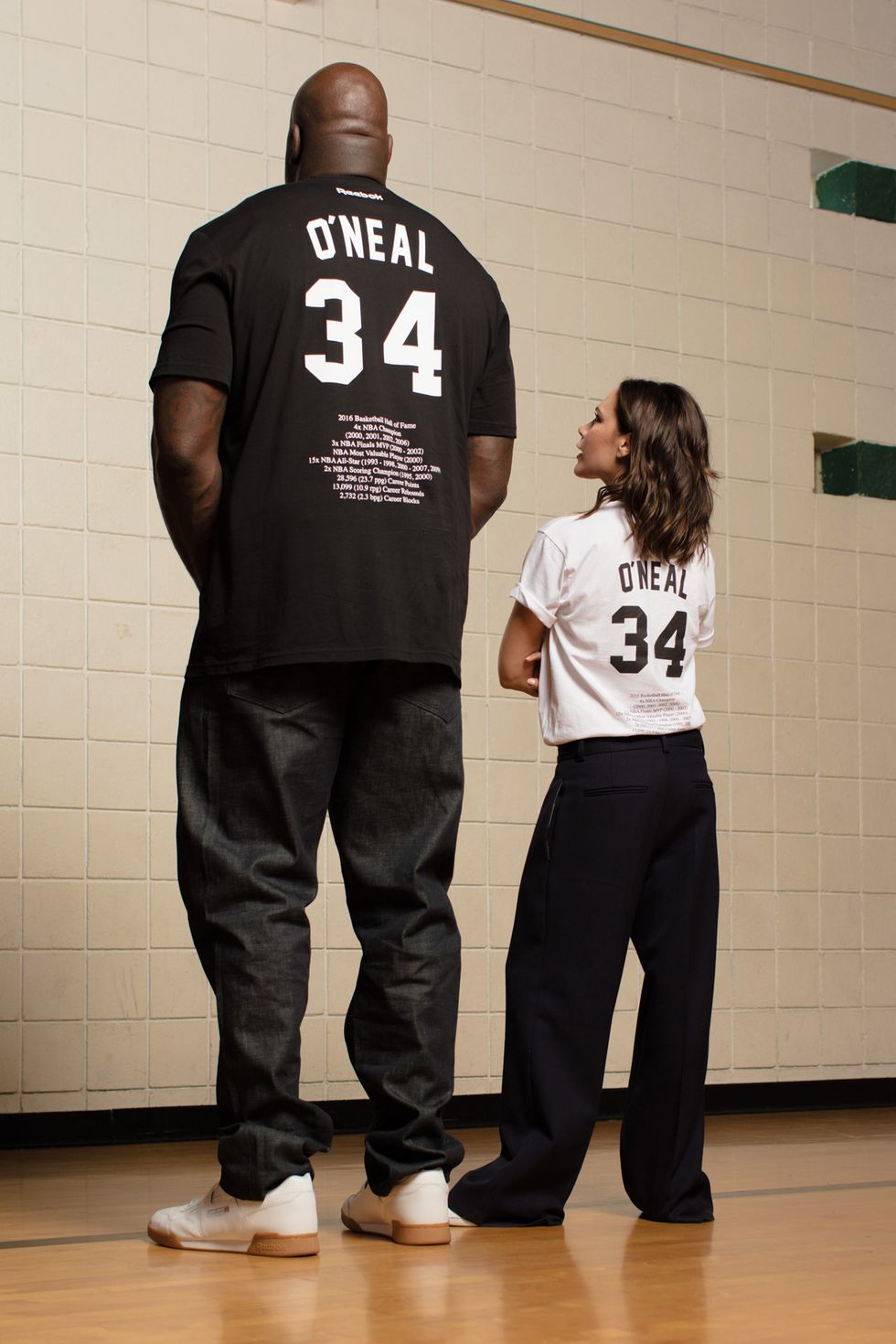 What piece of clothing makes you feel most powerful?
"Oh, my goodness. It depends what I'm doing, where I'm going. A tuxedo jacket, I would say, is a must-have that everyone should have in their wardrobe."
On wearing athleisure outside the gym:
"I think it's great, as long as what you're wearing outside the gym looks good [laughs]. Women are busy. When you're running around and you're looking after children. I get up in the morning. I do half my workout. I take the kids to school in my workout clothing, and then I go back and finish off my workout before I go to work."
On sneaker culture:
"It's a real thing, isn't it? I have four kids, and when my boys want the newest, coolest pair of trainers—as a parent you feel the pressure, right? You've gotta get those trainers. I think it's great."
Why she's celebrating this era:
"The '90s were so great. That's why I'm really excited to be really celebrating them. As long as I've been working in fashion, which is the last 10 years, every season there is some reference to the '90s."
Which '90s trend would you never wear again?
"A shell-suit. But I kind of love it, since it's so bad. I don't think I'm going to be wearing it."
If you had to pick, which Spice Girl would you pick for your basketball team?
"I would want them all because I wouldn't want to upset any of them [laughs]. But if I had to pick one, I'd say Sporty, obviously."
What's the best piece of advice you would give your daughter?
"Be good. Be kind. Be yourself. Love yourself."
Morning or evening workout?
"Morning."
Pilates or boxing?
"Boxing."
Last thing you do before bed?
"Take my makeup off."
First thing you do when you wake up?
"Put my makeup on."
Your favorite indulgence?
"Looking after myself. Is that an indulgence? I work out, so yeah."
What does luxury mean to you?
"This is an easy one. To me luxury is time."
Photos courtesy of Reebok
Want more stories like this?
Victoria Beckham Owns This Closet Staple in Every Color
Myles O'Neal's Raf Simons & Goyard-Filled Closet Is a Must-See
Ariana Grande Opens Up about Her Emotional Tour & Keeping a Healthy Perspective