Trends
According to five sneaker experts.
2017 saw the rise of the dad sneaker. The year before that, it was all about adidas and their boost technology. As for 2018? It's still early in the game. So what's next? We turned to three Cov-alums who know sneakers better than the rest of us to find out. Sneaker and streetwear aficionado Mike Camargo, fitness guru Kirsty Godso, creative consultant and stylist Gia Seo, and sneaker enthusiast Anna Bediones set out their predictions on what we can expect to see more of this year, the brands they think we'll see the most from, and the trends that should be left in 2017.
---
Creative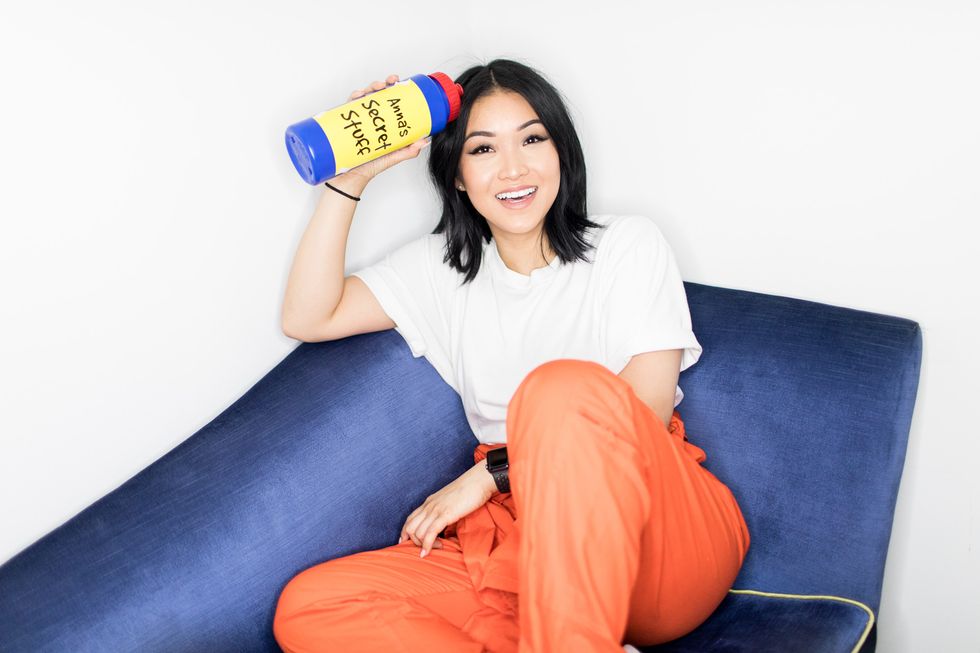 Trends & silhouettes we'll see a lot of this year:
"Dad shoes, customization, collabs, luxury sneakers, and statement shoes vs. minimal, and monochromatic. Our culture is revisiting the '90s with dad shoes, reviving old brands and styles, and '90s fashion and film photography."
A silhouette that will die off:
"Sock shoes. I love them though."
Fashion or function this year?
"Fashion. Function has been a key player for a long time, especially for the 'cozy' vibe, but people are moving away from cozy and more towards fashion."
The colors we'll see a lot of:
"Earth tones and animal prints."
Brands that will be highly favored:
"Balenciaga is still going strong. I think Prada is going to be next, [and] there will be a lot of attention on Louis Vuitton in anticipation of what Virgil will do. In terms of athletic brands, Nike regained a lot of momentum this year with its strong artist collabs (particularly the Off-White x Nike 10) and customization, while adidas lost some due to the oversaturation of Yeezy V2s. If Drake ends up with adidas, I think we will see a shift, not necessarily because he is influential in fashion, but because we will all be excited to see his first moves with a new brand. Jordan brand will have to do more than re-releasing retros to [keep up]."
Specific materials that will be used:
"More premium leathers, less knits. The dad shoe and customization trends don't lend as well to knit uppers, and instead fare better with leathers and suedes."
Additional thoughts:
"More focus on women, unisex sizing, luxury shoes, [and] female collaborators."
Consultant
Trends & silhouettes we'll see a lot of this year:
"For sure the tech runner craze will continue. I think with more people wanting to live a more active lifestyle, comfort and tech-forward shoes will continue to appeal to a broader audience."
A silhouette that will die off:
"The Yeezy boost. I don't know the numbers or style names too well, but the one that everyone wears. I see people's parents wearing Yeezys as a cool badge, and they drop in so many unwanted colorways, so I think those might slow down if they haven't already. I know they're not as hard to get [and don't] go for as much money as they did a year or so ago."
Fashion or function this year?
"I'm guessing it will be a hybrid of both. With collabs being so prevalent this year and [there being] so many changes at these heritage fashion houses, I think this year is going to show us something we haven't seen before."
The colors we'll see a lot of:
"I think everyone's going to go monochrome with hyper-colored accents. They're going to put the color in the details rather than the mainstay of the shoe."
Brands that will be highly favored:
"Puma is going to have a really strong year. They have some really forward-thinking collabs in the pipeline, and they're sticking to their guns on the classics instead of chasing trends. Being authentic to yourself is going to be vital for the sneaker industry this year."
A trend he could live without:
"I can't stand sock-style shoes. It's like everyone is out here in designer socks with soles. I'm sick of it."
If customization is here to stay:
"As much as I try to stay away from customs, they're getting so advanced in quality that it's making it hard not to be interested. With technology being what it is and the sneaker industry becoming more mainstream, there are so many tools being developed to help aspiring designers create projects a lot easier then they could five or 10 years ago. As tech grows, so will customization. Shout out to guys like Mache who have been keeping that movement alive for a long time."
Will the rollout process change?
"Rollouts and presentation are changing, and that's because retail is dying a slow and painful death. The more that kids don't want to go to a physical store to buy a product, the more a retailer has to do to drive traffic to the store. At this point, almost every specialty retailer has an allotted budget for marketing that's experientially focused. We get a ton of calls to handle this for stores, and the calls are multiplying weekly."
Trainer & Nike Ambassador
Trends & silhouettes we'll see a lot of this year:
"I think limited collaborations such as the Off-White x Nike drops will stay strong, and I'm excited to see what Virgil will do at Louis Vuitton! High-fashion outfits paired with a classic sneaker vs. high heels to major events, and girls wearing guys' shoes will continue to thrive and be celebrated, always!"
A silhouette that will die off:
"Over-exaggerated heels on sneakers that look disproportionate to the rest of the shoe."
Fashion or function this year?
"I think that the two will combine a little more. Last year saw some amazing collaborations of the two with drops such as the Off-White x Nike shoes, the Acronym x Air Force 1s, and so on. I'd love to see some of these collaborations enter more into the training footwear space.
"Fashionable performance shoes are still a work in progress, but with the amount that training gear and athleisure cross over from gym to the street, there's a huge market for this, and it would be a dream to see people training in the gym in the correct footwear!"
The colors we'll see a lot of:
"Navy, beige, and bone."
Brands that will be highly favored:
"I'm waiting for the John Elliott x Nike Air Monarchs and Air Force Reaper to drop—they're incredible! I think we'll keep looking back into the archives of classic sneaker designs that are recreated with a fresh perspective by some of the lead designers of today."
If customization is here to stay:
"I think customization is here to stay, but possibly less intense. We'll see people crafting designs that have more longevity in their sneaker closet because you know New York apartments are cozy [laughs]. I'm interested to see if high-fashion brands offer this extended service to their clients."
Specific materials that will be used:
"I think details of nubuck and suede will be used more and more. It gives a high-fashion feel to any sneaker. Gum soles are always beautiful, and don't underestimate the power of an interchangeable strap like the John Elliott x Nike Vandals offered."
Will the rollout process change?
"I'd love to see how major brands could use [their] energy and hype to incorporate a positive kickback to the environment with these releases. I'd also like to see more creative and fun activations such as the Nike x Tom Sachs Mars Yard 2.0 sneaker release at Space Camp in 2017, where you had to physically earn the right to buy the sneakers by successfully completing an obstacle course that involved physical and mental tasks."
Additional thoughts:
"The Air Max 270 will be the unisex sneaker of the year. The silhouette is so beautiful, and the range of amazing colorways has everyone covered."
Creative Consultant & Stylist
"Before The Webster, I worked for Jeffrey's. I worked on their creative content team. I am a stylist at heart, it is my lifelong passion. Being at Jeffrey's introduced me to an eye for luxury, and understanding how brands function in a creative realm, together. Before Jeffrey's, I was at Opening Ceremony, which was a whole different playing field. There I learned the importance of young designers, and how youth culture has impacted the industry and completely 360'd the direction the industry is moving towards today."
Trends & silhouettes we'll see a lot of this year:

"The chunky sneaker trend will continue to flourish in 2018, but it's got to be based on technical design. People want quality over quantity!"

A silhouette that will die off:

"I have to say the Triple S Balenciaga just about killed me, and not in a good way. I hope it dies out this year. People look uncomfortable in them!"

Will the dad sneaker continue to thrive?

"Absolutely, yes. Who better than our fathers to influence how we dress in 2018? Vintage it is! Think Princess Diana in her beat sweatshirts and sweat shorts! Total dad move."

The colors we'll see a lot of:

"I'm seeing a lot of pop colors: Mondrian reds, blues, stark whites. Give it all to me!"

If customization is here to stay:

"I do. I think people want more than a brand name now [and] that's why Virgil's Nike collab was one of the most coveted. Consumers want something that feels more personal, and if it means they can customize themselves, that's worth the extra coin. Nike has been really amazing with their DIY studios open to the public. You want to talk to your friends about the experience, and at the end of the day you get to wear your art on your feet."

Additional thoughts:

"Don't live for trends, be the trendsetter. Everyone is living in a creative industry in more ways than one. It's time to set your own standards and live large."
Stylist & Model
"I think I am getting more comfortable with my [style] because I think style is so personalized. You can relate to someone, but you have to be different. Usually I used to think classic, classic, classic. Now I am like, this is my mood right now, this is how I'm going to dress. I think that is the one thing. I am feeling the swag a little bit more. For me, the clothes live because of the person. The clothing is just an addition to who you are, just bringing more of that out of you. I'm learning that. I am feeling that more. Some days I will be all black, and some days I'll wear all color."
Trends & silhouettes we'll see a lot of this year:
"Dad sneakers and corduroy fabric on sneakers. The dad sneaker is arguably the most popular silhouette trend at the moment. I think because it's reaching new heights, it will stay relevant but with different brands' take on the idea of [it]."
Brands that will be highly favored:
"Prada, Fendi, and Louis Vuitton are back at the forefront of favoritism. With Prada running some of their archival 90's pieces to Fendi's logo frenzy, to Virgil Abloh taking the reins at Louis Vuitton Mens, this is great to see!"
The colors we'll see a lot of:
"Pantone recently named the color of the year, and since then I've definitely been seeing this color around: Ultra Violet."
If customization is here to stay:
"Customization has a lot to do with a product speaking to a certain individual. It's about owning something that others may have, but making it your own. That item makes it priceless. Everyone wants to feel exclusive in some way."
A trend she could live without:
"One sneaker trend I could personally live without is the plastic see-through material on sneakers. It gets real foggy after awhile and I don't think that's the best vibe! [laughs]"
Want more stories like this?
The Creative Who Is Equally Obsessed with Wellness & Jordans
Print It. Draw It. Sneaker Cop It.
Joe La Puma on Retroed Sneakers, the One That Got Away & Using Coveteur as a Cheat Code