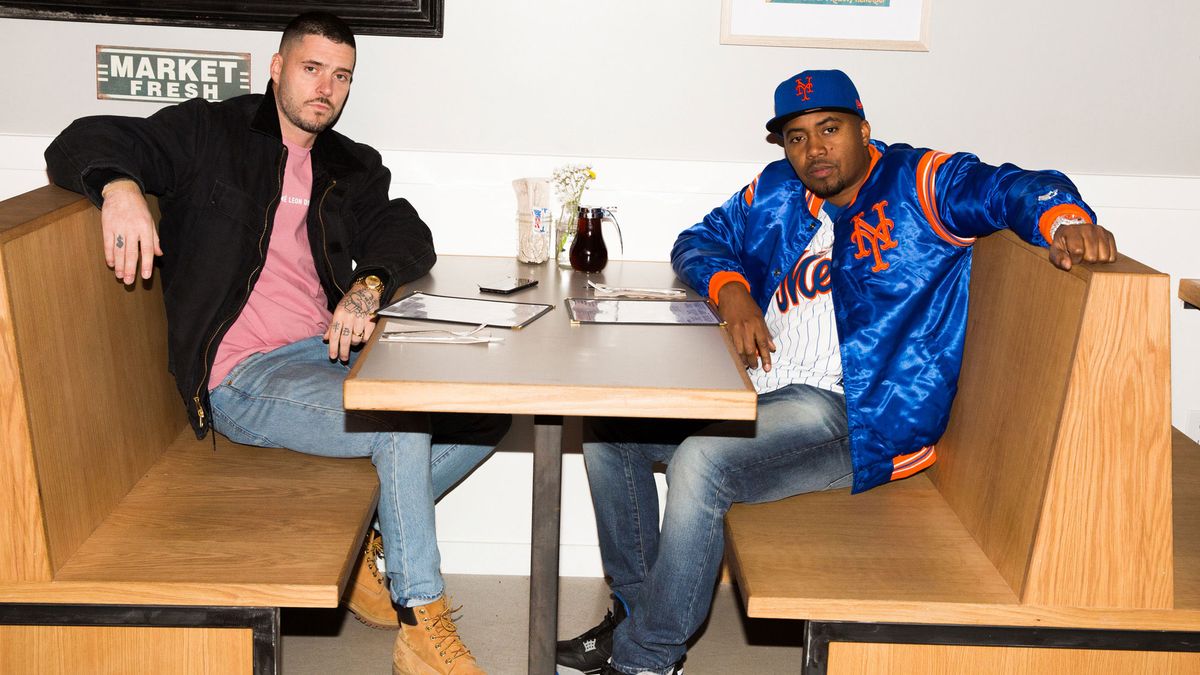 Living
The restaurant just opened in Queens—and we were there first.
Alec Kugler
Last night Sweet Chick opened the doors to its newest location in Long Island City on Vernon Boulevard. Plates of their signature chicken and waffles were served by the dozens, diners debated between biscuits or corn bread (some ended up getting both), and drinks were poured at a bar illuminated with a neon sign proclaiming, "The World Is Yours."
The average New Yorker may have surveyed the scene and concluded that that it was a typical night in always-bustling NYC, but for Queens native Nasir Jones—known to most as prolific rapper Nas—and Sweet Chick founder John Seymour, it was much more sentimental.
---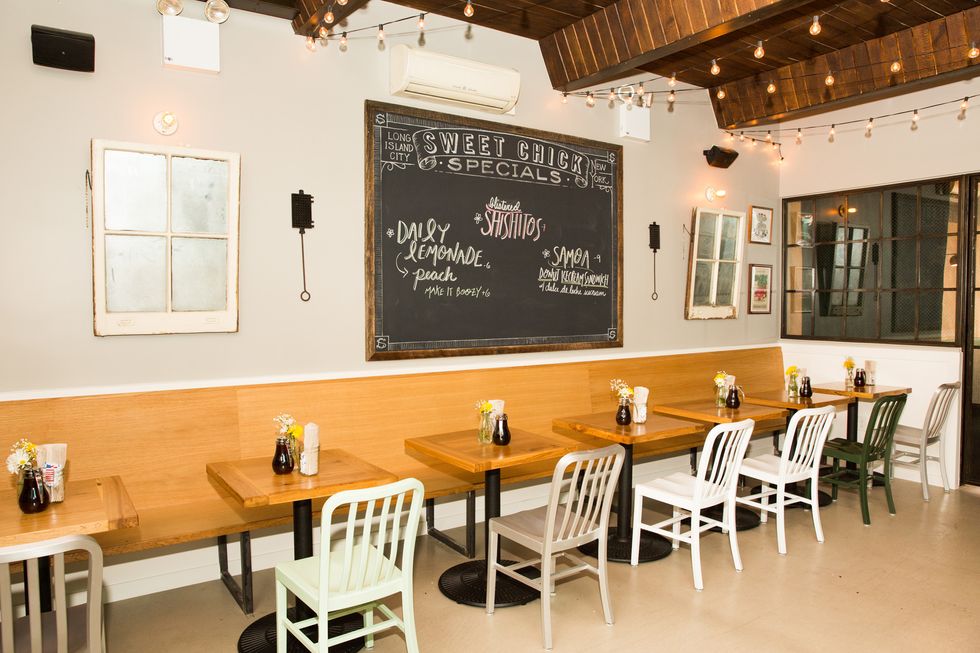 "This is like a dream," Nas says of the restaurant's arrival in his home borough. It's the Saturday afternoon before the opening, and Nas and Seymour are in a booth at the new space, reflecting on the significance of its location. "Most of us have a dream to do something in the community, but we never get a chance to because we get so busy," Nas continues, "so yeah, this is a dream."
Seymour, who also owns and operates Caribbean restaurant Pearl's with his wife, Fallon, opened the first Sweet Chick in Williamsburg in 2013. Soon after, the CEO of Nas's Mass Appeal record label, Peter Bittenbender, introduced the rapper and the restaurateur on a hunch that they'd want to team up to elevate and expand the brand. His intuition was correct.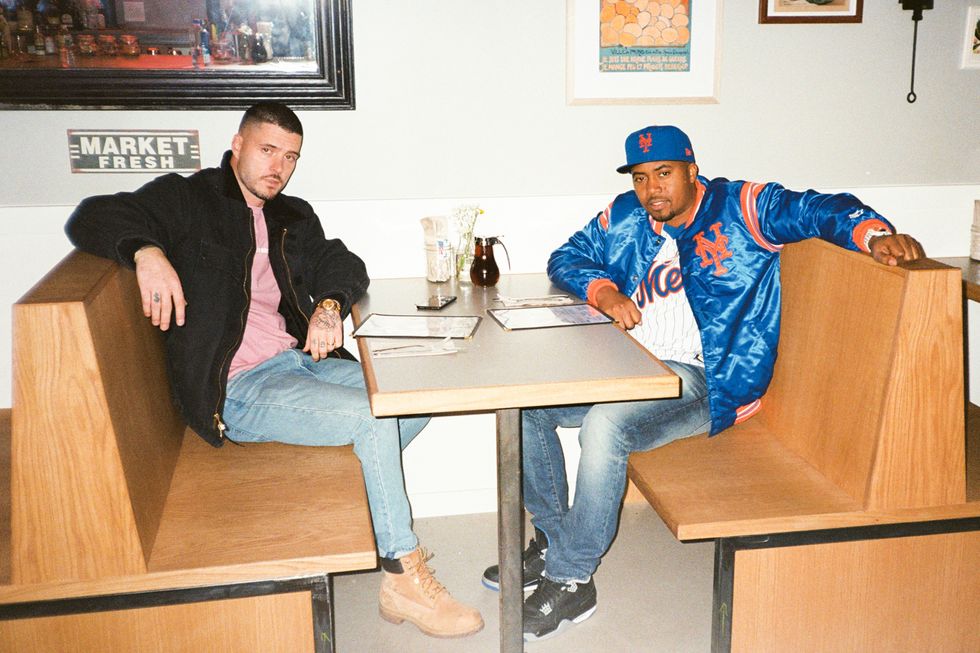 "The moment I walked in, I knew it was something I wanted to be involved in," Nas says. "There's a sense of family at each one of the restaurants. It feels like home, and that's what I really like."
This atmosphere, or "vibe," as Nas and Seymour call it, is as intentional as it is organic.
"My hospitality background really comes from my father being a bartender," says Seymour, who grew up on Manhattan's Upper West Side. "He was the local guy who everybody knew, so with Sweet Chick, it was me being nostalgic about how he built a community around the bar."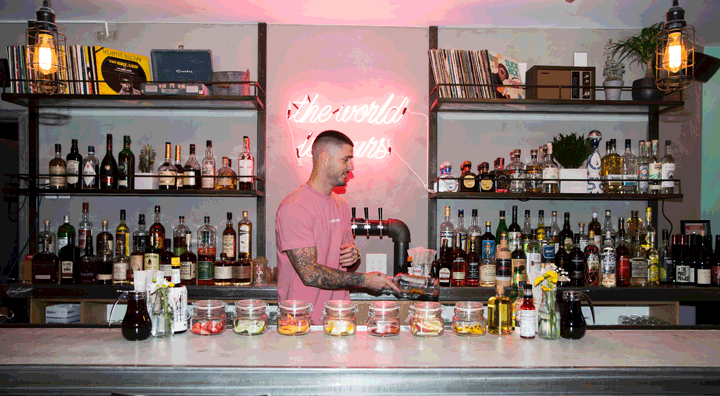 The Williamsburg launch was followed by openings on the Lower East Side, Prospect Heights, and Citi Field in NYC, as well as a restaurant in L.A. On any given night, you can catch an enthused clientele—which sometimes includes Cameron Diaz, Dave East, Andre 3000, and Zendaya—enjoying executive chef Lawrence Duda's duck and short rib meatloaf, macaroni and cheese topped with a Ritz cracker crust, or of-the-moment dishes like seitan vegetarian fried chicken or the warm farro bowl.
A self-proclaimed "super foodie" (who says he can't cook), Nas is partial to the buffalo fried chicken with the celery-carrot waffle. Seymour's go-to is the Nashville hot chicken.
"We take the food very seriously," Seymour says. "I want people to come in for chicken and waffles but look over at someone's plate and be like, 'Oh wow, what are they eating?' because that person could be having short rib, or catfish, or braised octopus."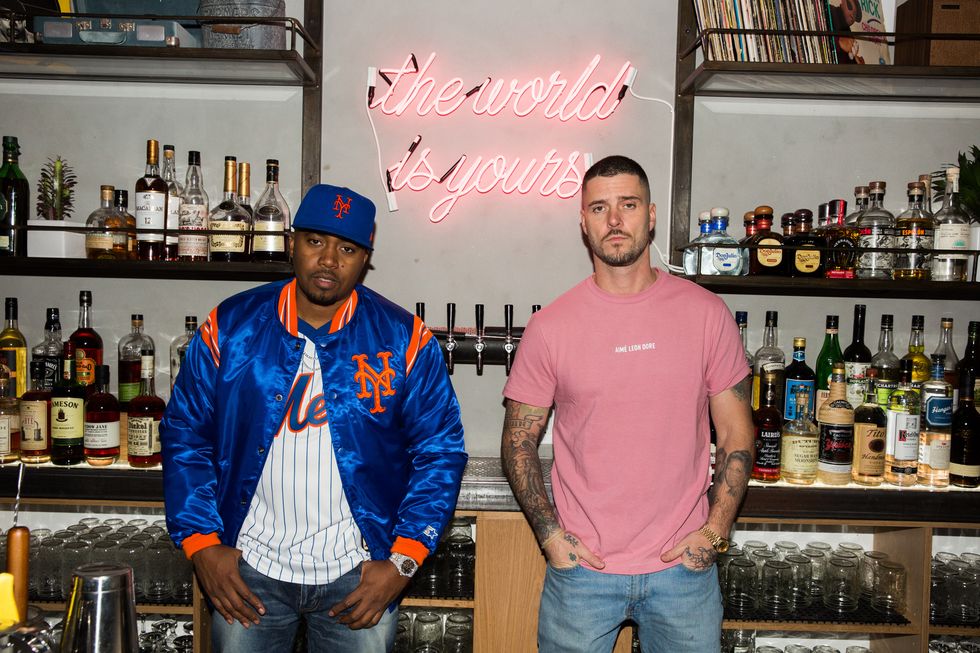 While Sweet Chick may be Nas's most publicized foray in the neighborhood, it isn't his first. "We do a summer camp with the kids from Queensbridge every year," he says. Over the past few holiday seasons, he's also hosted toy giveaways at the housing project where he grew up.
For a moment, the conversation turns to Instagram, which is how many follow Nas's work and life. "I don't think my Instagram competes with everybody else's; everybody else's is so well done, and that's my inspiration, but mine ends up looking like a scrapbook," he says, adding that the best pictures are often selected for him. "You can tell when I post a picture, because the quality isn't so great and the caption might have a typo or two [laughs]."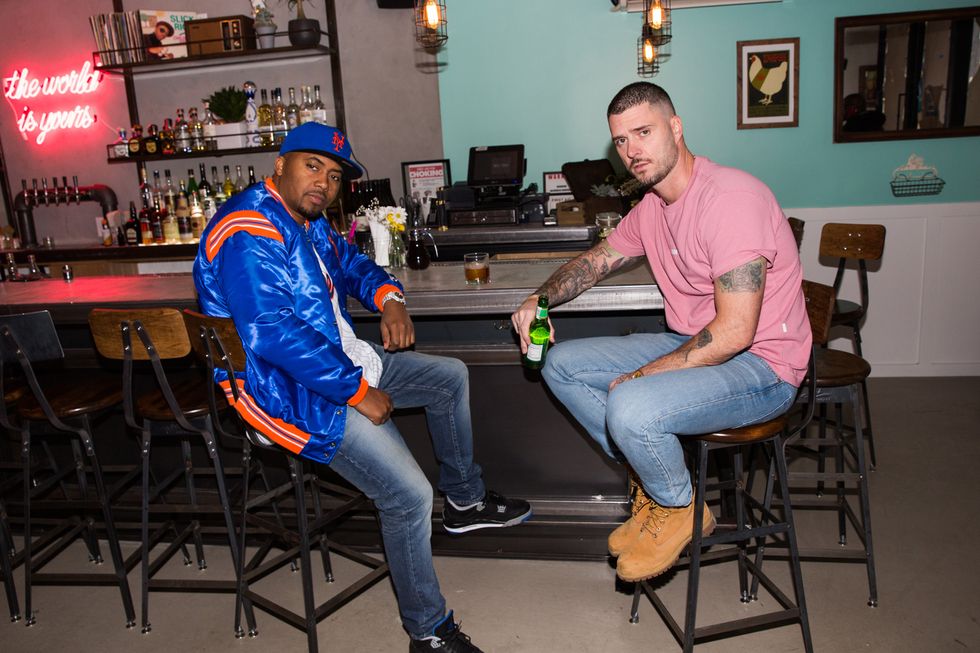 Pre-Instagram—and pre- massive success—Nas spent a lot of time on the same block where Sweet Chick now sits. "I used to race my bike down this street, and when I got older, I'd take my dates down here to eat," he says. "So to have a restaurant here, it's surreal."
A few hours after our interview, Sweet Chick LIC is dimly lit and packed with friends and family who have come to celebrate this special homecoming. In the back space of the restaurant—dubbed the Jazz Room as a nod to Nas's father, musician Olu Dara—Nas grabs a mic and performs a few classics: "Street Dreams," "N.Y. State of Mind," "The World Is Yours." It's the type of party that those who were there will never forget, and if we do, we can always look at Nas's Instagram. He shared a picture; the quality is fine, and there aren't any typos in the caption.
Want more stories like this?
The Restaurateur Couple We Want to Be When We Grow Up
Our Favorite Spots for Brunch in NYC
This New NYC Restaurant Is Almost Impossible to Get Into