Celebrity
Jessica Biel's Last Amazon Purchase Is Random, Amazing, and Oh-So Secretive
We were NOT expecting this.
I'm not sure what I expected upon meeting Jessica Biel, but for a person who has been in the acting biz since her teens, has dabbled in producing, owns a business, *and* is married to Justin Timberlake, she seemed surprisingly…down-to-earth and, for lack of a better word, "normal." After shaking her hand and apologizing for the fact that my own felt so cold (ugh, New York, are we just skipping spring this year?), we chatted about the weather for a full minute. It was then that I realized we should probably get down to that whole interview thing, before my time was up and she was on to the next thing, right?
Feeling inspired by the event we were at—The American Express Experience, an NYC installment which curated a bunch of Instagram-worthy opportunities such as themed vignettes, and celebrated the company's new campaign, which shows how it backs both customers' businesses and everyday lives—I asked about Biel's purchasing habits. After revealing that she orders from Amazon "all the time," we discussed the last thing she bought from the site, what her most valuable purchase has been as a mother, and how she manages to find time for everything.
---
What was the last thing that you ordered on Amazon?
"This is going to sound strange, but the last thing I ordered on Amazon was tarot cards."
Really? Are you learning how to read tarot cards?
"Well…ish. I have a deck myself, and I kind of attempt it occasionally. I'm not good; I read the little booklet. The deck is actually for a specific event that I'm a part of—it's sort of a secret element of this event. So that's the last thing I ordered!"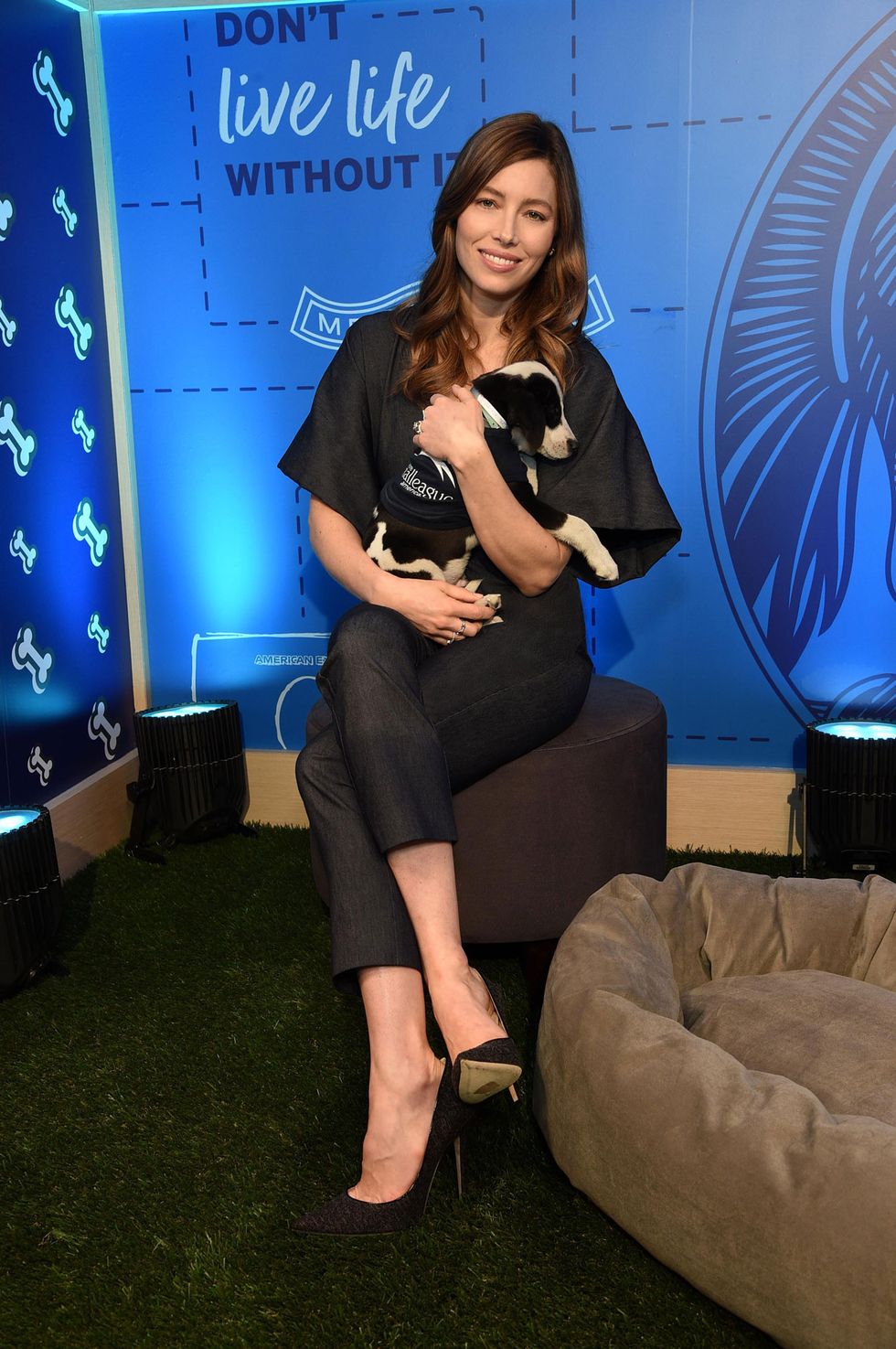 You're a businesswoman, as well as an actress, as well as a mother—how are you able to find "more" time?
"That is the question, isn't it? Honestly, if I could have something more in my life—and I think everyone would say this—it would be more time. Sometimes I don't find the time, and I watch the clock go, and I'm like, 'How is it 6:00 PM?! I haven't gotten anything done!' But I'm trying very hard to literally put it in my schedule—'time for me,' or 'playtime'—so that when I look at it, I see it. So I go, 'Oh, so I work then, I'm 100 percent there, and then I'm 100 percent playing with my son. And then I'm 100 percent working. And then I'm 100 percent playing.' I block it out if I can. And that's what's so cool about American Express' 'live life' idea; we forget about ourselves. I love what they're doing, and I'm trying to do that all the time."
What was the most valuable purchase you've made as a mother?
"…Probably PJ Masks toys? Oh my god, that's the most embarrassing answer in the world! The funny thing about your kids—you want to purchase all these beautiful, homemade, organic, wooden, gorgeous learning toys, and all they want is like, red, plastic, horrible things. It's terrible. So you finally give it up and go, 'All right, what will make you happy, that you can play with and learn? Great. You can have it!'"
If you had to pick a quote that sums up your life—and you can make it up—what would it be?
"You know what is so ridiculous that just came into my mind? Mo' money, mo' problems. But I don't mean that! Literally, I was like 'Nervous, search—mo' money, mo' problems.'"
Photos: Bill Davila; Courtesy of American Express
Want more stories like this?
Jessica Biel Wants to Talk about Your Vagina
We Tried the Best Under-the-Radar Beauty Products from Amazon
Younger's Nico Tortorella Loves Etsy, Ayahuasca, and His Tiny Dog