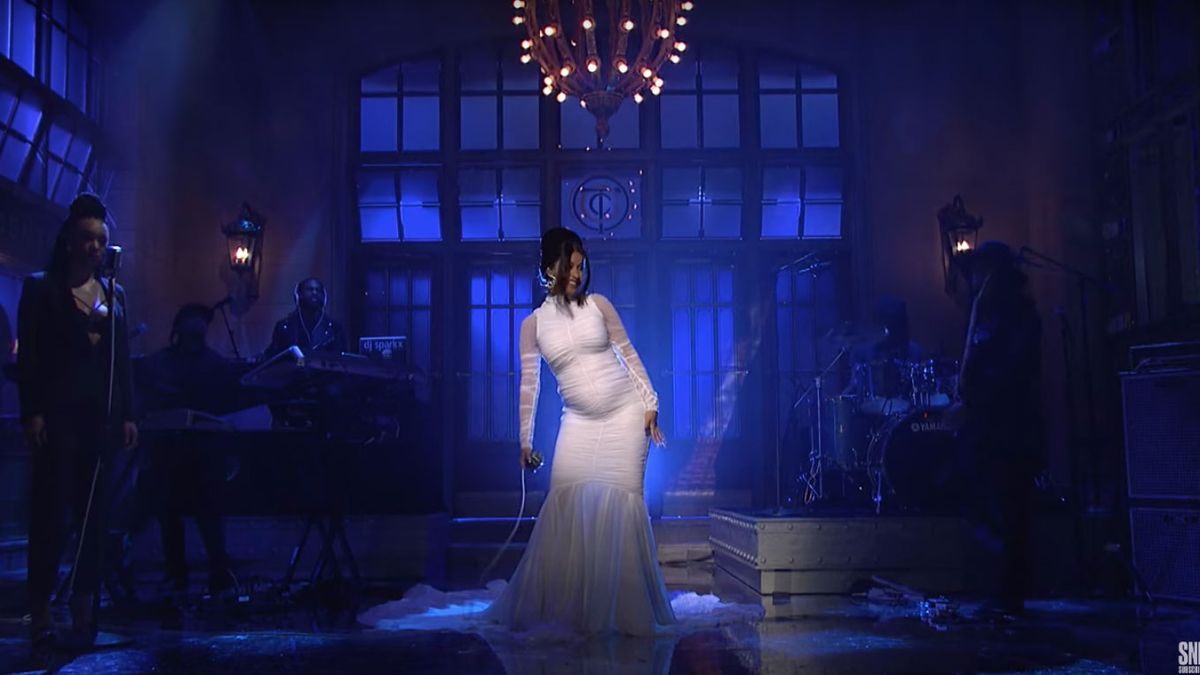 Celebrity
What Does Cardi B's Pregnancy Announcement Say about Our Obsession with Celebrity?
And what does her dress have to do with it?
A couple months ago, Cardi B asked the general public to let her "fat in peace." She was dismissing rumors about her alleged pregnancy and created a verb in the process. Everyone else on Twitter sitting on the couch with takeout rejoiced. Some asked to have the phrase engraved on their tombstone.
This was Cardi B doing what Cardi B does best: creating an anthem, a rallying call, something everyone could agree on and relate to even with its grammatical faux pas. But later, on SNL this past Saturday, she revealed that she wasn't fatting in peace, but pregnanting in peace like many had expected.
---
I witnessed this in real time from my couch, sprawled out next to my sleeping boyfriend, who was feeling sick and made us come home early from a party. I'm not an ideal partner in these situations because during Cardi's second performance of "Be Careful," when the cameras zoomed out to reveal her baby bump, I screamed, grabbed my boyfriend's shoulders, and yelled, "THERE IT IS!" I was obviously referring to her baby bump, and even as it sat wrapped in custom Christian Siriano ruching right in front of me on live TV, I had to watch the whole performance an additional three times for processing purposes. My boyfriend was initially confused and then captivated, awake and watching alongside me.
I then texted everyone who I knew would care (most people) and, because I love Cardi, celebrated the news while also hoping that Offset gets the message behind "Be Careful," which is all about Cardi being better than the woman her man is cheating on her with.
Everyone I texted had the same sentiments, often relayed to me in a flurry of capitalized messages. I was connecting with my people. Well, it's 2018–I think we are all Cardi's people, which caused me to have a moment of introspection. Why do we care so much? And what do these over-the-top curated (and often fashionable) celebrity pregnancy announcements really mean–about them and us?
In 2011 Beyoncé famously unbuttoned her pink sequined blazer at the end of her "Love on Top" performance at the VMAS to reveal her baby bump. Even more famously, she announced the pregnancy of her twins dressed in lingerie with a long light green veil, in a photo shoot by artist Awol Erizku, on Instagram, and it quickly became the most liked Instagram photo at the time. It has now been surpassed by yet another baby announcement, that in which Kylie announced she was naming her baby Stormi. That garnered a total of 17.8 million likes. Actually seven of the 10 most-liked Instagram posts of all time pertain to pregnancy announcements, four of the top spots belonging to Kylie and Stormi.
Like Cardi, Kylie also denied her pregnancy for months, but unlike Cardi, she didn't make the announcement until after she gave birth. She also didn't do it on live TV, but instead created her own single episode of the Kylie Jenner show for everyone else titled To Our Daughter and published it on YouTube. It now has over 64 million views.
As a culture, we're obsessed with celebrity. All we have to do is look at the White House or check the amount of time we spend on Instagram to realize this. But clearly we are also obsessed with the way celebrities bring more (unknowing) celebrities into the world and the way that they tell us. Maybe it's because unlike most of what famous people do, getting pregnant and giving birth and raising a child is something a lot of us do–or hope to do–as well.
Still, the way they go about it maintains an untouchable otherworldliness. Cardi worked with her stylist, Kollin Carter, and Christian Siriano to create a custom white ruched mermaid gown for the announcement, which makes sense given the way we saw her react to Siriano's show this past February:
Supposedly Cardi is due in July, and people are asking why she waited so long to make the announcement, especially when rumors have been floating around for months. Many are even chronicling the large dresses she wore to hide her baby bump, calling them "ridiculous" and "obvious." But at the same time, who really cares? Cardi B was just doing Cardi B, making an announcement on her own terms in her own way with her new anthem in a dress of her choosing. Living a life in the public eye, it makes sense that, much like Beyoncé, Cardi wanted to create this moment for herself and for all of us to look back at devotedly. She decided to do it looking like a literal angel because she can.
She posted a video after her performance on Instagram where she walks down a crowded hallway of cheering friends. "I'm free!" she screams. Maybe she is, but I have a feeling we aren't, not from talking about this moment or her baby or her dress. Cardi may have asked for us to let her "fat in peace," but there is no way anyone will let her "pregnant in peace." Of that, I am sure.
Photo: Courtesy of NBC
Want more stories like this?
9 Fashion and Life Lessons I Learned from Cardi B's Instagram
Is This the Next Big Fashion Movement?
The Best Celebrity Pregnancy Announcements