Fashion
Inside the Stadium Goods Sneaker Basement Filled with Thousands of Exclusive Pairs
Co-founder & CEO John McPheters gave us a tour of a sneakerhead heaven.
Video Editor
Lexi Henigman
When putting together this year's Sneaker Week we realized our NY Soho HQ is literally next door to one of the biggest sneaker goldmines. Home to thousands of pairs of sneakers, Stadium Goods' basement holds only 10-15% of their inventory. The rest of the archive lives in New Jersey. Lets just say that as soon as we heard what was stashed next door, we visited our sneakerhead neighbors with a camera in hand.
Stadium Goods' co-founder and CEO John McPheters led us through the showroom where J.Balvin copped a pair of royal blue Air Jordan 1 x Fragments on his "Sneaker Shopping" episode, down a tight set of wooden stairs, to the basement where he told us how reimagining resale as an upscale environment was their secret sauce for success. "For a long time it felt like this aftermarket world of [resale] products wasn't a clean place to transact," he explains. "That gave my partner [Jed Stiller] and I the idea to make it more of a premium feel-good experience." We ducked through a low-ceiling office, "Our core mission is to elevate the aftermarket into a position where people are 100% confident shopping with us. [The market has] changed a lot since we've been in business. The wall is starting to come down and people are becoming more accepting. We do everything we can to present it in the right way and give people the right level of service."
---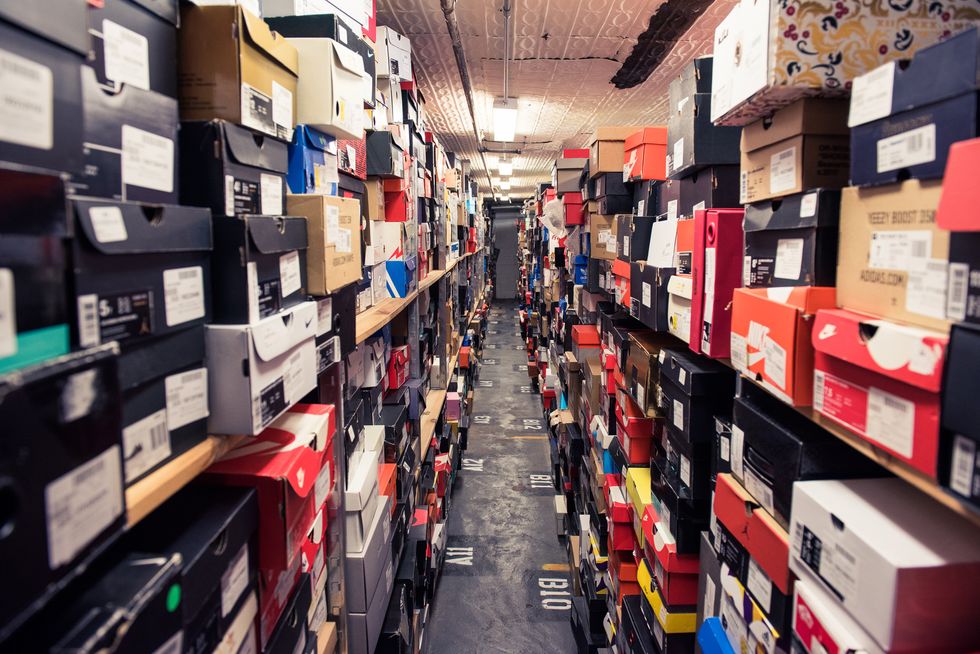 We were staring (with mouths agape) at at least six aisles of shoe boxes. "Every shelf is like a needle in a haystack," McPheters says like a boy showing his action figure collection. "You never know what you're going to come across."
As McPheters pulls out Air Jordan 1 Chicago's and Air Max 98s White & University Red & Royal Blues, we ask him about his personal faves. "The Air Max 1 Anniversary—the white with the red—the classic version. I like classic OG runners. And there's some new products that I really like. The Nike Zoom Fly, that's one of the new stories that I'm into." But when asked how many pairs he owns himself, he tell us his collection sits at around 30 pairs of which he rotates through. "My wife doesn't let me bring new shoes home. There's a good amount of shoes I'd like to own," he laughs. "I have a trick: I'll wear out a shoe that I'm done with and wear a new pair back. If they look pretty similar I can maybe get away with it."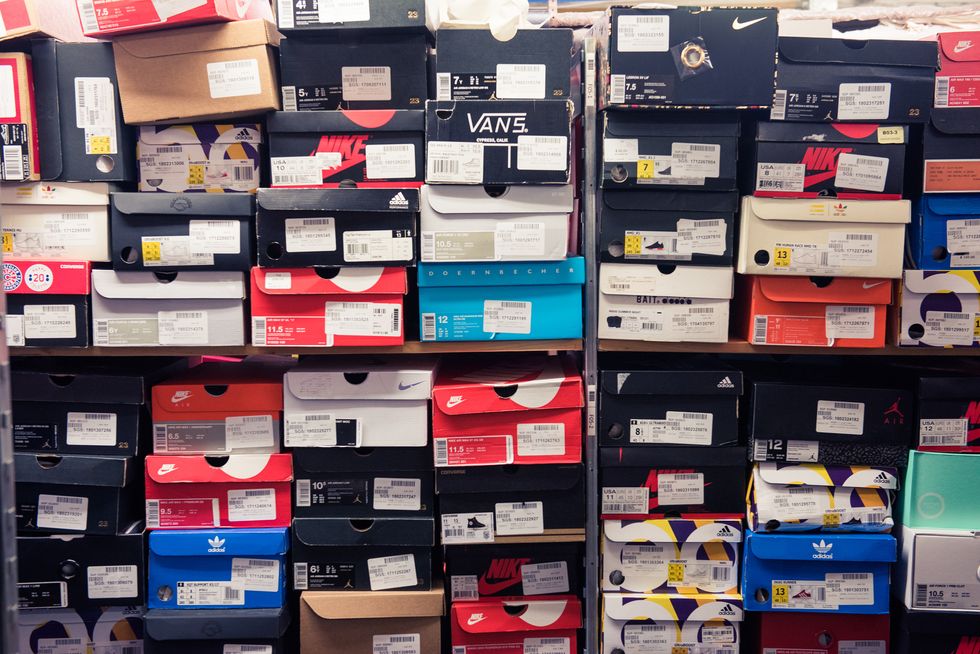 We went back upstairs to see the most expensive sneaker in the store: Pharrell's highly coveted CHANEL Adidas NMDs. The price tag on these babies? A cool $20k. A few shelves away sat more favored pairs. "We probably have 500-600 pairs of [these Yeezy Boost 350 V2 Blue Tint]," the co-founder explains. "But on certain stuff that is more speciality like [these Red Octobers] that have been out of market for a long time and are hard to find, we probably only have a handful of sizes."
While it's only been a little over two years since Stadium Goods opened this physical location, business is booming. With a team of roughly 95 people across the retail space, warehouse, fulfillment, and authentication, the quick growth of the resale giant was what gave them the opportunity to open the Howard Street space, and ultimately expand their community reach. "I believe that even if you're a digital business, having a location helps to communicate trust and show people who you are," he explains. "It's a launch pad for the voice of the brand." And this is only the beginning. "We will [open up more stores] this year," McPheters says. "I'm not going to say where they are yet, but we'll at least open one other store this year." That's good enough for us.
Want more stories like this?
Inside Mark "Mayor" Farese's Closet
Kith Founder Ronnie Fieg Has More Sneakers Than You'd Expect
Snarkitecture on Designing Kith's Brooklyn Location