WWWRN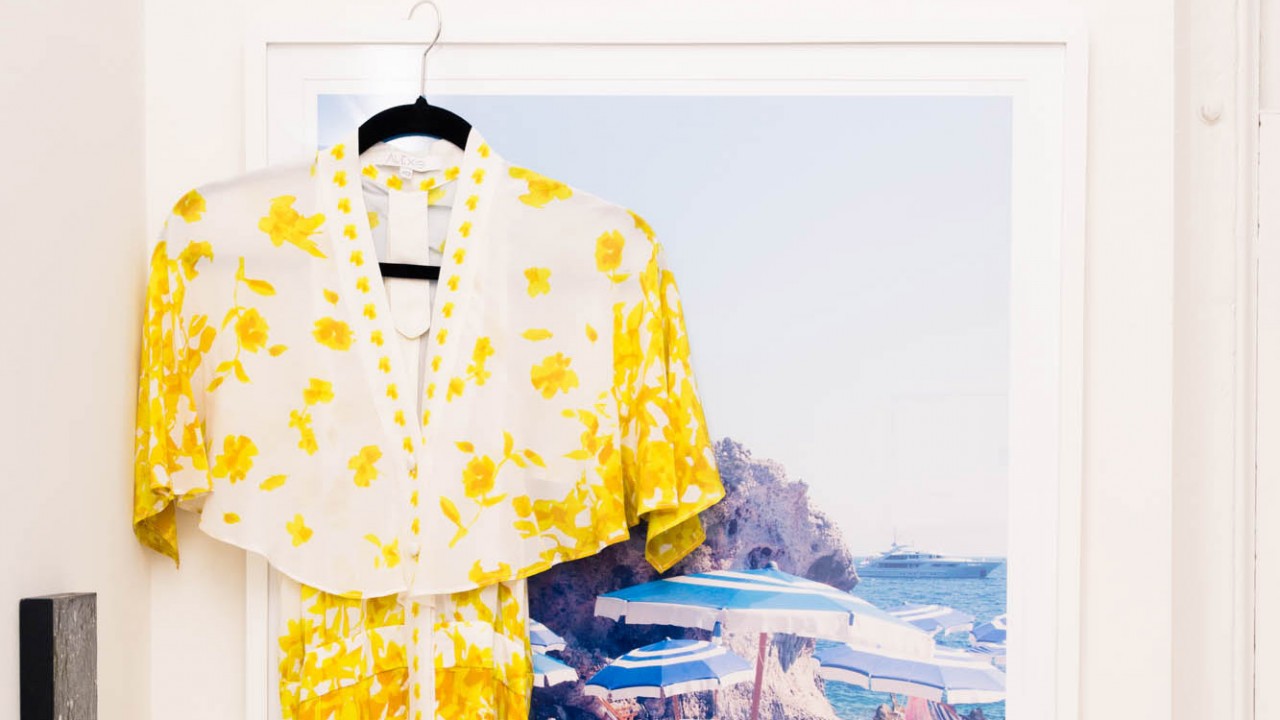 24 of the Best Dresses for Spring
If we keep talking about spring, it'll happen, right?
In New York City, spring is currently a fleeting sensation. Even though it's April, we've been experiencing the season for only a random day here and there, and then it's back to a snowstorm. Spring cleaning (and dressing) has been hard, to say the least, but what gets us through this weird in-between-season weather is…shopping. (Shocker.) As we slowly start to burn put away our winter sweaters, here are the 24 dresses we can't wait to wear soon.
---
Tara Gonzalez
Assistant Editor
1. Priscavera Long Sleeve Mesh Dress in Flame Print: So this dress doesn't exactly scream "spring." It actually screams lots of other things, most of which I'm sure sound pretty witchy and/or emo. It's a dark dress, but I always love black, regardless of the season, and will definitely need some in my spring closet to balance out all the colors and florals. I also think it would look ironically great on a super *hot* day with just a bodysuit underneath.
2. Daisy Satin Hook Dress: I've been wearing lingerie over t-shirts and dresses for a very long time. I just love the way it looks. It adds another layer without weighing a look down, and also gives even the plainest piece a sexy edge. Plus, lingerie is expensive, and what's the point of spending all that money if not everyone gets to see it (I'm also currently eyeing this plaid Lonely Lingerie set)? Luckily my favorite new brand, Daisy, creates (essentially) wearable lingerie, and I would wear this dress everywhere–and maybe even layer another corset or lace piece on top.
3. Ganni Printed Crinkled Chiffon Maxi Dress: Animal print will never not be a good look, in my opinion. Although I have been a little tired of cheetah and leopard. (Probably because I'm so used to seeing it on a winter coat, and I'm currently in the process of trying to forget what winter coats look like.) This tiger print Ganni dress is definitely a breath of fresh air, and I love that it ties at the shoulders! Perfect for wearing nothing underneath or layering with t-shirts. Oh, and it'll look great without a winter coat.
---
Samantha Sutton
Editor
1. HVN Morgan Floral-Print Silk Crepe de Chine Midi Dress: For whatever reason, my shopping habits are developing a pattern: I need more green! Right now I'm obsessing over this bright colored floral dress from HVN. With sneakers, it'll work for everyday, but with heels, it's fit for a family gathering (which tend to pop up a lot during this season).
2. Tibi Laceup Corset Dress: The best part about spring is that (hopefully) the weather gets warmer and our routines become simpler. I'm always in the market for a throw-on-and-go something that has a little *oomph*, and this pink Tibi option, complete with a corset detail, has my name written all over it.
3. DVF Floral-Print Cotton and Silk-Blend Wrap Dress: A shirt-dress and a wrap-dress, paired with an in-your-face color and cheerful print? I'm already mentally pairing this one with bold earrings, slicked-back hair, and dewy skin for an effortless (but totally not) date-night vibe.
---
Hannah Baxter
Assistant Editor
1. DÔEN Georgia Dress: I've always wanted the kind of floaty, paper-thin white dress that would fit right in next to Kirsten Dunst in The Virgin Suicides. I'm not super into extravagant lace or frills, so when I spotted this romantic yet modern style from DÔEN, I knew I had to have it. So dreamy.
2. Khaite Christy Dress: If I'm wearing a dress in the first place, there's a 75 percent chance that it's going to be red. It's my favorite, and there's something so classically alluring about a woman in a red dress. The lines and exaggerated buttons on this style from Khaite make my heart flutter, so I'm thinking of pairing it with Gucci loafers for day and sky-high heels for night.
3. Rixo London Katie Floral-Print Crepe de Chine Maxi Dress: Like I said, I'm a fan of red. I'm also newly obsessed with floral maxi dresses and plan on rotating a few styles all spring and summer long. Until it's officially sandal weather, just slip this on with some platform Doc Martens boots and a leather jacket, and you're good to go.
---
Leah Faye Cooper
Senior Features Editor
1. Elliette Tate Mini: I'm over six feet tall, so wearing a dress this short means that I may expose more to strangers than I ordinarily would, but it's a risk I'm willing to take. I love everything about this dress—from the print to the neck pleats to the removable waist ties—so if I have to wear flats and refrain from sitting down all day in order to make it work, challenge accepted.
2. Missoni Crochet-Knit Midi Dress: Missoni is one of my all-time favorite labels. I adore their colorful signature knits and also think it's great that it's remained family-owned since its inception, which is a such a rarity for brands of its scale. My mini Missoni collection includes three dresses; this breezy midi should definitely be the fourth.
3. C/MEO Collective Immerse Mini Dress: I've been bookmarking this Australian label's pieces for a few months, and now that warmer temperatures are finally in the foreseeable future, a few of them are getting added to my cart immediately—starting with this divine ruffled mini.
---
Monique Kamargo
Editorial Producer
1. Re/Done Levi's Two-Tone Distressed Denim Dress: If you know me, you know that I have an immense love for all things denim. I've been on the hunt to add another denim dress to my collection for the spring, and I think this RE/DONE dress is the winner. Not only am I obsessed with the reversed pockets and overall shoulder straps, but it also has zippers along the waist that allow you to wear it as a cropped top or skirt. Boom!
2. Reformation Ava Dress: I love both a good picnic and a good picnic-blanket-patterned dress! This one from Reformation is perfect for those easy spring and summer days spent in the sun with friends. I'd pair it with some white sneakers and gold hoops, and you're good to go.
3. Alice & Olivia Rozlyn Dress: I rarely ever wear maxi dresses, but this combination of pink and red has me swooning. It's the perfect dress to play up or down, and the accordion pleats were made for nights of endless twirling and dancing, which I am all for. It doesn't get much happier than this!
---
Jodi Taylor
Associate Editor
1. Jacquemus Saudade Ruched Wool Mini Dress: To me, this is the most perfect dress for the sticky and humid weather that both Toronto and New York get hit with in the summer months. Throw on a pair of fresh white kicks with it, and boom: the perfect Sunday brunch outfit.
2. Marques'Almeida Striped Devore Maxi Dress: I'm not typically a maxi dress person, but it doesn't count if it's see-through, right? While I have yet to figure out what I would wear under this beautiful garment, I'm sure a pair of boy shorts and a bra would do just fine. Sorry, Mom.
3. Alexis Konner One-Shoulder Denim Dress: Apparently I'm becoming an entirely new person this spring based on what I am taking a liking to. For example, while I can't say that I would have worn this dress last year, I am dying to take it for a spin as soon as we're blessed with some warm weather. Again, an easy one to pair with sneakers, but you could also easily dress it up with a pair of strappy heels.
---
Noah Lehava
Senior Editor: Health and Wellness
1. Attico Animal Embellished Wrap Dress: Through and through, I'm a dress girl. I cannot wait for the days when bare legs are appropriate—and that time is here very soon. To celebrate the parka-less season, I want to treat myself to this beauty.
2. Altuzarra Villette Grosgrain Dress: Extra points if a dress can be both weekend- and work-appropriate. With a change of accessories, this is super versatile.
3. Carven Printed Silk Dress: Spring weather can be a bit unpredictable, which is why I love a long-sleeved shirt dress. And this pattern!
---
Daniella Deutsch
Producer
Part of the series:
WWWRN