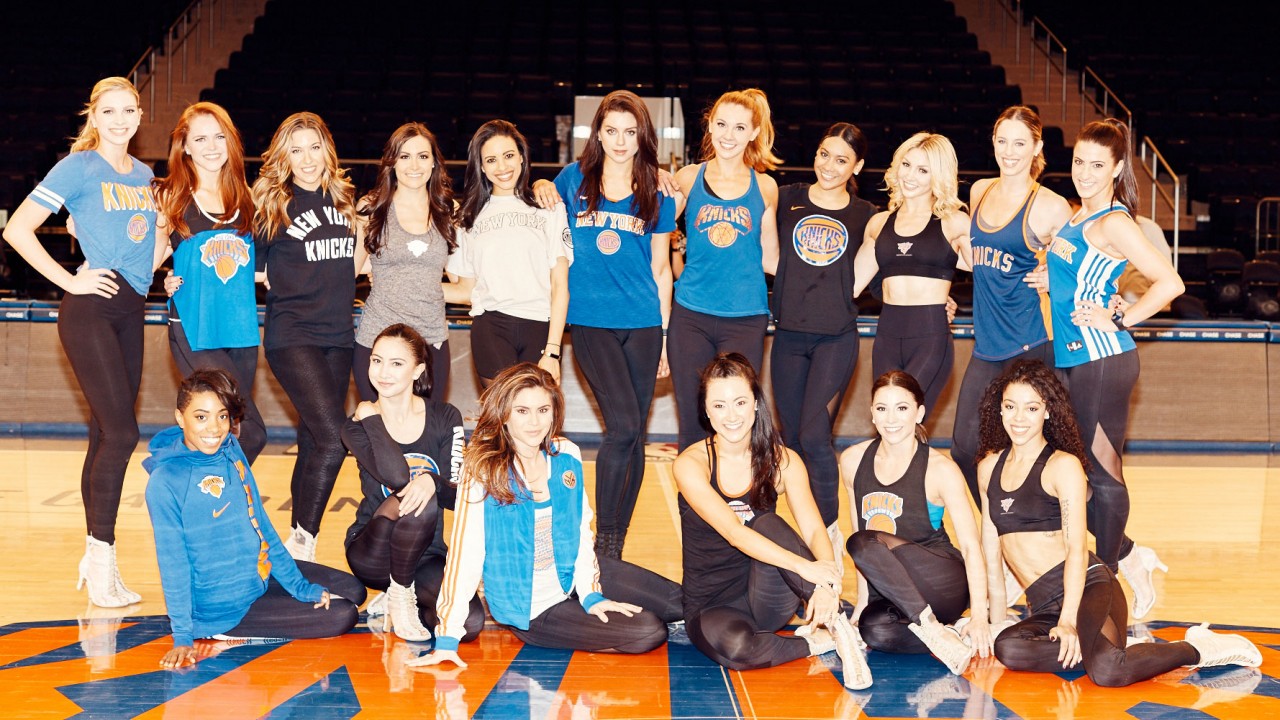 What It's Like to Be On the NBA's Most Iconic Dance Team
Talking career, auditions, and beauty with the Knicks City Dancers.
To entertain or compete at Madison Square Garden is to be among an illustrious group of athletes, musicians, and performers who have made the landmark deserving of its moniker, "The World's Most Famous Arena." MSG—or "The Garden," as it's called by many New Yorkers—is where Nadia Comaneci scored two perfect 10s on the vault (1976), Patrick Ewing became an NBA legend (1985–2000), Billy Joel has sold out 52 shows (2014–present), and Kanye West debuted both Yeezy Season 3 and The Life of Pablo in what was arguably the most offbeat event in New York Fashion Week history. We assume that the enormity of making it to MSG isn't lost upon the aforementioned, but we know for a fact that it's an honor to the Knicks City Dancers.
"It was a dream to get on the team," Tara Rappleyea told us when we dropped in on a rehearsal recently. The Sayreville, NJ, native is one of 20 members on the team, all of whom dedicate upwards of 20 hours a week to practicing and performing. Though unlike the NBA players who also spend a considerable amount of time on the court, the Knicks City Dancers don't impart their skill and athleticism for a living; they do so part-time for their love of dance.
With the regular NBA season coming to a close (playoffs start April 14), we asked Rappleyea and her teammates Divinity Gaines, Abbey Kowalec, and Michelle Leonardo to reflect on their KCD experience. From grueling audition tales to balancing dance with full-time careers, here's what they shared.
What's your full-time job?
Michelle Leonardo: "I am the VP of marketing for a fitness company called xChaine. [Previously] I worked on the agency side of marketing."
Tara Rappleyea: "I'm back in school in an accelerated nursing program. I graduate in May. I really enjoy emergency medicine. I know that's not the best place to start because there's so much to know, but I eventually want to get there."
Abbey Kowalec: "I work for a tights company called Nude Barre. We design tights in 12 shades of nude, so it's really popular and relevant in this time period as far as women of color being able to wear them. I'm also a fitness instructor at Exhale, where I teach barre, and I model on the side."
How do you balance a full-time job with being a Knicks City Dancer?
ML: "I sometimes ask myself that [laughs]. Time management is really important, and taking care of yourself is really important. We have really long, hard practices. I'm usually doing physical activity at least four to eight hours a couple days a week, so eating right and getting enough sleep is crucial. With work, I'm the type that likes to bullet-point everything. So I have my to-do list, and I'm just constantly checking things off."
When did you start dancing?
ML: "I started dancing when I was three years old. My mom's sister's name was Michelle. She passed away from leukemia before I was born, and she was a dancer. She lived in New York and wanted to be a professional dancer, but unfortunately her life ended early, and she never got a chance to fulfill that. When I was born, my mom put me in dance just because dance is what a lot of little girls do, but as I got older I fell in love with it, and I also knew that I wanted to finish what [my aunt] couldn't. So through the years whatever I do in terms of dance, I sort of dedicated to her, and I do it for the both of us."
Divinity Gaines: "I consider myself a late bloomer. I started dancing seriously when I was 13."
TR: "I started dancing when I was four, and I didn't like it at first. I was really afraid of my dance teacher, and halfway through the year I ended up stopping. But then I missed it. I was always dancing around the house, so the next season my mom put me back in. I had a different teacher, and that's when I really fell in love with it, when I was five."
What inspired you to audition for the Knicks City Dancers?
ML: "I was living in Boston—I went to college there and stayed after I graduated—and I was working in marketing and not dancing much. I was taking classes, but I wasn't with a team or an agency, and I stumbled upon the KCD page one day when I had nothing to do at work. I always knew who the Knicks City Dancers were, but who they were back when I first learned about them compared to when I rediscovered them was very different. The team rebranded; we're very Broadway, and we have beautiful costumes, so we're not a typical NBA team. When I saw the the costumes and the production and the lighting, it was just something I knew I wanted to be involved with. I decided to audition about six months out, and I prepared every day. I knew if I was gonna do it, I had to give it my all."
DG: "Right before auditioning for KCD, I was on tour in China for two months with an unsigned artist. I came back to New York and was like, 'OK, what am I going to do now? Well, the Knicks have dancers…' I did more research and saw the brand and what the team stood for, and it was something I wanted to be a part of. The first time I auditioned, I didn't make it, and I was like, 'OK, I got something for them [laughs].' I got back in the lab and just started training. I did more research so that when I came back I would be undeniable, and when I did come back I made the team."
Tell us about the audition process:
DG: "It's a lot. It's unlike any other audition I've ever been to, and I'm a commercial dancer, so I've been to a lot. It's four or five days, and each day it gets more intense. The first day you learn choreography; the second day is a fitness day. We have an athletic trainer who comes in and puts us through a test to see if we can do the physical activity that's required for us. The third day is another really hard day when they put us in different formations and make sure that you understand how to be a smart dancer. You can be as talented as you want, but as a KCD you have to be smart. Auditions are kind of a blur for me because it's a long three days, and you're trying to keep your body as intact as possible."
AK: "It's very challenging. Coming back [for a second year] was more challenging because you really want to prove yourself and show everyone that you deserve your spot back."
How did you feel when you made the team?
AK: "I had so many emotions. It was super exciting, obviously. When I made it I think I called my parents first, and right after that I called my great-auntie Dee. She's super special to me, like a grandmother, and she's a huge basketball fan, so it was really special to tell her that I had made the KCD."
What's been your most memorable performance?
ML: "Opening night my first year. Stepping out onto the court for the first time was extremely memorable. I'll never forget that moment."
AK: "Our Christmas games are super fun, especially my first Christmas game at MSG. Not only was I surrounded by these women that I've grown so close to—they're basically like family to me now—but my family was also able to come to that game, and it was really special to be able to do what I love Christmas Day with the people that I love here."
What are your must-have beauty products when you're performing?
TR: "Dove hairspray and a blowdryer!"
ML: "I'm actually a former pageant girl, so beauty and makeup and hair is sort of embedded in my DNA. My go-to lipstick is MAC in Angel, and I love MAC blushes, too. I'm really big on the blush color Harmony right now."
DG: "I'm big on skin care. I have a regiment, and my number one product is toner. I use all Arbonne products, and I live by them. Eyebrows are also my thing. I like to make sure that my eyebrows are snatched."
Do you have a go-to pre-performance snack?
DG: "I always have snacks with me to keep myself fueled. I really like bananas and cashews. This is funny, but I always keep a container of protein in my bag for emergencies [laughs]. So if I ever get hungry, I just pop my protein out, put it in some water, and drink it real quick."
AK: "Before rehearsal I have a granola bar to get some carbs in my body, and right before games I usually do a green smoothie to get my energy up; banana, spinach, kale, and some protein powder."
What advice would you give to an aspiring Knicks City Dancer?
AK: "The dance world is extremely competitive, so if you know that this is what you want to do, you have to tell yourself that every single day and not lose sight of that. It's very easy to get caught up in competition and what others think of you, but if you focus on your passion, you can make it."
Want more stories like this?
3 Female Olympians on How They Tackle Stress and Pressure
Busy Phillips Does These 5 Moves to Stay in Shape
What Happened When We Ate Like Bella Hadid & Adriana Lima for 21 Days