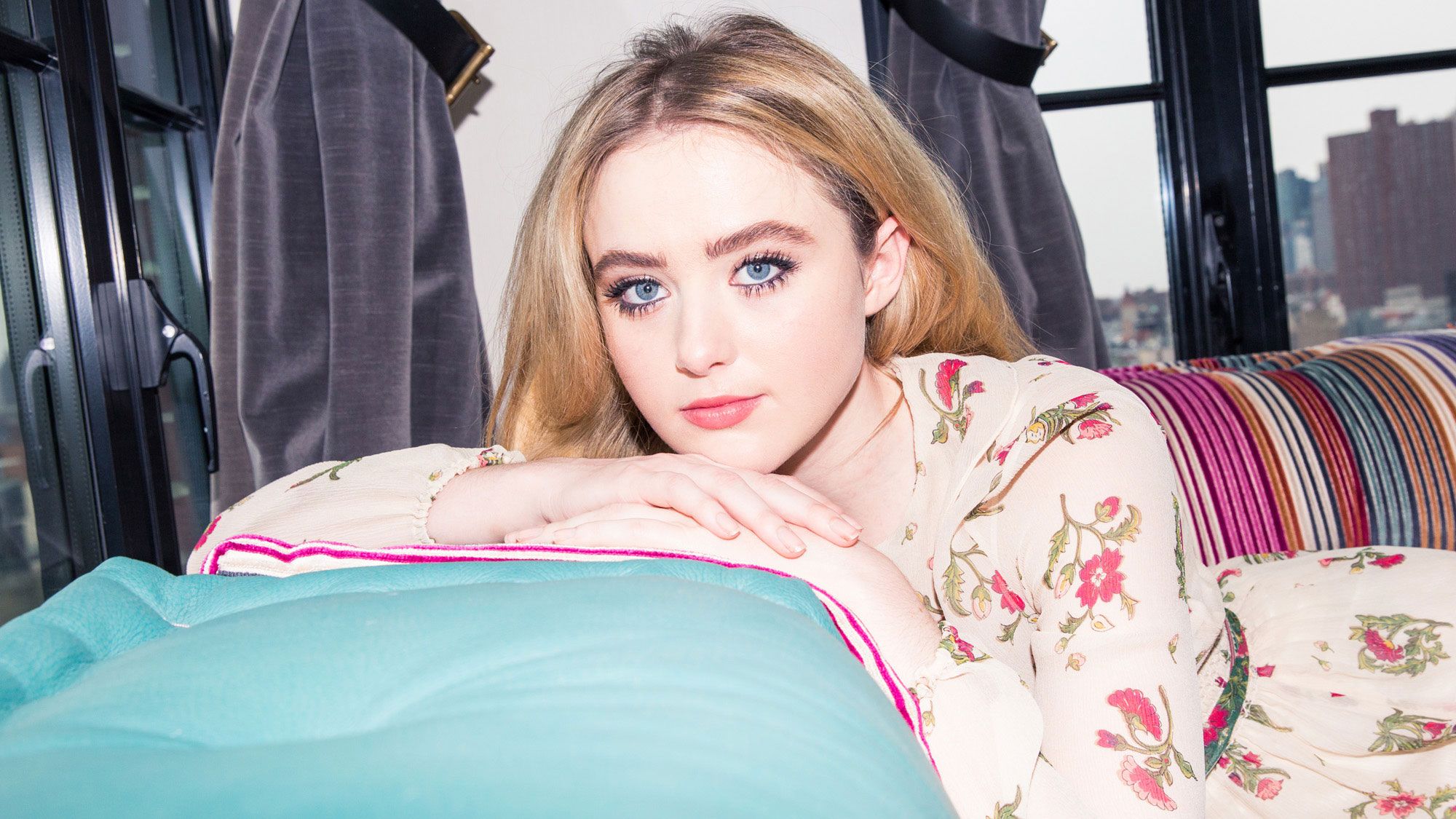 Celebrity
After telling us about her hilarious new film, Blockers, the actress gave us some scoop on the hit HBO show.
Alec Kugler
You know those movies that produce genuine, uncontrollable laughter that lasts for way longer than you'd actually like it to? That's how I felt while watching Blockers. The base storyline is a classic—teens trying to lose their virginity on prom night—but this time, it revolves around a group of young women, their #sexpact2018, and thier hilarious parents (Leslie Mann, Ike Barinholtz, and John Cena), who of course try to sabotage it. I left the theater still smiling and was even more eager to talk to Kathryn Newton, who plays Julie in the film.
"I've found my niche," the actress jokes when I bring up the fact that her characters always seem to be on a mission to lose their virginity (hello, Big Little Lies). "The angsty teenage daughter who's a virgin. That's my range."
Of course, that's not *really* Newton's range. After discussing the movie and her own prom story, I run down the list of projects she has coming up: Detective Pikachu, Ben Is Back, Big Little Lies season two. I feel secondhand exhaustion just thinking about all those stunts, the traveling, and the organizing of schedules to make it work, but as Newton sits comfortably on the striped couch in The Ludlow Hotel's penthouse suite, she swears this is what she loves to do. "If I had a choice, it would be to never stop."
And thankfully, she won't be stopping anytime soon. Ahead, the actress shares her all-too-relatable high school dance story, how she feels about the amazing women who play her mom, what's to come on Big Little Lies, and her recent encounter with a ghost.
---
You have so much going on, but first, we have to talk about Blockers:
"Everyone's really excited because it's all about the female perspective, which is great, and it's really resonating with people in that way. But I'll tell you the truth: When we were making the movie, I don't think anyone thought about that. Nobody was thinking, 'Oh, this is about female empowerment'—in a good way. We were just trying to make a good movie."
Was it a movie you really related to while filming?
"Yeah! I relate to all of the girls. At the end of the day, they each do what's right for them and stay true to themselves, which is really awesome. You don't get a lot of roles that are realistic like that. The way we as friends talk to each other is how I talk to my friends. And my relationship with my mom is so similar to the relationship with Leslie [in the film]. Everyone goes through that coming-of-age thing with their parents—asserting their independence while still trying to stay close to home."
Did you go to prom in high school?
"I went to prom twice. I went to Notre Dame High School in L.A., and I went to Campbell Hall's prom and my prom. I took my best friend [to mine], and he took me to his. I had done the whole thing where I asked the guy who I really, really liked to go to winter formal, and we didn't even go. Everyone was all anti-formal, and we went to, like, Starbucks instead. I was so upset. I was like, 'OK. I guess I'm going to go to Starbucks now and be a cool kid in ninth grade.' It was not cool. [My date and I] are friends now, so we talk about it, and he knows how I feel. I was peer-pressured into going to the anti-formal, and I don't know why I did that! Go to prom! Do it! Just have that lame high school experience—it's lame for everyone! And it was really fun going with my best friend."
And then you have Detective Pikachu coming up, right?
"That's also a really, really great female leading role. When I got the audition, I was like, 'Pokemon? Hmm.' And then I read the [script] and I was like, 'This is the best role I've ever seen for someone my age.' I've been shooting in London for five months, and I was just in Scotland, and I felt so lucky to be on this film. It's physically challenging—I'm doing a lot of stunts—and we're doing a lot of insane things. My character is just so...unforgivably herself, and I love it. Plus, we're shooting it on film, so it looks beautiful."
Is Pikachu in the movie? How do they do that?
"I can't tell you! I can't tell you anything except I've seen a lot of it, and it looks so good. I think for Pokemon fans—or I hope—it's going to make a lot of dreams come true, because they feel real. That's all I can say."
I also saw Julia Roberts is playing your mom in Ben Is Back. How is it that you always have the best people playing your mom?!
"I've had the best Hollywood moms in the history of Hollywood. I'm learning from the best. I take a lot from them, and they've all treated me very well and really empowered me and made me better. They want me to do a great job for the project, which is how I want to be. I want to bring everyone up, too."
And, of course, there's Big Little Lies...
"Yes! Quinn, my makeup artist today, was actually on the phone with Reese [Witherspoon] when I got Detective Pikachu, because I was FaceTiming her while she was getting hair and makeup done. It was a very difficult thing to try and make both work, but she was like 'Kathryn, we are going to make it happen!' Big Little Lies is going to be…even better than last season, for sure. My role is so challenging [sighs]."
Last season I had to Wikipedia what happened with you because I thought that Ed seemed so creepy:
"[Laughs] That's so funny! I always want to tell everyone what my character goes through, but I also love hearing what people think is going to happen. I've heard some really good ones—just really interesting choices that people think Abigail might do. But it's going to be a really challenging role for me. I'm really excited. Reese is really excited, too."
It really seems like you've been doing it all recently—comedy, action, drama:
"It all happened so fast! But I try to take advantage of it all. I have a production phone, and it already has three thousand photos on it. I'm like, 'What am I supposed to do? I have to give this back!' It's actually the same phone that Zoë Kravitz had for Fantastic Beasts, because they shot it in London, so I keep getting calls from people who are her friends. I'm like, 'Yes, you're Zoë's friend. I know I'm not as cool as her. Wrong number!'"
You mentioned that you once stayed in a haunted hotel:
"It's not even a joke! We were [filming Detective Pikachu] in Scotland, and one of the hotels was definitely haunted. It was a female ghost, because it didn't mess with me, it only messed with the guys. Both of our drivers fell down the staircase, and Justice [Smith] cut his hand. I just got out scot free—a good night's sleep, right across from the Loch Ness lake, looking out for the Loch Ness Monster."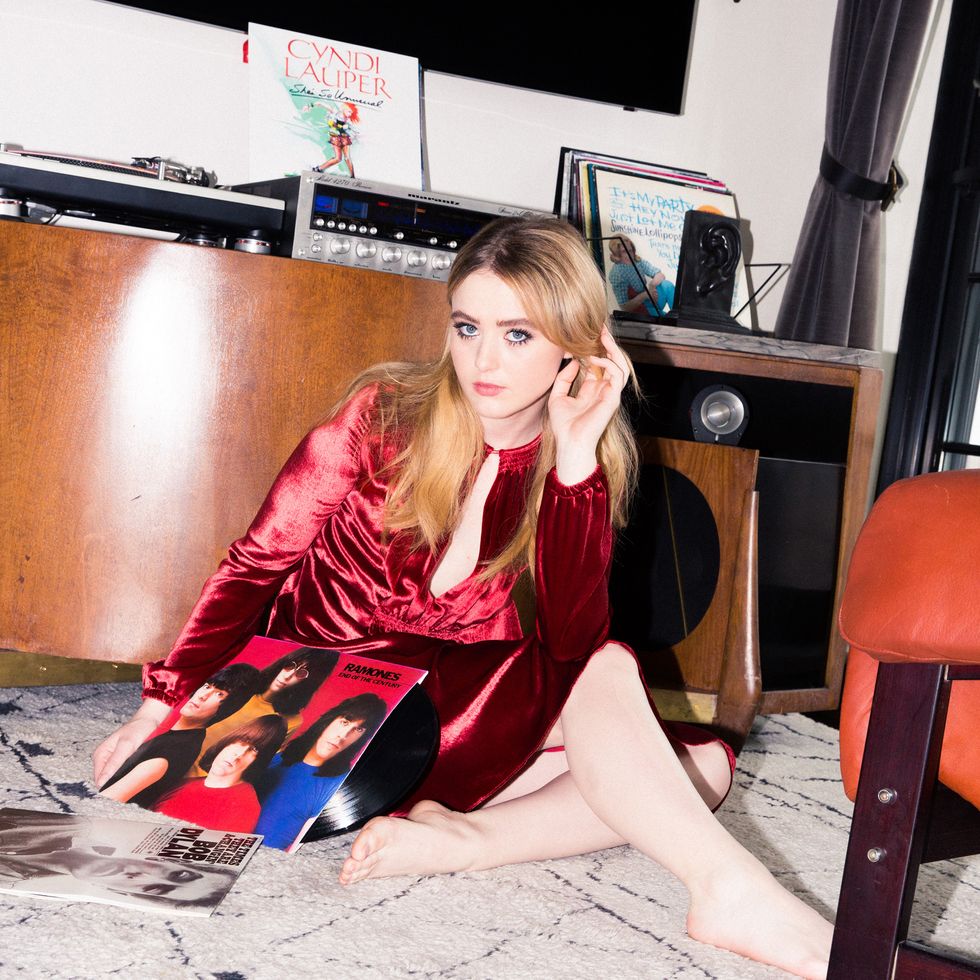 Do you believe in paranormal stuff?
"How can you not? The problem is, Kathryn—me—I have no fear, which is stupid. I never think anything bad is going to happen, I always think everything's great and people are awesome."
What would you say if you saw a ghost?
"I would say, 'This is my room now, you gotta go.' The truth is, I can say that now, but who knows what I'd do? I'd probably just scream and run. I'd get out of their house."
Lastly, we were joking that you're kind of channeling Almost Famous:
"Almost Famous is definitely one of my favorite movies. It's a good coming-of-age film. What are my other favorite movies? The Godfather. I want to be the Godfather. When people ask what my dream role is, I'm like, 'Him.' Wouldn't that be fun? I don't know anything about that world, so it seems like a challenge."
Hair by Quinn Murphy; Makeup by Sheridan Ward
Want more stories like this?
Getting Ready for the Dior Show with Big Little Lies' Kathryn Newton
Lucy Hale Says She Sometimes Thinks About Giving Up Acting
The Google Search That Changed Francia Raisa's Life