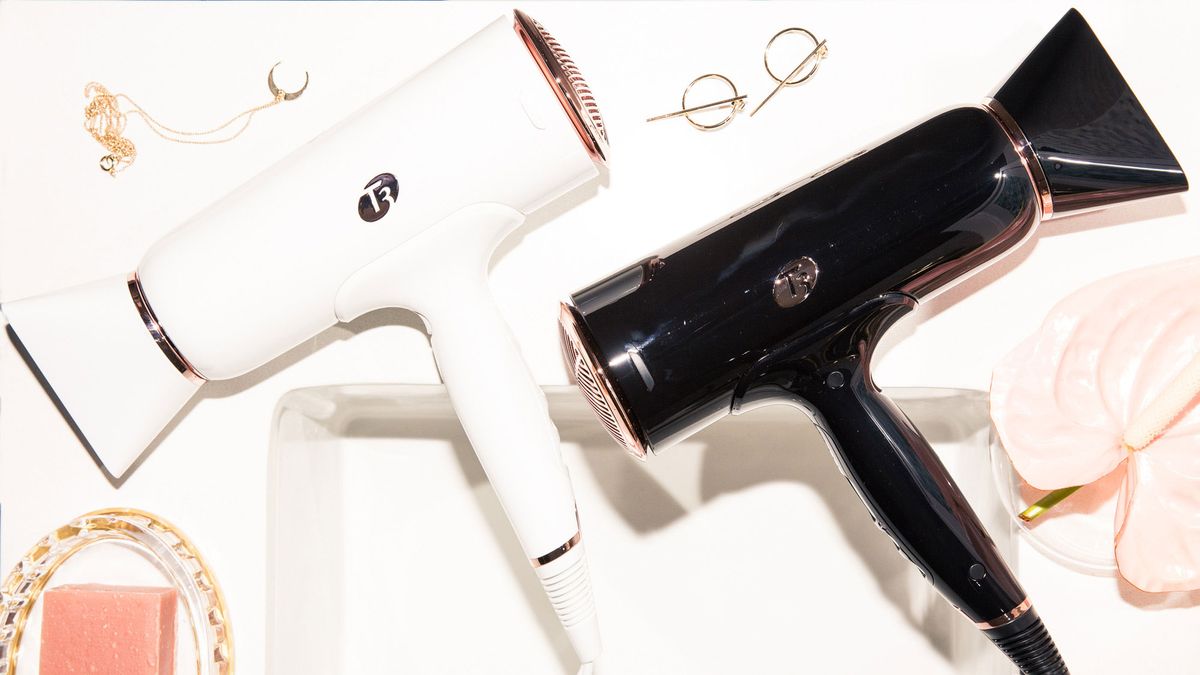 Hair
What Really Makes a High-End Hair Dryer Different
How bells, whistles, and atomic physics will give you the best at-home blowout. In collaboration with T3.
Alec Kugler
Daniella Deutsch, Meagan Wilson
The first time you get your hands on a really good blowdryer, there's only one thing that crosses your mind: "So that's what this is all about." Everything goes faster, your arms don't hurt, and, most important, your hair ends up way more healthy and shiny. And you can multiply that a few times over once you add on the high-tech features on the new T3 Cura and T3 Cura Luxe Hair Dryers—two chic new dryers, each designed for everyday styling and serious blow-dry pros (e.g., me and my thick, curly hair).
---
The technology both dryers share is called Digital IonAir. You probably recognize some aspects of this tech: Ion hair dryers are popular—ions are atoms with a negative charge to them (think back to electrons from high school psychics!) and they encourage your hair cuticles to lay down more flat, so your hair is super shiny and smooth. But what gives T3 an edge is their engineers, who built-in an ion generator that pumps. out. those. ions. And it does so with extra wide air volume. So, after you breeze through your blow-dry, you end up some more time on your hands to take selfies, yes, but you also cut down on the amount of heat damage and your hair stays healthy.
The classic T3 Cura is the white dryer and meant for everyday, straightforward styling. But that doesn't make it basic. You get a dryer packed with tech, like three ultra-precise, digitally-controlled heat settings to help you choose the level of intensity and two air speeds to help you control the actual speed of the process. In other words, there are six different setting combos, and the digital control means that you're not accidentally getting hotter air (aka more damaging temperatures) that you risk with other dryers with which the temps are just a guesstimate. Also, good news if you like to use the cool shot button to set a style (this is a trick that closes the hair cuticles to make it shine): The cool setting can be locked in the On position so you can put your style on blast. In a good way.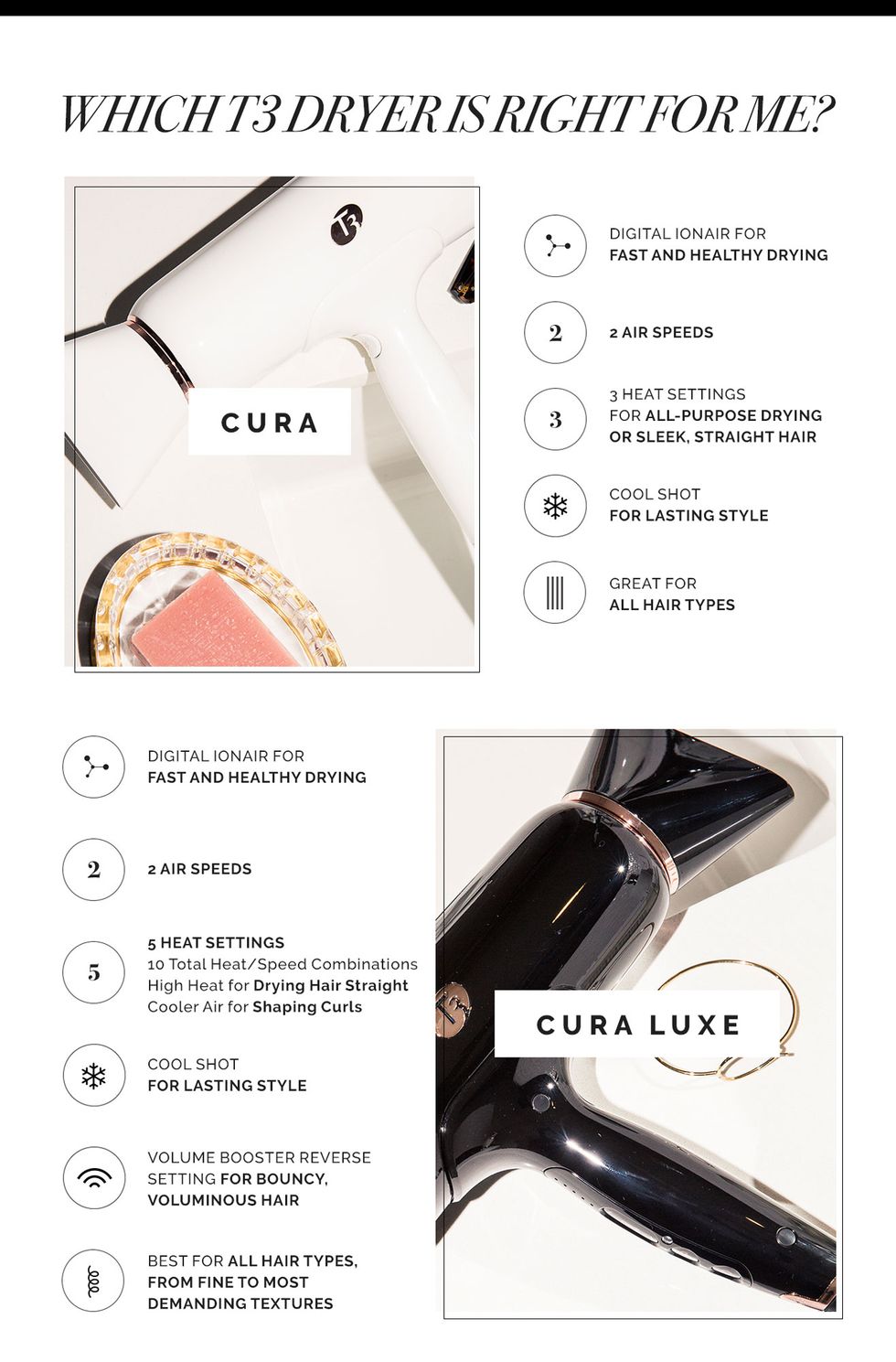 Personally, for my thick, frizzy hair, the Cura Luxe is my match. It has five heat settings—which adds up to 10 different heat-speed combos—so I can go hot and heavy when I'm drying my hair straight, or cooler and slower when I'm bringing out my curls with the diffuser attachment. It also has a reverse setting for the ion generator, called the Volume Booster, that switches off the negative ion generator so hair is less sleek and super smooth, and more bouncy and Texas-y (love that!). But my favorite feature is a sensor in the handle that knows when you've put the dryer down and when you pick it back up. With that, it will start and stop blowing air automatically without having to flip a switch. Yes, engineers! My new big, wavy, sexy blowout style for spring says thanks.