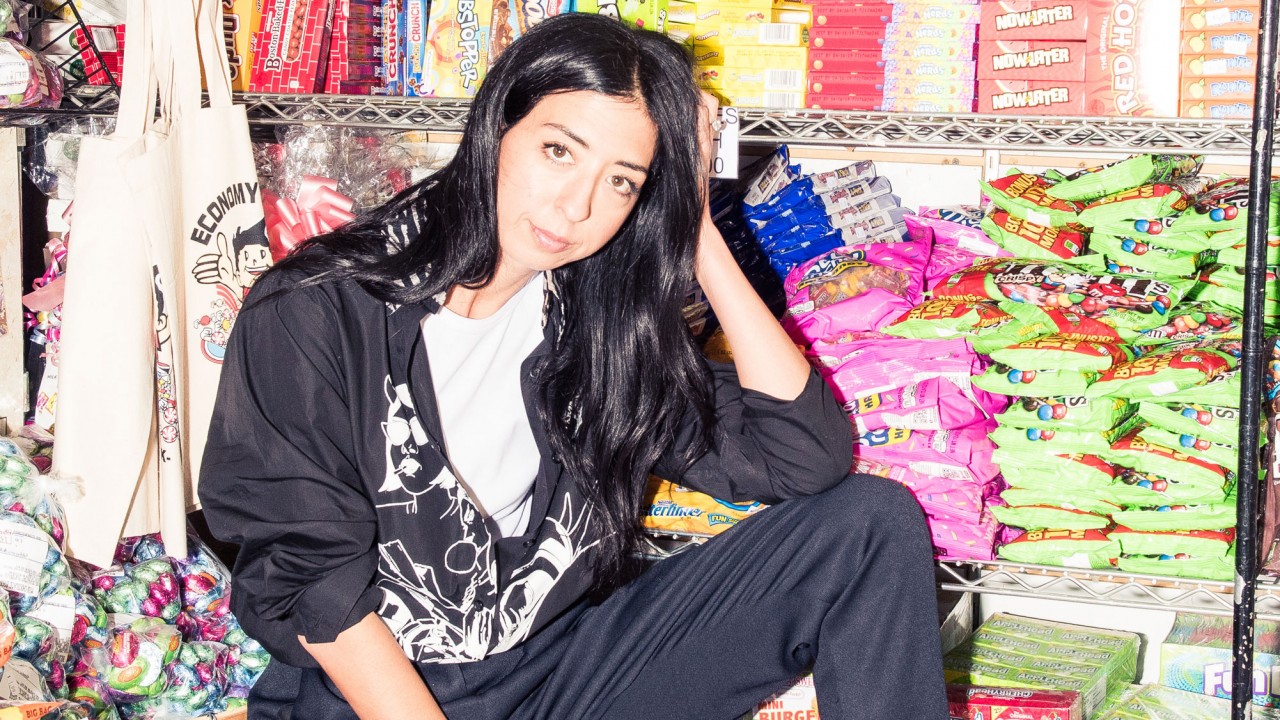 The Right Way to Channel '90s Style, According to a Celebrity Stylist
If there's anyone who knows, it's Danielle Nachmani. In collaboration with Prada.
The '90s have been "back" in one iteration or another for so long, one wonders if they ever *really* went away. Of course, if you're Danielle Nachmani, the answer to that is a resounding "no."
The stylist and EDTN founder—who counts Laura Harrier, Olivia Cooke, and Mary-Kate and Ashley Olsen among her clients—has looked to the decade as a chief source of inspiration in her work for as long as she can remember. It was fitting, then, to have Nachmani guide us on a throwback-worthy tour of downtown Manhattan—stopping by the iconic Economy Candy before moseying over to the Lower East Side's The Flower Shop (which feels like your grandparents' basement, in the very best way possible)—clad in head-to-toe Prada, with the latest take on their signature nylon bags on her arm.
The bags feel every bit as transgressive today as they did when they first made their debut, likely in part because, as Nachmani was quick to note, so many of the forces that defined '90s style continue to be at play. Whether that's pushing the boundaries of what luxury typically signifies, or the fluidity between feminine and masculine that informed so many of those iconic style moments. "It feels very much full-circle," she mused as we chatted through her '90s biggest influences at her Greenwich Village apartment. Of course, we had no clue exactly how full-circle Nachmani's career has become until she revealed the story behind her first-ever designer purchase—a nylon Prada bag, natch—bought while on the first trip to Paris that made the whole fashion thing really click for Nachmani. What can we say? You can't make this stuff up.
How she knew she wanted to become a stylist:
"I found my power and my confidence as a young girl in the way that I dressed. It's something that I was able to do with confidence and the first time I had ever come across something that was effortless to me. I used to buy magazines and be completely immersed in them. Then I realized that there were women that were being credited not for necessarily modelling, but actually creating stories. I became obsessed with Camilla Nickerson, Grace Coddington, and Tonne Goodman and was like, 'That's what I want to do.'"
Why she loves the '90s aesthetic:
"I love the power of the simplicity of the '90s—it's had a huge influence on the aesthetic of my styling. So many of my visual references are Prada campaigns from the '90s!"
Her favorite references from the decade:
"I have a strong love for the time in the '90s where best friends and couples really dressed alike. I love Kate Moss and Johnny Depp, Carolyn Bessette and JFK Jr., Winona Ryder and Johnny Depp, Gwyneth and Brad—or more like Gwyneth and Winona! My personal style is very much masculine and feminine at the same time—I think that's why I'm so drawn to it. It was not weird for a guy to be into something that felt a little bit feminine, or a woman to be into something that felt a little bit masculine, because nothing really had a strong identity. I think that that's appropriate for now, too."
The design elements that make her weak in the '90s-loving knees:
"Clean lines, simple colors, probably not a lot of pattern. I think nylon is so synonymous with the '90s. You think about coats, bags—I feel like there were even shoes—it was just one of those things. I think about a nylon shift dress from Prada and how the whole campaign would be around that. It was just powerful in its simplicity, which is what I really try to focus on when I'm styling for red carpet, campaign, or editorial. I'm a big believer in less-is-more, and I really try to maintain that."
On working with her first celebrity client:
"The truth of the matter is that going from editorial to celebrity was not something that I necessarily had a strong draw to. My first [celebrity styling] jobs were with Mary-Kate and Ashley Olsen. After working with them for a bit, I was like, 'It doesn't get better'—I was really happy working with brands and doing editorial. [Then] a publicist friend of mine reached out to me about an actress named Laura Harrier. We had worked together before, and I knew that Laura would be the girl that would be able to translate the story I wanted to tell. She really understands clothes and appreciates design, and we were able to collaborate on that. It was just as much of a first time for me as it was for her. We really went into it together, like, 'This is what we think we should do, and we're going to do it.' And we did! The response was really, really overwhelming and amazing."
How she describes the Prada woman:
"She's an intellectual woman who doesn't take herself too seriously but is effortless in her appearances. She takes chances in the right way. She's like a walking piece of art! No fuss, but you really respect her. There was something about being in the Prada offices in Milan where I was like, 'Wow. Everyone knows what they're talking about.' It's not only a fashion house, but a business run by a heritage. You could feel the culture in the space."
The incredible story behind her first designer purchase (a Prada nylon!):
"I got it in Paris when I was 15 [years old]. It's a gunmetal messenger nylon Prada bag, a camera bag, from the men's section. I literally still have it because it's the first bag I ever got. It's the most special. That purchase and that trip to Paris with my family changed me forever. It was when I realized that there were girls that I was looking at that looked like me—that I wanted to dress like and I wanted to be like. I didn't really experience that in the town I was growing up in. I saw all these girls in men's trousers and white t-shirts and Prada bags. I bought a stack of white Petit Bateau shirts, went home, and made my mom buy men's suiting trousers and had them tailored to fit me. I wore them with grey New Balances every day for all of school. I could literally still dress like that!
"It's something that I would never let go of because it was the first time I had a moment of defining my taste that felt so personal to me. The first time I felt power in that. Style was always something that I reverted to as a source of confidence as a middle-schooler, and when you're younger, that's something you're constantly searching for. That purchase and that trip laid the groundwork for me."
Her favorite '90s Prada collection:
"Spring 1991 was a really good one. It's a celebration of the shirting silhouette, which I love. It was also [a] really sexy collection. That was one of the collections [in which] they brought in the fanny pack—which is really interesting for this shoot."
On working with the Prada team for red carpet:
"Every moment can call for Prada. I dressed Ethan Hawke in Prada for his Oscar nomination for Boyhood, and got to go to Milan to work with the Prada team. We made a chocolate-brown tuxedo; he looked amazing. I remember being in the offices and being so inspired by the way the women [at Prada] dress.
"The last premiere I did was for a film called Ready Player One, with my client Olivia Cooke, the female lead. Our first red carpet moment was with Prada. It's also interesting that it's a brand that works with editorial and celebrity, which is really nice. It's equally cool on both platforms."
How her throwback influences make their way into her work:
"I'm drawn to pieces off of the runway that are simple in their best form. Really simple silhouettes, clean lines. It comes through with everything that I do, because that's just what my eye is drawn to. But I also think that the clients that I work with are drawn to me because of that."
The biggest misconception about her job:
"Probably that it's glamorous. I think that there's definitely the glamorous aspects of my job, but my job is also very, very physical. It's very vigorous labor, and I don't think that people take that into account. They're like, 'Oh, you get a dress,' and they don't realize that there's so much of a strategy that goes behind that. You're not just working with a person, you're working with someone that's building a career—and the way that you're dressing them is going to impact their career. It's a lot, but I wouldn't have it any other way. I love the chase of it. It's all for seeing your client on the red carpet and knowing that they feel like a million bucks. I feel really proud of the girls that I'm working with. You know, one day at a time."