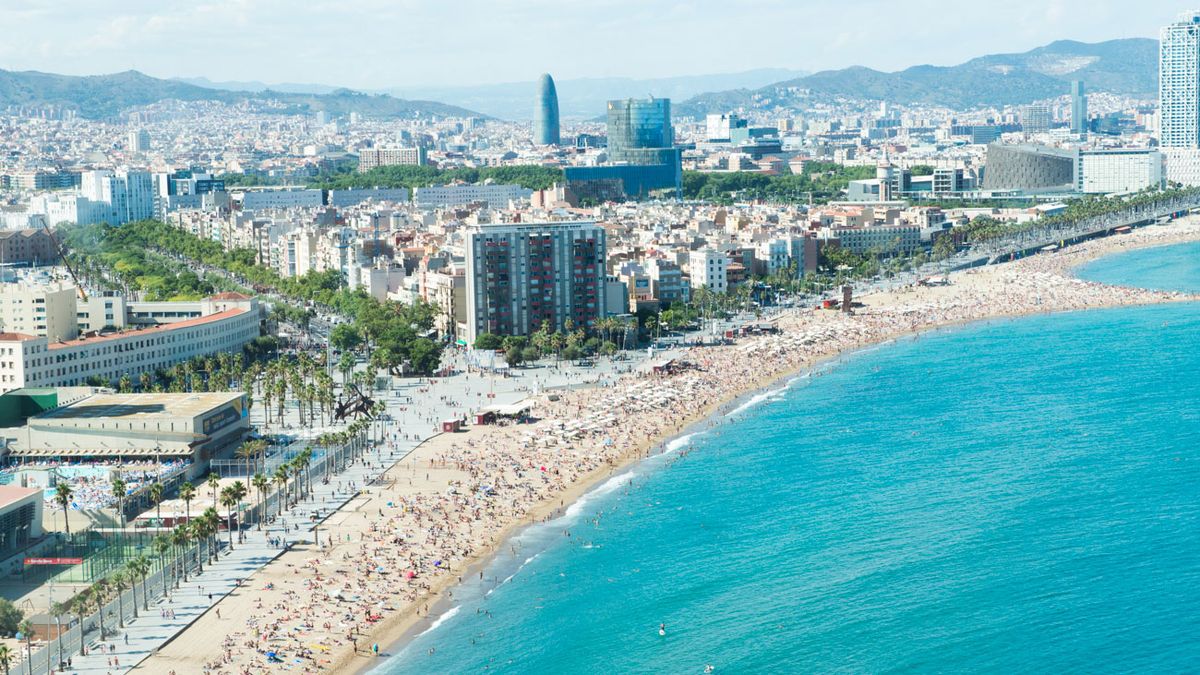 Food
Consider this a food tour of our favorite Spanish city.
These days, it's hard to find a restaurant that isn't doing the small-plates thing—three glorified chicken nuggets artfully arranged on a smear of barbecue sauce. A forkful of spaghetti pre-twirled on a saucer the size of a tealight. Oyster (singular).
But there's a big difference between North American "tapas," which loosely translates to a vehicle for listening to your dad complain about how hungry he is, and Spanish tapas, which is a veritable lifestyle. (And here I was thinking tapas was a dainty, waistline-sensitive way to try all the things. No. It is not.)
In Barcelona, armed with a restaurant hit list long enough to sustain a year-long stay and enough Instagram screen grabs to, well, get that Cannot Take Photo pop-up, we set out on a mission to learn our cavas from our covas (hint: one is a bubbly beverage, the other is a smoke pit) and our churros from our chocos (one is a delightful tubular treat, the other is cuttlefish).
What we learned is that Spain is basically one giant charcuterie board, and that by following a few simple rules, you too can carbo-load like a hockey player on game day. All. The. Time.
---
The Rules of Tapas Engagement
1. Bring cash.
2. Go late.
3. Be prepared to eat standing up.
Pretty easy, right? Here's our guide to the best tapas in Barcelona, in ascending order of fanciness.
CAN PAIXANO
Carrer de la Reina Cristina, 7
Three things you notice upon walking into Can Paixano, the Catalonian culinary fixture that sits pretty at the top of every best-of and must-try list we read:
1. There is a bouncer.
2. This bouncer apparently does nothing, as the place is well beyond capacity at any given hour of the day.
3. Literally everyone is holding a dainty goblet of candy-pink cava in one hand and precariously balancing saucers of cheese, olives, and mystery meat in the other.
We sidled our way into the dimly lit bodega (which is also known as La Xampanyeria, because, like rappers and those running from the law, everything in Spain has two names), quickly realizing the only way to be served is to holler and gesture emphatically at things behind the counter. After we'd gotten our bearings (and our bubbly), we really got into it, pointing wildly at plates of croquetas and chorizo with the enthusiasm of John Travolta in Saturday Night Fever. The food is good, the experience is awesome, and you'll emerge feeling like a true Spaniard (read: ready for a siesta).
Semi-pro tip: On your way out, remember to pick up a six-euro bottle of their homemade cava rosé, sold in the back.
QUIMET Y QUIMET
Carrer del Poeta Cabanyes, 25
Do your best to ignore the signs boasting one-euro pintxos as you walk along Carrer de Blai to get to Quimet y Quimet (trust us, you'll want to save room). Squeeze between patrons to find a sliver of space in which to post up and thank the globalization gods there's an English translation of the menu. Choose the strangest-sounding concoctions on the menu (codfish liver and tomato? yes, please; salmon, yogurt, and truffled honey? hot damn; tuna belly with sea urchin? dos, por favor), and don't flinch when the man behind the counter doesn't acknowledge your existence before handing you your montaditos (the crusty open-faced sandwiches they drizzle with syrupy balsamic, olive oil, or honey and sprinkled with volcanic salt). It won't be the most photogenic meal you've ever had—and lord help you if you try to get a bird's-eye shot of your spread—but the flavors are bomb. Pair with their house beer or one of the hundreds of wine bottles lining the walls from floor to ceiling.

Semi-pro tip: No one's going to come take your order. Ever. You have to get a little ballsy and maneuver your way up to the bar to be heard (it takes some getting used to, but there are no perks to being a wallflower in Barcelona—trust).
LA PEPITA
Carrer de Còrsega, 343
Once you've had your fill of counter-pointing and standing-room-only situations, roll over to La Pepita for a more North American diner-friendly experience (read: there are chairs). La Pepita is the Barcelonian equivalent of the low-key snack bar you'd frequent on a Friday night in Brooklyn, save for the legs of Iberian ham hanging from the ceiling: The walls are scribbled over from floor to ceiling with colorful graffiti, the clientele is predominantly twentysomething, and the servers, who all look like they daylight as soccer (er, futbol) club stars, speak perfect English with a Catalonian lilt. Start with the classics: pan con tomate (crushed tomatoes with olive oil and salt smeared onto grilled bread), croquettes and patatas bravas smothered with aioli and tomato paste. Sample the lemony charred octopus over mashed potatoes, the sea bass salad, and anything with foie gras. Finish with a Crema Catalana—a bruléed Spanish custard.

Semi-pro tip: Pull a magenta Sharpie from your Mansur and sign a subway tile before heading to the next spot.
BODEGA 1900
Carrer de Tamarit, 91
Snag a reso if you have your heart/stomach set on this turquoise-doored tapas bar in the Sant Antoni 'hood. Owned by brothers Albert and Ferran Adria, who are also behind the famed Michelin-starred restaurant Tickets, Bodega 1900 is simple yet creative tapas washed down with vermut (vermouth). Must-samples include the razor clams with white escabeche sauce, oozing Iberian ham croquettes, and fried calamari with hot sauce (which a friend astutely described as "a delicious squid hot dog").

Semi-pro tip: The early bird gets the verm[ut]. Book your reservation at the very least a week in advance.
Everyone from your hotel concierge to your taxi driver will warn you not to eat on La Rambla, the biggest, brightest, most tourist-clogged street in Barcelona. But venture off the main artery onto the side streets, and you'll find gems like Chök (cronuts!), La Boqueria market (everything!), and Gats, a gorgeous tapas restaurant with pocked stone walls, art-directed cocktails, and a vaulted skylight seemingly made for top-lighting your spread (you may have scrolled past its plant-laden, throw-pillow-lined indoor courtyard on Pinterest). Order a skillet of creamy char-grilled paella, nibble on blistered poblanos, dig into a cone of lightly fried calamari, return home with the HEAVY tag stuck to yourself instead of your luggage.
Semi-pro tip: Ask for a seat outside to be serenaded by passing street musicians. Ask for a seat inside if that's not your jam (pun intended).