WWWRN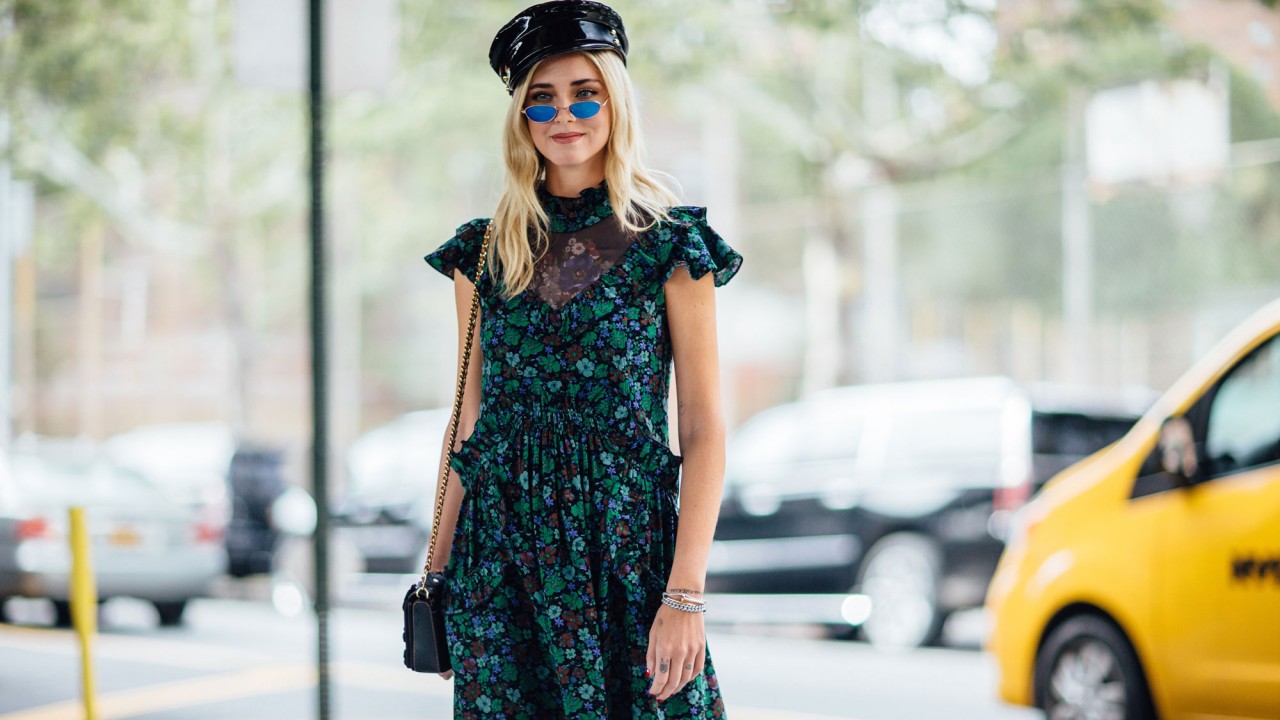 8 Incredible Spring Outfits You're Going to Want to Buy Immediately
Everything we want for the spring that doesn't seem to come.
The almost-spring weather out there is seriously testing our patience, but luckily we are very good at online spring outfit shopping, which we'd like to think will help spring come faster. If you'd also like to subscribe to our optimistic (and financially questionable) mind games, here are eight spring outfits we're currently dreaming of putting together. Click through, buy a couple of your favorite pieces, and watch warmer weather manifest. OK, that might be the natural passing of time, but maybe it's also the power of pretty new dresses, right?
---
Tara Gonzalez
Assistant Editor
1. Sandy Liang Choux Choux Ruffled-Chiffon Midi Skirt: This skirt is like a multi-tiered birthday cake for your legs. My birthday was just a couple weeks ago, and I refuse to let it end (I mean technically it's still my birthday month), so I should buy myself this as a gift now, right?
2. Reike Nen Curved Middle Flip Flop: What's better than a shoe that doesn't make you choose?! This curved flip-flop exposes half of your foot and does asymmetrical in the best way possible. I've also never seen anything like it, and I know my toes haven't either. It'll be the perfect set of spring sandals to amp up a more basic outfit…or add even more fun to a crazy one.
3. MVMT Public Figure Sunglasses: I went a little overboard on the cat-eye trend and now own too many sunglasses in the same shape. This pair is a nice rounder variation. The subtle purple lens is also a great detail that sets it apart from all the other round Kurt Cobain-esque white frames out there.
---
Meg Gegler
Audience Development Manager
1. Alice McCall Quincy Denim Overalls: Jumpsuits, especially overalls, are one of my favorite things to wear in the spring. Mostly out of convenience, but also because they're super flattering on my long and slender frame. I've been eyeing this one from Alice McCall for a while. Finding a one-piece that fits me lengthwise is always a struggle, but according to the size measurements, it seems like this one would be the perfect fit.
2. Laura Lombardi Curve Gold-Tone Hoop Earrings: I may be a little late to the hoop game, but I didn't want to invest in a good pair until I found *the ones*. I am a person of minimalism, so seeing these hoops from Laura Lombardi are a steal both price and stylewise.
3. Superga 2790 ACOTW Platform Sneakers: I will never not buy a new pair of white sneakers for spring/summer. I maybe have about 11 pairs, but they're a staple—I cannot help myself.
---
Noah Lehava 
Senior Editor: Health and Wellness
1. Boyy Leather Sandal Slides: I'm a believer that a good shoe is all you need to take a simple outfit to the next level. That's probably why I have quite an extensive collection of pairs! Boyy, one of my favorite accessories designers right now, has a signature buckle that makes me weak in the knees. These will be mine, y'hear?
2. Blazé Milano Savannah Sunset Silk and Linen Blazer: I live in t-shirts and jeans almost all year round, so I rely on easy pieces to change up my look. No one makes blazers like Italian brand Blazé. I want one in every color!
3. Monse Dad Deconstructed Jeans: Like I said, I wear denim every day—so much so that when a recent trip to Dubai called for business-casual wear, I realized I didn't own even ~one~ pair of pants that wasn't denim. Monse's take on jeans, with little quirks, is my ideal addition.
---
Hannah Baxter
Assistant Editor
1. Loeffler Randall Tilly Wedge Slide: Slides are my be-all, end-all sandal of choice, and this delicious Limoncello color from Loeffler Randall is dying to join my spring rotation. The low wedge is super comfy, and the soft patent is buttery soft, which means I'll happily wear them every chance I get.
2. Asceno London Blush Stripe Printed Pyjama Top: My love of pajamas is well documented, so a crisp white silk shirt is the perfect seasonal addition. I'll eventually invest in the whole set, but for now this striped Asceno London top is just enough to update my wardrobe for warmer weather.
3. AMO Tomboy Shorts: AMO makes the *best* denim, but I haven't snagged a pair of shorts from them just yet. Since I'm still obsessed with the classic white-on-white colorwave, I think it's time I buy these versatile cutoffs to complete my look. Yes, I am very optimistic about the upcoming temperatures, and no, I won't be taking them off until spring and summer are over. 
---
Brooke Bunce
Social Media Manager
1. Cinq a Sept Mathis Dress: The best spring outfit is one that's made for adaptability—hence why I'm constantly reaching for dresses when the weather is at its weirdest. I'm obsessed with these feminine ruffle straps and the form-fitting bodice, and also the fact that it lends itself to layering with a turtleneck and tights.
2. ASOS Flock Wide Fit Chunky Flat Sandals: Every year I say I'm going to try a new sandal style, and every year I end up sticking with an old reliable: a comfy, snug, chunky black buckled pair I can wear over and over again with every outfit possible. But these are shiny enough to give me vintage appeal and simple enough to wear to the office.
3. Sensi Studio Bi-Color Toquilla Straw Basket Bag: I've fallen prey to spring's most popular trend: woven bags. I'm particularly attracted to the ones that are the same iconic bucket shape that's all over Instagram, and the unexpected color combo makes it fresh for spring, summer, AND fall.
---
Samantha Sutton
Editor
1. & Other Stories Striped Long Sleeve Tee: I've recently developed a newfound love for & Other Stories—seriously, the stuff is just my style, and these striped shirts are perfect for spring! I can't express how much joy that contrasting pop of color on the neckline brings me, and while I already own this exact top in green, the navy colorway is too classic to pass up.
2. Apiece Apart Merida Cropped Cotton-Blend Twill Wide-Leg Pants: If you've worn cropped white pants around me over the past month, I've probably creepily checked you out—because I'm looking for a great pair of my own! I am confident these babies are it. Time to check out!
3. Converse Chuck Taylor All Star Core High Top: Every year, once the warmer weather hits, I invest in a new pair of white sneakers—specifically, Converse or Vans. This year, however, I'm going with cream (and high tops, which is new for me). It's just enough of a switch-up to make a statement, but the light neutral shade will still help to elongate my short legs.
---
Curranne Labercane
Editorial Intern
1. RE/DONE Levi's Cropped Two-Tone Denim Jacket: I've been on the hunt for the perfect vintage denim piece—and I can't get this cropped gem by RE/DONE off my mind. Paired with a plain white tee, leather pants, and (in an ideal world) a pair of Dior J'Adore slingbacks… Mhmmm. Dream outfit SS18.
2. Saint Laurent Loulou Toy Shoulder Bag: I'm into the color of love a little extra these days. That, and I've been thinking a lot about a new everyday carry-all. Red Saint Laurent quilted Loulou—I've got my eyes on you.
3. REEBOK Club C 85 Sneakers: Now that the weather is (finally!) picking up, I'm all about walking everywhere—which means I can totally justify a purchase in the shoe department. Reebok Club C 85 Archives are my go-tos this season. Diggin' those retro feels.
---
Katie Becker
Beauty Director
Part of the series:
WWWRN