This Model & Stylist Has a 3-Step Process for Getting Rid of Pimples
One look at Beija Velez's glowing face, and you'll see why we're trusting her.
Models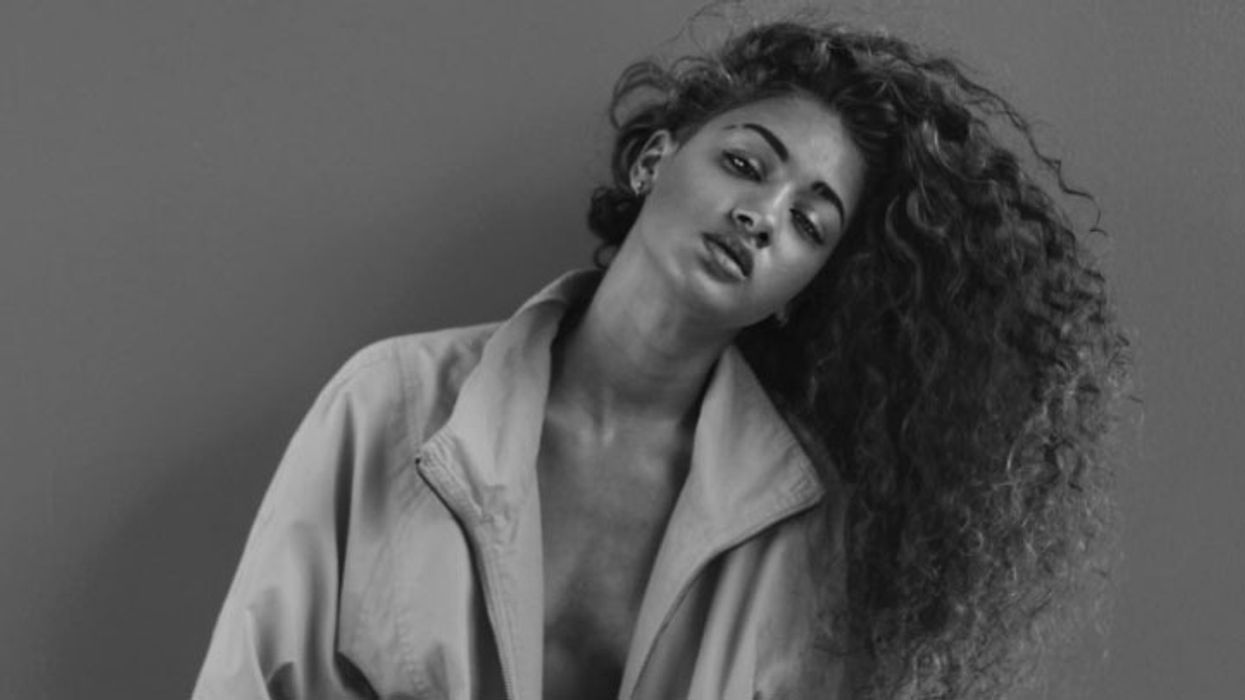 One peruse through Beija Velez's CV, and you'll want to meet her. Her first role was creative consulting work for Usher, and she's now personal shopping for Ciara (and others). In between her two major gigs, Velez booked her first-ever modelling job with Nike (casual) and had an 11-month stint as News Anchor at Complex, where she interviewed everyone from A$AP Ferg to Kodie Shane to Linkin Park, and spoke on a panel alongside Spike Lee. Throughout it all, the creative's always managed to find time for her one true love: basketball.
So our question for her was this: How does one woman who seemingly spends every hour of her day on her craft also manage to maintain glowing skin, shiny mane-like hair, and eyebrows we wish we could pull off ourselves? We had to find out. Below, all of Velez's tricks. Get your pens ready.
---
Hydration is at the forefront:
"My homeboy put me on drinking two gallons of water a day—I literally walk around with a gallon of water. People are like, 'Where is she going?' [laughs]. It's like an accessory now."
She can't live without this one type of soap:
"Black African soap is [my hero product]. That and shea butter. Black African soap has minimized my pores and blemishes. I use witch hazel as my toner, and I love tea tree oil. Organic tea tree is amazing at tightening and firming the skin. After I wash my face and do my whole regimen, I use vitamin E oil to lock in moisture and help with blemishes."
Why the first drink she'll throw down the hatch isn't the most pleasant:
"I take a shot of raw apple cider vinegar every morning. It's disgusting, but it works wonders for flushing out impurities and toxins. And again, a lot of water. Whenever I'm at a restaurant, I always ask for water with lemon and no ice. I'm very picky. You know when you get a bag of chips and it's just all air and no chips? That's how it is with the water. I'm like, 'Just give me the water, no ice.' ….What the hell was that analogy? [laughs] You get what I'm saying."
She swears by this specific kind of face mask:
"When I'm getting dark circles under my eyes and my skin looks tired, I do a bentonite [Aztec Secret Indian Healing Clay Mask]. It's completely natural, and you mix it with the raw cider vinegar. It stinks like hell, but when I put that on it literally looks like I've slept for five years [laughs]."
She swears by three products to fight pimples:
"I use Oxy [Acne Treatment]. Right before a photo shoot or a casting call, I let it sit and then use tea tree oil with a cotton ball. From there, [I put on] light shea butter so that I don't have any scarring on my face. Girl, I try to use natural products, but sometimes you just need the chemicals. Sometimes you gotta zap these things away, and the Oxy pimple cream does wonders."
Her one eyebrow cut was actually accidental:
"My left eyebrow; I had just won a trophy, and I was laughing and hit my head on the trophy. That cut is real. The other cut on my other eyebrow was for aesthetic purposes for a photo shoot, and I've just kept it. People hate it, but I'm like, 'I'm going to keep doing this till I die.'"
She's put in work to have her hair looking like it does:
"Funny, not-so-funny story: About three years ago, someone straightened my hair at a photo shoot, and my hair was straight for two years after that. I'm only now bouncing back—my hair was a lot curlier, bigger, and longer than it is now. Jamaican castor oil has come in to save the day—black Jamaican castor oil. I use it as a hot oil treatment. You put it in your hair for 15 to 30 minutes and put a shower cap on. You can put a blowdryer on top because the heat activates the oil, or you can just walk around for an hour with it on as a mask. Then rinse it out really, really well. It adds a lot more definition to your curls.
"I also use Cantu shea butter shampoo and conditioner. I try to stay away from sulphates and parabens because that dries your hair out and is actually very damaging."
Her advice for young women looking to get their start in a creative field:
"Thank you so much for asking this question. Trust the process. The internet has made it so you're literally one step away from whoever you're trying to get connected to—the accessibility is there. Create every day. Don't regret anything. Don't hold back. Don't be afraid of what anyone else is thinking because they may not understand your ideas. In due time, if you practice diligence and consistency, it's pretty much inevitable that everything will come your way."
Photo: Courtesy of Instagram/@beijamvelez
Want more stories like this?
4 Products Pharrell's Muse, Mette Towley, Always Keeps With Her On Set
How This R&B Singer Keeps Her Skin So Perfect
Is Facial Yoga the Secret to Youthful Skin?