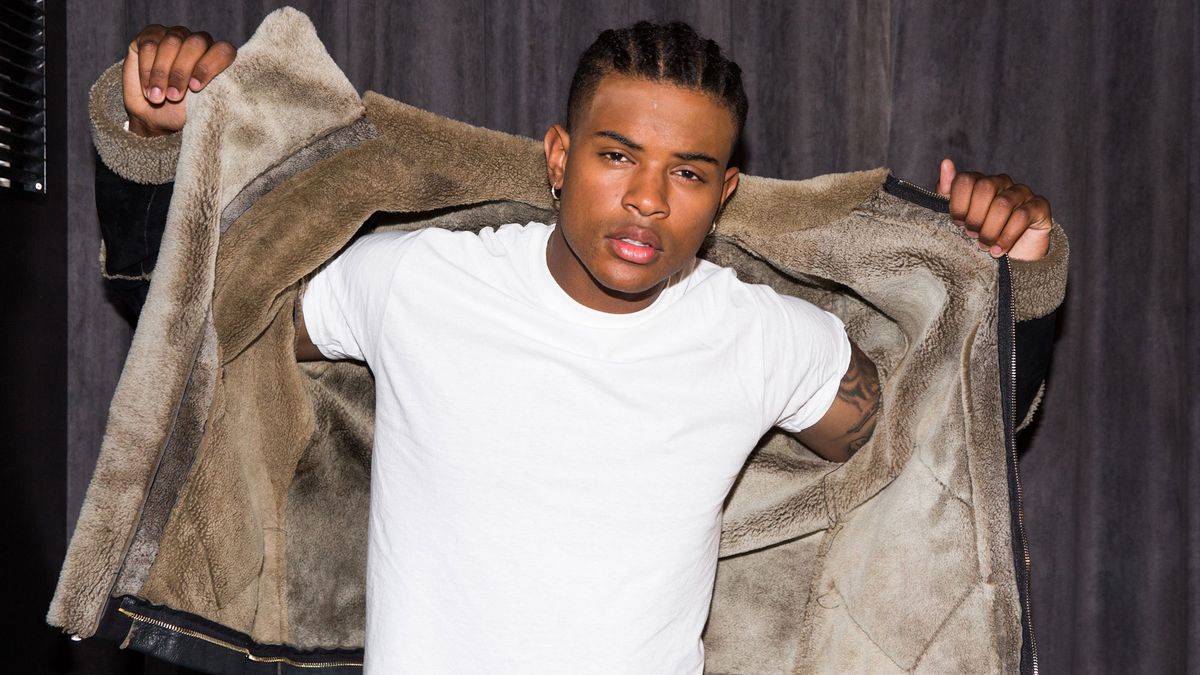 Celebrity
Plus 13 other facts we found out about the multi-threat during our interview.
Alec Kugler
To call someone a know-it-all might not sound like a compliment, but in Trevor Jackson's case, it definitely is. Probably because the 21-year-old knows—or, rather, does—it all. Even before discovering his background of gymnastics, his passion for surfing, and his in-depth knowledge of cheese (oh yes, he's a cheese fanatic), we knew Jackson as a young actor who plays Aaron on the hit Freeform show Grown-ish, which also stars Yara Shahidi and Francia Raisa.
These days, however, Jackson is hoping to bring another one of his talents to the spotlight: music. He recently released his LP, Rough Drafts, Pt. 1, and simultaneously kicked off a tour with singer Justine Skye. And did we mention he's starring in the remake of Superfly, out on June 15? If there was ever a time to get to know the up-and-comer, that time would be *now*, so we've rounded up 14 facts about him, straight from our interview, ahead. We promise you, this guy is anything but boring.
---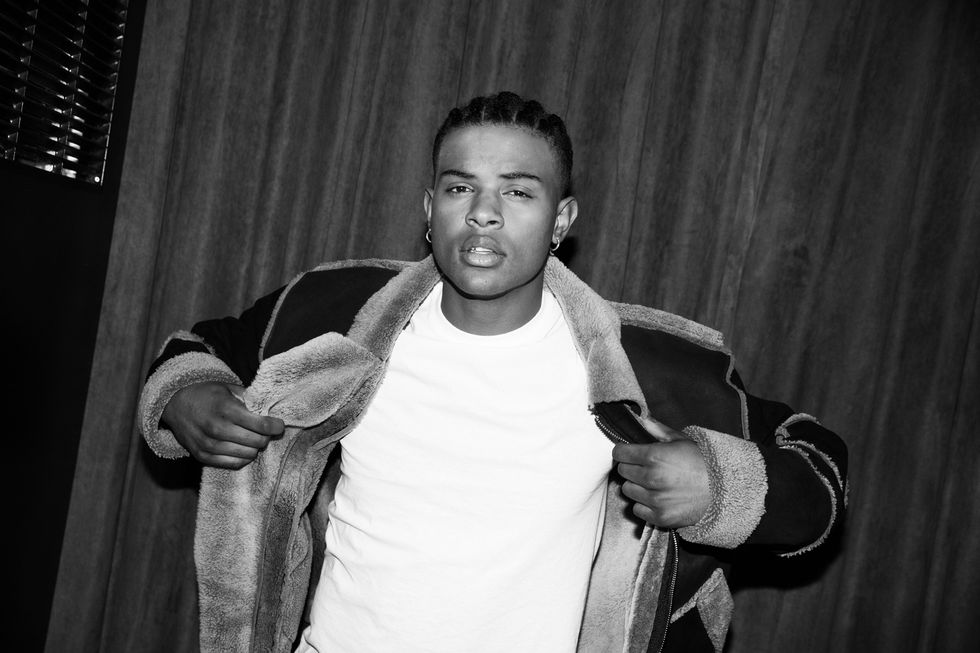 1. He's the Definition of Multi-Talented
"My mom says that when I was five or six, I was like, 'I want to be an NBA player, I want to be a movie star, and I want to make music.' I've wanted to be everything at one point—a surfer, a skater, I did gymnastics for a couple years, and I did capoeira for like, eight or nine years.
"Everything kind of started from tapping; I wanted to be Gregory Hines. I realized that if he was in the movie I was watching, he was acting, then he was singing, and he was dancing, and all the girls loved him. It spawned everything else."
2. He's Done Broadway
"I did the Broadway tour of The Lion King for three years, from 2005 to 2008, and moved to L.A. right after that. For the first two years, I didn't get anything. Then slowly but surely I did some guest spots. I did Eureka on the Syfy channel for three years, and then some Disney stuff, American Crime stuff, and Burning Sands. Then [I was cast on] Grown-ish, and now Superfly [which comes out] on June 15. I'm very excited about that."
3. He Has a Personal Connection to His New Movie, Superfly
"I play Priest, a drug dealer—a kingpin at the top of the game. He wants to leave the game but kind of has his hands in too many pots, and too many people depend on him for money, so it's not as easy as he thought. It's a remake of an old movie that came out in the '70s. My dad made me watch it when I was really young, and I was like, 'I don't want to watch this! This guy is just doing a bunch of cocaine!' I didn't know anything that was going on. I watched it again when I was older, and when I found out they were re-making it, I was like, 'Oh my gosh.' This was one of those jobs I really, really wanted. I auditioned a few times—I was too young—and they couldn't find anybody. I just had to lower my voice a little bit and ended up getting the part. I was bawling when I found out."
4. He Does His Own Stunts
"I was doing a lot of fighting [on Superfly]; that's kind of like what's it about. In the old one, he did martial arts, he was a drug dealer, he was pimp, all these things. So I was doing a lot of driving, a lot of fighting, a lot of shooting, being thrown against walls…It was painful."
5. He Really Is Friends with His Grown-ish Costars…
"I feel like you can be on sets with people who are just kind of A-holes, but everybody loves each other, and we're all a very tight-knit family. We get on each other's nerves, just like a family does, and at the end of the day, we just want to make good work."
6. ….But Is Awful at Responding to the Cast's Group Text
"I'm that guy in the group text. They're like, 'Trev? Trev?' Question mark. 'Trev?' Then one of them has to text me individually. I'm like, 'Sorry, guys, for not responding in the group text.' It's too much love—it's too much love at one time. I have to take it in doses."
7. There's a Reason His Album Is Called Rough Drafts
"We're all so hard on ourselves. I've realized that the confusion and the misunderstandings and the mishaps and the mistakes, these are all key and crucial parts to the future you—the you that you're supposed to be getting to. So you've got to go through all of it. I've started to accept that, and my music has become freer and more open. I'm not afraid to admit that I don't know what I'm doing all the time, and that I don't have it all together, and that I make mistakes every day. I never really look at anything as a mistake. It's just helping the path; it's shaping and sharpening the tools."
8. He's "Awkwardly Close" with His Family
"People get weirded out—especially girlfriends. They see us, and they're really...confused. They're like, 'You really love each other like that?' I'm like, 'Yes!' When I go home, everybody's crying. Somebody breaks down and tells all the hardships they went through that year. It's beautiful, because we all hold it in, we try and be strong, and then we see each other… We're the only people we can be vulnerable around, which is kinda cool."
9. He Has a Dog, Matilda, Whom He Refers To as His "Daughter"
"That's my baby girl, I love her so much. She's getting older now, so she's giving me attitude, and I don't like it. She's doing the back talk and the biting—she's been testing me! I'm like, 'I'm your father. You will not speak to me in this way.' She also has a heart on her butt. I didn't even know until after I picked her out of the litter. Her body is black, and then a white heart on her butt. It's beautiful. I'm getting emotional now."
10. He Has a Lot of Tattoos, All of Which Have a Story
"I have a bunch of the aliens [from Toy Story] that were in that box, looking up to the claw. They kind of represent us as people. I feel like we're all in this world, we don't know why we're put here, but we all want to be chosen to do something great. So that always reminds me to reach for more; I want to be chosen for more. Then I've got Prince, who inspired my entire Rough Drafts album, and Mortal Kombat. In my family, I was required to play, otherwise, I'd be in trouble. The back one is Jesus pulling Peter out of the water. There was a situation that happened in my life that was very similar to that, and I had to get something to represent that. And me and my dad got matching tattoos, 'Like father, like son.'"
11. He Loves Cheese…
"My favorite cheese is [High Plains]. Go to the nearest convenience store, get High Plains Cheddar Cheese with—I forget the brand of crackers, but it's some blend cracker thing—with some turkey. Put it together. Welsh's White Cheddar used to be my favorite. It's imported from London. I had it when I was like 17, I was like, 'This is the best cheese.' Then I had High Plains—High Plains is the best."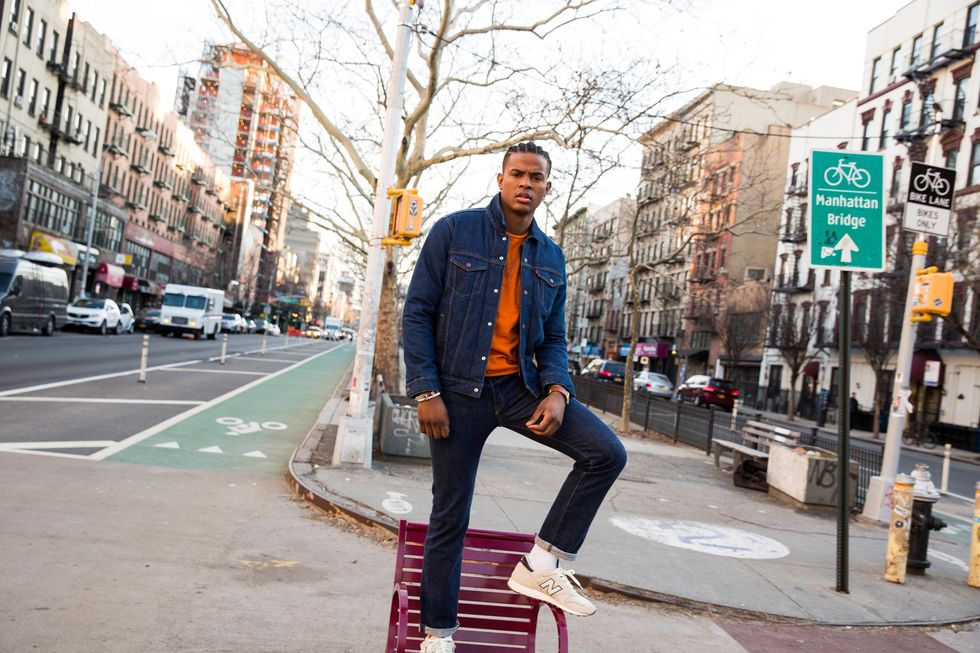 12. …But Probably Shouldn't Eat It
"I'm lactose intolerant, but I love cheese, so I'm not really gonna stop eating it. People just have to suffer around me. 'Roll the window down, Trevor!' I'm like, 'You know what? I can. I'm sorry.' [laughs]"
13. He Finds His Clothes in Unexpected Places
"I normally steal shirts from my grandma. She has a bunch of old shirts that she don't use—just old, cool, random shirts. If she went on a vacation six years ago and she still has [the shirt], I'll just take that and cut the sleeves off. She had this one pink shirt where I was like, 'Grandma, I'm sorry. I'm taking this in front of you. This is mine.' She was like, 'You can have it, baby.'"
14. He's Into Surfing
"I started surfing when I was 11 years old, in Hawaii. I was there for like, four months. There's nothing closer to flying, ever, that I've experienced in my life than when I surf. I stopped for like, eight years, and I was going through a lot when I was in L.A., just a lot of stress, a lot of things going on. I was like, 'I'm just gonna go surf.' I was out there watching the dolphins, the birds, the sun, catching a wave and just riding, and it's just like, 'Wow.' You feel like you're in sync with everything that's going on. You're in balance. There's no feeling in the world like it."
Styled by Avon Dorsey and  Tyler Harris; Grooming by  Miyako J.
Look 1: Romeo Hunte shearling coat; Hanes t-shirt; J. Lindenberg pants, Vans sneakers; Coach watch; Mr. Ettika bracelets. Look 2: Levi's denim jacket & 501 jeans; Daniel Hechter sweater; New Balance sneakers; Coach watch; Mr. Ettika bracelets.
Want more stories like this?
The Google Search That Changed Francia Raisa's Life
Yael Grobglas Is Always Worried She'll Get Killed Off of Jane the Virgin
The Chi's Tiffany Boone Has the Ultimate Comeback Story