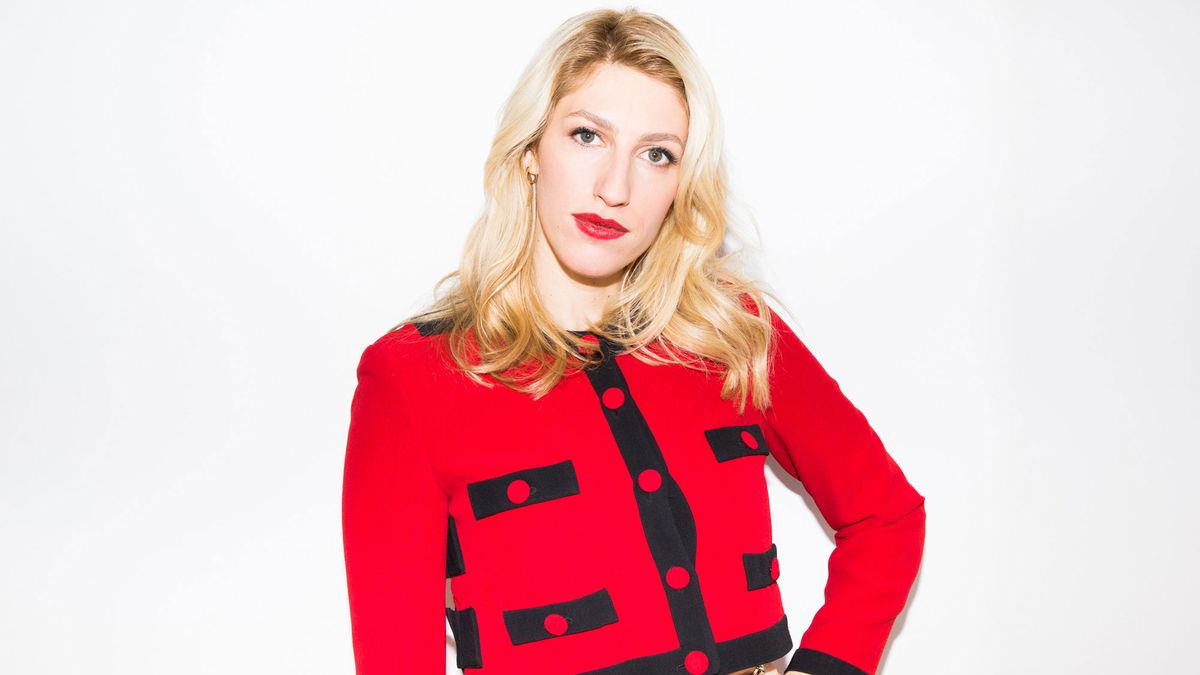 Love And Sex
Meet the Woman Redefining the Word 'Slut'
Karley Sciortino of Slutever wrote the "slut manifesto" you need to read.
Alec Kugler
Karley Sciortino is a slut. And not because I said so, but because she said so. Sciortino refers to herself as a "slut," her behaviors as "slutty," and her newest book, Slutever, as a "slut manifesto." At its core, Slutever is about reclaiming a four-letter word—and yes, that word is "slut."
Within ten minutes of meeting, Sciortino and I have already used that word over 20 times. Usually, at least in my experience, the phrase is delivered with a soft "sl" and a hard "ut," followed by a "!" or "!!!" or "!!!!!!" It's an angry exclamation, an insult, a word received and given out of anger, jealousy, or hate.
Hearing or saying the word has always made me feel bad, but I actually like the way Sciortino says it. It doesn't upset or offend her, and it's obvious in the way it rolls off her tongue. She says "slut" the way some people would say "babe."
---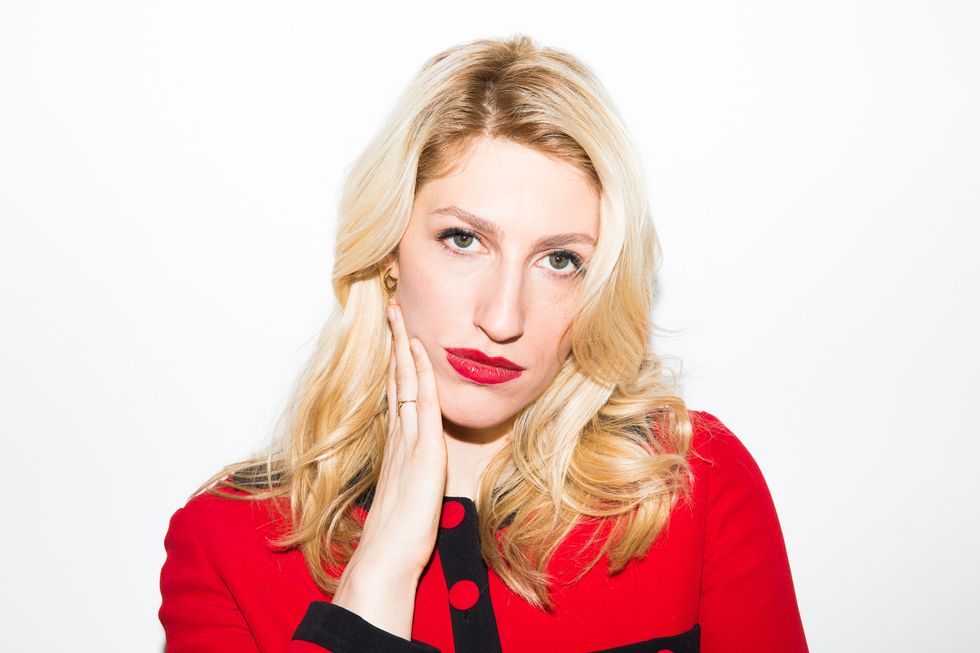 Sciortino mentions how the connotations surrounding "slut" are changing, and I'm quick to agree, referencing how I used to hear the word as an insult when I was growing up and how my sister of Generation Z would never call someone that out of spite. "She would never slut-shame someone," I tell Sciortino who, to my surprise, frowns. "Actually—that's part of the problem," she tells me.

She quickly clarifies. "We all know about the sexual double standard. Men are praised for the same things that women are vilified for." Slut-shaming is about making a woman feel bad for being openly sexual, and the both of us agree that's an issue. But what's equally problematic, at least according to Sciortino, is not using the word at all.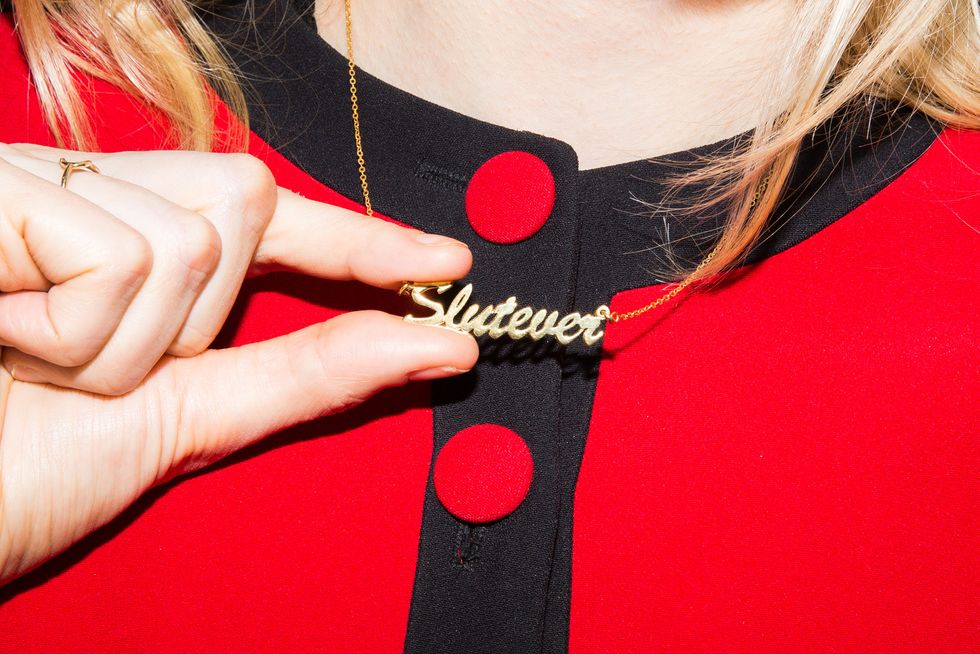 "I think reclaiming the word 'slut' is actually really integral in the process of being able to be sexually exploratory and curious without shame," Sciortino says. "I think if we had slutty role models out there, young women would be able to embrace their sexuality."

If women could hear the phrase and not shudder, Sciortino thinks we'd be on the cusp of real change. "I would love for there to be a woman in media be like, 'Yeah, I have three sexual partners on rotation, and that doesn't mean that I have low self-esteem or because I can't get a boyfriend. It's just because right now it makes sense for me."

Sciortino thinks being a slut is a mind-set, not an insult. She also thinks it deserves a broader definition than most people are willing to give it. If you ask most people to define the phrase, they'd say it's a woman who has slept with multiple people. That's wrong and inaccurate, Sciortino thinks.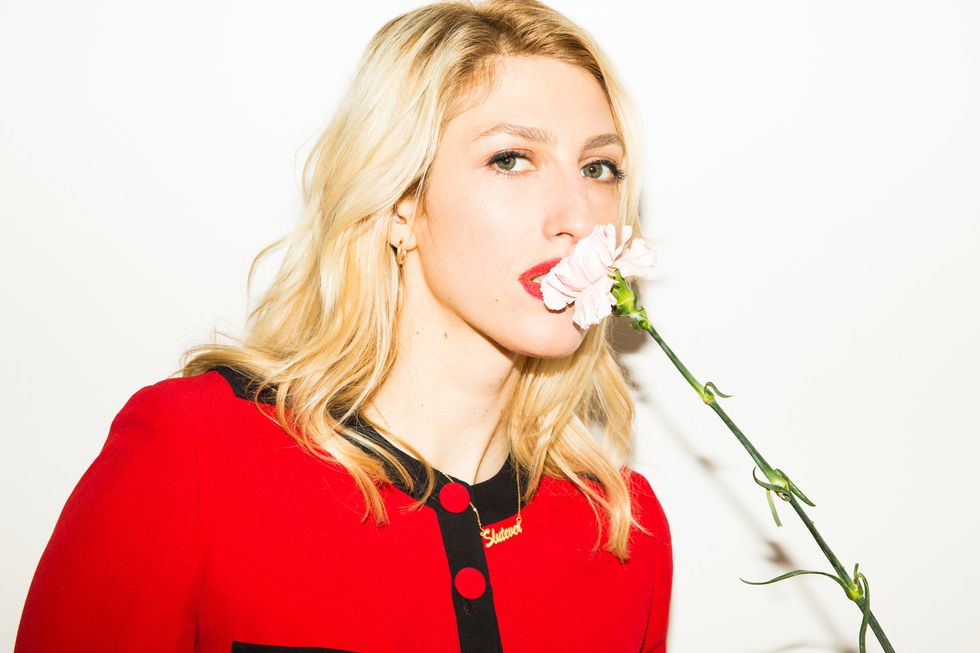 "I don't think being slutty is about fucking everyone you meet or having a high number," Sciortino explains; it can actually be about trying different things with the singular person you're dating. "I think you can be slutty in the context of [a] monogamous relationship. You can say to your partner, 'I've never explored BDSM, and I feel comfortable enough with you to be sluttier than I've ever been within our relationship. I want to push boundaries.'"

Sitting across from me in a red vintage Dior skirt suit with red lipstick, talking about orgies in an abandoned stadium in Cuba, a first job assisting a dominatrix in New York, and writing about it all on the internet and now in a book and on a 10-part documentary series for Vice for everyone to see (even the really Catholic family she grew up in), Sciortino doesn't wince or stutter. She is confident. And every time she says "slut," it starts to sound different to me. Less angry and more normal. No exclamation points. Just letters.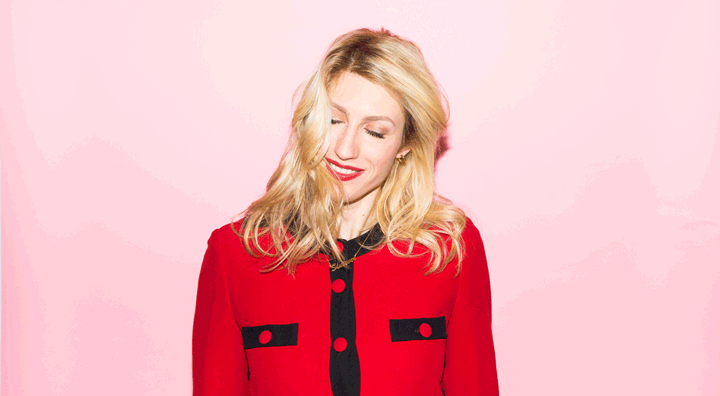 If Sciortino could be a set of letters, she'd be the four-lettered "slut" and the nine-lettered "confident." If you spoke with her for about five minutes, it would appear that in her vocabulary those two words are synonymous, which can be equally empowering and alienating. If we end up living in the world Sciortino wants, where people are openly slutty and talking about it, those of us who are less self-assured in what we want and how to get it can feel alone. It could be a new world where, instead of feeling badly about being called a slut, people feel badly about not being called a slut.
As I contemplate this during our interview, I pause, and Sciortino rubs under her eyes, filling the silence with a complaint about how puffy her eyes look today. "I literally was up crying last night because I got into a fight with my boyfriend. I don't have anything figured out. Nothing!" In that moment she came into focus. Not as the high priestess of sexuality, but as a vulnerable woman who just wants other women to be vulnerable and imperfect and slutty and not feel bad about it.
On her way out, I'm handed a copy of her book and told, "A slut should be a term of endearment. That would be the goal."
Karley Sciortino is a slut—and there's nothing wrong with that.
Want more stories like this?
See Inside Karley Sciortino's Closet
Everything You See On Your Feed Is a Lie—Even Instagram's Favorite Illustrator Agrees
How This Couple Dated, Broke Up, and Then Started a Band