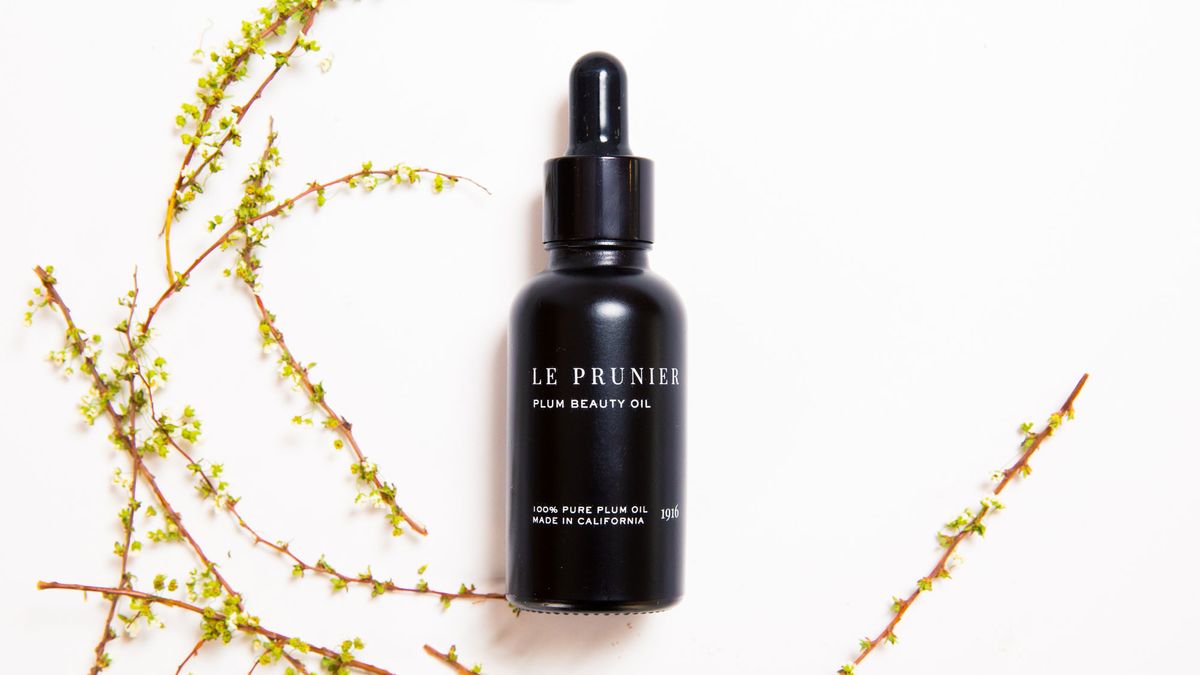 Skin
This New Facial Oil Is About to Be a Cult Favorite
Are plums the next major skin-care ingredient?
Alec Kugler
Now that it's officially spring, I've been trying to supplement—and sometimes replace—my daily moisturizer with a facial oil. Many are packed full of nourishing, anti-aging, and anti-inflammatory ingredients that can help revive my dull, end-of-winter complexion. Plus, the little glass bottles look pretty cute on my vanity. And I think I've come across the new cult facial oil we'll be seeing in more medicine cabinets and Instagrams.
My search for a calming, moisturizing product (that also didn't break the bank) led me to Le Prunier Plum Beauty Oil, which is 100 percent USDA and CCOF certified organic, vegan, and free of essential oils, parabens, sulfates, fragrance, or preservatives. Why plums? Aside from the yummy smell, they're full of polyphenols—which are also found in your daily glass of red wine—a type of antioxidant that helps restore skin elasticity and fight damaging free radicals. It also contains omega fatty acids 6 and 9 to help hydrate the skin, vitamin A to help smooth wrinkles, and vitamin E, another antioxidant that counteracts inflammation. In the end, that means a bouncier, glowier, hydrated, healthy face.
But the perfect oil for you depends a lot on your skin type. Mine is moderately sensitive, combination (dry on the cheeks and oily in the T-zone), and prone to the occasional hormonal acne patch along my chin. When a product has too many active ingredients, my pores tend to panic and pimples pop up in places I don't normally have them, like on my cheeks or forehead. I also wanted something that was non-comedogenic, as my nose gets congested easily, so Le Prunier's stripped-down approach was perfect for me.
I've been applying three to four drops in the morning, after cleansing, toning, and vitamin C serum, gently pressing the oil into my skin with my palms until I see a slight glow around my whole face. After I jade-roll, I add another drop onto my neck (don't forget your neck!) and wait for it all to dry slightly before I layer on my moisturizer and sunscreen. Since I've starting using it, I've had several people comment on how glowy I look, and I'm especially pleased with how *soft* my skin feels. Best of all, it doesn't interfere with my makeup, meaning that my cream blush and bronzer don't melt down my face halfway through the day. Crucial stuff. Overall, I'll be keeping the plum oil in my daily beauty routine for the next few months, until, you know, it's summertime and I need to revise my products all.over.again.
Want more stories like this?
6 Steps to Achieve Glowing Skin According to a Natural Beauty Guru
A Beauty Lover's 14-Step Post-Fashion Week Skin-Care Routine
This New Corner Eyelash Curler Is the Secret to Faking Longer Lashes