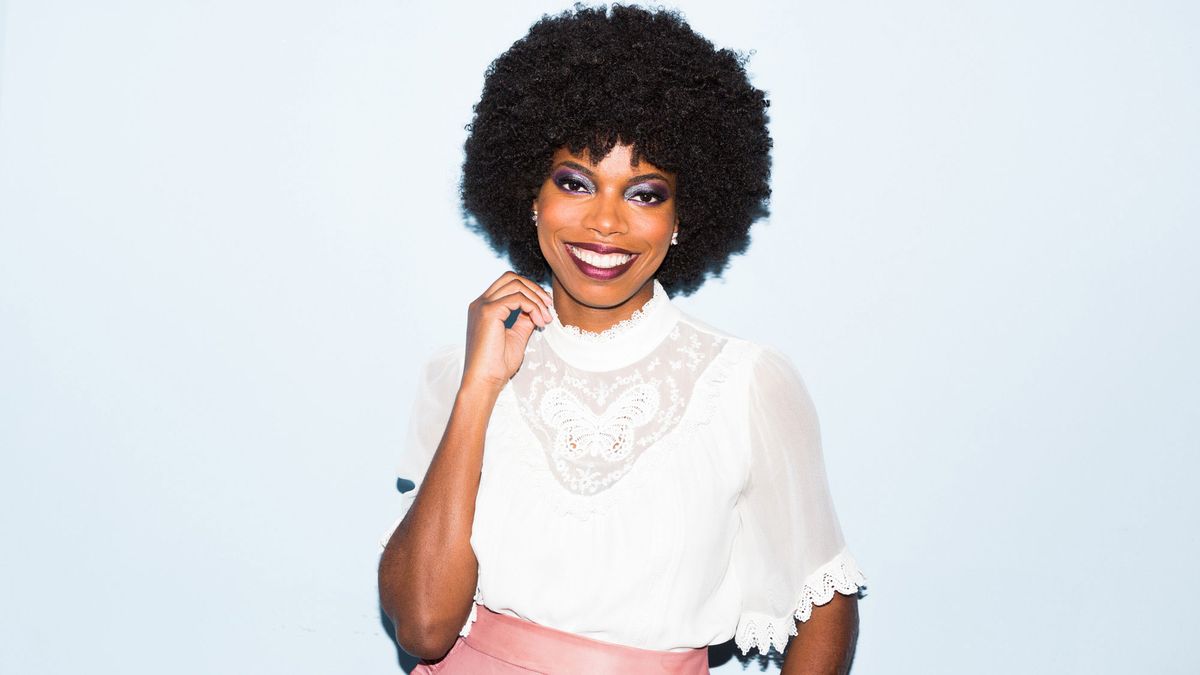 Celebrity
Sasheer Zamata Says Find Your Tribe—Even If It's Just One Person
But there is someone she'd love to add to her clique.
Alec Kugler
Not only can Sasheer Zamata make you laugh your ass off in the most casual of convos, but she also seems to have a secret past as an acrobat. While prepping for the launch of Kate Spade's latest fragrance, In Full Bloom—a perfume for which Zamata is one of three celebrity muses—she has managed to slip into a silk cream blouse without a smear or smudge from the fresh paint job her makeup artist, Andrew Sotomayor, had just completed. Mind blown. Although she did it with such ease, Zamata admits that maneuvering around makeup hasn't always been her forte. "I didn't wear makeup until college, and even then I really didn't know what I was doing. There are some embarrassing pictures out there," she says.
Zamata is in the middle of a budding career that has included a four-season run on SNL and a role in the upcoming movie I Feel Pretty, where she's in the company of Amy Schumer and Busy Philipps. "I also just booked a pilot for NBC that hopefully will get picked up and will be great and I'll be a superstar," she adds. Her path is one that she hopes will continue to reward her with bigger opportunities…and enough coins to support her vintage shopping habit, as I learn. "I love thrift shopping. When I travel I love to find stores and see what they are discarding, because I'll take it. Canada has been really great to me," says Zamata.
---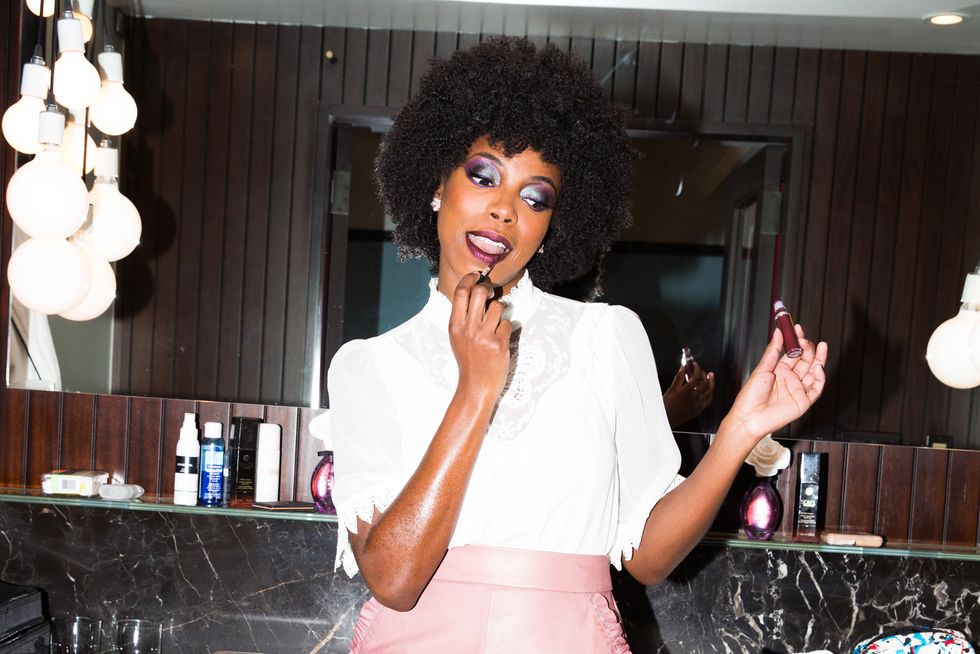 Her personal style is evolving, too. She's gone from a no-makeup-wearing, t-shirt and basketball shorts regular to what a former co-worker coined as her current "lesbian Jedi" look. "I don't know what that is in particular, but I would definitely want to embody that for the rest of my life," Zamata jokes.
With help from YouTube tutorials, she is also developing her hair and makeup routine. "Thank God for YouTube," she exclaims. But you won't find her down a "how to contour" rabbit hole. After dealing with adult acne and subsequent scarring from it, Zamata has become somewhat of a makeup minimalist. "My skin has been going through its own journey, so I've been trying to find things that'll make it feel good and healthy," she says. So days like this, where she's wearing a gorgeous metallic plum lip, are rare. "Keeping makeup off my face on days when I don't need it is very important to me," says Zamata. When she does use color, her go-tos are a streamlined batch of four items that she has gathered from makeup artist recommendations over the years. Her hair process for achieving her perfectly fluffy fro is also very much a work in progress. "Most of the videos that I watch are hair tutorials," she says. "I just bought some clip-ins that I love, so I'm always like, how do you style them? Where should I put them?"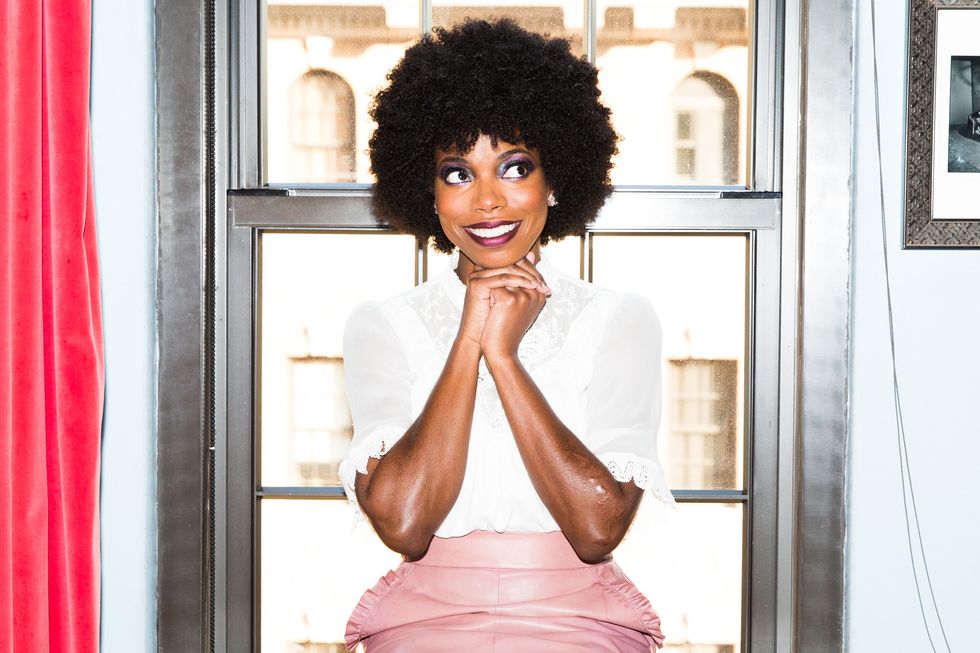 For Zamata and many of her colleagues in comedy, success hasn't come from pushing along solo. Hustling with the tribe she's built has been equally as important as her inherent ability to tell jokes. It's something that she notes in her Kate Spade campaign."It's very beneficial to find people who are like-minded, doing the stuff that you do, and motivate and challenge you to keep rising," she says.
Zamata admits that her tribe is really just one person: best friend and fellow funny lady Nicole Byer. "She's the funniest person I know," says Zamata. "The only person I've ever been able to spend a whole day with, separate, go to our respective homes, and then call each other to talk about the day we just had. She's someone special, and there's a deep love that we have together."
Although she's content with her crew of two, there's one person she says she'd happily add to the mix—Donald Glover. "Honestly, he's someone I looked up to, and still do, for years. I've been a fan for so long, and I also feel like we have a lot of the same interests," she says. "I'd think we'd be friends. So if you see him, tell him I need him in my tribe."
Her crowd just gets her—particularly on social media. "If I post anything about a charity or being a woman, those get the most likes," she says. She admits that her fans aren't interested in seeing her beach photos. "People get so much adoration for posting bikini photos or pics of their body, but if I do that, people are like, 'We don't actually care, that's not what we're here for,'" she jokes. There's no doubt that Zamata has created a platform for herself to share her comedy as well as more serious issues that are important to her, but there's one interview question she would love to stop being asked—about diversity in Hollywood. She's said her piece and is ready to move on. "I think I've said all that I need to say about it, and I also don't think that I'm the person to be asking. Ask the producers, directors, or the people who are in charge of those things, as opposed to the people who are affected by it," she says. Try anything else, really, and she'll happily share. "Ask me about shopping. I'm a person. I've lived on this earth for over 30 years, I've been in comedy for over 10, so there are so many things that people can be asking me instead of what's it like to be black, a woman, and in entertainment," she concludes.
While it's true that she can't control the prejudices in the entertainment business, what has and continues to propel this star forward is authenticity, being her own cheerleader, and speaking her successes into existence. We're watching, taking notes, and laughing with you, sis.