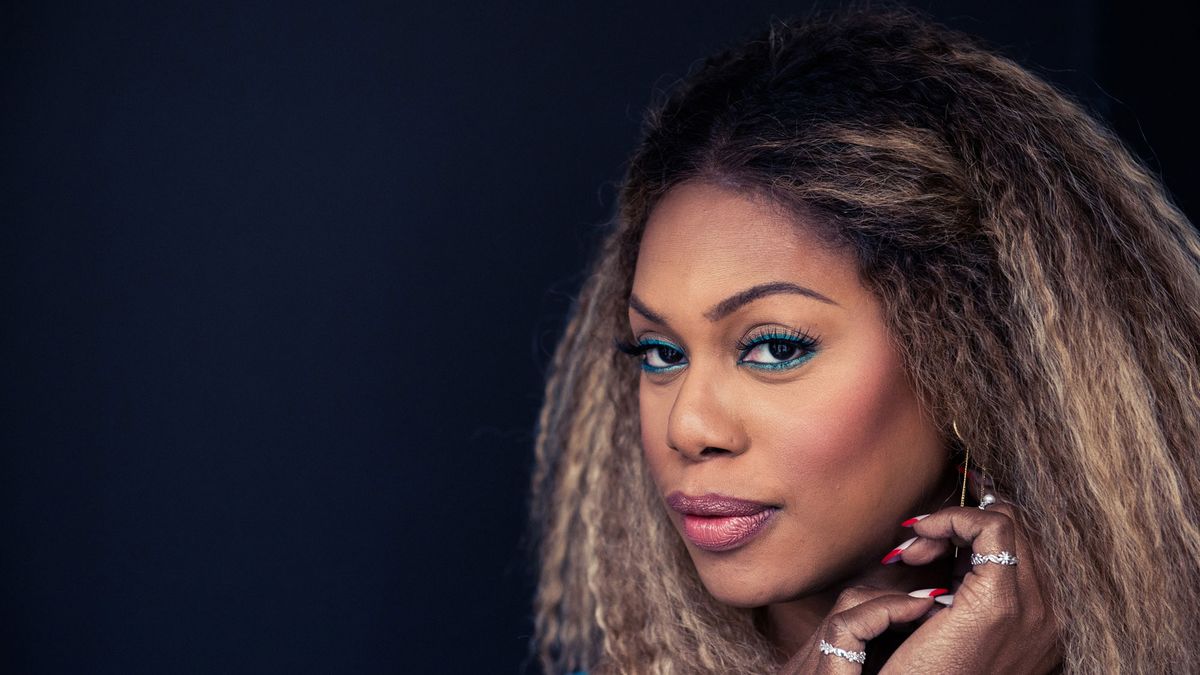 Celebrity
Laverne Cox Has the Same Guilty Pleasure We All Do
"You kind of just can't stop."
Laverne Cox's first words to me? "Your pants are unzipped, girl." Umm...gah! If anyone else had greeted me with that sentence, I would have been mortified. (Curse that pre-shoot bathroom run!) But, of course, this was Laverne Cox saying it. I could tell she was simply trying to help—sort of like her role as host and judge on the Lifetime reality show Glam Masters.
It's a pretty perfect gig for the actress, who showed up to our photo shoot looking "beat for the gods"—a phrase that also happens to be the title of her recent single, which she danced to while working her angles (the music video is worth a watch, guys). Once we sat down, and after I thanked her for the heads-up, Cox started to spill. What skin tips did she have to share? Why doesn't she ever reveal her age? And what is her relatable guilty pleasure? Keep reading to find out.
---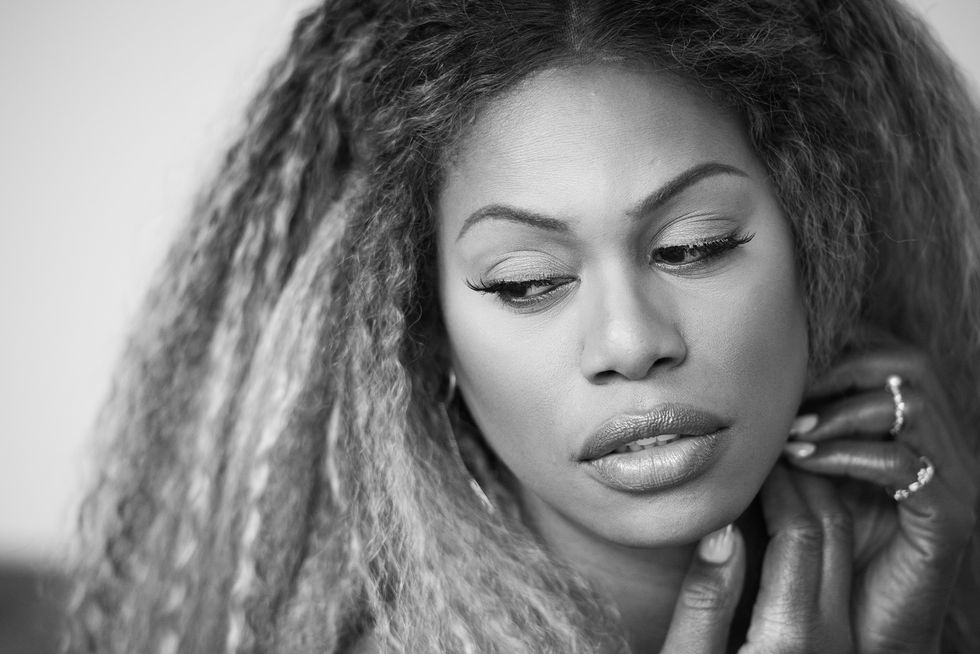 You danced growing up, so is that when you started getting into makeup?
"I started wearing makeup in high school, just because I wanted to. But then, when I got to do performances and wear makeup, I really kind of—I wore way too much makeup for Nutcracker—but it was a way for me to express myself and start playing. And it was sort of sanctioned because I was onstage."
Do you watch YouTube beauty tutorials?
"I have. Who hasn't, really? It's so interesting, because so many influencers do their makeup tutorials, and then they'll have story time, where they'll just talk about their lives. All of a sudden, five hours later, I've gone from a makeup tutorial to something completely different, and you kind of just can't stop. It's amazing how that is the culture now. Every episode [of Glam Masters] starts with an 'Express Your Selfie' Challenge, where [contestants] have to do makeup on themselves and then take a really amazing selfie. Kim Kardashian is our executive producer—she's obviously revolutionized the selfie and even wrote a book about selfies. We really want to do a show that's reflective of the culture but ultimately pays homage to the power and the artistry of makeup. When you see the show, yes, we do glam looks, but it's really about makeup as art. One of my favorite challenges, later on, is a waterproof challenge, where the makeup artist has to do makeup, and we put them under a shower to see whether or not their makeup runs. And if your makeup runs, then you're not a Glam Master, darling. It's very suspenseful. We're all sitting there like, 'Uh-oh, this could be a mess.' And when it is a mess, sometimes it's really great TV."
What is it like telling contestants they've been eliminated?
"The first time I did it, it was really heartbreaking. All the judges found ourselves crying more than we expected, because this is a big deal—they have the chance to not only win the show, but to collaborate with Kim Kardashian West to create their own limited-edition makeup line for KKW Beauty. Working with Kim Kardashian changes your life, and they all understand that. And you see how much they dedicate their lives to makeup. So to dash their dreams, it's awful. There were definitely moments where it was devastating to send people home, but it has to be about the work and not 'I want this person to win because their personality is great, or their story I connect to.'"
Did you relate to them, since you've had experience auditioning?
"We have so much rejection in the acting business, and I still have it. I mean, my career is in a pretty good place, but it's still like, 'Where is my next acting job coming from?' It's always still like that. I don't know if that ever goes away. Maybe Meryl Streep doesn't have to worry about that, but most of the rest of us do."
What are your best skin secrets?
"A lot of it's about vitamins, and to be real, estrogen changed my skin, but everybody can't do that, [because of] cancer and stuff. I started going to a facialist, and she gave me a moisturizer, and I have an eye de-puffer from Kiehl's that I really like. I keep it really simple. I used to do a bunch of stuff, and my skin is really sensitive, so it would break out. It's also about what I put in my body. I'm not vegan anymore, but I was vegan for about four months last year. I needed more B12 and iron, so I'm eating fish now. I'm 'pegan.'"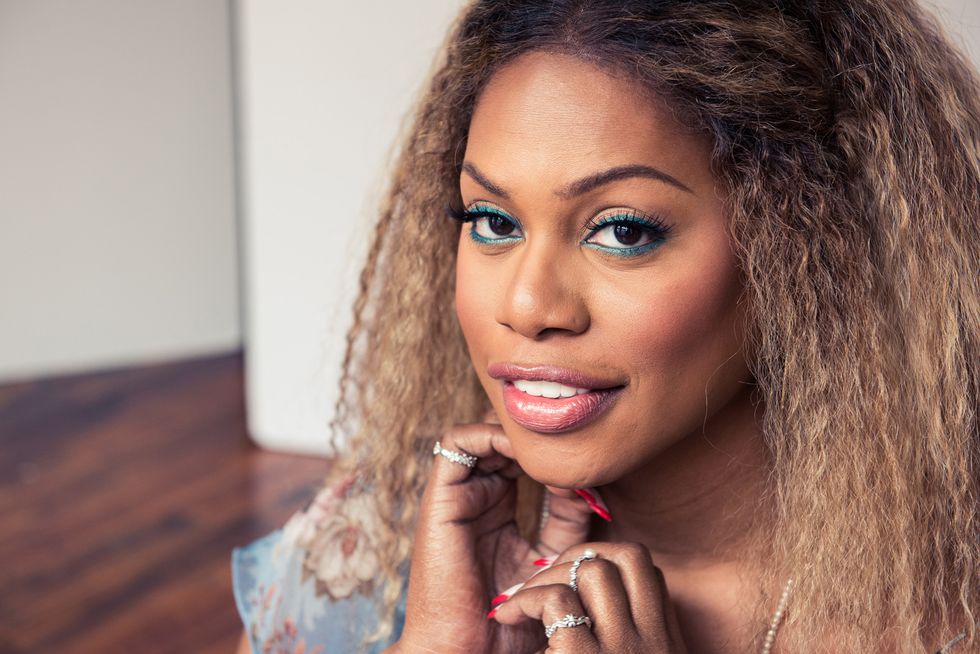 Is there a beauty product that you're pickiest about?
"I found out last year that I'm gluten-intolerant, with the great doctor in L.A. who did a blood test that no one else has ever done. So I stopped eating gluten for seven months, but it was still showing up in my blood work. She was like, 'Your lipstick! You could be eating that, and that could have gluten in it.' A lot of lipsticks have gluten in them, and they're not vegan, so now we're doing only vegan, gluten-free lipstick, like Bite and Milk and I think IT as well. I thought the whole gluten thing was BS—why all of a sudden is everything gluten-free and everybody is having a problem with gluten? And my doctor said that they're using [it] in higher concentrations now; they're using it to bind things. And my body doesn't like it, so apparently it's not BS [Laughs]."
What age was the hardest for you?
"It's the big ones. Age for me has always been 'By the time I'm 30, I wanted to accomplish this and this and this. By the time I'm 50, I want to accomplish this and this.' And so, reaching those milestone ages and not having accomplished what I wanted to was devastating for me—being single and not having accomplished the professional things I wanted. What's interesting for me is, I don't confirm or deny an age, and I think a lot of that is because of ageism, in terms of professionalism and in terms of dating. Women, particularly, are considered like less valuable at certain ages, and that's really disturbing. I don't know if I've bought into it, but I feel like I have enough challenges being black and trans and a woman, and I don't want the age thing to be another limitation. I'm actually really happy that I'm still alive, and I think I look better than I ever have at this lovely age of over-21—the only age that I officially confirm. I'm happy that I'm here and that I'm doing what I'm doing. But it's the assumptions people make about that that are really troubling."
Want more stories like this?
The Google Search That Changed Francia Raisa's Life
The Black Panther Isn't the Only Superhero Making History
Hari Nef on What Your Favorite Flower Says about You