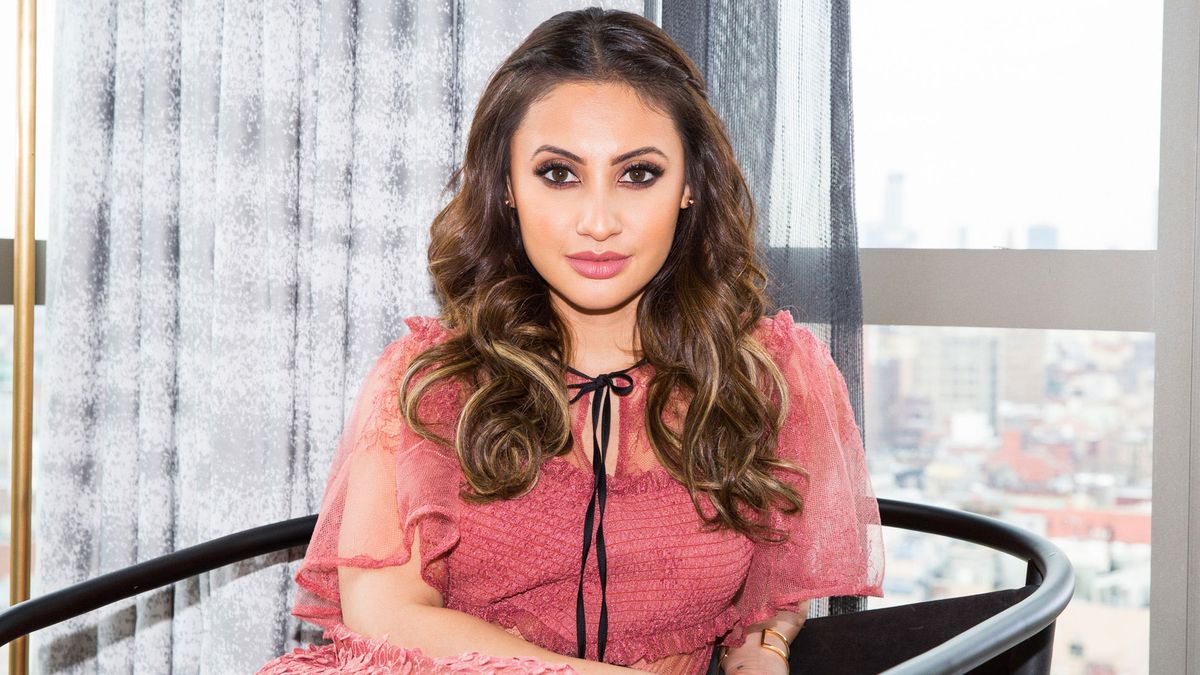 Celebrity
The Google Search That Changed Francia Raisa's Life
The Grown-ish actress tells us about her goals of producing, what it's like playing a college student, and the "weird" side effect she experienced after donating her kidney to Selena Gomez.
Alec Kugler
By now, you likely know Francia Raisa as the *ultimate* best friend: Last year, the actress donated her kidney to Selena Gomez, which, to put it quite simply, helped to save Gomez's life. The stories about that generous, above-and-beyond act are aplenty, which is why, when we met up with Raisa at Hotel 50 Bowery, we wanted to find out more.
The actress, who plays Ana on Grown-ish—the hit Freeform show that's been renewed for a second season—has goals of producing, an adorable relationship with her boyfriend, Christian Adkins, and even carries around a Wrestlemania bag. So what else should you know about the woman behind the inspiring story? We gathered what we could from Francia herself, ahead.
---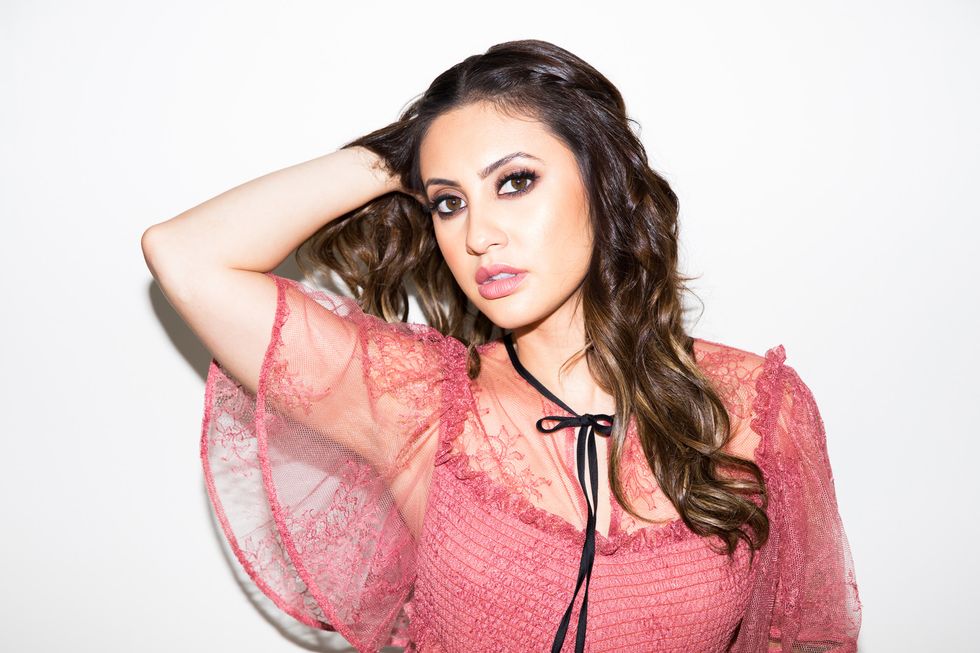 Grown-ish revolves around the college experience, but it seems like more and more, millennials are watching "teen" shows:
"I think they're just relatable, and I know myself, [I like] watching things that are a bit nostalgic. I think that's why people our age watch Grown-ish; it brings back memories. And for people who are younger, it gives them something to look forward to."
You're a little older than college age, so do you find it annoying when people assume you're younger?
"It's a good thing. The only time I hate is when people talk to me like I'm a child. I'm like, 'I'm older than you. Shut up.'"
Is it true that, like your character Ana, you grew up in a religious household?
"I grew up Catholic, so I did the whole Reconciliation, First Communion, Confirmation, church on Sundays…all of that. [Now] I go to a non-denominational Christian church every single Sunday, and if I can't make it to the actual building, I will watch online. I have a very close relationship to my pastor, and my form of praying is journaling."
Do you journal every day?
"It's gotten a lot harder. It's been really tough because there's so much stuff that I need to write. But it's my way of praying—my way of meditating. When you just have to let emotions out, the easiest way to do it is journaling. Sometimes you're just angry, and you can say things that you don't mean, and you can hurt some of the people that you talk about it to. It's best to just write it down and read it to yourself, and then you can ease your mind that way. This is what I say: That little voice that sometimes comes into your head and you don't know where it came from—the logical side of you? I think it's God talking to you and giving you the answers."
During our shoot, you had mentioned getting dehydrated a lot. Is that a side effect of having one kidney?
"The kidneys serve as a filter to your body. They break down food and drinks and basically distribute all the vitamins and nutrients that you need in your body. What you don't need is then transferred to your bladder, and you pee it out. I have one kidney transferring lots of urine to my bladder, and I just get a lot more dehydrated now because I'm constantly peeing. Then, the more you pee, the more you drink water, and the more water you drink, the more you have to pee. It's this really weird thing happening now, but you know, it is what it is."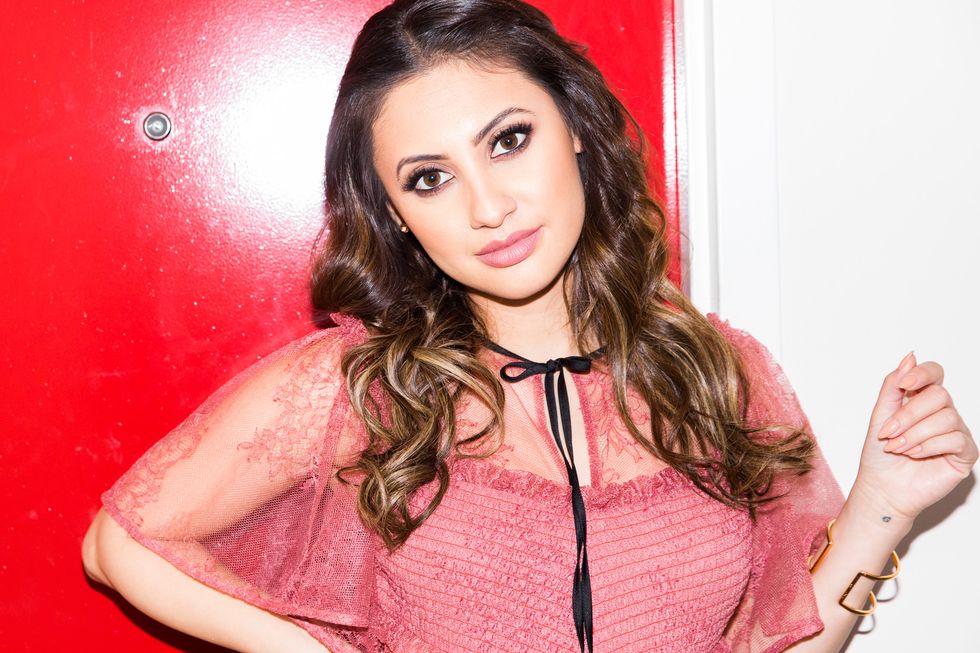 I wanted to talk about the Wrestlemania bag you brought to our shoot—are you into wrestling?
"I'm very into wrestling, hence the Wrestlemania bag. I've been a huge fan of it since I was a little girl. I had a crush on a boy, and I really wanted him to like me, and he was a fan of wrestling, so I pretended to like it. I don't like lying, so I went and started watching it, and I ended up liking it more than he did. I became the biggest fan. I fell off a little bit in high school, but I got back into it a few years ago. Now I'm so deep in."
Can we talk about the story you put on your Instagram a few months ago, where your boyfriend, Chris Adkins, put his chewed gum on your coffee table?
"Oh my God, yes! Who does that?! I remember that. I don't really have people over except for him, and there was this one night when we got in this silly, stupid fight. We had been drinking a little, and he was being dramatic, and he slept on the couch. I didn't tell him to, but he was like, 'No, I feel like you want me to.' And that night, he just decided to put gum on my table. I don't know if it was to get back to me or whatever. I texted him a picture, and he was like, 'I don't remember.' And I was like, 'Who else would do this, Christian?' Coincidentally, the same morning, I woke up and there was a rolled-up piece of gum on the nightstand. I was like, 'Christian, is that your gum?' And he grabs the gum, puts it on top of a water bottle, and goes, 'No.' So I knew it was him. I was like, 'We don't do this. No.'"
As far as your career, can you tell me about your plans to work behind the scenes?
"Producing has always been a passion of mine, I just didn't know how to get into it or didn't think I could do it. As actresses, we are usually kind of waiting for an audition, and for that audition to go well, and to get the part, but people like Eva Longoria have really been encouraging us to write our own stuff, produce our own stuff. [She's like,] 'You can do it, too.' While I was recovering [from surgery], I asked my manager, 'Hey, there are so many movies about black history, but back in the day, when there were black bathrooms and white bathrooms, where did Hispanic people go?' And she goes, 'That's a great question. Why don't you Google that?' I found so many stories that aren't told that are a big part of American history. I want to try and tell them. I have a huge passion about our Mexican-American history, and there's something that my friend Kathy and I are working on pitching right now."
Do you feel there needs to be more Latina representation behind the scenes?
"I think there just needs to be more people [who are] confident and believe that they can be behind the scenes. That goes for Latina, black, Asian. If it's in your heart, I believe you should do it. Of course, I identify with being Latina, but I think anyone that has something to say—and it's motivating, and encouraging, and it could change the world—then go ahead and do it, whether it's behind the scenes or in front of the scenes or on an interview or by writing an article."
Want more stories like this?
Lucy Hale Says She Sometimes Thinks About Giving Up Acting
Bailee Madison Is Way More Than Just the Former Child Star You've Seen in Everything
UnREAL's Caitlin Fitzgerald Says She Now Has Insight on What Really Goes Down on The Bachelorette