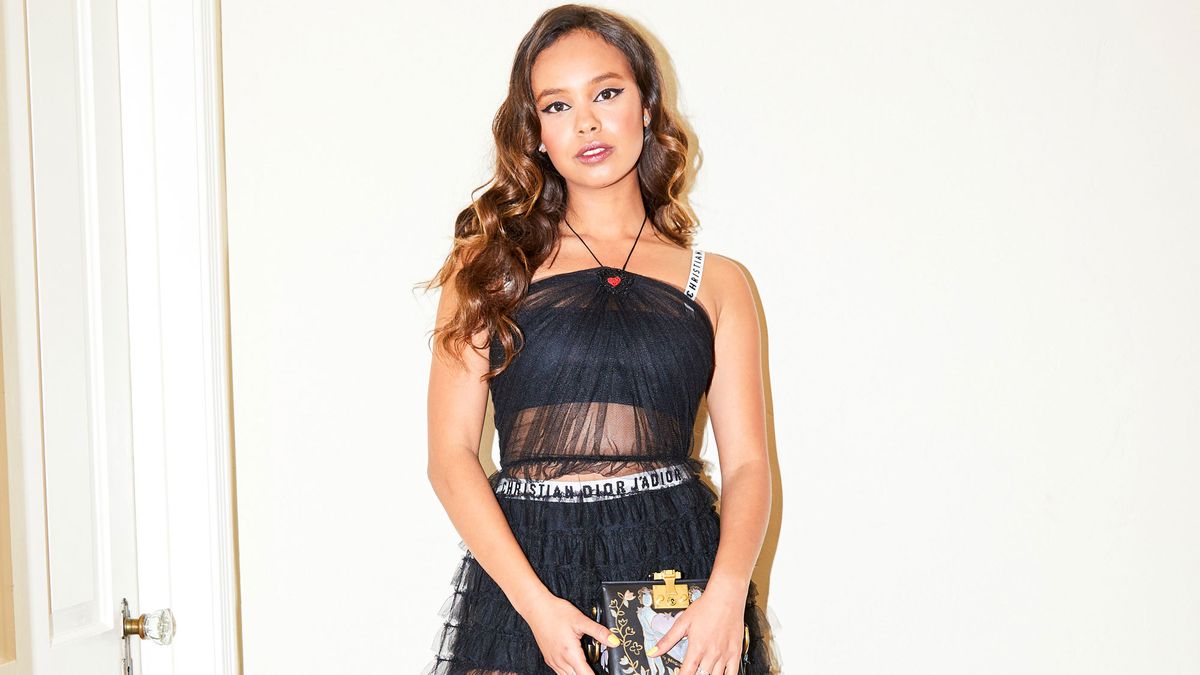 Celebrity
13 Reasons Why's Alisha Boe Has the Most Relatable Thoughts on Fame
Plus, what she can and can't reveal about season 2.
Tristan Kallas
Sitting with Alisha Boe while she gets her hair and makeup ready for the Dior Addict Lacquer Plump launch party in Los Angeles feels oddly familiar. Maybe it's the fact that I feel like I've lived a lifetime with the 21-year-old through my own binge-watching session of Netflix's 13 Reasons Why. Or maybe it's the fact that we're at her close friend Gideon Adlon's house while the two gossip and glam together with their favorite music turned up and a late Postmates driver on their minds. In other words, even though I had exactly zero Dior parties to go to at her age, Boe's getting-ready actually looks a lot like my getting-ready did back then. (Just add in, you know, Dior makeup artist Kira Nasrat, Leonor Greyl hairstylist Johnnie Sapong, and a Christian Dior dress.)
To me, one of the greatest artistic achievements of the mega-successful 13 Reasons Why, a show in which Boe plays the lead character's best friend, Jessica Davis, was just how palpably relatable it felt: The anxiety-provoking social interactions of high school halls, the flickering trust among the closest of friends, and the overwhelming sense of tension unique to the teenage years. It's something I'm anticipating more of in season 2 (release date TBD), as well as more of Boe's character.
She can't share much about the coming episodes, I find, but what I do learn is how much I relate to Boe herself, despite a new life with 2 million Instagram followers, a culture-shifting role on her résumé, and undoubtedly a long, successful career in front of her. Below, see what Boe had to say about her beauty and fashion style, self-confidence, and her mom.
---
How would you describe your style?
"My style has always been tragic, to say the least. It's always been a learning experience. I look for confidence. I want to be able to put on an outfit and feel beautiful and sexy—and have confidence. And that's what's most important to me right now. But I'm still figuring it out. I just love things that really fit my body well and I'm able to move and be comfortable the whole night—that's priority."
When you're not at events, what do we normally see you wearing?
"Basically this. I invest in shoes and jackets. In L.A., I end up sweating too much because I just love a coat and really, really cool shoes. And then slip dresses are always my go-to."
How about your beauty routine?
"It really boils down to skin care, because I'm in the makeup chair so long. Especially when I'm filming, I'm breaking out like no other. It's like powder, powder, powder. I just discovered facials. I got my first facial two months ago. And it was terrible. I couldn't leave my apartment for a week because they said they're going to pop all my pimples or whatever. They created more pimples. I had scars—I have photos—all over my forehead, my nose... I couldn't leave my apartment for a week, and then I found this other lady that I went to once who really helped my skin. And honestly, retinol. Retinol cream really helps. And birth control. I thought it was going to calm down after high school, but now it's stress levels and water and the nutrients you are taking in. I know it's being in L.A. for sure. The smog just really clogs everything."
Getting hair and makeup done can be kind of nice:
"That's what my favorite part of being on set is—the hair and makeup trailer becomes the family trailer. You spend the most time with them, and they always put the best music on. And you're either having crying sessions or laughing sessions there. Everything goes down in a makeup trailer."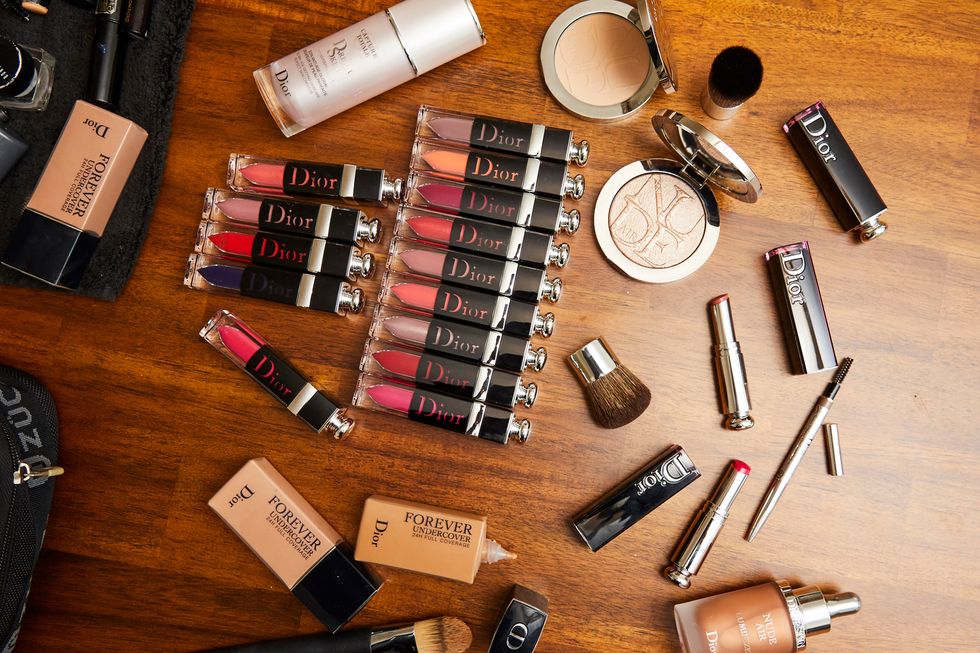 And do you have personal inspiration? Is there a person in your life that you think has amazing style?
"I don't know if you've heard of her, Gideon Adlon [laughs, looking over at Adlon]. She's actually helped me the last three months with my style and helped me feel comfortable. Because honestly—to be frank—I'm a very insecure person, and I just really didn't know how to dress for myself. And Gideon has helped me a lot with that. I really do appreciate that. Besides that, Rihanna obviously, like everyone else, and Alexa Chung is a huge style icon for me. I adore Alexa Chung."
What about personality icons?
"Lupita Nyong'o is everything to me. She's so elegant. She's everything that I want to be in a woman. She is gorgeous. I saw Black Panther in Atlanta. Just being in the South and seeing everyone dressed up in African wear. And watching Lupita on screen was so inspiring for me because she just oozes sensuality and elegance."
I'm curious what personal lessons you gained from filming season one and what personal lessons you've gained from filming season two:
"I don't think I've had as much growth as a human being as I did filming season one. I learned so much about sexual violence against women, and it made me open a dialogue with the women around me. I learned how to have a conversation with the people I care about. And then it made me realize most of the women I know have been harassed or assaulted. That's just the sad truth of life. And at 19, it was just a huge eye-opener for me. And then being able to speak to the psychologist at UCLA who specializes in sexual violence and all of these people made me so educated so fast. Through 13 Reasons Why, I was able to do work with It's On Us. And I was able to go to these rallies, and I was able to meet Joe Biden. I felt like the first season really helped me have a better understanding of the world and how they view women, unfortunately. And in a good light because it made me more inspired to go back for season two. And in season two, in the middle of filming, the article about Harvey Weinstein came out. It just made me even more empowered to go in to work the next day to tell the story. 'Cause I realized how relevant it was. March 31st is the anniversary of the first season coming out. So I think it's maybe almost been two years since I started 13. And I've grown so much as a woman in those two years, if I even could call myself a woman yet. But it's been a whirlwind, to say the least."
What can you share so far about season 2?
"Nothing, nothing. I can say that Hannah doesn't narrate all the episodes. I can say it will focus on Jessica's story line more. I think that's about it. I don't want to be fired [laughs]."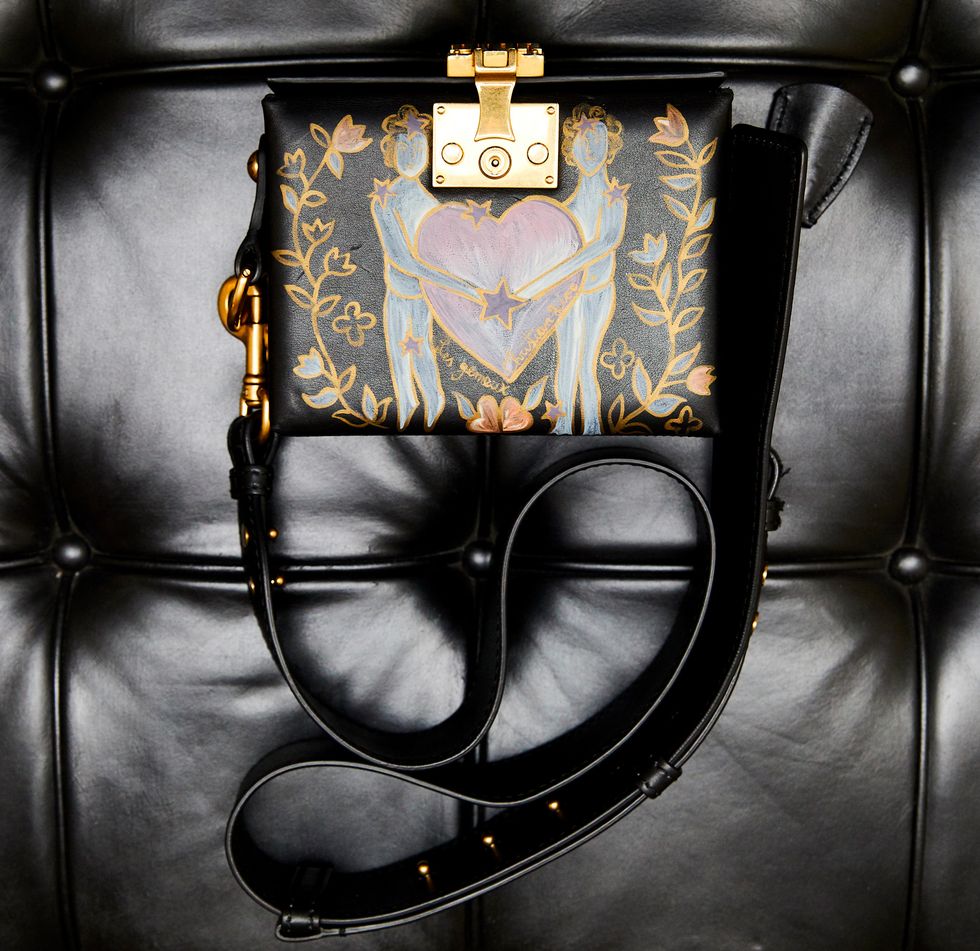 Are there any other creative fields that you would want to get into?
"I wish I could sing because I think I was born to be a superstar. Damn [laughs]. Honestly I kill it at karaoke."
Gideon: "I was thinking about going karaoking later."
"We should. I need to redeem myself because that was really embarrassing. Me and Gideon actually bonded over karaoke. It was amazing. If I could sing, I would definitely be the frontman of a really cool rock band. I feel I'd be like the female Mick Jagger."
How has your life changed since the first season came out?
"Oh, it's completely changed. Positively, it's changed a lot. As far as my career goes, I couldn't be more grateful. But I definitely feel a disconnect from my friends that I grew up with because, you know, they're in college and they have half-time jobs, and I'm here trying to navigate this weird world between being an adult and being a child. I have all these adult responsibilities, but I still call my mom, like, 'I don't know what to do. What do I do?' So it's a strange period of life where I am growing up in the public eye. I have to be more aware of my own social media and all of it. But overall, it's been a good experience."
I sense that you like being very open about it:
"I don't really know how to be coy about it, to be honest. Or else I feel like I'm a sham. I don't know. I do really love it because 13 Reasons is so relevant in society today. And the people who do like the show have such a deep connection with it. So it feels impactful."
What do you think are things about you from before the show that are still true about you today?
"I never take myself seriously. My mom was over my apartment last night, and we were talking about it. She knows that I always get really nervous, and I'm like, 'I don't want to change. I don't want anything to happen.' But I don't take myself too seriously. I don't think that's ever going to change at all. My mom raised me to be too honest with myself. I love my mom. She's the best."
Want more stories like this?
Ross Butler Makes a Good Point about That Note from 13 Reasons Why
What It's Like Being the Most Hated Guy on Netflix
Getting Ready for the 2018 Golden Globes with Mandy Moore