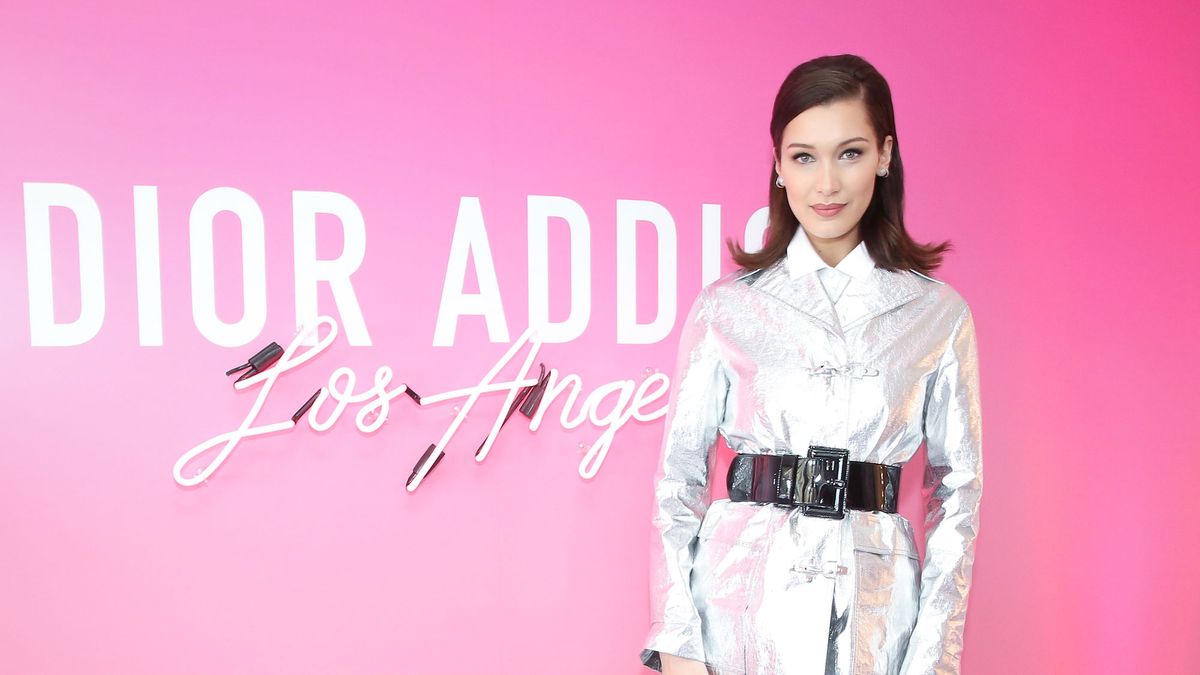 Models
What I Learned After 30 Minutes with Bella Hadid
The model talks about makeup tricks, beauty insecurities, and Carla Bruni.
When we meet Bella Hadid for a group interview in a suite at Sunset Towers in L.A., she's in a silver blazer-style Dior dress. She's sitting next to the iconic creative and image director of Christian Dior makeup, Peter Philips, and in front of them is a long row of shiny new Dior Addict Lacquer Plump lip colors in nudes, pinks, red, and one shocking plum—the latest makeup launch from the luxury beauty brand.
Bella smiles at Philips cheerily, and you can't help but guess what kind of inside secrets they might have from shooting Dior beauty campaigns together around the world—the kinds of murmurs that never reach social media or the media media, like us four editors in a half circle around them. But on this day, we're going to try. Below, all the surprising things we learned about Bella Hadid in 30 minutes.
As far as Bella is concerned, lip gloss was never out of style:
"I love a lip gloss, and I always have my Lip Maximizer with me, and I love that feeling. [The new Lacquer Plump] can be a stain and a gloss. It depends on how you apply it. I know me and all my girlfriends love a good plump or a good gloss or a pop of a color, but I've never seen one that comes all together in one formula. It's hard to put all those things in one."
---
She insists on doing her own lip liner:
"I'm not really good at beauty hacks because I literally do just concealer, contour, brows—that's pretty much all I do. But I love doing my lip liner on my own. Peter's amazing with the way he does lips, but for me on a day-to-day, I love to do my own lips. I love to make sure it really follows the lines of my lips."
She struggled with a brow complex:
"I've always had really thin brows, I got them from my dad. Growing up I was always self-conscious about my brows, but I really didn't know you could do something about it. I did not know people did brows, that that was a thing, so I kind of really learned from the makeup artists I've been working with over the years. Brows are such a beautiful part of a woman and a man's face, so to be able to enhance that is revolutionary for me. I definitely like to keep my eyebrows thin, but still fill them in, so…fake it till you make it, I guess [laughs]."
Makeup did not interest her as a kid:
"I always say this, but I really rode horses my whole life. I came home, did my homework, and had dinner with my family at six. I didn't go out, I didn't know what other girls were doing, I was just around my horses and my friends, and my horses definitely didn't have a Lip Maximizer [laughs]. My mom grew up on a farm in Holland, and I never really saw her applying her makeup; it wasn't something [where] I woke up in the morning and she was getting her makeup done. She was the only one with us three kids, so she was working her butt off to get us to school and to do everything, so I didn't really have a lot of makeup inspirations in my family growing up. I think now that's why makeup excites me so much. So on set, I'm looking around at all the products. I like to ask about the different products that come out and the way you put them on. I think that's what's so amazing about makeup and what excites me about it, but definitely [it started with] contouring…. It's like, life-changing for sure. And brows. And learning about lip liners. Different things you can contour, your nose... I did not know that was a thing."
She recently "grew into her face":
"I think I had more beauty insecurities growing up than probably anybody. I wasn't very secure with myself until very recently, so definitely my eyebrows [were an insecurity] and not really knowing about my face. I was kind of chubbier growing up until I was like 15 or 16, so there was a lot of things I had to kind of grow into, and I grew into my face a lot; even over the past two years, I've seen how much my face has changed. Even since this commercial that we shot, which we shot a while ago, a year ago. I was definitely very self-conscious, but we all are, and I'm trying to grow into myself, and we were all given the faces we were given. So I'm happy I grew into my face."
She gets her style inspiration in her dreams:
"It's so funny because I actually have dreams; I'll wake up in the morning, and I'll have dreamt of an outfit and hair, and my hair and makeup will come, and I'll be like, 'OK, this is what we're doing. This is what I'm wearing.' Not even knowing, I'll go into my closet and try to find the things I had in my dream, which sounds really crazy, but it's really helpful. I love getting inspiration from old photos. I love looking at photos from like, the '70s, and look at the girl in the back that's wearing a pleated long yellow-and-brown skirt, and I'll try to find it—and growing up, I spent a lot of time at thrift stores and vintage markets and flea markets at five in the morning to go pick out random things, and that's what really helped me with my style and my taste because nobody was looking at me back then, so I was really able to wear everything I wanted to wear. And now all the styles I wore when I was like, 14 are coming back now, and people are going to try to find the best thing, and I'm like, 'I've had that for seven years,' so I bring that back, and that's where my inspirations come from. And I also have amazing friends around me that are so creative, and their families are creative, and I'm able to really learn a lot about the people around me and the different lives everybody lives."
She's obsessed with Carla Bruni:
"I love Carla. Seeing photographs of Carla, it was always her natural beauty that I loved and the simplicity of her. I go in and out of my obsessions, but Carla has always been one that I really looked up to. Every shoot was kind of different for her, and there were eye-makeup looks...and the makeup looks that she would do really actually work so well on my face. I saw her at the airport like, a year ago, and she said, 'You know, people say we look so much alike,' and I'm like, [eyes wide] 'I know, I can't believe I'm standing in front of you right now.' And she's so amazing, I see the resemblance. I remember going through pictures with her, she had them saved on her Instagram. It's honestly my honor, she's so beautiful. She's stunning. Inside and out."
She sees a lot of good in social media:
"I think that social media has made a lot of girls more confident in themselves. I think that makeup today, and social media's a big part of it, it's given girls and boys—especially boys, which has been a come-up for anybody that wants to wear makeup—it's giving people the freedom to do what they want to do and be confident with themselves. And sometimes off of YouTube and off those channels, they don't really want to go outside; maybe that's just something that makes them feel confident in their own home. I think that's more up to the parents that they're going to allow their 14-year-old daughters to watch YouTube tutorials, but if they're allowed to do that, I think it's a great way to learn, and I know a lot of my friends have learned how to do different makeup online, and it's very entertaining, but I don't think it's something to get angry about."
Photo: BFA
Want more stories like this?
Bella Hadid Talks about Her Healthy Habits and Trying an Extreme Cleanse
Backstage at Dior's Fall 2018 Paris Fashion Week Show
Dior's Peter Philips Talks about Makeup and His Career in Beauty