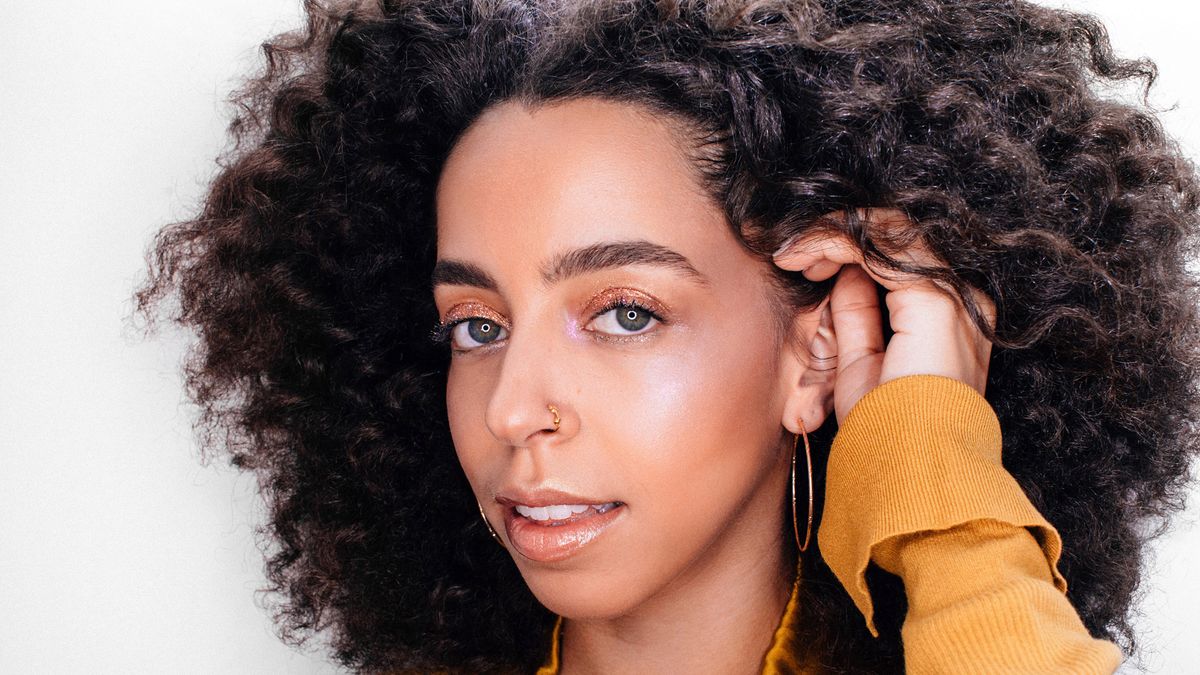 Celebrity
Riverdale's Hayley Law Proves Spring's Biggest Beauty Trend Is Completely Wearable
The up-and-coming actress tells us about Altered Carbon, her new movies, and her singing career—all while rocking glitter makeup.
Ben Ritter
Katie Becker, Tara Gonzalez
Hair
Mohan Jean Mary
Makeup
Nam Vo
They say that when you've got it, you've got it, and Hayley Law most definitely does. While the actress is primarily known as Val on Riverdale, she's gone on to prove she's more than just your average Pussycat. She's kicked butt on Netflix's Altered Carbon, premiered a new movie, The New Romantics, at SXSW, and even promises an EP is on its way. It's safe to say this girl is going places, and as fans, we're eager to watch her get there.
But it's not *just* Law's résumé that has us impressed; she's also got that elusive, laid-back, future-superstar quality about her, which you can sense when she walks into a room. So it's pretty fitting that we got makeup artist Nam Vo to cover the actress in glitter: Sparkle and shine wasn't just a big spring '18 runway beauty trend—it's what Hayley herself manages to do.
---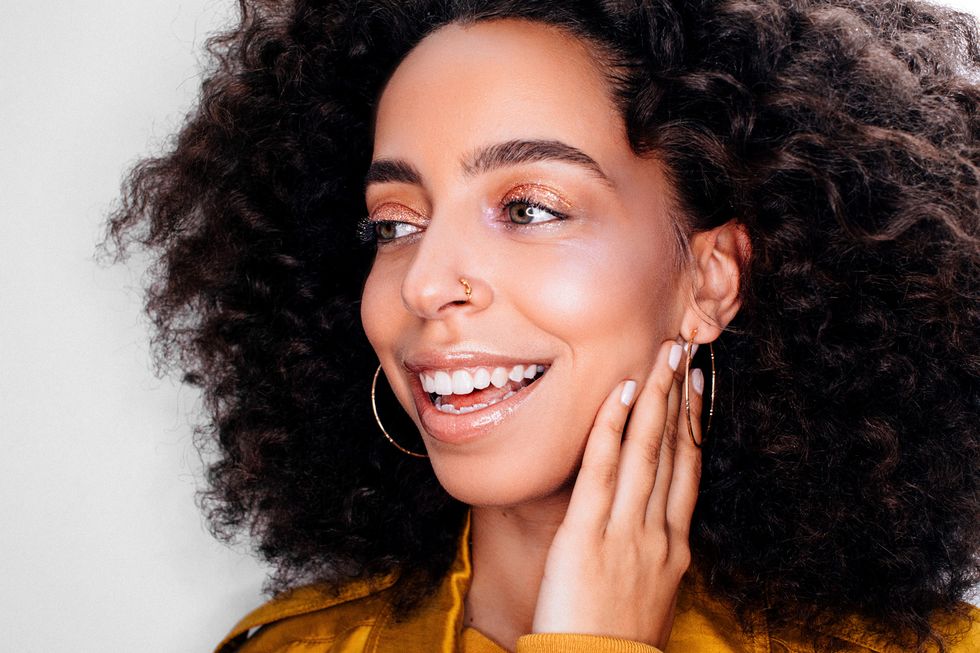 Highlighter: Bite Beauty Prismatic Pearl Multistick in Blush Pearl, Fenty Beauty by Rihanna Killawatt Freestyle Highlighter in Trophy Wife, Becca Ocean Jewels Highlighter Palette (shades Aquamarine and Pink Pyrite); Lips: Fenty Beauty by Rihanna Gloss Bomb Universal Lip Luminizer, Laura Geller Color Luster Lip Glos Hi-Def Top Coat in Diamond Dust; Eyes: INC.redible You Glow Girl Iridescent Jelly in Show Glow, Lit Cosmetics Sugar & Spice, Urban Decay Heavy Metal Glitter Eyeliner in Grind. Jumpsuit and shirt: Land of Distraction
"I am obsessed with glitter," she says after we've wrapped, her face still full of the stuff. She's leaving like this, she promises, and not washing it off. "I felt like a Disney character [during the shoot], and I love Disney."
Law is hard to figure out. She's not shy, but isn't loud and bubbly, either. Her style is on-trend (she showed up wearing a fanny pack), but you can tell it's still very much her. And while her main gig is acting, it wasn't originally part of the plan.
"I've always wanted to be a singer and do something with music," the multi-threat tells us, noting that she's happy she gets to do just that. "I thought, I'd like to be an actor, but I just didn't think I could do it. I genuinely was like, 'There's no way I can learn dialogue. My memory isn't good enough.'"
As you might have guessed, Hayley underestimated herself. It wasn't long before she went from high school student on Riverdale to sci-fi badass on Altered Carbon.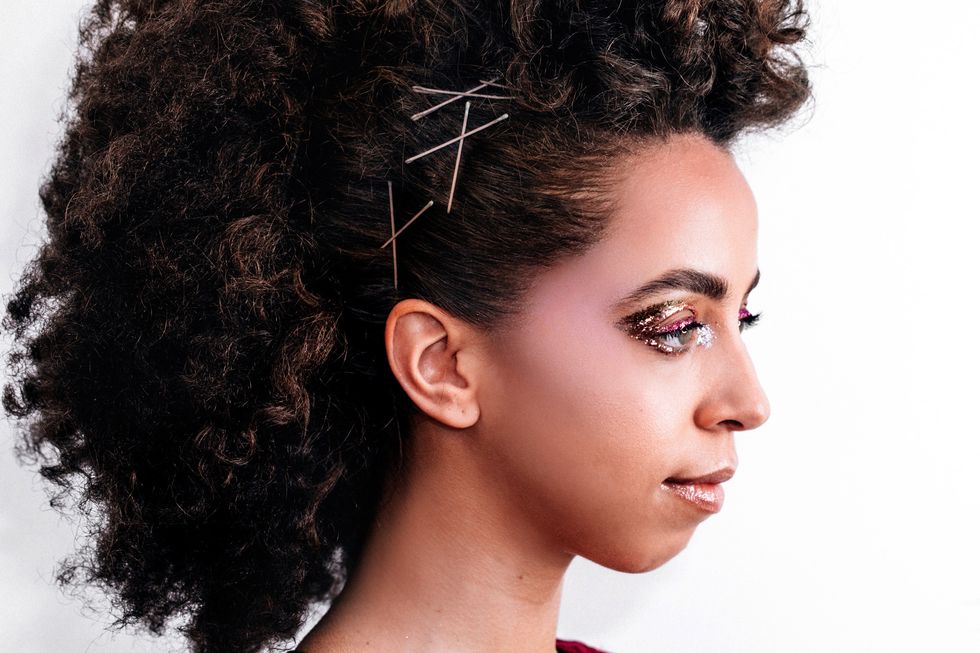 Eyes: Lemonhead Spacepaste in Mulholland, Silverlake, Roosevelt, and Wine Safari; Lips: Tarte Tarteise Lip Bling in Park Avenue Princess.
"It's so crazy to be able to talk about [the show], because we went through a year of not being able to say anything," Law says. "People were like, 'Tell us about the new show,' and I was like, 'I'm on it!' I just didn't know what I could say."
Without giving too much away (because, seriously, it's worth a good binge session), Altered Carbon takes place in a universe where people can live more than one lifetime due to alien technology that allows you to change bodies, or "sleeves," as they call them.
"Reading the scripts, I was like, 'I need to read that again. I have no clue what just happened,'" Hayley says. "You can't look at your phone while you watch it."
According to the actress, her character, Lizzie, has "been through a lot of shit, and she's trying to overcome it." Soon she receives help from—*spoiler alert*—an AI version of Edgar Allan Poe and ends up as the "ultimate badass queen" for the show's finale. Law had to learn jujitsu for the role and also got the opportunity to work with Joel Kinnaman.
"I got nervous when we were shooting, because I had never met [him], but I had watched him," she says of the experience. "He wasn't wearing a shirt, and I was just like, 'Oh my God.' We had a scene together, and it was just me and him, and I was so intimidated. I kept saying, 'He's an actual actor.' Everyone's like, 'So are you,' and I'm like, 'But he's a real actor.' But he's so incredible and nice. After that, I wasn't nervous anymore."
Hayley was more than capable of holding her own alongside some of the best—which was something she was once told she'd never do.
"My ex-boyfriend told me that I was going to never be successful. He was like, 'It's not that I don't want you to be, I just know you're never going to be.' So when were doing a big fight scene, I was [thinking], 'I can't wait for your bitch ass to watch this thing. I cannot wait for you to remember telling me that I was never going to be anything, and then you get to watch this.'"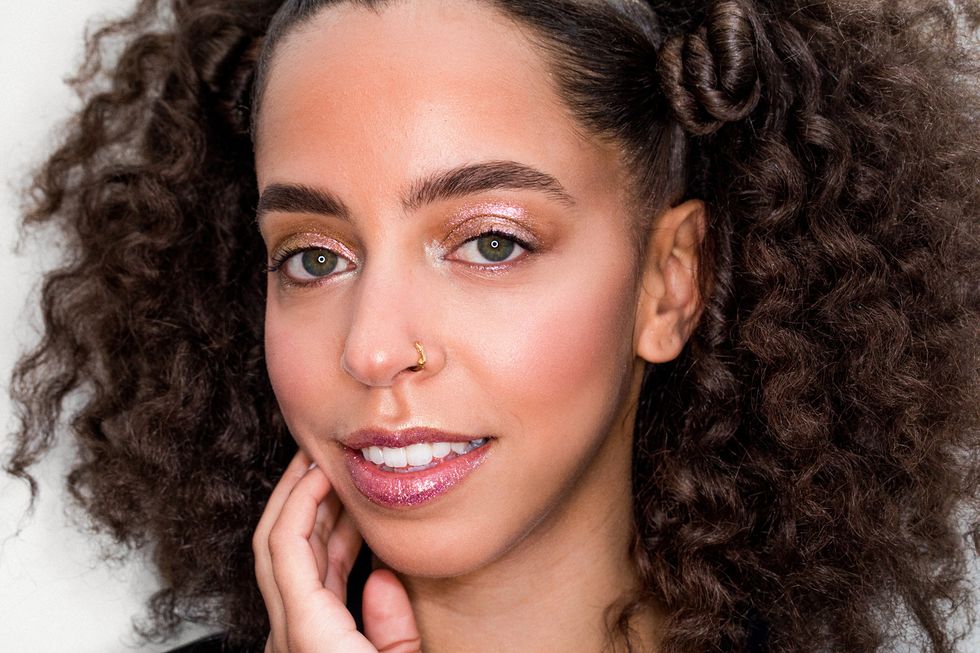 The joke is truly on whateverhisnameis, especially considering Altered Carbon is far from the only big project Law is promoting. There's also a new film, The New Romantics—"It's a comedy, and I've wanted to do comedy forever"—and, up next, Spontaneous with Charlie Plummer and 13 Reasons Why's Katherine Langford. Then she's got her music.
"It's so hard to pick a genre, but I would go with pop-R&B," Hayley decides when describing the songs she's working on. "I work with a producer in Vancouver, and we literally build songs from nothing to magic—hopefully." She plans to have "six or seven songs" on her first project, followed by a few live performances. "I'm hoping to do a show in New York for the EP release, and then I want to do one in Toronto, and L.A., and Vancouver," she says, adding that she is a Vancouver native.
Eyes: Stila Glitter & Glow Liquid Eye Shadow in Gypsy and Glitter & Glow Highlighter Painted Lady MAC Pigment in White Gold; Lips: Bite Beauty Prismatic Pearl Multistick in Rose Pearl.
It's hard for us not to remark on how much the star has going on. She's not just doing it all, she's doing it well.
"It makes me feel nervous," Law admits. "I feel like when good things are happening, it's not allowed to happen or something. So I'm like, 'This is good, but I'm just going to pretend it's not happening, because I'm scared of it not happening.' But I'm really thankful. If I wasn't doing this, I honestly have no idea what the hell I would be doing."
With all that talent, we're confident the path that Hayley's on is meant to be. But should she ever want a change? We'll be there, ready with our suggestion of makeup model (because, honestly, do you see these photos?!).
 
Want more stories like this?
Riverdale's Madelaine Petsch Says We're About to Find Out a Lot More about Cheryl Blossom
Lili Reinhart's Go-To Product for Hiding Under-Eye Circles
The Black Panther Isn't the Only Superhero Making History