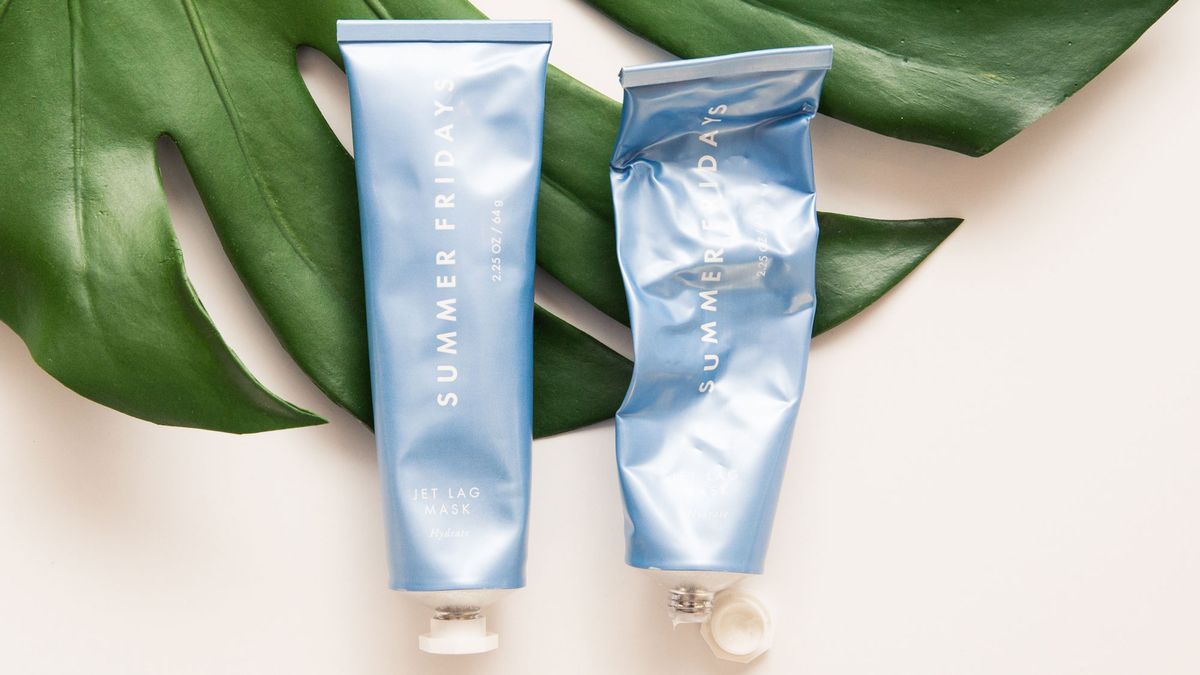 Skin
8 Things You Should Know about the Face Mask Going Viral on Instagram
Marianna Hewitt and Lauren Gores Ireland launch Summer Fridays face mask in the most photogenic tube.
Alec Kugler
This week Marianna Hewitt and Lauren Gores Ireland launched their beauty brand Summer Fridays, a new face mask line about to hit Sephora and your Instagram feed hard. The first product to launch is the Jet Lag Mask, which comes in a periwinkle blue metal tube (is there anything more satisfying than squeezing a fresh aluminum tube?). The two beauty gurus—who collectively have about a million followers on the 'Gram—have long been friends, and noticed there weren't enough products that met all of their followers' requirements.
"As bloggers, Lauren and I have tried every product out there," Hewitt told us. "Every day it's like a UPS store. But every time we open something new we either loved the packaging, but not the ingredients; or we loved the ingredients, but the branding wasn't fun or cool. And whenever we would post on Instagram, people would ask, 'Does this product have parabens or sulfates?' 'Is it cruelty-free?' 'Is it vegan?' So we had this list people would ask for, and [when] we realized we weren't able to suggest something that did all these things, we just made it."
We asked the duo to tell us the other secrets behind the new launch.
---
It's Soft and Velvety
When I recently tested a sneak preview of the formula, my favorite feature was that the formula became velvety and almost entirely unnoticeable after about five minutes. It's not sticky, gloppy, and it doesn't dry down into a crusty clay. You could easily leave it on for hours (more on why you should, below).
It's Meant to Be Worn in Public
Unlike the usual Instagram-y face masks that look crazy (e.g., metallic sheet masks or glitter-y rubber masks), the white cream of the Summer Fridays Jet Lag Mask applies totally clear once you give it a little time to sink in. "A thin layer becomes transparent, so you can mask in secret on the plane or wherever you are," says Hewitt. That said, this editor still got plenty of questions from an eagle-eyed Delta flight attendant who wanted to know *everything* after she saw me testing the formula on a recent flight.
It Makes You Smooth and Glowy
I personally love the ingredients in here. Chestnut extract (possibly the next trending ingredient) helps exfoliate the skin, vitamin C and niacinamide help brighten your skin tone, and super moisturizers like shea butter and ceramides make your skin hydrated and supple. See why it's called the Jet Lag Mask now? 
It's Extra Easy to Photograph
This will resonate with anyone who's ever done a flat lay: "Whenever I was photographing beauty products, I would get a mask in a jar, and it would roll around everywhere," says Hewitt. "You want it to be effective, but you also want it to be shareable. I wanted it photogenic enough. Also, a tube is more sanitary because you aren't sticking your fingers in there." Plus, that signature color! Shall we just call in millennial blue then?
It Can Also Be a Primer
"You can lather on a really thick layer, or you can do a really thin layer and have it act as a moisturizer," says Gores Ireland. "Or you can use it as a primer; we literally do that every day." This is what you get when you make a formula that can dial up or down and is guaranteed to actually absorb. 
It's Been New-Mom Tested
Gores Ireland was pregnant as the two developed the formula, and even brought a sample with her to the hospital when she recently gave birth. "I think [it] was really important for us that Lauren felt confident enough to put these products on her skin while she was carrying her son [and] while she was basically avoiding everything else," says Hewitt. "That really speaks to how clean our product really is."

It's Not Organic, but They're OK with That
The ingredient list does show some chemical names in there like copolymers (silicones which help make it nice to apply and easier to use) and phenoxyethanol. "Just because you don't know how to say something doesn't mean it's bad. There are good synthetic ingredients," says Hewitt. And the list of what it *doesn't* have is quite long. It has no: parabens, sulfates, phthalates, gluten, artificial fragrance or color, harsh surfactants, petrolatum, GMOs, triclosan, hydrogen peroxide, EDTAs, BHT or BHA, formaldehyde, or propylene glycol. Plus, it's vegan, and they don't do animal testing.