New Wave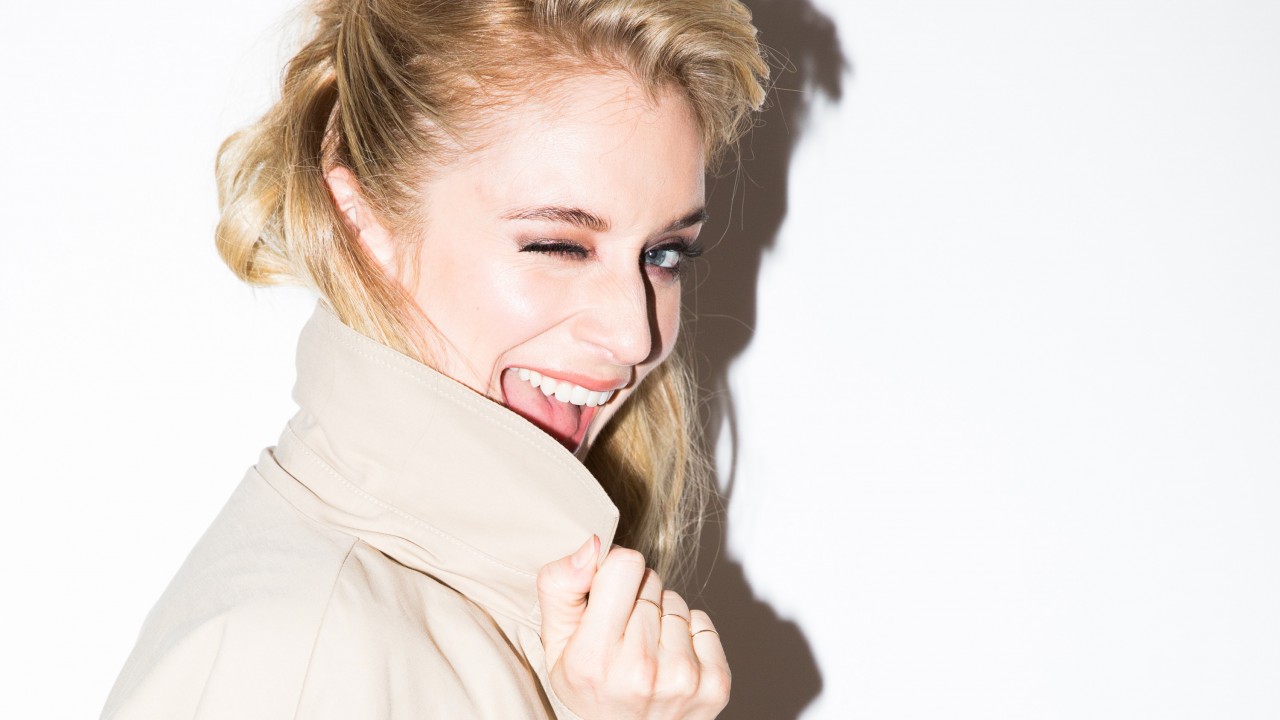 UnREAL's Caitlin Fitzgerald Says She Now Has Insight on What REALLY Goes Down on The Bachelorette
"No wonder it's good TV."
It wasn't until our interview with Caitlin Fitzgerald was over that we realized her life is full of opposites. She grew up in Maine, but didn't eat lobster between the ages of eight and 26 ("It's a completely barbaric exercise," she says.) She works as an actress, but doesn't own a TV (more on that later). And while The Bachelor and The Bachelorette have garnered loyal and obsessive fans across the country, Fitzgerald promises she isn't one of them—despite starring on Lifetime's popular parody of the hit series.
The last one isn't *too* surprising, especially considering UnREAL pokes fun at all the drama that goes on behind the scenes. "A lot of darkness and f*cked-up shit happens," says Fitzgerald regarding season 3, in which she plays the fake reality show's first-ever *suitress.* "But it's like candy; you can't stop watching it."
After our photoshoot where Fitzgerald showed off a sleek spy-like trench, she spilled: about how she got her start acting, what UnREAL taught her about The Bachelorette, and also about her new STARZ show Sweetbitter, which premieres this May.
Did you always think about becoming an actress growing up? When did you first take it seriously?
"I did a play in kindergarten called The Elephant's Child. I played the Hippopotamus in some performances, and the Elephant's Child in other performances. Not only was I like, 'This is it,' but I was like, 'I'm the greatest actor in the world.' I was really confused when, months later, I didn't get Snow White in the play. I was like Woodland Animal number 3. My mom said I cried for like 24 hours straight. Thus an actress is born! I was pretty single-mindedly focused [from then on]. When I came to New York University, I remember driving down here with my parents and being like, 'What if I actually hate acting, and this has just been a really stubborn thing?' [laughing] But it's worked out."
You mentioned earlier that you don't like watching yourself. Why?
"You know when you hate to hear the sound of your own voice on your answering machine? It's like that times a thousand, and you've chosen to do this for your line of work. It's awful. The experience of doing it is so good and rich and rewarding, but there's also something about seeing the final product. When you're shooting a scene, you do every angle multiple times; you try it all these different ways, then they cut it to like, two and a half minutes. For your favorite line, they choose the coverage of your scene partner. That take where you really were feeling it? They totally put it in the trash can. Then there's all the dumb vanity stuff, where you're like, 'Oh, really? I look like that? [laughs]' You know? 'My voice sounds like that? Oh god...' We're our own worst critics, I think."
Did you watch reality shows to prepare yourself for UnREAL?
"I got the job moments before they started shooting, and hadn't seen UnREAL before, so I had to catch up really quick. I mostly just watched two seasons of UnREAL furiously, and then I watched some of The Bachelorette, but it's not for me. I struggled. I'm not a huge TV watcher. I don't own a television. My dad gave me one; I gave it away. I watch Netflix and stuff on my computer."
Did UnREAL give you any insight into how they film these types of shows?
"I mean, the amount of alcohol…. UnREAL is real in some ways, and very unreal in others, obviously. But I didn't understand that they basically lock people in a house and feed them alcohol and brainwash them for months on end. They find out exactly how to push their buttons, and they go for it. Like, no wonder it's good TV [laughs]."
You're also going to be on another show on STARZ, right?
"Sweetbitter is out May 6 and is based on the novel by Stephanie Danler. It's about a young girl moving to New York at 21 to find her way, and she gets to work in a restaurant. It takes place in 2006, which is the year I graduated college, so I was that girl [laughs]. I read this book, and it was like, uncanny how familiar it all was. [I worked in] many, many, many, many restaurants, in all capacities. I bartended, I waitressed, I was a hostess first, I catered."
Can you tell me more about your character?
"I play the sort of older, wiser waitress at the restaurant, who the 21-year-old looks up to. My character has a lot of darkness and upset in her past, but on the surface, she seems to have the perfect New York life in a lot of ways. She lives in this incredible bohemian apartment, and she's totally free and drinks wine and smokes cigarettes and knows everything about art and literature and quotes poetry. She's sort of the girl I longed to be when I was 21 years old in New York City. I love the show, because I really relate to both of these female characters so much."
If we were going around the room and you had to share one fun fact about yourself, what would it be?
"Well, after Sweetbitter, I can open a bottle of wine in approximately 20 seconds. I've been drinking a lot of Côtes du Rhône, a lot of Burgundies, and Riesling from Auslese. I did like, a crash course in wine first, for the show—I didn't know anything about anything. So I've been reading and drinking wine a lot."