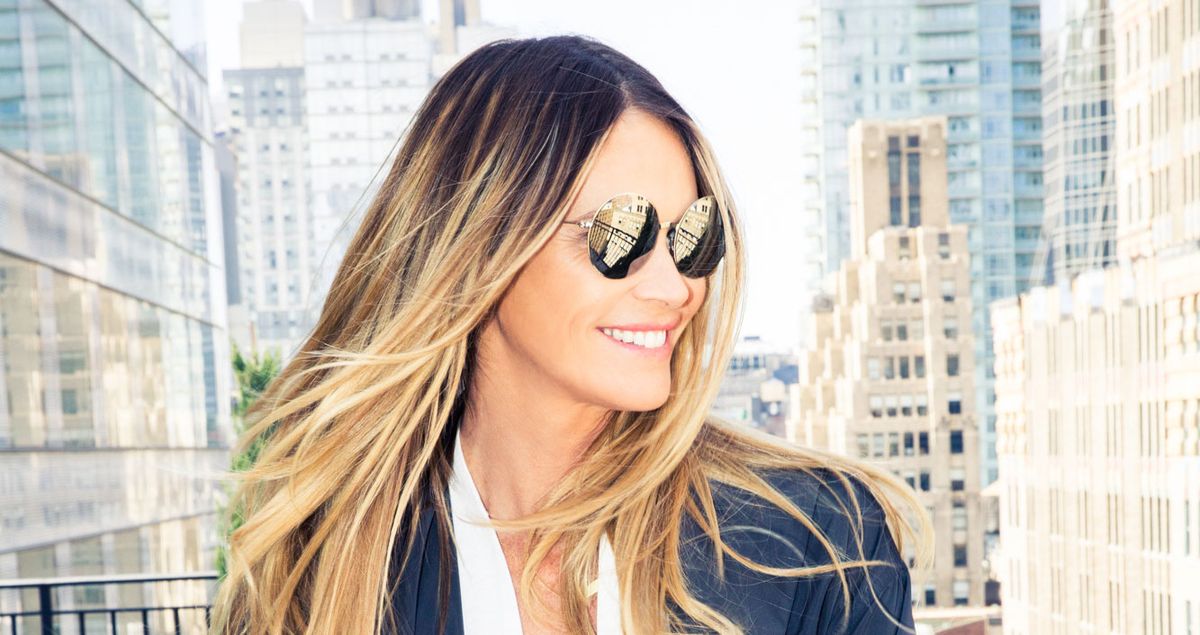 Beauty
Elle Macpherson Told Me Her Favorite Beauty Products
And her healthy chocolate mousse recipe.
Renée Rodenkirchen
When I meet Elle Macpherson in the VIP suite at Barneys New York on Madison Avenue on a sunny Saturday, we are both wearing Isabel Marant (twinning with a supermodel, of course), and she tells me I look like a modern Marilyn Monroe. This is what I call a fantastic start. And as I learn after 20 minutes with the 53-year-old Australian model (54 later this month), fantastic is the name of her game. Aside from continuing to earn her nickname "The Body" while raising two sons and a handful of businesses, MacPherson also launched her WelleCo Super Elixir powder (which is sold on Net-a-Porter) four years ago, after doing a deep dive into wellness supplements.
"At 50, I realized that I couldn't rely on genetics anymore," she says. "I was doing everything that I used to do, and nothing seemed to be working. I met with Dr. [Simone] Laubscher, and she put me on a schedule of taking this green powder, which was the beginnings of [WelleCo] Super Elixir. I wasn't doing it to look better, I was doing it to feel better, but the beautiful byproduct is my skin has a different texture, a lot of the brown spots disappeared, my nails are stronger, my hair is stronger. The shape of my body's changed. My vitality, energy, inspiration— just general well-being— is so much more improved."
We'll have all of the above and, because we're greedy, wanted to know what else we could learn from the five-time Sports Illustrated Swimsuit Issue cover model. Read more below.
What's your favorite way to drink the Super Elixir powder?
"I make a drink that's like a chocolate mousse. I put in an avocado, a big scoop of chocolate powder, half a scoop of greens, and water. I blend it in the NutriBullet, and it becomes like a chocolate mousse. So I get the protein and the greens and some avocado, some good healthy fats, and water. It's really nourishing and delicious."
What workouts are you into right now?
"I really am very into yoga at the moment, vinyasa flow. So I try to do yoga every day, go to a class. I love the energy of practicing with like-minded people. I find that it has just changed my perspective on how the body can feel when it's being nurtured. It's really hard, but the rewards are so great for it, so it's worth it. I like the fact that one has to be really conscious within the practice. So...I mean, there's nothing wrong with putting on headphones and going for a run; I love that as well. But I just think mindless pounding away isn't where I'm at."
I'd love to talk about makeup and skin care and the rest of your beauty routine. Do you have a makeup philosophy? Favorite brands?
"Especially as my skin has matured, it really looks best with the natural glow that I get from having an alkaline diet. So I like to feel the texture and see the texture of the skin. So I don't find myself wearing foundations. Obviously, if I'm in front of the camera for work, you have to dress the skin a little bit for a high-res digital. I use RMS, because it's completely organic and it's natural and it looks like skin and it's just sort of pigments, so I can use the under-eye cover or the cheeks; I can really get by with the concealer and the cheeks, and that's it. I can have two little pots, and that's all I need. I also think India Hicks has got a little travel program that she's put aside, for like a cleanser and skin polish and a moisturizer. I was really in awe of what she's done. I know that she takes a lot of care in the choices that she makes as well, so I like her things. I also think [Dr.] Barbara Sturm is doing interesting things."
I'm always curious for a model—what goes through your mind during a shoot? Is it a quieting of the mind? Is it a motivational talk you give yourself?
"Honestly, I'm a professional. So most of the time, I'm thinking about silhouettes—shape of the dress, the trousers, the shoulders. How does the hair look? What's the light like? I'm creating an image; I'm not just dreaming off into the world, being captured in the moment. Most of the time, I'm actually thinking about the structure of the photography. Because I'm a visual person, and because I spent so much time when I was working with Elle magazine— art directing, doing layouts of the magazine— and I was groomed by a photographer, so I learned to have a visual eye. I actually look at photography from a technical point of view. So when I'm working, I'm thinking of it as a technical image that is portraying... There's a purpose to what we're doing; we're selling something. We're portraying a perspective on something, so that's what I'm really working on."
You actually have to be a photographer to be a good model in a way.
"Exactly. You have to know what kind of image you want to see. Because of Instagram and Snapchat, everybody's eyes have become more evolved in seeing beauty. They're finding beauty within themselves, their environment; they're taking really great pictures—landscapes or cityscapes or their children or their friends, or something that they love. I just think this is incredibly empowering to see people just being their own advertising agency in a way. Nobody's telling them what they should think is beautiful. They're capturing their lives in a beautiful way."
Want more stories like this?
You'll Only Hear These Beauty and Health Tips Backstage at Victoria's Secret
How Social Media Made This 69-Year-Old Supermodel Even More Confident
10 Wellness Trends Everyone Will Be Talking About in 2018