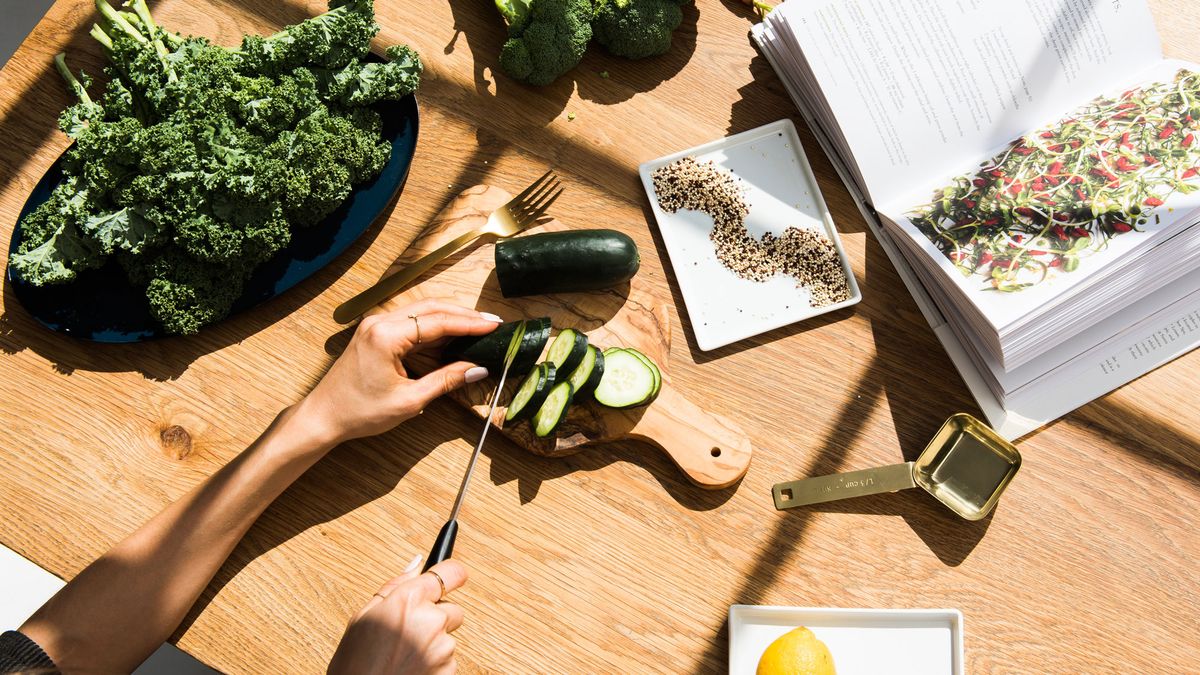 Nutrition
I scraped my tongue, ate in silence, and learned a lot about sugar.
Before Taryn Toomey's 10-day diet was created, the former sales exec turned fitness guru became famous for a particular brand of spirituality that comes in the form of a $35 workout class that is so unlike anything else, it is called simply The Class. Toomey's Tribeca studio is fitted with crystals, and her classes are dotted with F-bombs. Her signature workout blends yoga, a heavy dose of burpees, and a fair amount of screaming, which is intended to help release tension (and over the past year, who doesn't want to shriek?). But there's often a bit of giggling as well, which Toomey and her teachers often remind participants is OK, too. Anything goes when it comes to this part-devotional, part-boot-camp-like workout that attracts celebrities like Jennifer Aniston and Naomi Watts. Attendees want to know everything about how TT herself lives, eats, and breathes outside of the confines of her studio. She now offers retreats, opened locations in L.A. and Vancouver, and has collaborations with brands like Lululemon.
Toomey's offshoots also include The Layer, which is a 10-day seasonal diet created in collaboration with culinary nutrition consultant Mikaela Reuben and triple-board-certified nutritionist Dana James. It's a pretty restrictive diet—meat, gluten, dairy, and soy are instantly eliminated, and after the first five days, the diet goes fully vegan (the elimination of eggs and fish is the main change). Participants are offered the option of working with a private chef, though it is not required or even encouraged. I had my meals for 10 days provided by Chef Aviva in New York City. Ideally, The Layer is done in conjunction with The Class, and discounted class packs can be bought with the program.
As I learn on day one, the morning is a crucial part of The Layer: You wake up. You scrape your tongue. You brush your teeth. You do something called a "belly roll," which involves stretching out with a rolled-up blanket under your stomach in a restorative yoga-esque pose. You blend hot water, lemon juice, and turmeric for your "morning tonic." You take a probiotic, eat breakfast, and then take chlorophyll to promote detoxification and B-complex to help convert food into energy. This was needed as I kicked things off with a Monday morning class. Never mind that I'm not a super-consistent exerciser, let alone a morning one—I wanted to go headlong into Toomey-land. (By Wednesday, when my next scheduled class rolled around, I shamefully emailed TT's team to say that I was too sore to attend. Those burpees…)
During the day, you eat lunch, which you are encouraged to do solo, silently, and sans technological accoutrements. Your detox diet will not be Instagrammed. You are also encouraged to put your food on a real plate—not an option for me, as I eat at my coworking space, rather than at home. My first lunch was salmon with tomatoes, capers, and spinach, and I was grateful to enjoy some animal protein while I still could. If you're hungry between meals, you can eat a small handful of nuts or a piece of fruit. I took to carrying nuts in my bag to stave off cravings and sate afternoon hunger.
Naive, perhaps, but I didn't realize how quickly withdrawal can kick in (nor did I realize how much sugar and caffeine I consume on a daily basis). Unfortunately, by 2:00 PM, I had a headache. This isn't entirely surprising as I was diagnosed with chronic migraine disorder over a decade ago, but by 7:00 PM, when dinner rolls around, according to my notes, "I'm not even craving sugar, just Excedrin."
In the evenings, you receive an email from Taryn herself. On day one, she writes, "How is everyone feeling? How/what are your symptoms, or do you have none at all? The caffeine and sugar withdrawal can be intense, but to say it again (you will hear these words many times from me!), think of it as the addiction leaving the body." At night, you drink tea and practice a 10-minute meditation, not with Headspace, but with a song that, as I learned while distracted and tired, goes on for longer than 10 minutes. You take magnesium glycinate to promote sleep and relaxation and drink Steep Rise mint chocolate tea, which helps digestion and reduces inflammation, but is also meant to serve as a "dessert" of sorts and ward off sugar cravings.
On days two and three, I was still pretty distracted by my headache, which did not let up, even though I felt like I was eating like a health-obsessed angel. Thankfully, by day four, I started to feel better. "I hope you are all feeling better today and feeling some of the ease that happens once some of the major detox side effects move out. The blended foods may have you feeling full but needing more. Oxymoron of sorts? Let's get used to what feeling 'full' actually means," Toomey's note reads. Aviva's morning smoothies are delicious—but left me pretty hungry. I'm not fully sure whether or not that hunger is legitimate, or that I am used to eating enough to feel more-than-full was not obvious.
By the time the weekend arrived, I felt both smug and sore—still! While many people report that the weekend is way harder than the weekdays, that was not the case for me. As obvious as it sounds, half the battle lies in making the good choice when surrounded with less healthy options. But because Chef Aviva delivered everything, there was simply no choice to make. The Layer's breathing exercises are meant to help combat cravings, but I'm not going to lie—I wanted a SANDWICH. And possibly a cupcake. But I had lost two pounds in a week while eating more than three meals a day.
By Sunday, I finally made it back to The Class and again on Tuesday, when I went back to the jam-packed Tribeca studio, as Toomey herself was teaching. To be in Toomey's class, for me, means trying to surrender to its aforementioned one-of-a-kind brand of spirituality and cardio.
"Begin!" "Begin!" "Begin!" she screamed.
"Begin what?!" she asked rhetorically.
"ANYTHING!"
Women screamed in tandem and in turns, and then again, as if on the brink of a collective orgasm. I screamed too, in joy at the fact that I can return to a carnivorous lifestyle again in 24 hours. I've heard people talk about eliminating gluten, dairy, and sugar (all of which The Layer requires) with religious devotion: "I'm so clear-minded!" "I've lost so much weight!" "I can focus again!" "I'm sleeping so well!" they exclaim.
Truthfully, though, I didn't feel as though my perennial brain fog or perpetual exhaustion lifted. What I did feel—as cheesy as it sounds—was mostly just empowered. As it turns out, this is just what Toomey wanted. Rather than losing five pounds, the goal of The Layer as she sees it is this: "To find out that the choices you make are entirely up to you, and that doesn't only pertain to food. Clear, empowered, and light in many ways." By the time I finally I made it to day 10, I was no longer in pain, but I was (oddly) craving sugar or carbs a bit more than I did at the start. Still, I stuck it out and never cheated—and just knowing I could stick with a near-perfect diet if I really wanted to is a good enough start for me.
Want more stories like this?
How 10 Health Editors Actually Work Out
I Tried the 22-Day Beyoncé Vegan Diet… and I'm Starving
The Best Wellness Products You Can Buy on Amazon Prime