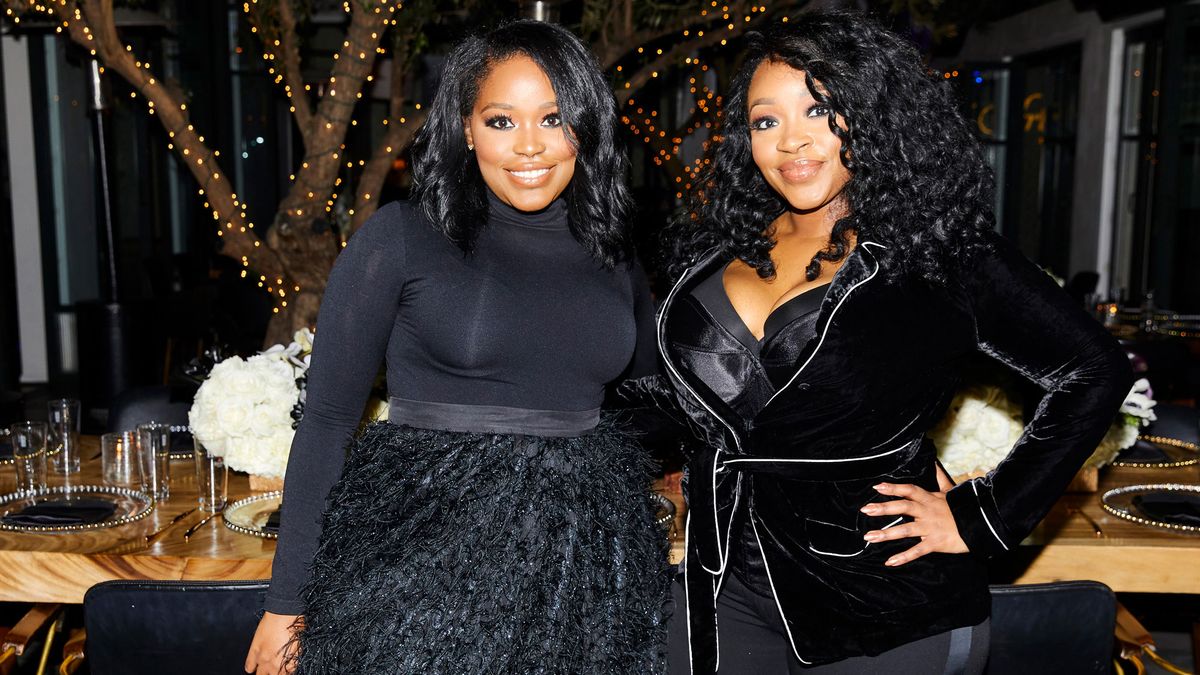 Career
Massah David and Miatta David Johnson are a sibling force to reckon with.
Tristan Kallas
Back in January, when it was Grammy weekend in NYC, we got in the awards show spirit (or the awards show party circuit spirit, rather) and found ourselves at a Def Jam soirée on the west side of Manhattan. There, we saw Big Sean wearing a Detroit Tigers hat, Cam'ron drinking red wine, Slick Rick performing his greatest hits, and two women bearing a striking resemblance to one another, who were *clearly* running the show. Those women are sisters Massah David and Miatta David Johnson, and to some of the biggest names in entertainment—think Kanye West, Common, and Mary J. Blige—they're the entrepreneurs to have on speed dial when there's a major event to throw.
Together they helm MVD Inc, a boutique creative marketing agency that concepts and materializes everything from intimate dinner parties to weekend-long events. "Our strong point—and what people know us for—is helping build their brands," Miatta says, "whether it's through the event space, PR, or experiential marketing."
---
Born in Liberia, the sisters grew up in Maryland and both landed in NYC to kick-start their careers—Miatta as an NYU journalism and African studies student who went on to report on finance for the Wall Street Journal, and Massah in pursuit of a music industry role following fine art studies at Howard University. A shared passion for entertainment and marketing led to the inception of MVD. Today, they're based in L.A. and behind the A-list parties everyone wants an invite to. Their most recent event? Common's pre-Oscars Toast to the Arts party, which they produced for the fourth year in a row last weekend.
Before Daniel Kaluuya, Tiffany Haddish, and Gabrielle Union showed up to mix and mingle, we chatted with the two about going into business with each other, the significance of Toast to the Arts, and how they manage to work in four-inch heels.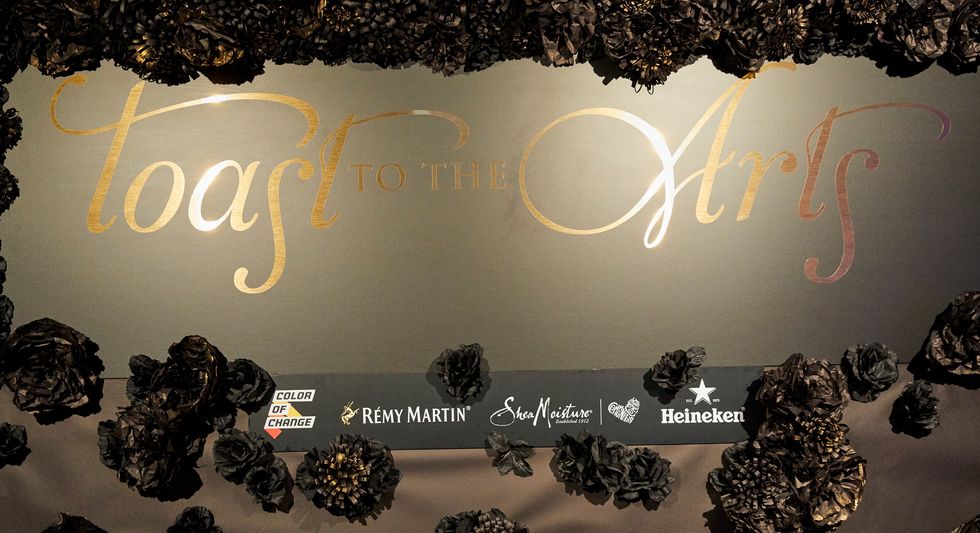 On working with Kanye West:
"[One of my favorite parties] was the Kanye West Bvlgari event we did for his birthday [in 2005]. Now so many people in the fashion industry and pop culture have embraced hip-hop, but at the time it was really unheard of to take over a huge luxury store on Fifth Avenue. It was extremely challenging, but really, really rewarding, and I felt like it shifted the culture. That was the first event that people saw Kanye in his own light." —Miatta David Johnson
"[I loved] the Good Music pre-Grammy event that we did. Kanye said that he wanted to create heaven, so we built an entire lot out to look like heaven—all white, angels everywhere. It was a really fun event to really plan and get creative with." —Massah David
On Common's Toast to the Arts party:
"Common has such a great vision, and he wanted to create something that was different than all the other events that were happening over Oscars weekend. A lot of the events didn't celebrate African-American culture and what that narrative was, and Common started that with celebrating Selma. Now it's kind of taken a life of its own." —MDJ
"We always hold the event at Isabelle, which is a garden restaurant, and it has a shabby-chic feel and also sets an amazing tone for the night." —MD
On the key to hosting a great event:
"The look and feel of an event are key to me—starting with the invitation, which should really set the tone for what guests can expect from the evening, and then the decor and floral arrangements and menu. For the arrivals at Toast to the Arts, we try to do something different each year to prepare guests for what they're about to experience, like having images on the walls and various elements that speak to what's happening [in entertainment] at the time." —MD
On working...in heels:
"I'm grateful that I'm used to working in four-inch heels, so that's something that's kind of normal for me [laughs]. I like to wear Jimmy Choos, which are extremely comfortable for me." —MDJ
"We don't do shoe changes, we just try to get through the evening with whatever we have on [Iaughs]. I love Gucci sandals." —MD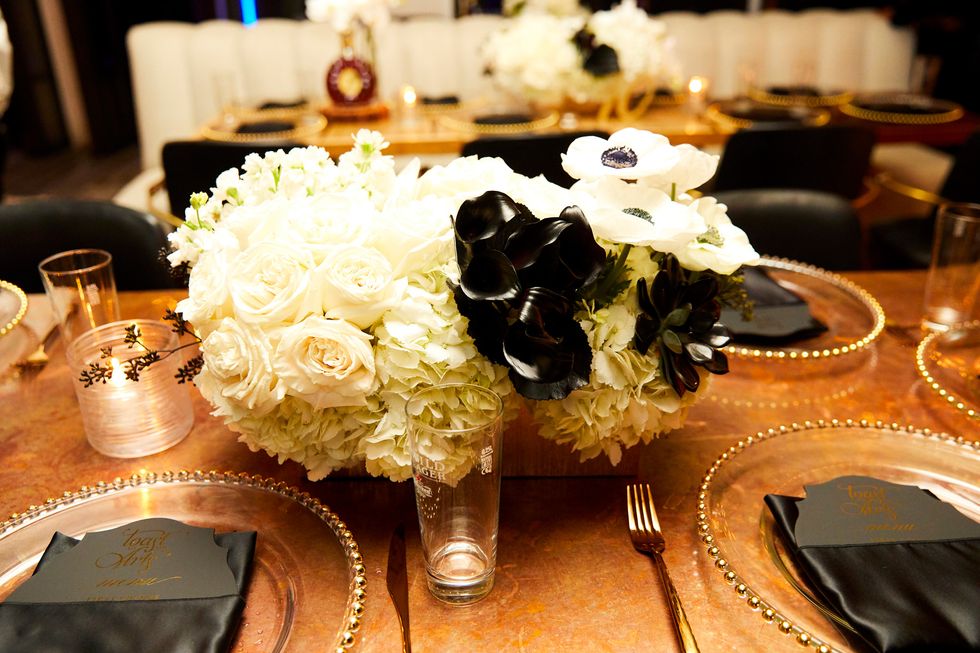 On their Liberian roots and their bond as sisters:
"We left Liberia because there was a coup. The government was overthrown, and our family was a part of the government; a lot of our family members were killed, and our father was jailed for several years. Because of that I saw myself as [Massah's] second mom, so I've always been very, very protective of her." —MJD
"Miatta and I have always been extremely close. We're four years apart in age, but people always think we're twins, which annoys me to no end because she's older than me [laughs]." —MD
On going into business together:
"When we first started to work together, it was difficult because [Massah] was trying to find her footing and show me that she was a partner and not just a sister. The first few years were rocky because our personalities are so different; I'm more focused on the business part, and I'm very structured, and Massah is the creative brainchild. Because of the amount of respect we both have for each other, I think that that's what helped us." —MDJ
Want more stories like this?
Meet the Woman Behind the Designs of Your Favorite Tour Merch
4 Party-Planning Tips for an Unforgettable Event
Behind the Scenes at Rick Ross' Birthday Blowout