Wonder Woman and Black Panther Combined? This Producer Plans to Make It Happen
Felicia D. Henderson is an executive producer on Netflix's The Punisher and created The Quad. Now she's looking to take on the big screen.
Living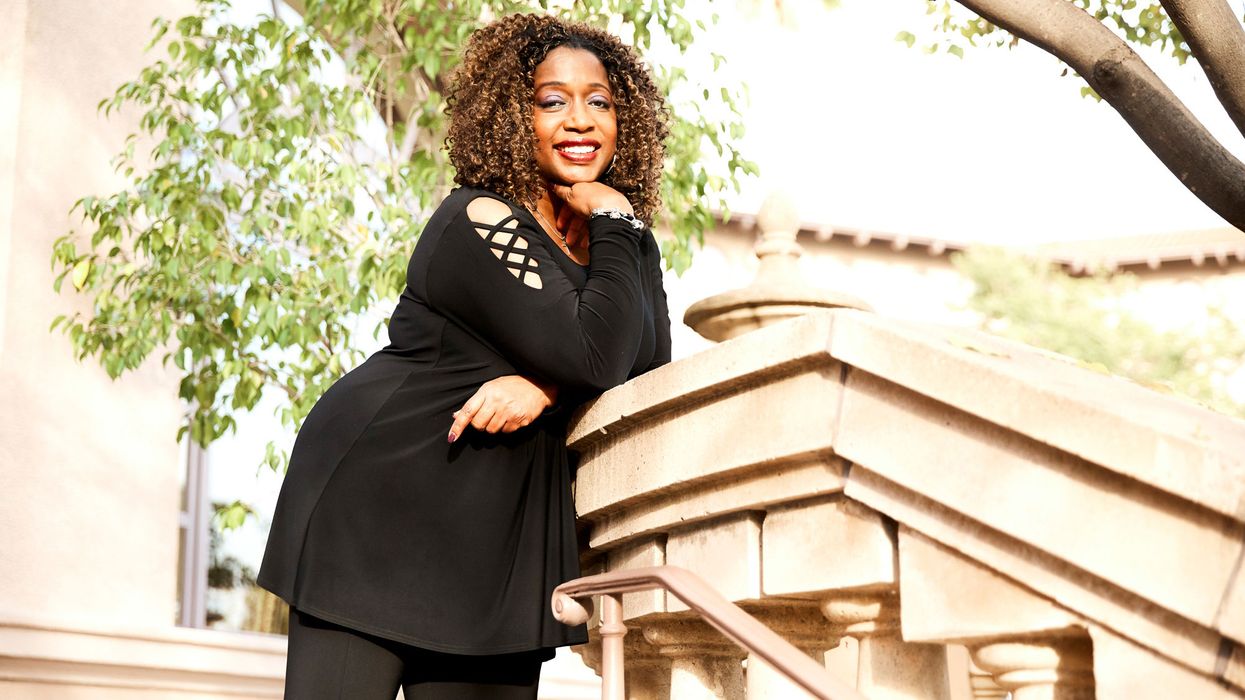 Black Panther. Wonder Woman. Ladies working behind the camera, as well a diverse group in front of it. All of it seems to be met with the same response: We need more. And, perhaps, it's producer and screenwriter Felicia D. Henderson who will help us get it.
"I'm a sci-fi and comic book geek," she admits following our photo shoot—something that makes sense, considering she's currently the co-executive producer on Netflix's The Punisher. "I want to do comic book adaptations with women leads, and I want to do it full of color. I want to write the next Black Panther."
It's a pretty bold statement, but not that bold coming from Henderson. Her résumé is jam-packed with much-loved projects, including shows like Sister Sister, Gossip Girl, and her own creation, The Quad. Her name might not be immediately recognizable, but she's far from a beginner in this industry—even if she did fall into it by chance.
---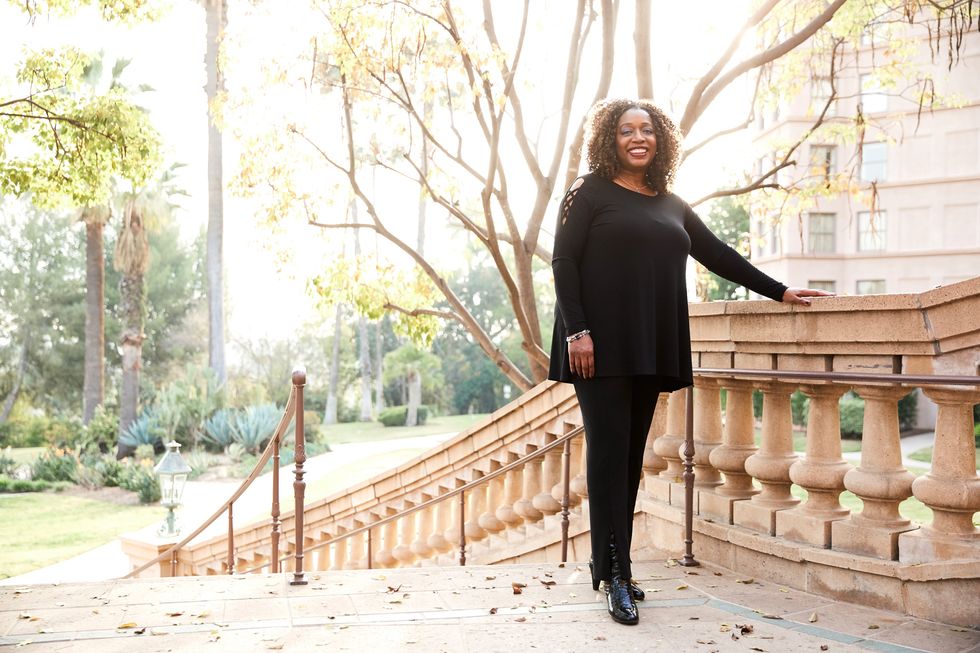 "When I was young-young, I envisioned myself as a doctor," she says, reflecting on her journey to this very moment. But after her father suffered a stroke, Henderson decided to go after what she liked: a love of doing research, which led to business management and, later, applying for her MBA. "That's when I learned about the NBC fellowship," Henderson says. "It was a collaboration between NBC and the Peabody Foundation that paid for your MBA if you were interested in management in television. So I wrote a beautiful essay about how all I ever wanted to do was be in management and television. I had never even thought about it, but I thought, 'I'll get my MBA in finance, and that'll be that.'"
As it turns out, that wouldn't be that, and after getting caught up in the industry, Henderson soon found herself as a writer's trainee on Family Matters.
"[I spent] about eight years working on an eight o'clock family comedy, and then I decided I wanted to transition to drama," she tells me. "When I thought about what I was interested in as a writer, I wanted to say something. I wanted to tell stories. I wanted to delve more deeply into character. I wanted to look at the good, the bad, and the ugly in people."
On paper, it seems like things flowed pretty smoothly for the power woman, but she's quick to clarify it's not an easy job.
"I would say anyone can do it, but can everyone do it well?" Henderson asks. "No. Not only is writing well difficult, but having the discipline to write and to stay with it—when it's hard to stay with it, when you don't think you have a good idea, when you're like, 'Shoot, structurally, I don't know what I'm supposed to do right now'—is hard. Having the discipline to do the work is hard."
The hard work isn't exactly an issue for Henderson, however. She tells me she genuinely likes what she does.
"If it's a challenging job or an assignment, I can pick up my laptop and go anywhere and write. I can go sit on the beach. If you are making a living as a writer, you can write anywhere, and that's really freeing."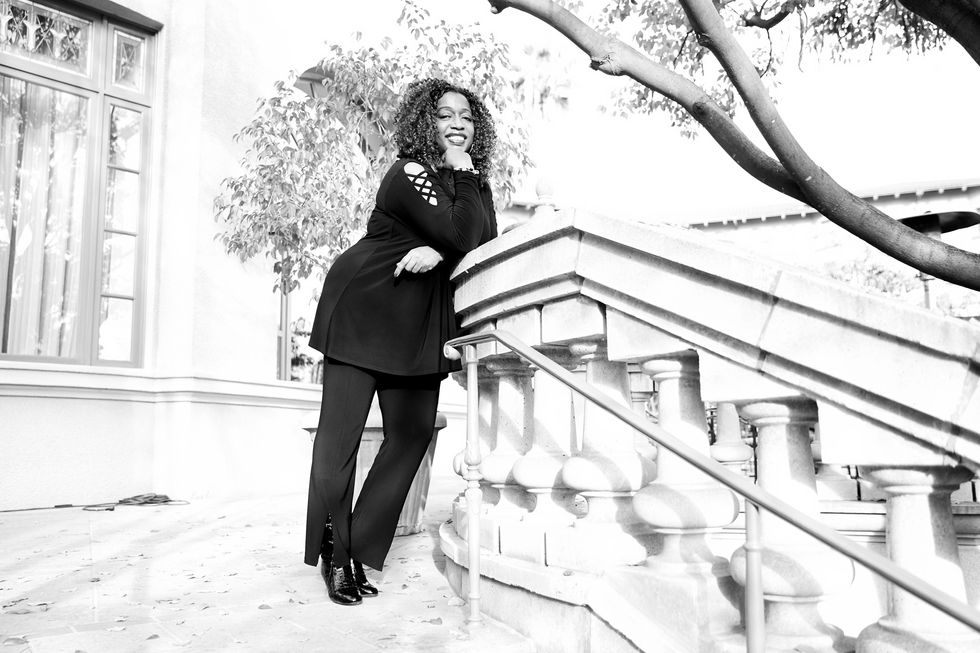 Of course, in a male-dominated industry, and with all the shake-up happening in Hollywood, it's not lost on me that Henderson is a black woman literally running the show. I'm curious to hear what she has to say on not only more inclusion on screen, but behind the scenes, as well.
"It's a little bit frightening that right now black is the new black," she answers honestly. "We're 'in,' and things culturally [specific] to African Americans are 'in.' I pray that it is not a moment, but a movement to normalcy of what we should see every day—so that it's not special, but just something that is naturally part of what you see out there as your choices in entertainment. That's what the goal is."
For the shows she works on, Henderson says she pushes for those who look like her to have more opportunities to hold power positions. "And when I say 'look like me,' yes, I mean African American, but I also mean women. I also mean people of color."
So what's next for this multitalented woman? Aside from hoping The Punisher and The Quad get picked up for new seasons, and the goal of making the next big superhero film, there's also an urge to create another family drama.
"That would make me very happy," she admits. "I watch This Is Us. That show is so beautiful—that's a show I wish I created."
Henderson goes on to tease projects that she can't yet announce, and I find myself getting excited for her. Her path to this point is simply so fascinating. It should also be noted that Henderson is college professor and even created internships for students who attend the schools where her shows are filmed. She's not only creating things worth watching, but she's also making a real difference in the world.
"I think the biggest thing for me is that I come from such humble beginnings," she adds as our conversation comes to a close. Her parents were undereducated, Henderson reveals, and thus instilled in her a love of learning and a drive for success. "Trust me," she continues. "If I'm here, you can be here, too."
I'm slightly skeptical, of course; Henderson does it all! But much like everything else this woman has said—especially about her goals to make major movies and fascinating shows—I find myself inspired, and thinking to myself, "Why not?"
Want more stories like this?
You Definitely Missed This One Detail While Watching Black Panther
Shonda Rhimes Says She Isn't Creating "Strong Female Characters"
Jessica Chastain Thinks It's a Pretty Great Time to Be a Woman