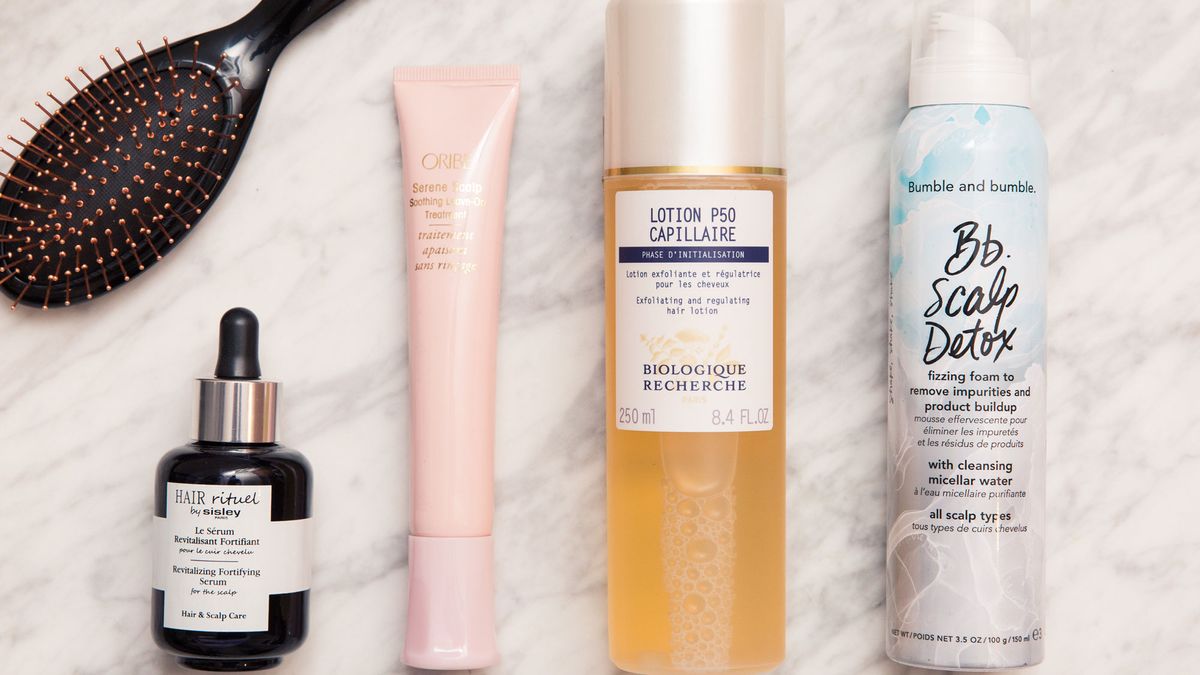 Hair
Why The Not-Washing-Your-Hair Trend Is Over
Scalp care means pretty hair.
Alec Kugler
Consider it the backlash to the long reign of blowout bars, dry shampoo, and the chorus of "experts" claiming you should wash your hair as little as possible to keep it healthy. Beauty brands are now obsessed with scalp care, launching product after product that claims to be the new "skin care for your hair." Last year we saw a mini trend of scalp scrubs from Briogeo, IGK, and R&Co, a new Pramasana in-salon scalp treatment from Aveda, and so far this year Oribe has launched scalp care, and luxury skin care and makeup brand Sisley Paris jumped into the hair game with shampoo, conditioner, and a scalp serum. Bumble & bumble just released a foaming scalp deep cleanser that actually crackles like PopRocks as you massage it in. And even cult brand Biologique Recherche, which had hair care all along but never talked about it, is re-promoting its P50 for hair (yes, P50 for hair!) and in-salon treatments.
---
While no one has come straight out and said all of this scalp talk is in response to the fixation on dry shampoo and extended blowouts in the last decade, I have my reasons to believe the pendulum is now swinging in the other direction. Last summer I was sitting in a chair at Dreamdry salon in Flatiron for an event with Living Proof, and my hairstylist told me her own story. Following the same advice she gave to her clients, she had avoided washing her hair in order to protect her hair color, but she did so for so long that the buildup started to actually block her hair follicles, and she was getting bald patches. Admittedly this is uncommon—you have to have some very serious buildup to actually cause yourself to bald—but buildup can also simply be irritating and make hair follicles cranky. After getting back into a more regular washing routine (everybody is a little different as to what they need) and making sure to brush (those bristles help exfoliate the scalp), her hair started growing back again in a few months.
This wouldn't be news to the experts at Philip Kingsley, the 50-year-old trichology (aka scalp and hair care) clinic with locations in New York and London; Phyto Paris, which has long offered scalp treatments and microscopic scalp cameras at their locations; Younghee salon in TriBeCa; or Danish clinic Harklinikken, which recently opened a location in New York. Or, for that matter, the folks at Procter & Gamble, who make Head and Shoulders. While hair itself is a dead material (I usually tell people to think of it like fabric), your scalp is part of your skin. But unlike your face, you don't always know if the skin on your scalp is unhappy and therefore inhibiting healthy hair growth, because you can't really see it. Trichology clinics use cameras, tonics, and specialized regimens to help address issues like yucky buildup, dandruff, irritation, and hereditary hair loss.
But with the fresh new interest in the subject, these specialty clinics may be up for wider competition in the space. A popular Japanese hair treatment called "head spa" is slowly coming to the U.S.—the ultra popular treatment involves a meticulous scalp cleaning and diagnosis that can take an hour, but usually involves a circulation-boosting and very relaxing massage. Not to mention, of course, all the new products. If you really have an issue with your scalp, the best person to start with is a derm, or take a visit to a clinic like Harklinikken (they also do it over Skype) to get a professional take, but for the rest of us, let this serve as just a nudge to consider.
Want more stories like this?
3 Beauty Trends Bound to Be Huge by Fall
The Oscars Just Predicted the Next Big Hair Trend
3 Short Hair Makeovers That All Look Totally Different