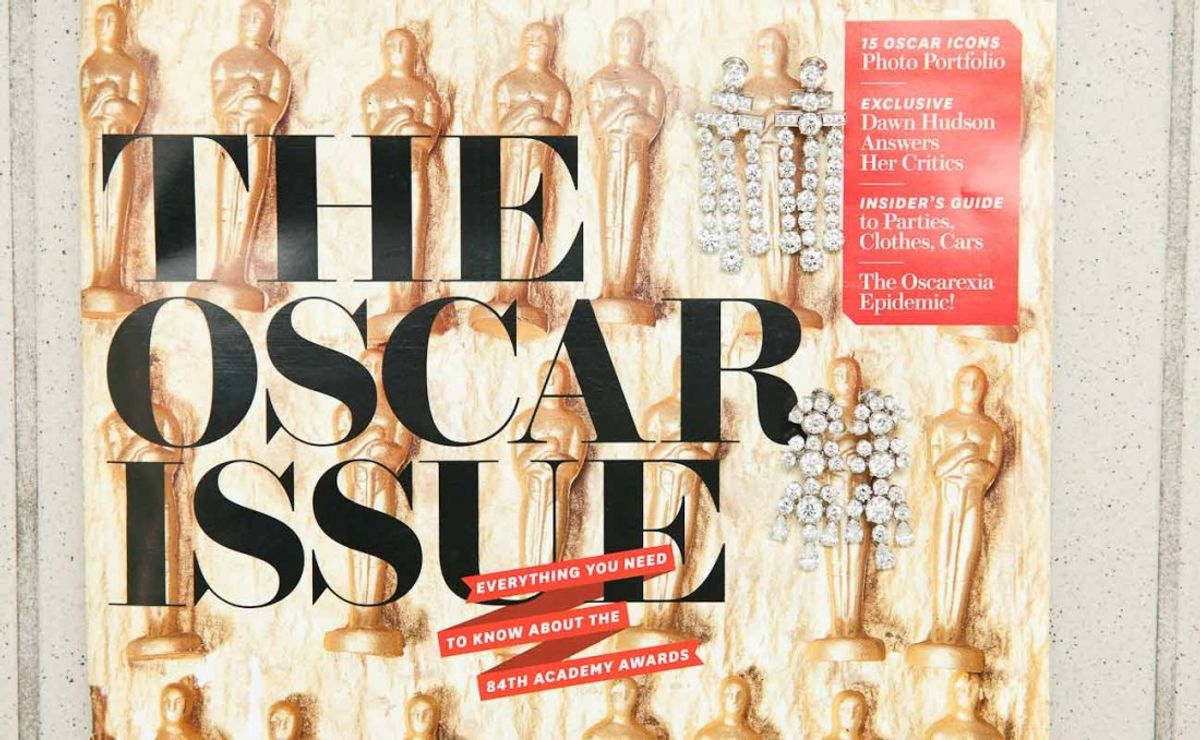 Earrings, Bulgari
Entertaining
How to Host a Non-Cheesy Oscars Viewing Party
But actually. Coming to you from the pros that put on the real deal.
You can probably relate: for most of us Oscars viewing parties feature cheesy dollar store decor and microwavable appetizers—sometimes a mini hotdog wrapped in pastry dough hits the spot. But what if you could make your Academy Award Show gathering just as fancy as the real deal? We tapped the pros who actually put on the big award season events for A-listers, to show us how to bring just a little bit of that Vanity Fair party feel into our living rooms. 
---
As for the games, music and dress code? There's a reason we've already rifled through her (seriously) stocked closet—Athena Calderone has good taste. She pens her site eye-swoon.com, a Pinterest-worthy source of décor, food, style and then some. When it comes to throwing a swoon-worthy (see what we did there?) party, she's pretty much nailed it.
Games
"Create your own fashion police by choosing the best and worst looks of the night. Have each guest put forth their choice for best Oscar dress to ever walk the red carpet, then vote on the best dress of all time!"
Music
"Make an Oscar playlist compiling a variety of songs from nominated movies to watch during the red carpet."
Dress Code
"Ask guests to come dressed in black and white tuxedo chic or luxe black and white pj's!"
---
Décor & Atmosphere
If you've ever had the luxury of being a guest at one of the over-the-top-amazing parties Bronson van Wyck has designed your life is, in a word, FOMO-inducing. Van Wyck's CV is a laundry list of big names, including Diddy, CHANEL, and a bunch we've actually been sworn to secrecy over. Given that he's pretty much the source for ultra-exclusive red carpet parties, he's going to show us how to get it done right—right down to the thematically named appetizers and tipple.
"Dress your table in red velvet (for the red carpet) and showcase a smattering of gold trophies on the table (your kids' swim team, dad's old bowling league, anything!). These are the real Oscars!  Hand them out for fun throughout the evening. Or if you are feeling DIY, hand-gild any objects that you have at home to give them a shiny finish and a new life. When your guests arrive, inform them of their actor alter ego for the evening and instruct them to find their seating assignment near the TV.  The last guest to arrive is the dreaded seat filler."
---
Bronson van Wyck's Gone Girl Gimlet
Ingredients:
2oz gin
1.5oz lime juice
6 fresh basil leaves
3/4 oz simple syrup
Muddle basil with gin, simple syrup and lime juice. Shake and strain into an Old Fashioned glass. Garnish with sprig of basil. Cozy up with a box of store-bought, mousy brown hair dye and get prepared for your impending anonymity—JK!
---
Loxcaster Blinis
Ingredients:
1/2 cup all purpose flour
1/3 cup buckwheat flour
4 teaspoons sugar
1 1/4 teaspoons active dry yeast
1/4 teaspoon (generous) salt
1 cup whole milk
3 tablespoons butter, cut into cubes
2 large eggs, lightly beaten
Melted butter
Crème fraîche
1 (4-ounce) package thinly sliced smoked salmon
Salmon roe
Fresh dill sprigs
Directions:
1. Whisk first 5 ingredients in medium bowl.
2. Place milk and butter in small saucepan. Stir over low heat until butter melts. Pour warm milk mixture into flour mixture and whisk until smooth. Cover with plastic wrap and let stand in warm draft-free area until doubled in volume, 1 to 1 1/2 hours.
3. Whisk buckwheat batter to deflate; then whisk in eggs. Transfer to large bowl. Cover; chill (may increase in volume; rewhisk before using).
4. Preheat oven to 200°F. Heat griddle or large skillet over medium heat. Brush lightly with melted butter. Working in batches, pour 2 tablespoons batter for each blini onto griddle. Cook until bubbles form on top and begin to pop.
5. Turn blinis; cook until golden brown on bottom, about 1 1/2 minutes. Transfer to baking sheet. Cool, cover, and chill.
6. Arrange warm blinis on platter. Spoon 1 rounded teaspoon crème fraîche atop each. Top with smoked salmon. Garnish with salmon roe and dill sprigs and serve.
Recipe inspired by Epicurious