Models
Who said you can't have a little fun with your skincare? In collaboration with Estée Lauder.
Laurel Pantin
Director of Photography
Gabe Harden
Styling Assistant
Daniella Deutsch
Much has been made of the morning routine, but anyone who's tried to put their own in place knows that any truly productive day *really* starts the night before. Namely, with a solid night's sleep, preceded by a solid wind-down: Think of it as setting yourself up for success. What said wind-down consists of, of course, comes down to you. Once you get home and shut the door (and the rest of the world) behind you, what comes next? Masking while calling your mom? Immediately removing your bra and flinging it as far as it'll go? Devouring an entire season on Netflix?
If you're Anne V., it turns out the answer is actually "yes" to all of the above.
---
Here's the thing. While the majority of morning routine advice seems to be focused on maximizing the moment (work out at the crack of dawn! meditate! roll calls in one ear and listen to motivational podcasts in the other so as to not waste a second of your commute!), nighttime (a.k.a. 'The Night Shift') is about doing what you actually want. And sometimes, what you want is to eat stacks of saltine crackers while thumbing through old magazines (yep, that's a Sex & The City "secret single behavior" reference). Whatever it takes to create something that feels like a true moment for yourself, do that.
For us, nothing signals the day being officially over quite like a little physical ritual—promptly changing into our favorite pajamas (Olivia Von Halle forever), followed by the first few steps of our skin-care routine (one of the most crucial cornerstones of any restorative night routine). Continuing the theme of evenings as a time for repair—we turn to Estée Lauder's Advanced Night Repair collection. Maybe there's already a bottle of the best-selling serum (fun fact: ANR—as it's known to devotees—was also *the* first ever skin-care serum on the market) on your vanity—in which case, you can likely already guess that products like the brand's power foil mask are equally as necessary.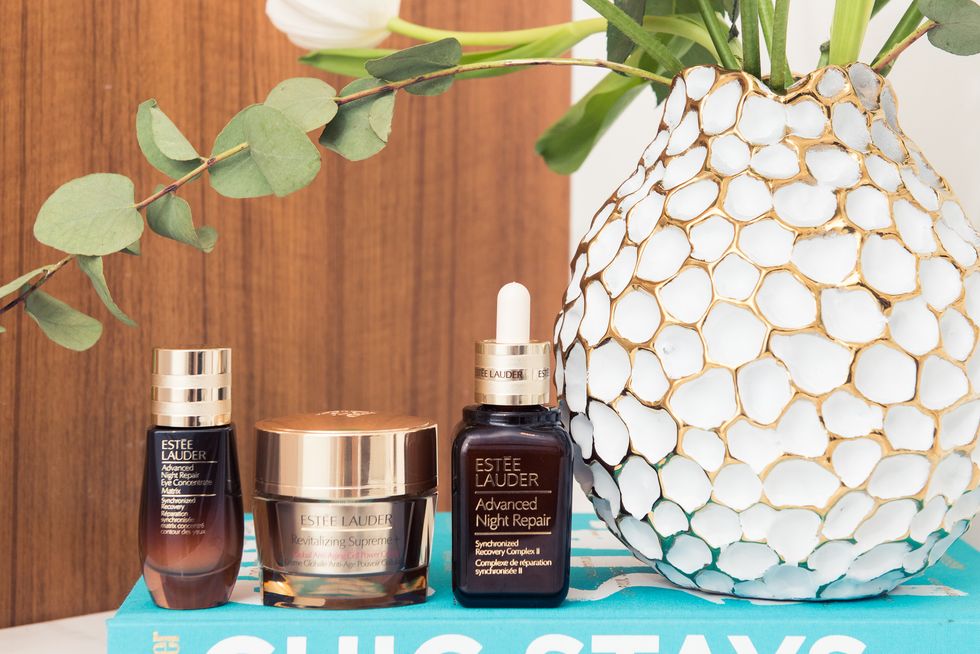 To really help restore skin, we like to remove makeup with the brand's Advanced Night Micro Cleansing Balm—it melts away to a cleansing oil consistency that, when removed with a warm face towel, is on par with the ecstasy of bra removal. Then, we mask. The ANR Concentrated Recovery PowerFoil mask is a step above your usual sheet mask—the foil creates a barrier that helps lock in every drop of serum (not to mention: no drippy mess). We can't guarantee that you'll look exactly like Anne in one, but it's pretty reassuring to know supermodels feel like space aliens in them, too. After chilling the required 10 minutes while looking not unlike a tin robot (just try to not take a selfie wearing the mask), we tap and massage in the excess serum. Insider tip: Use the extra serum on your cuticles to hydrate. Right before bed, layer the brand's OG serum, Advanced Night Repair Serum, a few drops of this helps with dullness, dehydration, and fine lines, too, allowing you to wake up looking rested. To seal the deal top with your favorite moisturizer. We love how Revitalizing Supreme+ Creme pairs with ANR (it comes in a light version, too). After that? As Anne demonstrates in the video above, the night is yours.
From one screen addict to another: This is the year you create a routine worth coming home to. The night shift starts now!
Hair: Sasha Nesterchuk, Makeup: Victor Henao.
Fashion Credits: Blazer, Frame; Denim, Rebecca Taylor; Sweater, Tibi; Bucket Bag, Kara; Scarf, Cuyana; Earrings, Bauble Bar; Pajama Set, Olivia Von Halle; Sunglasses, Westward Leaning.
Prop Credits: Toothbrush, Quip; Hairbrush, Christophe Robin; Shagreen Trays, Restoration Hardware; Prints, Artfully Walls.