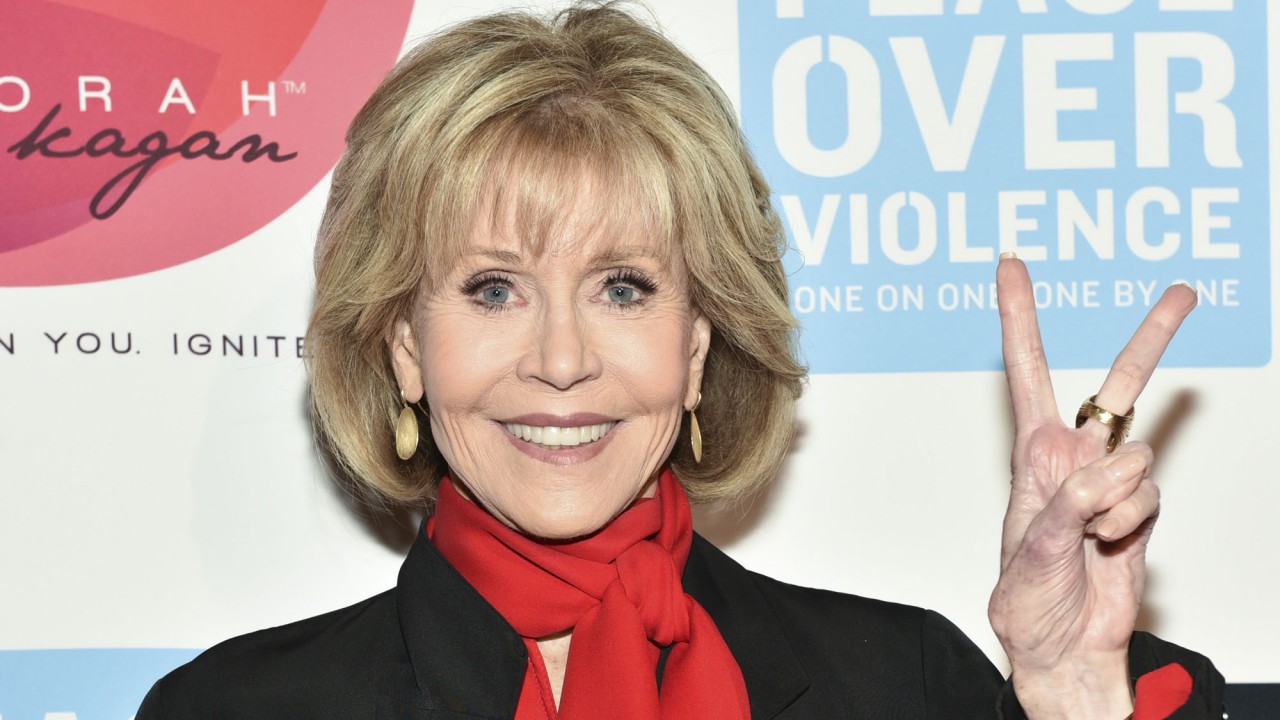 Why Jane Fonda Won't Let Her Makeup Artist Touch Her Lips
With beauty, as in all things, Jane knows best.
Shawnelle Prestidge has been doing Jane Fonda's makeup for ten years, ever since the two worked together on the set of a L'Oréal campaign. Given that Fonda is one of the most worshipped icons in our office, we had to know everything Prestidge could tell us.
"We hit it off," says Prestidge, who mainly works with Fonda on the East Coast. "She's this incredible, iconic, spectacular woman. She was so grounded and calming and lovely. I continued to be her makeup artist ever since. I went to Paris with her for L'Oréal. We've done books, DVDs, and press. She's so vital and so incredibly smart and knows what's going on with anything. She wields that kind of energy that most twentysomethings wield."
So…about that intro? Maybe the closest we can get for now is to employ some of the makeup tricks Prestige swears by for Fonda, who frankly looks impossibly beautiful every time we see her face. Below, the nine rules we learned for doing makeup like Fonda.
1. Skin Care Before Foundation, Always
"I started as esthetician originally, so I had a deep love of skin and skin care," says Prestidge, who created her own all-natural skin-care line, Prestidge Beaute, to use on Fonda, particularly her Ageless Skin Serum. "It can iron out the skin and fill in the lines and kind of [tighten] all at once. If you don't have skin that's beautiful and in balance and hydrated, putting makeup on is a bigger challenge for a multitude of reasons."
2. Foundation Should Be HD
"Jane really likes HD formulas, which are highly pigmented and reflect light nicely," says Prestidge. "You want something that has the highest level of pigment because you can actually use less product to get an opaque effect." Prestidge suggests combining two to three colors to manage the different skin tones you have throughout the year—or even day to day—but to go a little lighter than your skin tone because natural skin oils can deepen the pigment. She also uses a dense pink sponge like a Beautyblender and lays the foundation on in thin layers. "This is a golden rule for everybody," says Prestidge, "and with more mature skin, you don't want to over-layer in areas that move a lot, like around the eyes or mouth."
3. Match Concealer to Your Cheeks
"If you use a concealer too light, it actually makes something stand out more," she explains. "You have to minimize the grey by offsetting it and matching your skin color on your cheeks." And if you put concealer on your crow's-feet or other areas that move, make sure you buff it out. "You can use your finger to press it out and make sure it's coagulating in the creases," says Prestidge.
4. Contour in a Flat Line
Forget the crazy 45-degree contour angel. "I like to start contour at the earlobe and come across toward the tip of the nose and stop at [the] center of the cheeks; it looks like a stripe," explains Prestidge. "I use powder contour without anything illuminating. I also use it on the jawline and [a] little on the neck." To get the right color, pick one that looks like "the tannest tan you've ever been." Then use a more luminous bronze-y tone on the cheek.
5. Use That One Blush Everyone Uses
"I use a shimmery peachy-pink blush, and it has some gold, and I'll put that on the apples of the cheeks and fade up toward [the] cheekbones," says Prestidge, likely alluding to Nars Orgasm blush. "This I do for everyone. It's so universally flattering."
6. Lashes Rule. (So Does Latisse.)
"We always do lashes," says Prestidge. "Jane uses Latisse, and her lashes are so incredibly long that it is a dream for artists to curl those like crazy. Fake lashes are actually shorter than her natural lashes, but we sometimes add them for density."
7. For Eyeshadow, Ignore "The Crease"
"You actually have to use your orbital bone as your guideline," she says. "The crease is actually the orbital bone—you create shadow under the bones and up onto the bone." Prestidge starts shadow in the middle and fades toward the outer corner. "Then we bring [it] up onto the bone, and as the color goes out further, you start creating the shape and you make it look more lifted." Surprisingly she doesn't do the white-shimmer-in-the-inner-corner trick—she just uses a lighter shade of concealer. Concealer is also her replacement for eye shadow primer, too.
8. Ditch the Pencil Eyeliner
"It's rare I do liquid—the powder stays in place longer," she says. "I usually do a dark brown or black eyeshadow with a medium thick-angled brush, which will deposit a lot of pigment. It's easier to blend, and a hard, rigid line can draw attention to its imperfection. I've done a lot of beauty campaigns, and I don't love eyeliner because it's hard to control. It's a wax base, and your body temperature is hot enough that it activates and it's going to move."
9. Let Jane Do Her Own Lips
"This is the funny thing with Jane," says Prestidge. "She's so particular about her lips that I let her do it herself. She gets out her magnifying mirror, and I give her varying shades of lip liner and pencil, and she will take care of business." And we've got to say, she does some good business.
Photo: Getty
Want more stories like this?
3 Tricks That Make Foundation Really Look like Skin
10 Weird but Genius Makeup Tricks Changing Our Routines
The Best Mascaras of All Time According to 14 Editors