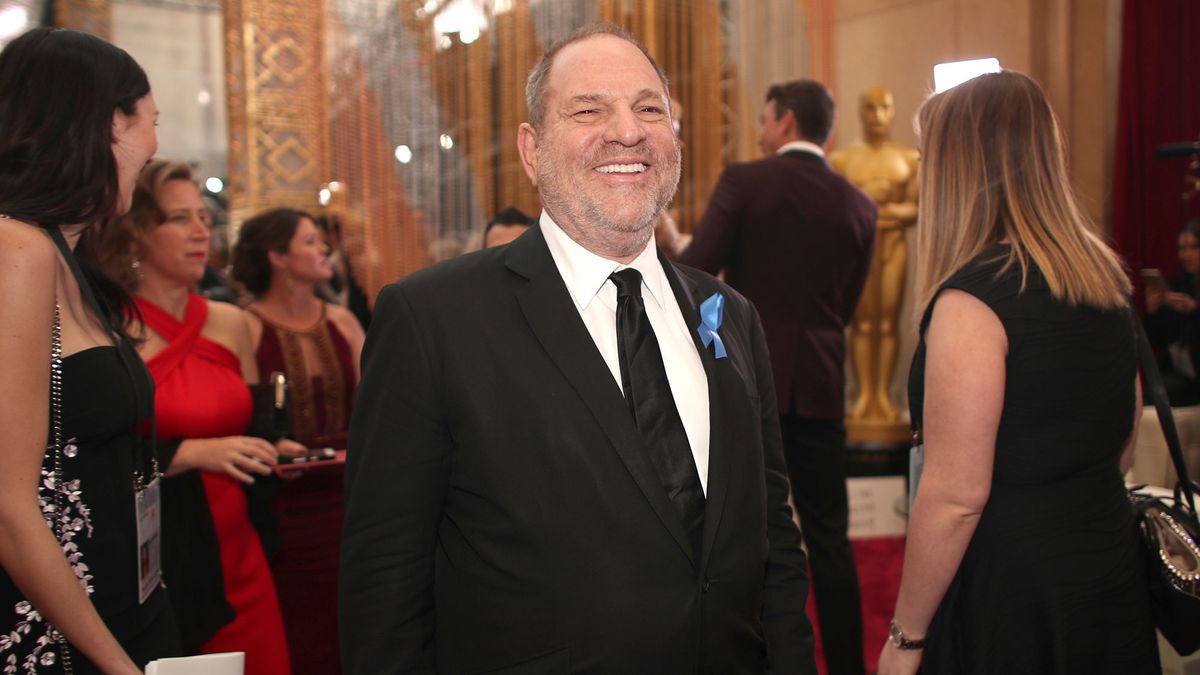 News
These High-Profile Men Have All Been Fired Since the Harvey Weinstein News Broke
We're thankful for the #MeToo campaign.
Updated on January 26, 2018, with additional reporting by Laurel Pantin.
It started with Harvey Weinstein. Each day since the New York Times published their investigative piece into the predatory producer's sordid history has seen another new allegation of sexual harassment, assault, and coercion from every corner of Hollywood. The response was a chorus cry for justice, which lead to the viral #metoo campaign, where women (and men) from all walks of life shared the stories of their experiences with harassment and abuse. In weeks since, more high-profile men have come under fire for misconduct, inappropriate behavior, and sexual-harassment-related allegations, and many have thankfully (finally) suffered the consequences for their actions. Below, we outline all the men who have been fired or suspended from their high-power jobs in the wake of the Weinstein allegations.
James Franco
At present, five separate women have accused James Franco of sexual misconduct—which Franco has publicly denied. He appeared at the SAG awards last Sunday (and both he and Aziz Ansari proudly wore Time's Up pins on the red carpet at the Golden Globes), where he was nominated for his work on The Disaster Artist, and the quick cut to him following the nomination announcement definitely made for one of the more awkward moments of the evening. Following the growing outcry against him, Vanity Fair has seemingly removed him from their annual "Hollywood Issue"—a source claims he had his portrait taken for the cover, but did not make the final edit.  The Disaster Artist was not nominated for an Oscar for Best Picture, nor was Franco nominated for Best Actor (though the film did receive a nod for Best Adapted Screenplay), so it will be interesting to see if he shows for the awards on March 4. —LP
Casey Affleck
Similarly, Casey Affleck has pulled out of presenting at the Academy Awards after previous allegations from 2010 of abuse and misconduct resurfaced. Last year, he won the Oscar for Best Actor, so was slated to present the Best Actress award this year. —LP
Aziz Ansari
Meanwhile, Aziz Ansari seems to have disappeared from the public eye altogether after an anonymous woman called "Grace" published a shocking account of a firsthand experience with the actor. While some have questioned whether Ansari's behavior (though appalling) constitutes abuse, the conversation about where those lines exist is necessary, and this instance has without a doubt shed awareness on the more nuanced degrees of sexual misconduct and abuse of power. Netflix has yet to make a statement about the future of his show, Master of None. —LP
Larry Nassar
Yesterday, hero Judge Rosemarie Aquilina sentenced Larry Nassar to 40 to 175 years in prison for sexually assaulting and abusing more than 160 women (that we know of) in possibly the largest case of this sort in history. The doctor preyed on young athletes, including Olympic gymnasts Simone Biles, Aly Raisman, and McKayla Maroney, many of whom began seeing Nassar for "treatment" as young as seven. It's a horrific case, and the court treatment is historic and fascinating—Judge Aquilina expressed outright disgust for Nassar and continual support for the victims, whom she called "sister survivors," and allowed 156 victim statements to be read in court—not testimony, just statements. Shamefully, Nassar requested to have the statements silenced, claiming it was damaging to his psyche. When she sentenced him, Judge Aquilina famously said, "I just signed your death warrant." Amen.
Since the trial, numerous members of the USA Gymnastics board have stepped down, and Lou Anna Simon, the president of Michigan State University, where Nassar was employed, has also resigned. —LP
Matt Lauer
Back in November, Savannah Guthrie and Hoda Kotb announced on The Today Show that longtime anchor Matt Lauer had been fired from NBC News for inappropriate sexual behavior. You can watch their statement here.
A detailed complaint against Lauer was filed by a colleague last week, and while it was the first official complaint to be submitted against Lauer, NBC News chairman Andy Lack suggested it would likely not be the only one: "We were also presented with reason to believe this may not have been an isolated incident," he said in a statement. Since then, Kotb has officially replaced Lauer in the super-prestigious role, and Lauer has been effectively banned from his own home. We call that a win-win. Hoda forever! —LP
Charlie Rose
Longtime television host and journalist Charlie Rose, whose eponymous show has aired on PBS since 1991 and who has been a co-anchor on CBS This Morning since 2012, is facing charges of sexual harassment, lewdness, groping, and unwanted nudity by at least eight women. According to the Washington Post, the women were either employees at the Charlie Rose show or were hoping to gain employment there.
Immediately following the allegations, PBS and Bloomberg LP suspended distribution of the Charlie Rose show, and CBS fired him. A statement from CBS News president David Rhodes reads, "Despite Charlie's important journalistic contribution to our news division, there is absolutely nothing more important, in this or any organization, than ensuring a safe, professional workplace—a supportive environment where people feel they can do their best work. We need to be such a place."
In response, Rose posted a statement on Twitter where he said, "It is essential that these women know I hear them and that I deeply apologize for my inappropriate behavior. I am greatly embarrassed." He continued, "I always felt that I was pursuing shared feelings, even though I now realize I was mistaken," leading us to wonder just how it's possible that so many men don't understand the meaning of consent. —LP
Glenn Thrush
Veteran New York Times White House correspondent Glenn Thrush has been suspended from the publication after Vox published accusations from four female journalists of sexual misconduct.
This comes after Thrush posted an impassioned response on his Facebook page to the accusations against fellow journalist Mark Halperin back in October (more on that below), in which he said, "Young people who come into a newsroom deserve to be taught our trade, given our support and enlisted in our calling—not betrayed by little men who believe they are bigger than the mission."
The irony!
The New York Times issued a statement saying, "The behavior attributed to Glenn in this Vox story is very concerning and not in keeping with the standards and values of The New York Times. We intend to fully investigate and while we do, Glenn will be suspended." —LP
Louis C.K.
For years, rumors of beloved comedian Louis C.K.'s creepy behavior and unwanted sexual advances towards women have circled, and this fall, two female comedians finally came forward alleging that he masturbated in front of them. Their claims were quickly followed up with three more women coming forward.
Louis C.K. issued a statement acknowledging what he did was wrong, but claiming that at the time he didn't know it was wrong because nobody told him to stop. "At the time, I said to myself that what I did was OK because I never showed a woman my dick without asking first, which is also true. But what I learned later in life, too late, is that when you have power over another person, asking them to look at your dick isn't a question."
After the news broke, FX and other companies have cut ties with him, and his film release and other comedy specials were canceled. —LP
Jeffrey Tambor
Two women have come forward against actor Jeffrey Tambor, accusing him of sexual harassment and unwanted physical contact, including a claim from former assistant and transgender actress Van Barnes.
The star of Amazon's Transparent is stepping away from his role, allegedly citing a "politicized atmosphere" on set. Ugh. —LP
Ed Westwick
Two separate women have come forward accusing Gossip Girl star Ed Westwick of rape. Westwick's response was that the claims are "provably untrue" and that it is "disheartening and sad" to him that anyone would believe he could be guilty of "such vile and horrific conduct." You can read one of the women's statements on her Facebook page here.
The LAPD is currently investigating, and in the meantime, his television show, Agatha Christie's Ordeal by Innocence, has been suspended by the BBC. —LP
Brett Ratner
Six women, including actresses Natasha Henstridge and Olivia Munn, have come forward against producer Brett Ratner, who was involved in production of films like The Revenant and X-Men, in a story that just gets more and more horrific with every passing week.
Last weekend The L.A. Times broke the news that Ratner and Russell Simmons were involved in an incident where Simmons forced a 17-year-old (!!!!) aspiring model to give him oral sex, before anally penetrating her against her will in the shower while Ratner looked on.
Ratner responded to the first round of allegations through his attorney, Martin Singer: "Brett Ratner vehemently denies the outrageous derogatory allegations that have been reported about him, and we are confident that his name will be cleared once the current media frenzy dies down and people can objectively evaluate the nature of these claims. He understands the seriousness of this issue and the importance of addressing the concerns of victims of sexual misconduct both in the entertainment industry and beyond."
Good luck with that.
Meanwhile, Gal Gadot refused to join back in the production of Wonder Woman 2 until Ratner was no longer involved, and Warner Brothers has since ceased all work with him. —LP
Kevin Spacey
It's difficult to keep up with the total number of people who have come forward against actor Kevin Spacey, but the claims range from fondling victims against their will to exposing himself—including accusations from people who were as young as 14 at the time.
Back in October, the actor issued an apology that was buried within his coming out as a gay man. Spacey claims to not remember the initial accusation—which came from fellow actor Anthony Rapp, who says Spacey subjected him to unwanted sexual advances when Rapp was 14—but didn't deny it either.
"I honestly do not remember the encounter, it would have been over 30 years ago," Spacey said. "But if I did behave as he describes, then I owe him the sincerest apology for what would have been deeply inappropriate drunken behavior... This story encourages me to address other things about my life....As those closest to me know, in my life I have had romantic encounters with men throughout my life, and I choose now to live as a gay man. I want to deal with this honestly and openly and that starts with examining my own behavior." Spacey has since entered treatment for his behavior.
Meanwhile, Netflix has cut ties with the House of Cards star, and the show's future is unclear. He has also been cut out of Ridley Scott's upcoming film All the Money in the World, with any scenes starring Spacey being re-shot with actor Christopher Plummer replacing him. —LP
Ken Baker
E! News anchor Ken Baker has been accused by two women who have worked with him of unwanted sexual advances and harassment, including a claim from a former intern who says Baker texted her saying he'd get her a Tiffany dildo with "Ken Baker" engraved on it.
He has since been pulled from E! while the network looks into these claims.
Mark Halperin
Veteran journalist Mark Halperin, who recently starred in Showtime's The Circus, stepped away from his "day-to-day work"—including contributing to MSNBC and NBC—after CNN published a report detailing stories from five different women who say they experienced harassment from Halperin while at ABC. The accusations included propositioning employees for sex and grabbing one woman's breasts without consent. Three of the women who spoke to CNN accused Halperin of "pressing an erection against their bodies while he was clothed."
While Halperin denies grabbing a woman's breasts and pressing his genitals against the three women, he gave a statement to CNN saying: "During this period, I did pursue relationships with women that I worked with, including some junior to me. I now understand from these accounts that my behavior was inappropriate and caused others pain. For that, I am deeply sorry and I apologize. Under the circumstances, I'm going to take a step back from my day-to-day work while I properly deal with this situation."
ABC responded by saying, "Mark left ABC News over a decade ago, and no complaints were filed during his tenure."
Knight Landesman
Longtime Artforum publisher Knight Landesman resigned from the publication hours after a lawsuit was filed in New York accusing him of sexually harassing at least nine women when "they were at the start of their careers and economically vulnerable." The incidents spanned nearly 10 years and, according to the suit, included allegations of harassment, groping, sending vulgar messages, and "retaliating against them when they spurned his advances."
The magazine's three other publishers told The New York Times in a statement that Landesman had "engaged in unacceptable behavior and caused a hostile work environment."
"We will do everything in our ability to bring our workplace in line with our editorial mission, and we will use this opportunity to transform Artforum into a place of transparency, equity, and with zero tolerance for sexual harassment of any kind," the statement said.
Terry Richardson
Publishing heavyweight Condé Nast (Vogue, Vanity Fair) revealed Monday they had barred all publications internationally from working with controversial photographer Terry Richardson. An email from Condé Nast COO James Woolhouse was published by the Telegraph, stating that all unpublished work by Richardson—who has been accused of sexually harassing models—should be killed.
The email stated: "I am writing to you on an important matter. Condé Nast would like to no longer work with the photographer Terry Richardson. Any shoots that have been commissioned or any shoots that have been completed but not yet published, should be killed and substituted with other material. Please could you confirm that this policy will be actioned in your market effective immediately."
A representative for Richardson told the Daily Beast, "He is an artist who has been known for his sexually explicit work[...]so many of his professional interactions with subjects were sexual and explicit in nature but all of the subjects of his work participated consensually."
Bill O'Reilly
He's already been fired from Fox—and now Bill O'Reilly has been dropped by his talent agency, as well. UTA (United Talent Agency) announced they would no longer be representing the conservative host in light of new reports that he paid $32 million to settle a previously undisclosed sexual harassment claim. The Hollywood Reporter revealed several UTA clients urged the agency to drop O'Reilly after reports surfaced claiming he and Fox News paid $13 million to settle several harassment claims.
Lockhart Steele
Vox Media employees were informed on Thursday, via Slack, that the company had fired its editorial director, Lockhart Steele. Days after a post on Medium was published which detailed the inappropriate actions a female developer at the company had experienced, Vox CEO Jim Bankoff said Steele (the founder and former CEO of Curbed, which had been acquired by Vox Media in 2013) had been terminated effective immediately.
Roy Price
One of the first powerful men to fall after news of Harvey's misconduct was Amazon studio head Roy Price. Amazon suspended Price after harassment allegations from The Man in the High Castle executive producer Isa Hackett were brought forth. Price allegedly told Hackett several times, "You will love my dick," and once approached her at a party and loudly said, "Anal sex!" into her ear. Price ultimately resigned. Amazon also announced they were reviewing their "options for the projects we have with The Weinstein Co."
Chris Savino
Chris Savino, creator of Nickelodeon's hit Loud House, was fired by the network's parent company, Viacom, after multiple women came forward with sexual harassment allegations against him. Up to a dozen women accused Savino of "sexual harassment, unwanted advances and inappropriate behavior." The animator allegedly also threatened to "blacklist" female colleagues after consensual relationships ended.
Andy Signore
Screen Junkies and Honest Trailers creator Andy Signore has been "fired effective immediately," Defy Media announced Sunday evening. Several women accused Signore of sexual harassment, and at least one said he attempted to sexually assault her. The abuse reportedly lasted for decades, but the termination came on the heels of Harvey Weinstein's firing by the Weinstein Company. Defy Media, the company that owns Screen Junkies, said the "scope and magnitude of [Signore's] inappropriate actions became apparent" only recently and resulted in his termination.
John Besh
Twenty-five women have come forward accusing celebrity chef John Besh of sexual harassment, forcing the New Orleans-based chef to resign from his namesake restaurant group. The current or former employees of the business claimed male bosses in the Besh Restaurant Group "touched or verbally harassed them and, in a few cases, tried to leverage positions of authority for sex."  New Orleans media outlets said Besh's departure from the business he co-owns was announced to employees Monday. Shannon White, the woman stepping in as CEO, sent an email to staff saying, "John has decided to step down from all aspects of operations and to provide his full focus on his family."
Cosmo Goss
Chicago-based restaurant group One Off Hospitality fired Cosmo Goss, the executive chef of five popular Chicago-area Publican restaurants. The action comes on the heels of an incident "that violated a staff member's privacy and respect," according to a statement from the restaurant group referring to a time when an employee shared a personal photo of another employee with co-workers. Goss never reported the incident. In his statement, Goss says his response to the photo was a "fleeting moment that was wholly unprofessional and unacceptable." He wrote that he is "deeply sorry to the woman portrayed in the photograph and the other individuals whom these consequences have affected."
Rupert Myers
He was a feminist writer for British GQ, but Rupert Myers was fired by the magazine after a woman accused him via Twitter of sexually assaulting her outside a bar.  "Having been made aware of some allegations against Rupert Myers, British GQ can confirm that it has terminated its freelance agreement with him, with immediate effect. He is no longer British GQ's Political Correspondent," a spokesperson told the media. Myers apologized to his accuser.
Tyler Grasham
Hollywood agency APA has fired Tyler Grasham following sexual assault claims which were leveled against the agent. "Tyler Grasham's employment with APA has been terminated, effective immediately," Manfred Westphal, Head of Communications for APA, said in a statement to Entertainment Weekly. Former clients, including Blaise Godbe Lipman and Cameron Boyce, claim that Grasham assaulted them when they were under the age of 18 and seeking representation.  
Leon Wieseltier
On Tuesday, allegations of "workplace misconduct" were launched against Leon Wieseltier, the former literary editor of The New Republic and contributing editor to The Atlantic, which was planning to release a culture magazine helmed by Wieseltier. "Upon receiving information related to past inappropriate workplace conduct, Emerson Collective ended its business relationship with Leon Wieseltier, including a journal planned for publication under his editorial direction. The production and distribution of the journal has been suspended," a spokesperson for the group told The Atlantic. "For my offenses against some of my colleagues in the past I offer a shaken apology and ask for their forgiveness," Wieseltier said in a statement, first reported by Politico. "The women with whom I worked are smart and good people. I am ashamed to know that I made any of them feel demeaned and disrespected. I assure them that I will not waste this reckoning."
Robert Scoble
Tech blogger and evangelist Robert Scoble has resigned from the Transformation Group, a "mixed reality" consulting firm he co-founded, after multiple allegations of sexual assault were brought to light. Last Thursday, a blog post by journalist Quinn Norton was published, followed by more allegations next day. Scoble published a Facebook post Friday evening saying he was "deeply sorry to the people I've caused pain to" and acknowledging that he had "behaved in ways that were inappropriate."
Photo: Getty 
Want more stories like this?
The Disturbing Excuse I Heard After Being Sexually Harassed at Work
Meet the Woman Who Has Made a Career Out of Fighting for Gender Equality
What 4 Female Artists Have to Say about Tat-Calling