Travel
Why Asia's Most Inspiring Fashion Hot Spot Should Be On Your Bucket List
According to the designers behind Haerfest (aka our new minimalist handbag obsession). In collaboration with W Hotels.
Renée Rodenkirchen
There's no doubt that Hong Kong is considered a "bucket list" trip. After all, it's not as if every vacation you're signing yourself up for includes a sixteen-hour flight. Before the thought even crosses your mind, allow us to tell you that, yes, the long-ass flight is most definitely worth it—or so we hear from designers Tim and Dan Joo of leather accessories brand Haerfest. You see, the siblings recently took off to the city for their CFDA Fashion Incubator inspiration trip (CFDA allows their emerging designers to take a one-week trip to a city of their choosing to get the creative juices flowing), and they allowed us to tag along.
Not only did the two designers leave feeling inspired (and full, thanks to the delicious Chinese cuisine—more on that in a few), but they're already aching to be back in the warm, lush, and creative climate. "We felt inspired to see the lifestyle there—we love how there is so much nature surrounding the city," Tim told us. "We realized how important having nature around you is to maintain a healthy lifestyle," Dan added, saying, "Hong Kong is a global hub that brings people from all over the world together. We were impressed with the expat entrepreneurs that were starting interesting and creative businesses there." Immediate trip to Hong Kong, anyone? We're sort of dying to immerse ourselves in the city, exploring all of the below Haerfest-approved spots, after catching up with them. We think you'll feel the same.
---
1. Stay at the W Hong Kong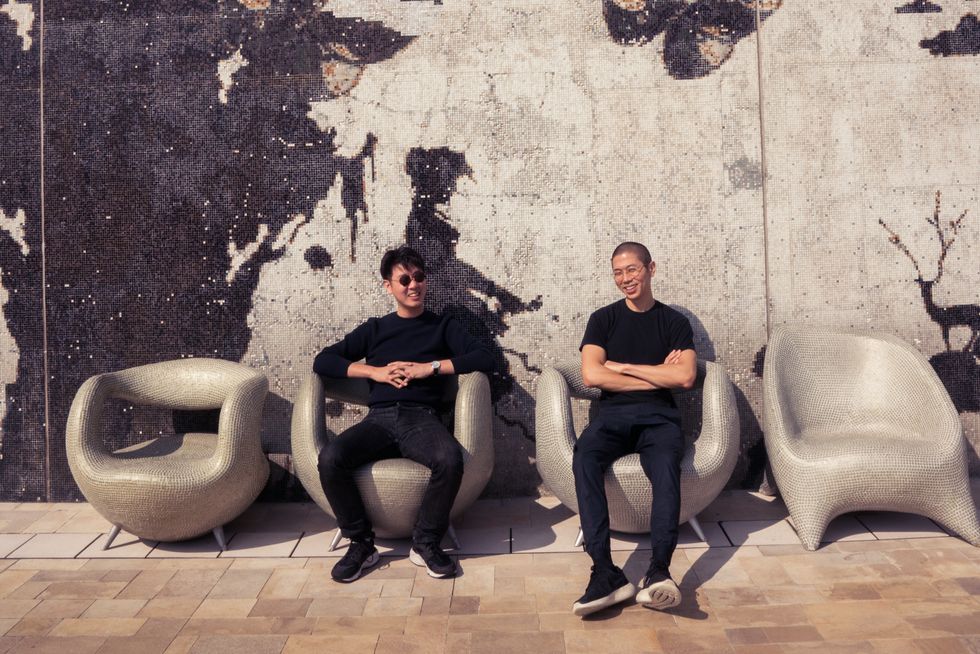 "We loved the location [of the W Hong Kong] in West Kowloon. It's located right by the water, and the views from our room and the rooftop were incredible." —Tim Joo
2. Plan a Trip to the Ten Thousand Buddhas Monastery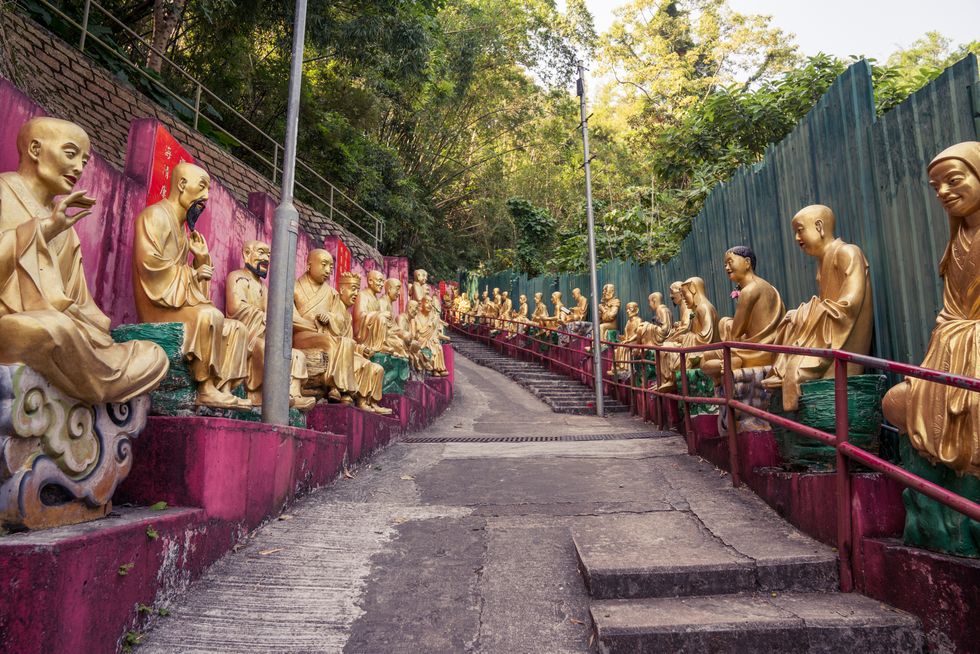 "The Ten Thousand Buddhas Monastery was an incredible experience. As we were walking up the path to the Monastery, we noticed that each Buddha statue was so different—from the expressions on their faces to the clothes each one was wearing. On our way down, we ran into a group of monkeys, which was exciting but frightening at the same time." —TJ
3. Don't Miss Kowloon Walled City Park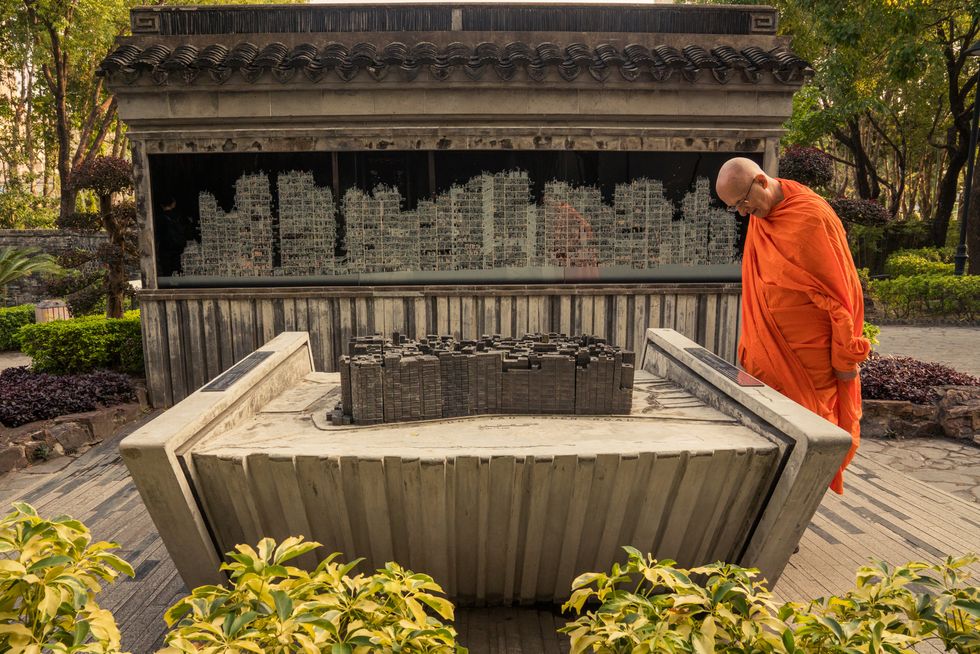 "Our favorite stop was visiting Kowloon Walled City Park. It's such a peaceful space that has a zen-like quality, incorporating nature and the urban landscape in such a harmonious way. It's great to have a place like this within a dense urban city to decompress and relax." —TJ
4. Stop for Fuel (aka Drinks) at The Old Man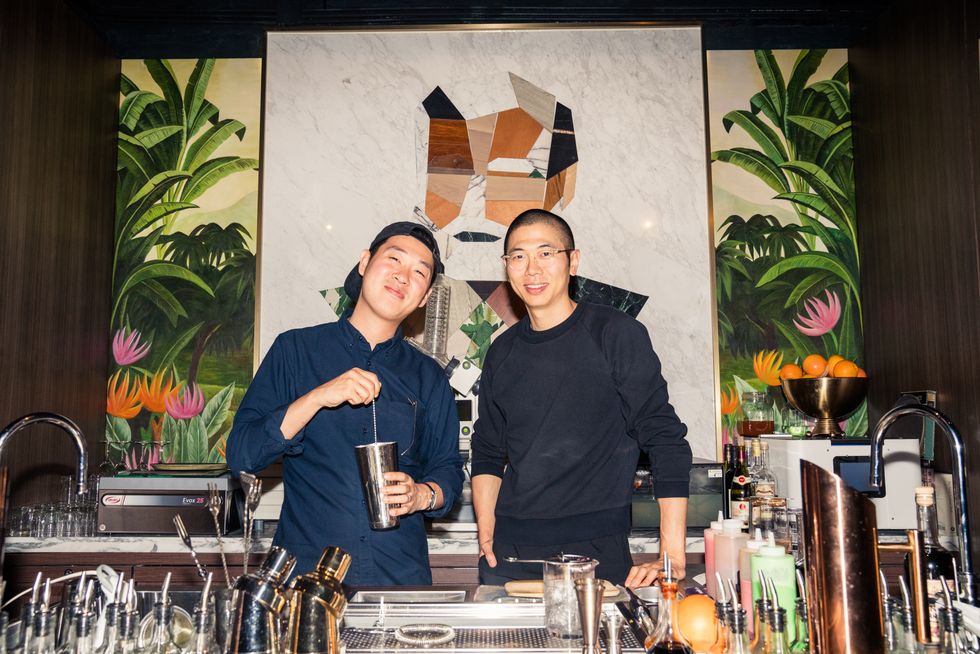 "The Old Man was located in a hidden alley that was not really openly visible—it's definitely a destination bar. This cocktail bar had such a great ambience to it. It was inspired by Ernest Hemingway's novel, The Old Man and the Sea. The design of the space was very tasteful, and all the details, materials, and textures were so considered.

"The owners kindly took us through the process and all the intricate details. The cocktails were delicious and aesthetically looked very beautiful. [There was] a tasty cocktail called 'a farewell to arm, 1929' that included butter fat-washed gin, dry vermouth sous-vide nori, salted pernod, and was served with onion pearl and nori dust." —TJ
5. Next Up, Grab Some Food
"The first night we went to dinner at Ho Lee Fook in central Hong Kong. The food was delicious. Must try the breakfast dessert!" —TJ

"The breakfast ice cream dessert was delicious. It includes Horlick ice cream, cornflake Honey Joys, oats, dried longans, and cocoa coffee crumb." —Dan Joo


"We went to dinner at Yardbird in central Hong Kong. The food there was so tasty, and the atmosphere was very chill." —TJ

"Everything was delicious, especially the items on the Yakitori menu." —DJ
6. You Can't Leave without Seeing Tian Tan Buddha
"We took a gondola through a mountainous region to see the Big Buddha, aka Tian Tan Buddha. It was such a sublime, scenic experience getting there. Seeing the scale of the Big Buddha statue in person was a humbling experience.
"The most memorable part of the trip was the journey to see the Big Buddha. This was something we knew that we could only experience in Hong Kong." —DJ
7. Make Sure You Save Time for Dragon's Back Trail