How This Actor Went from Yale Grad Student to Black Panther Villain
Catching up with Winston Duke.
Celebrity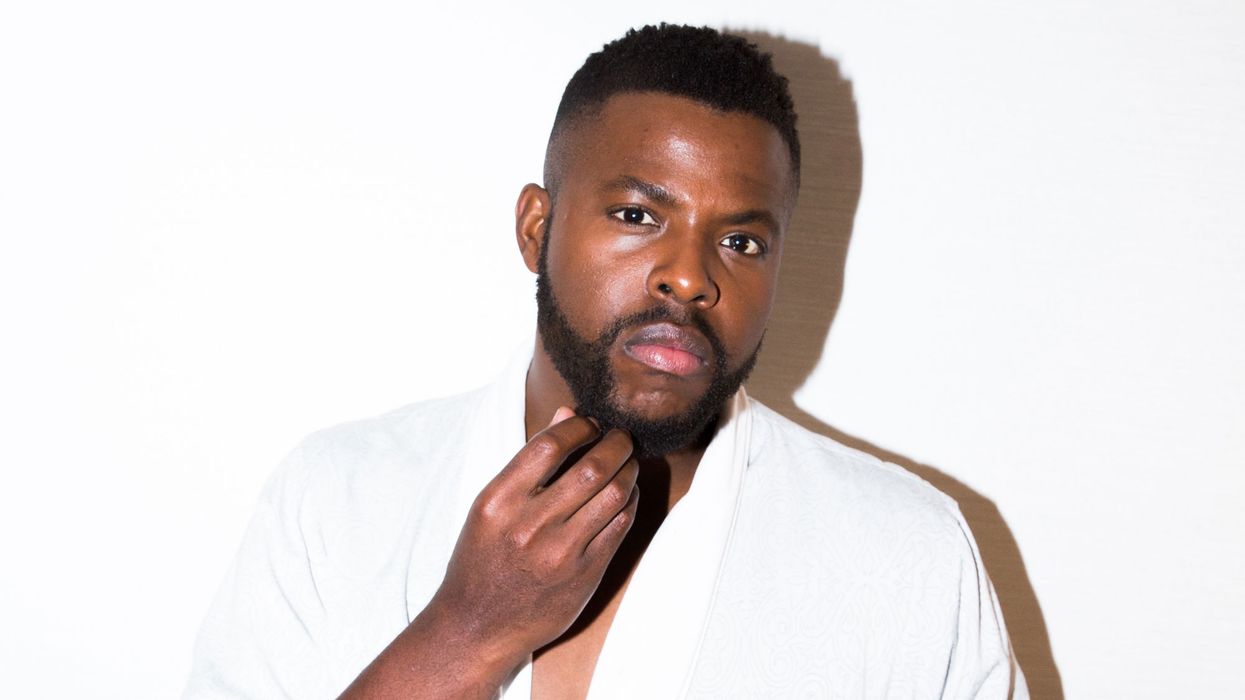 Gather 'round, kids—it's story time!
In late 2012, I was out at legendary NYC bar and late-night dance haunt Von, when a guy named Winston introduced himself to me. At the time, I was a flat-broke freelance writer trying to carve out a career in fashion editorial (and had taken several shots at home so I didn't have to pay for drinks at the bar). Winston told me that he was studying acting at Yale and would be graduating in a few months. We clicked over our shared young, black, creative, and hungry identities, and became Facebook friends on the dance floor (so Millennial of us, I know). A few months later, in May 2013, he wrote me a message saying that he'd be back in the city soon and we should hang out. I replied agreeing. That meet-up never happened, though...until earlier this week.
After weeks of seeing Winston's face on Black Panther posters and red carpets—but not knowing why he looked so familiar—it clicked: Winston Duke—that's the guy I met at Von forever ago. I scrolled through my Facebook messages, saw our last correspondence—dated June 22, 2013—and sent him a message: "It's been ages...congrats!...I've landed at Coveteur...we'd love to do something with you." He responded: "It has been ages...congrats on Coveteur!...I'd love to." A few emails to and from his publicist later, and our photographer and I were in Duke's midtown Manhattan hotel room, catching up and taking photos before the NYC Black Panther premiere.
"I was auditioning like crazy and hadn't even booked my first television appearance," Duke says of what he was up to when we first met. "Getting back into the real world [after school] you're like, 'Who do I meet? Who do I talk to? Who are the people whose energies feel like kindred spirits because they're also out here hustling and creating opportunities for themselves?' And I think that's what I saw in you." (Indeed, I was hustling; I still am.)
Duke, who was born in Tobago and moved to Brooklyn when he was 10 with his mother and older sister, went on to land roles in Person of Interest and Modern Family, among other TV shows. He left the east coast in 2016 for L.A., and that same year, after months of auditions and call-backs, was cast as supervillain M'Baku in Black Panther—arguably the most highly anticipated film of the year.
Throughout the evening we talked fashion and pre-party rituals—as we always do when we hang out with someone before a big, fancy event—but we also talked a lot about Duke's life, how meaningful this role is to him, and how serendipitous it is that our paths crossed again—at a time in our lives when all that hustling is beginning to pay off.
"This experience has just been...everything," he says of appearing in and promoting Black Panther. I'd describe my opportunity to write for a living, sharing his story and others', the exact same way.
More on my conversation with Duke—plus the the details of his Black Panther premiere look, with styling by Jenny Ricker and grooming by Danielle Crawford—ahead.
---
1/15
"[Growing up in Tobago] I remember a lot of play, a lot of community, a lot of family, and a lot of storytelling as well. There was a gentleman who lived up the street who always came and hung out at the restaurant [my mom owned]. His name was Linton, and he had all of these stories. Folklore and superstition ruled everything...fairies...mermaids...talking fish. That storytelling and mode of passing on culture and narratives was huge, and that's still with me. I didn't know it was preparing me for what I'm doing today."