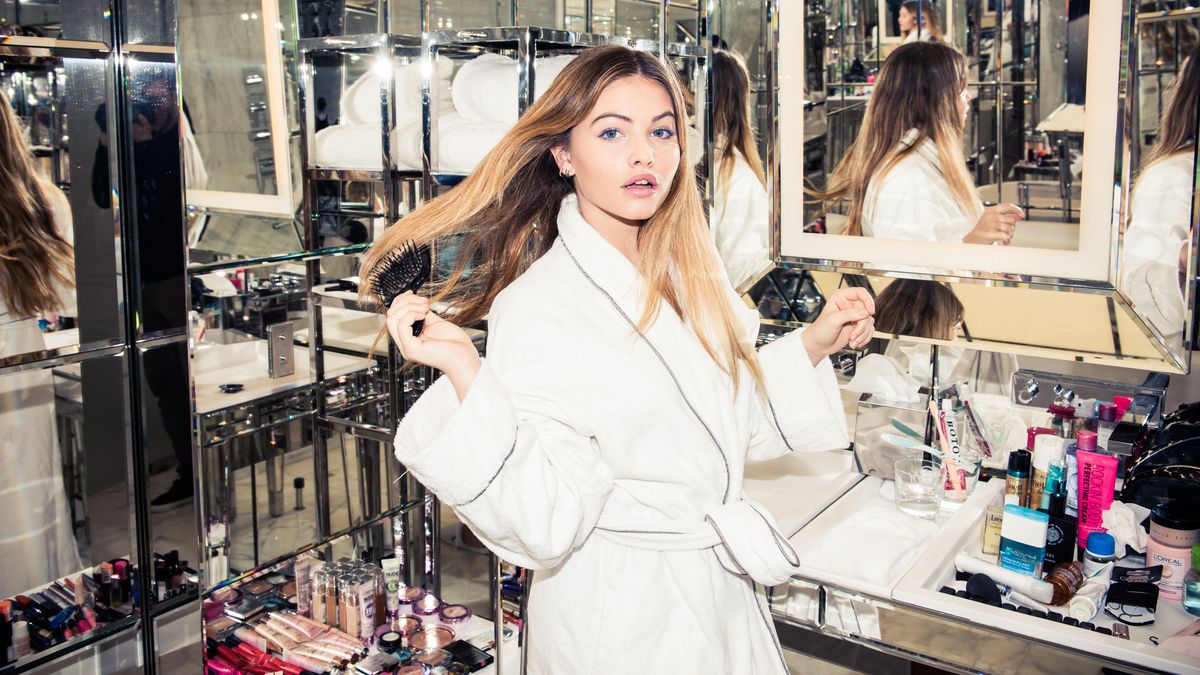 Hair
3 Date Night Hair Ideas That Will Look Great On Instagram
Because that's all that really matters, right?
Even when I don't have a date for Valentine's Day, I put a little extra effort into how I look on the 14th. What if I catch someone's eye on the subway? Better yet, what if I catch my own reflection and think about how good I look today? No better love than self-love. Of course a red lip is a solid go-to, but out of 365 days, this is the only one upon which I'm likely to bust out those pretty romantic hairstyles I've had bookmarked in Instagram.
But then there's the fact that I never have any time. Creative director of Glamsquad, hairstylist Giovanni Vaccaro, is the person to ask about that, considering that he's usually under the pressure of a ticking clock during a house call or backstage at fashion week. He's also the boyfriend of Coveteur alum Carly Cardellino (their IG Story love-fest will make you believe in romance). Here, he gives his tips for three date-night hair looks that are quick and doable (without a house call from a pro) and are totally selfie-worthy.
---
Sexy Waves
(aka Victoria's Secret Hair)
Hold the barrel of a curling iron or curling wand straight down and wrap a section of hair around it. For the two front sections, you want the curl spinning outward—going away from your face. "The hair sections right behind should go in the opposite direction," says Vaccaro. "You don't want every single curl in the same direction, so keep alternating and go all different directions." You also don't want an obvious curly curl, so Vaccaro recommends keeping the ends out of the curler. "That has a more modern feel." Then, to get Ashley Graham-level volume, use a texturizing spray and this head-flip trick: "Sit in a chair, tip your head all the way forward with your hair hanging in front of you, spray a texturizing spray throughout all the hair, and massage the roots," he says. "Then flip your hair back. This is the way to get serious volume." Another trick: A side part also gives the illusion of fuller hair.
High Pony
"Khloe Kardashian rocks this look so well: A high pony that's sleek and polished at the root and then the pony itself has a lot of texture and bounce," says Vaccaro. "It's so flirty." First, work in a mousse from roots to ends, then use a paddle brush and a blow dryer with a nozzle attachment (Vaccaro likes the Dyson Supersonic Dryer) to dry your hair back and away from your face. Next, apply a hair oil to your roots and hairline to smooth out any flyaways and make your hair shine. Use a brush to pull the hair into a high ponytail, at the highest point of your crown, and use a strong elastic (or two) to keep it in place. Style the ponytail ends similar to the look above. "Take the hair in the pony, and curl sections in different directions to add texture," says Vaccaro. "Use a flat brush to back-comb and add fullness." Finally, wrap a thin piece of hair around the elastic to hide it and use some hair spray.
Twisted Bun
Vaccaro sent this updo down the runway this week for designer Dennis Basso during New York Fashion Week, and it screamed Valentine's Day. The first step is to get texture with a dry shampoo through the roots (Vaccaro like Ouai Dry Shampoo Foam for this). If you have any hairline frizz, use a small brush and blow-dry the roots straight. Use a smoothing cream through the hair, then pull all the hair back into a ponytail in the middle of your head. To get the pretty loopy bun, use hair oil through the ponytail and twist it until it twists itself, but leave some ends hanging out. Use bobby pins to fasten it in place. To make it look a little more romantic and textured, pinch and pull the roots at the crown, says Vaccaro.
Want more stories like this?
Watch Olivia Culpo Do Her Own Flat Iron Waves
Alexander Wang Is Bringing Back This Major '90s Hair Trend
4 Major Hair Makeovers That Will Inspire Your Next Salon Visit