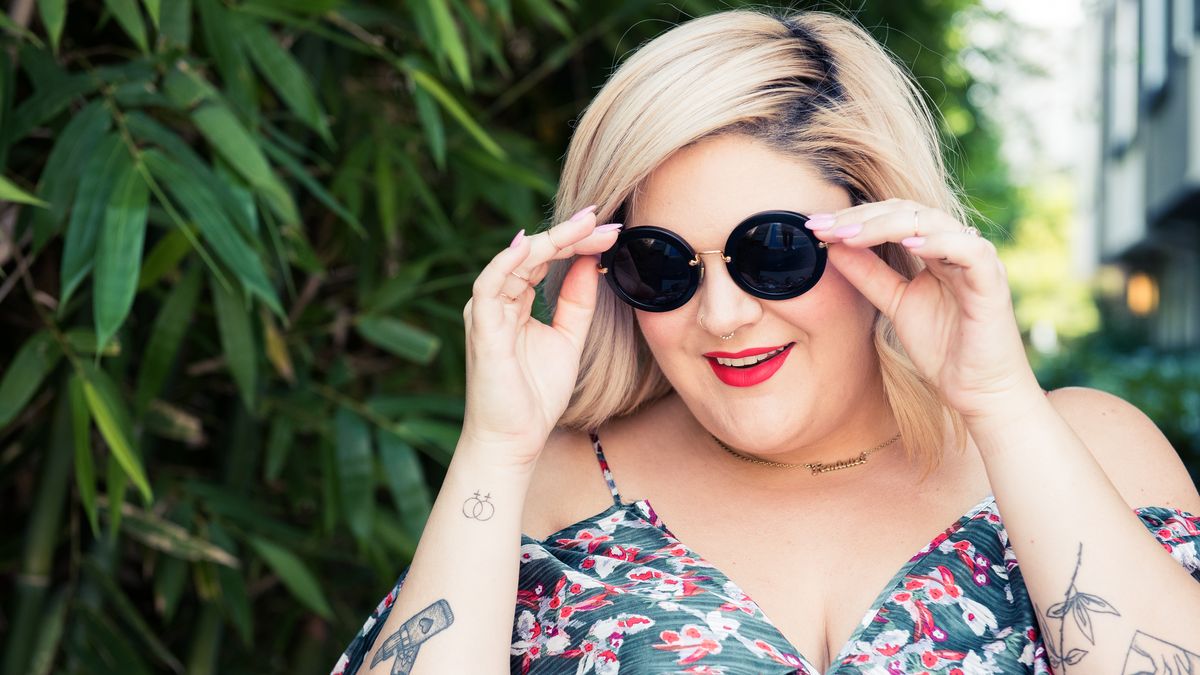 Opinion
"The fashion industry has not always been welcoming to me as a queer, Middle Eastern, fat woman."
It is with limitless excitement that we announce Nicolette Mason, editor, writer, designer (if you haven't seen her line Premme, which she designs with Gabi Gregg, you must), outspoken champion for marginalized voices, pink and Hollywood Regency enthusiast (stay tuned for a tour of her Los Angeles home), and all-around excellent, super-stylish, and thoughtful person as our newest contributor. Nicolette will be sending us monthly dispatches on all the things she's thinking about, and we couldn't be happier about it. First up: the urgent need for more inclusivity in fashion. Oh, and as soon as you're reading this, check out her closet here—we've never seen so much Gucci!
---
I'm not going to lie: Last year, when September rolled around, I was really dreading going to New York Fashion Week. For me, fashion week has always felt like a time of excitement and creative energy, and I felt so lucky and privileged to attend. It doesn't hurt that it's basically a really well-dressed version of summer camp, where I get to see all the friends and colleagues I've amassed in the last 14 years in the span of a week. But last season, as the deck of perfectly embossed invites started stacking on my desk, something felt really off about being in fashion's bubble, with all its peacocking and the pressure to look and dress my best amidst so much political turmoil and collective anxiety.
The political climate has been especially unsafe for marginalized communities, but the fashion industry has not always been welcoming to me, either, as a queer, Middle Eastern, fat woman—something, I'll admit, that has at times made me feel the need to overcompensate and prove my presence within this business. All of my early career anxieties of feeling like an outsider, despite my career as an editor, designer, and co-founder of a brand, Premme, were intensely triggered. It was not a time where I was particularly stoked about the idea of being reminded, once again, that I don't really belong—all while travel bans and speculation on roll-backs on LGBTQ rights were happening.
But the spring 2018 shows actually ended up being some of the most diverse ever, and it was an energy that I could feel as I navigated my way from one presentation to the next. I've spent so many years going to shows where I felt like I was the only girl in the room who looked like me (with a few exceptions, of course)—and to see so much diversity celebrated, not just on the runway, but outside and attending the shows, too, felt really, really good. That week, Rihanna also launched Fenty Beauty, with a campaign that centered around women of color and a spectrum of body types.
"But the spring 2018 shows actually ended up being some of the most diverse ever"
When it comes to body diversity on the runway, there have been brands that have absolutely lead the shift towards more inclusive casting—with Christian Siriano and Chromat both including a bevy of racially diverse models with various gender expressions and body types. But last season it wasn't just them; so many designers had jumped on the bandwagon: Tracy Reese, Prabal Gurung, Anna Sui, Michael Kors, Eckhaus Latta, Tome, even cool-girl emerging brands like Miaou. AND there were even three plus-size dedicated fashion shows held by Torrid, Addition Elle, And Dia & Co. For probably the first time ever, since attending my first fashion show as a first-year at Parsons, I didn't feel like a total outsider.
But not everyone has gotten the memo. Victoria Beckham and The Row each cast 5 or fewer models of color in their runway shows, and there were even several designers who do have inclusive sizing that still limited their casting to the standard size-0 and 2 models. If the defense is that fashion is "aspirational," I have to ask why we are still so limited in what type of person one must aspire to be.
This isn't just political correctness, and it definitely isn't about tokenizing or including a "novelty" for the sake of being inclusive. Visibility is revolutionary, and there is so much power in seeing a reflection of yourself, and with the fashion industry producing so much of the visual content and media we consume, there's an absolute responsibility that we send a message of inclusion. Our media should reflect the world that we live in: one where there are different ethnicities, cultures, skin tones, body types and shapes, levels of ability, and one where our differences are equally celebrated and valued. Fashion may seem frivolous on a very superficial level, but anyone who has ever felt othered can tell you how much it means to feel seen, and that is an invaluable opportunity, especially in this political climate.
I want to celebrate all the wins. And I am celebrating all these wins. Months later, it has continued to inspire my process and my optimism for the direction fashion is heading in—but to the rest of the fashion industry, I want to say: DO BETTER. It's time. Not just because it's smart business, but because it's the right thing to do.
Want more stories like this?
Do Politics Have a Place in Fashion Shows?
This Activist Is Putting LGBTQ+ Rights In the Spotlight
Did the Women's March Actually Accomplish Anything?