WWWRN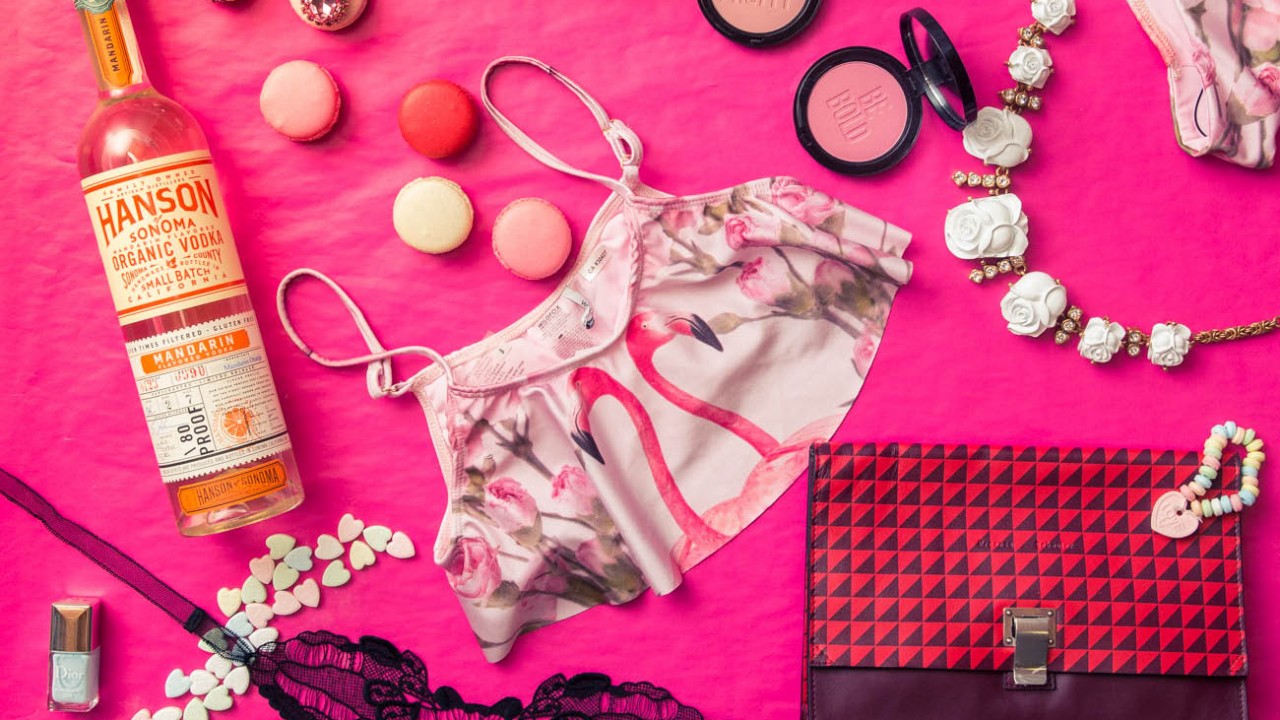 21 Things You Should Buy Before Valentine's Day
From a fancy mattress to a pair of panties.
Valentine's Day means different things to different people. It's either a day you look forward to, or one you don't get giddy about; a holiday you celebrate, or a day you ignore (except for the part about eating candy). Either way it's the perfect excuse to buy something for yourself or your significant other (or both?!), and we're all for a good present-giving (or receiving) opportunity. From a new mattress to some great lingerie—here are the 21 things we're buying in anticipation of February 14.
---
Meg Gegler
Audience Development Coordinator
---
Laurel Pantin
Editorial & Fashion Director
1. Heidi by Heidi Klum New Geometric Lace Hipster Brief: Being that I'm a million months pregnant, my V-Day date plans involve my husband, my couch, and The Assassination Of Gianni Versace. The very second I'm through the front door to our apartment, my pants are coming off and I'm going to be in these crazy-comfy (but also cute!) undies.
2. Lake Midnight Star Long-Short Set: And on top: this crazy-soft shirt from Lake, a new pajama line I recently discovered that I can't get enough of.
3. DS & Durga Bowmakers Fragrance: I'm not generally a big fragrance person, but when I have something super memorable happening in my life (my honeymoon, my adult gap-year abroad, etc.), I try to wear a fragrance religiously so I'll always associate that smell with a specific time in my life. I've been wearing Bowmakers every day trying to capture these last few weeks before my kid is born. It smells kind of dusty, smoky, and turpentine-y—all of my favorite things.
---
Tara Gonzalez
Assistant Editor
1. Carbon & Hyde Lily Choker: Since my boyfriend and I have been going out since high school, I have amassed a large collection of jewelry that he's bought me. Whenever we go out on big dates (like Valentine's Day), I'll strategically wear a simple outfit with tons of jewelry that he gifted me because it makes him happy. But of course that doesn't keep me from wanting to get things on my own. I want to be the type of girl who wears layers on layers of necklaces, and this Lily Choker would be the perfect base–for all the other gifts I get and buy for myself.
2. Casper Wave Mattress: My boyfriend and I are currently sleeping in the same double bed I had in high school. We're native New Yorkers and decided to live at home after college to save up for an apartment. We finally got one, but we have absolutely no furniture between the two of us. The first holiday post home is Valentine's Day, and I can't think of a better present than a good mattress. Considering I instantly fell asleep when I booked a nap at the Casper World Trade Center Shop (true story and very real thing you can do) while trying their newest Wave mattress, I know this is the first thing I want for our bedroom.
3. Marzook: I've been obsessed with clear bags for a long time. I love how they look different every time you wear them, depending on what you're carrying. In addition to the Helmut Lang lucite briefcase, I've been wanting this Marzook bag because it's so different and reminds me of something Chloe Sevigny would wear on the red carpet. Valentine's Day is totally a reason to dress like you have a red carpet event, even if you're just going to a small restaurant in Chinatown like me.
---
Hannah Baxter
Assistant Editor
1. Anne Sisteron Diamond Bar Dome Ring: I aspire to be the type of woman who runs her errands while sporting stacks of diamond bands on every finger. Since this is the future I envision for myself, what better way to show self-love this Valentine's Day than scooping up a delicious pavé ring from Anne Sisteron?
2. Jenny Bird Sloane Collar: My favorite statement earrings are lightweight chain links, so obviously this collar needs to be in my collection immediately. Attention, boyfriend! Pretty please add this to my neck party.
3. Parachute Linen Duvet Cover: You may think bedding isn't a romantic V-Day gift, but hear me out: What is more satisfying—or relaxing—than coming home to a fluffy, cloud-like linen duvet? Nothing, I tell you, NOTHING. Also you're drawing attention to the bed *wink wink* so your partner's bound to love it, too.
---
Samantha Sutton
Editor
1. Gianvito Rossi Laura 85 Leather Knee Boots: I both cringe and laugh thinking back to the one Valentine's Day where my heels gave me such bad blisters, I could barely walk to my dinner reservation around the corner. My boyfriend then had to spend the night running to grab me Band-Aids and hydrogen peroxide, and helping me clean out my cuts—very romantic. Since then, I've vowed to *only* wear comfy shoes on the 14th (or whenever we celebrate), and while these white boots are able to be dressed up, they're also perfect for everyday wear.
2. Saks Potts Belted Shearling Coat: In my opinion, no winter date night look is complete without a big, furry or shaggy coat. It just makes me feel more confident and sexy (like an old-Hollywood star), and the fun purple color makes me "need" this Saks Potts option even more.
3. Alix Leroy Stretch-Jersey Bodysuit: Sorry, cute undies and push-up bras: My boyfriend's idea of perfect lingerie is actually a bodysuit! Which is fine with me, since I can work one into my outfit, then wear it solo later.
---
Jodi Taylor
Associate Editor
1. Viktor & Rolf Flowerbomb Rollerball: This has been my scent for a minute now, and I don't plan on changing it up anytime soon, so, naturally, it's my scent of choice for Valentine's Day. I'll be opting for the rollerball for convenience—a quick freshening up never hurt anybody.
2. La Perla Elements Bodysuit: Good lingerie is a must, and while I typically opt for a matching set, this bodysuit is just too good. Regardless of the fact that I have no idea what I'll be doing for Valentine's Day, I still want to feel sexy, so catch me wearing this with my best pair of denim.
3. Shea Moisture Coconut & Hibiscus Massage Oil: What's Valentine's Day without massage oil? A regular-ass day, that's what.
---
Leah Faye Cooper
Features Editor
Part of the series:
WWWRN