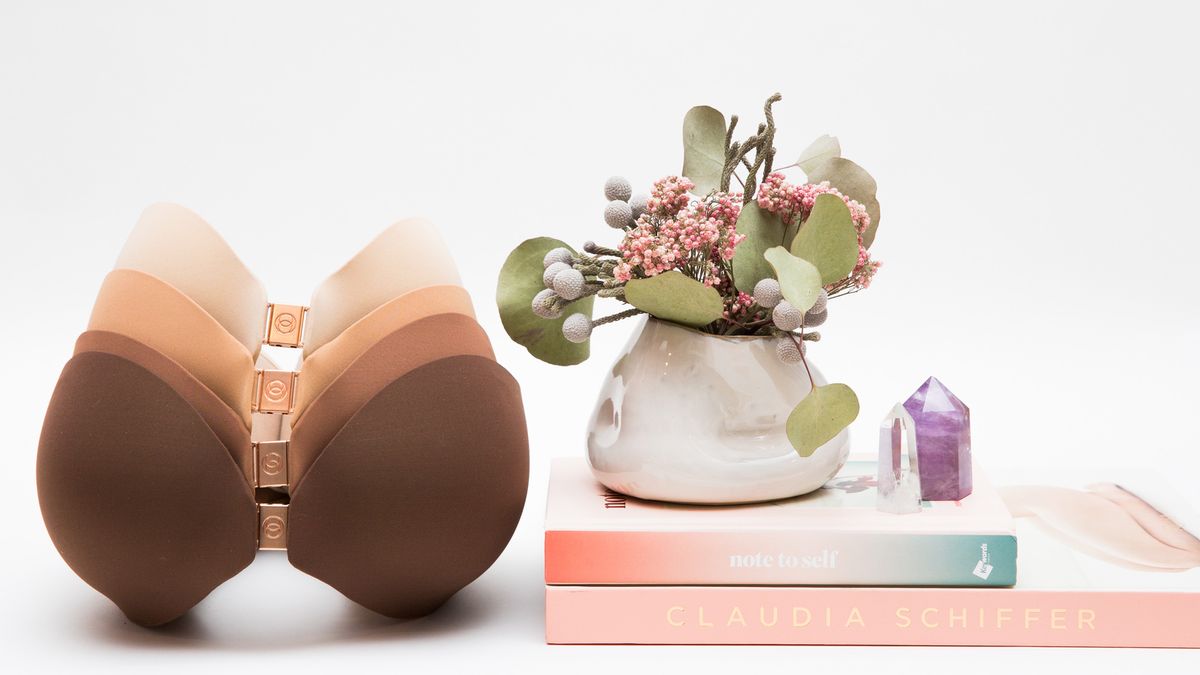 Living
Can a Bra Be Liberating?
When "potentially millions of women, at a critical time in history, are slouching because of an 85-year-old bra design," the answer is yes. In collaboration with Evelyn & Bobbie.
Alec Kugler
In your mind's eye, picture the color "nude." Have it? Is it a light tan, putty-colored shade? We thought so. It's a problem.
And then picture a lingerie model. Is she wearing wings? Six-inch stilettos? We thought so. Again, it's a problem.
Admittedly, it's one that many brilliant brains in the fashion industry are currently trained on, and whenever we hear of a new brand making strides in that area, we get super excited. "The diversity of our bodies in unbelievable," says Evelyn & Bobbie founder Bree McKeen. The brand makes super-innovative, super-supportive bras that are, no joke, unlike anything we've seen before (when I removed one from its super-luxe navy blue box, I had a "what the…" moment), plus "knickers" in five different "nudes," and they're fitted in a way totally different from the norm.
The bras, for example, are truly personalized to fit you—a process that requires a fairly involved self-measuring system, but results in something that suits your specific body. "We started by 3-D scanning hundreds of women," McKeen says. "When you look at all those scans against a wall, it's incredible. I can show you 40 so-called 34Cs that are completely varied in their shapes and volume distribution. We already offer more sizes than most bra companies, and this is only the beginning. We are here for the long haul."
---
Likewise, the knickers come in a myriad of hues, but are made of a unique material with a huge range of stretch. "Our engineered yarns use the smallest filaments to create the softest feel," says McKeen. "This unique microfiber technology holds the shape longer and resists fading for longer wear. Our Knickers stretch from size 0—16." Which means that no matter how you're feeling, what day of the month it is, or what you plan on doing, your underwear will fit, every day, all day. Again, in your mind's eye picture that one pair of underwear in your drawer you reluctantly reach for because sometimes they're comfy, and sometimes they're a torture device. Say it with me now, "It's a problem!"
A problem (ill-fitting intimates) that McKeen took very, very seriously. She got her start in investments in Silicon Valley, and quickly noticed that her 34DD assets were starting to drag her down. "I often found myself slouching by the end of the day. Slouching doesn't exactly communicate poise and authority. So I started working on my posture," she says. She started working with a chiropractor and physiologist, who demonstrated what her best posture should look and feel like, and in that moment, all she could think was one thing: "In that moment of my so-called best posture, all I could feel was my underwire digging in sharply to my ribs. As I confessed this out loud, my doctor said, 'That's really important. It's called a neuromuscular feedback loop.'"
Which basically means that over time, her/my/your body could be physically altered by lingering superficial (meaning, not *inside* your physical body) discomfort. "Does that mean that potentially millions of women, at a critical time in history, are slouching because of an 85-year-old bra design (the underwire)? We can't have that." And thus, she set out to create a truly liberating, feminist range of intimates. "That's why we were founded under our brand ethos: We envision a world where all people stand tall and lead from the heart. We want to see women stand tall, literally and figuratively. We are here to support them in doing that. Literally, and figuratively."