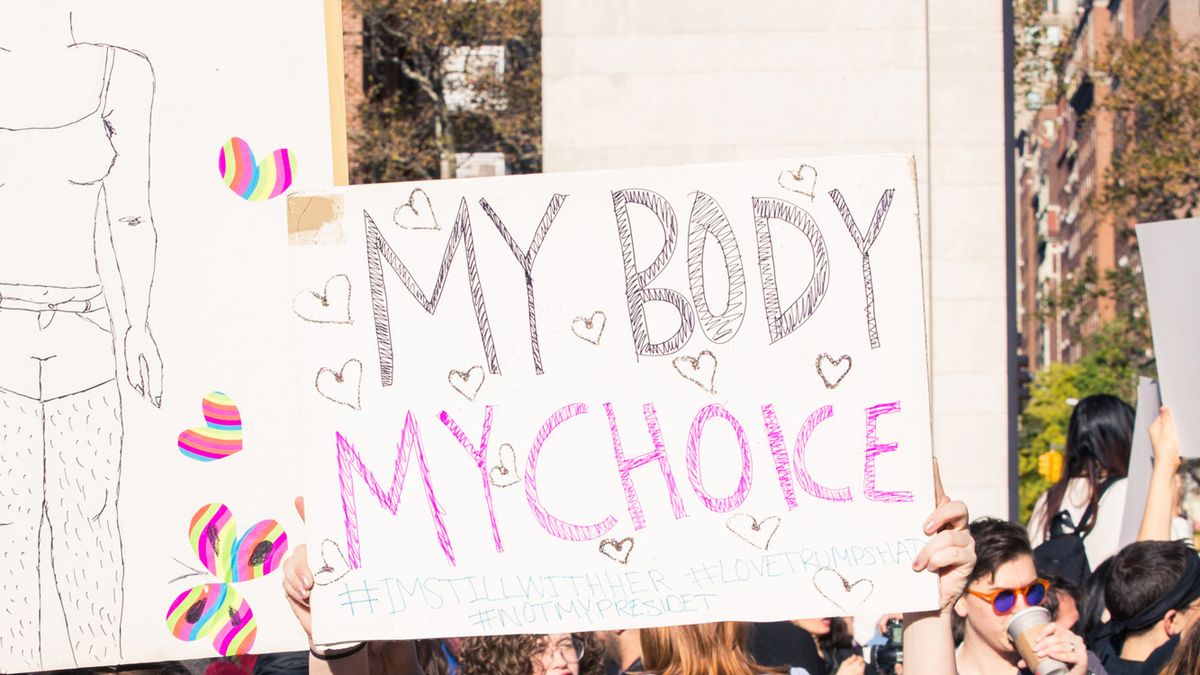 Health
Expert knowledge from the DC Abortion Fund.
Despite securing the right to abortion via the landmark Supreme Court case Roe v. Wade 45 years ago (!!!), many people still face overwhelming restrictions to abortion care access. Since the ruling in 1973, anti-abortion legislators have chipped away at reproductive rights across the country under the guise of "women's health." From pushing waiting periods on people who have already made up their minds about what's right for them, to enacting Targeted Regulation of Abortion Providers (TRAP) laws with the sole purpose of closing abortion clinics, the wave of abortion restrictions has whittled away access for countless pregnant people nationwide.
At the DC Abortion Fund—and abortion funds across the country—we help make abortion accessible through grants to pregnant people who cannot afford the full cost of the procedure. The team works with area clinics and funds around the country to provide small grants that bridge the gap between what patients can afford and the full cost of an abortion. Patients call our confidential message-based helpline and work with our trained volunteer case managers, who help estimate how much a procedure will cost, assess financial need, and discuss funding options.
Despite the information and resources available to patients through the DC Abortion Fund and other abortion funds across the country, there are still huge misunderstandings about abortion itself.
---
1. Almost 90 percent of all U.S. counties don't have an abortion provider, forcing patients to travel out of state to get the care they need.
2. More than one quarter of all abortion restrictions enacted since Roe v. Wade have been passed since 2010.
3. The average cost of a first-trimester abortion is about $470—a cost that is out of reach for the majority of Americans. Far too many people have their access to abortion delayed or denied because of their income or insurance status.
4. Patients often delay their abortions to raise the money they need. These delays can force them into more expensive and complicated abortions later.
5. There are costs beyond the actual abortion procedure. Consider lost wages, because most of the people we help don't have paid sick leave or vacation time, and there are often childcare costs involved if they already have families. If someone is traveling from out of state—which is increasingly common due to a lack of providers and the increase in the number of states imposing waiting periods—they're also paying for travel and a hotel.
6. People are certain about their decision to have an abortion. In one recent report, 95 percent of patients who had abortions felt that it had been the right decision.
7. There are transgender, non-binary, and gender non-conforming people who need abortion access and reproductive health care, and society's assumptions about gender can often make that difficult. Some trans people may feel uncomfortable talking to their doctor about their health, and some doctors may not provide welcoming, compassionate care to trans people. This makes it more difficult for trans people to learn about or be able to access the sexual health care they need.
8. Many patients already have children of their own. Almost one-third of our callers reported having a child or several children already and were making decisions about abortion based on what's best for their families. Nationally, more than half of abortion patients are already parents.
9. The question of whether or not to get an abortion is a question for only the pregnant person. No one else should get to decide that—not a room full of politicians, not a partner, not economic circumstances, and not a zip code.
If abortion is legal but inaccessible, then it's only really a "right" for those with money and privilege. The fight for abortion access is intrinsically intersectional—issues of economic justice, racial discrimination, immigrants' rights, criminal justice, religion, the environment, and a host of other concerns directly affect pregnant people and their decisions. To make sure patients are able to access the abortion care they need, we need to talk about abortion openly, eliminate stigmas around the procedure and the people who choose it, and advocate for policies that broaden abortion access.
Consider getting involved by donating or volunteering with a local abortion fund or participating in abortion storytelling initiatives like We Testify that are shifting the way we understand the context and complexity of accessing care.
Want more stories like this?
One-on-One with Planned Parenthood's Cecile Richards
Meet the Woman Who Has Made a Career Fighting for Gender Equality
Here's What You Learn After Three Decades Fighting for Women's Rights