How to Spend Over $30K in Berlin in 24 Hours
And how to have an amazing time for under $100, too.
Travel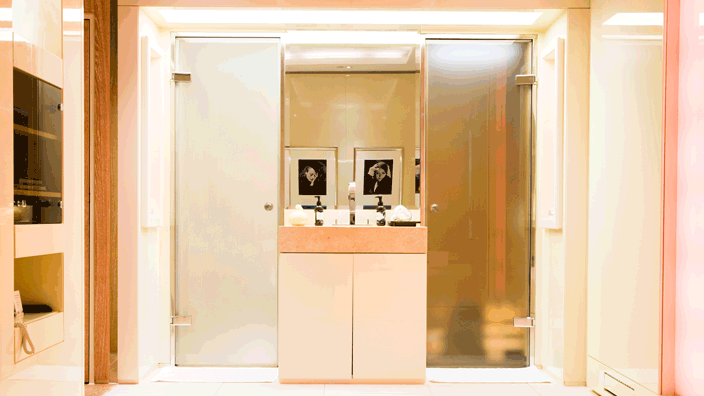 I spent my 21st birthday in Berlin—it was during spring break of my junior year of college, and everyone I knew was going to Puerto Vallarta, Mexico. But because going to a glorified frat party on an island with my entire class sounded like the last thing I wanted to do, I went to Berlin. 
I spent every year since I visited wanting to go back—Berlin reminds me of the New York my parents talk about growing up in. When I returned to Berlin this past October, I was given the task of finding out how to spend an exorbitant amount of money in one day (if you have or dream of having $15,000 to spare in Aspen or $24,000 in Iceland, here's how!). In the travel section of The New York Times in a 2015 piece called "The $2,000-a-Day Berlin," the author, Charly Wilder, found that "spending the equivalent of $2,000 in 24 hours in Berlin just wasn't possible." I, too, found it to be incredibly difficult. What makes Berlin great is that the best parts about it—the ambiance, the parties, the people—are free. But just like any other European city, there is still luxury to be found, it's just a little harder and sometimes hidden behind alleyways. So whether you're looking for the most expensive, or the least expensive day, here is how to spend anywhere from $100 to $30,000 in Berlin.
---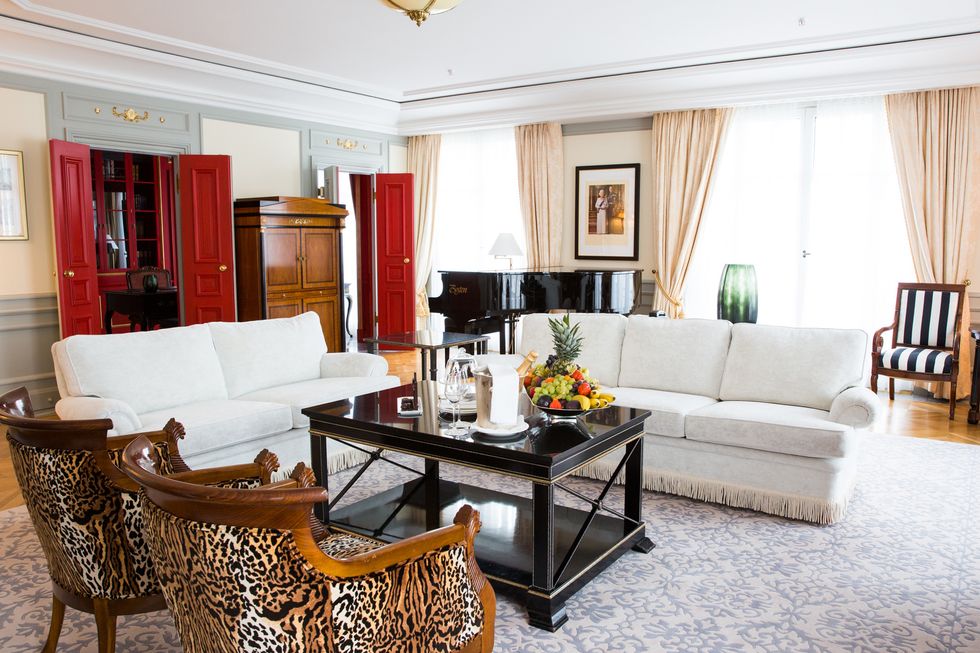 How to spend lots of money on a hotel: Hotel Adlon Kempinski
If you're planning on channeling your inner Meghan Markle anytime soon, this hotel is for you because it was quite honestly made for royalty (political and musical). It's where Obama stayed when he famously announced, "America has no better partner than Europe," and where Michael Jackson stayed when he infamously dangled baby Blanket out the balcony. It's also where Queen Elizabeth II and most celebrities stay whenever they visit the city. The legendary hotel looks over the Brandenburg Gate and is located on Unter den Linden, the main boulevard in the central Mitte district, which feels like a German version of Manhattan's Soho (lots of stores, boutiques, and coffee shops). The Royal Suite has an amazing view of the Brandenburg Gate, a dining room, office, master bathroom, and bedroom, with a live-in butler. A LIVE-IN BUTLER. This luxury will cost you about $30,780 a night (that is $1,282.50 an hour), but you'll also suddenly have something in common with the royal family of England, the most missed POTUS of all time, and the King of Pop. If you'd like to experience one of the most famous hotels in Europe but don't have thousands to spend, a non-royal suite starts at about $290 a night.
How to spend almost no money on a hotel: MOXY Berlin
Staying at a MOXY hotel is like staying at an inexpensive AirBNB, except there is almost a 90 percent chance your stay will involve an insane party with feather boas, an actual boa constrictor, or Rihanna (she hosted her after-party for the FENTY Puma FW18 show at the Moxy Times Square). The hotel brand is very much geared towards millenials, with a room that provides everything you really need (a bed, a shower, a large photo of a girl covered in neon pink paint) with no unnecessary odds and ends, and a lobby that feels more like a cool bar (well, it is also a bar) you'd want to hang out at anyway. Rooms start at $65 and the first drink is on the Moxy.
---
SPA
---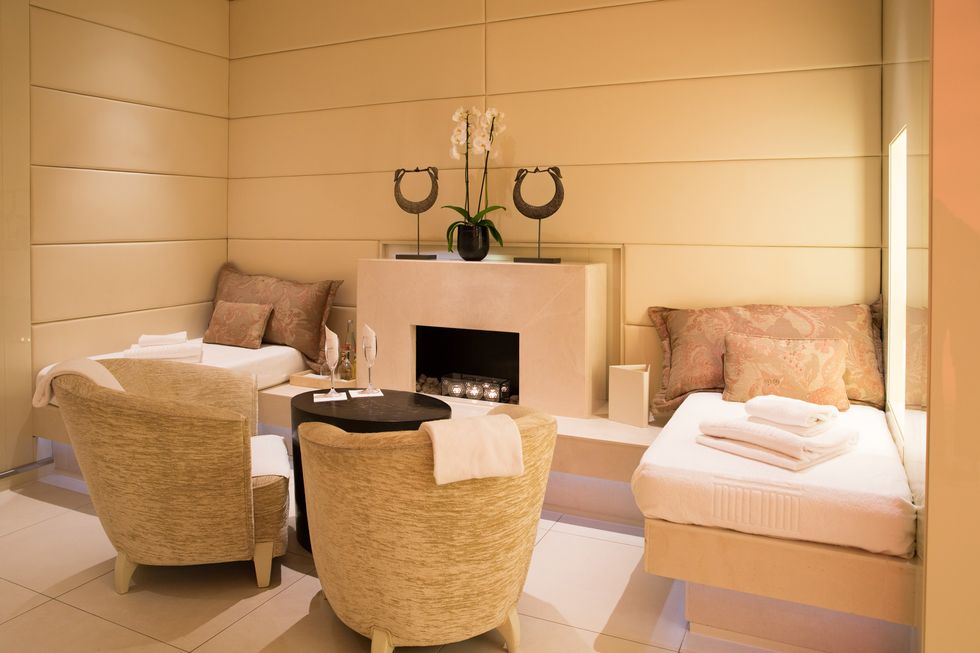 How to feel very fancy and refreshed, like a celebrity: Signature facial treatment Cellular Swiss Crystal Ice by La Prairie at Hotel Adlon Kempinski
The night before I received this treatment at Hotel Adlon Kempinski, I only got three hours of sleep. Not because I was holed up at Berghain, but because I was doing lots of work in my very cozy bed at the aforementioned Moxy. Needless to say, when I arrived at the Hotel Adlon Spa, I did not feel or look great. I had begun to break out around my chin, and my dark circles were so prominent, I can't decide which made me feel more self-conscious. This cellular facial treatment, though, was one of the best I ever received, and I couldn't have imagined getting it on a better day. I was almost instantly lulled to sleep by the face massage given using clear and rose quartz crystals, and I woke up from the sixty-minute treatment with a face so bright I almost couldn't recognize myself. The facial will cost you about $200, but will also pretty quickly erase any signs of jet lag, hangover, or exhaustion (all of which are likely side effects of a few days in Berlin).
How to feel cleansed by booze, like a local: Go dancing at Berghain
Berlin is a city known for its nightlife, and it's pretty evident partying is what everyone there does whenever they can—whether they've had a very good or very bad day. Dancing and drinking, most likely to the tune of eclectic and obscure Euro techno beats, is how they relax and rejuvenate. Dancing does involve sweating, and that does release toxins...so it's kind of like the German version of our American juice cleanse.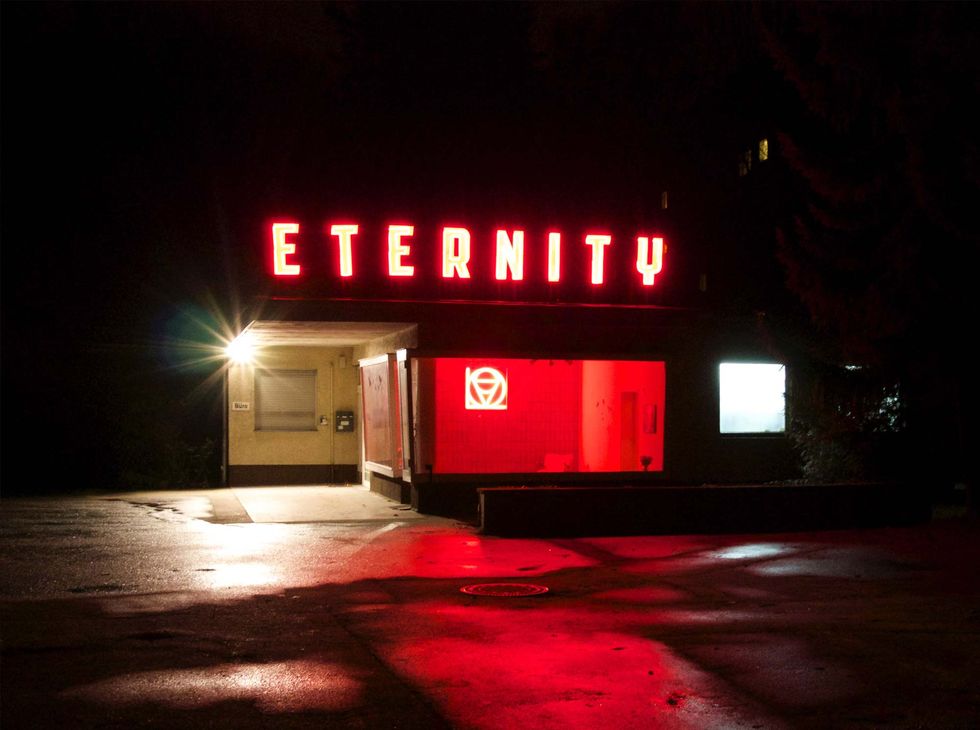 Photo: Courtesy of Niche Art and Architecture Tours
How to look like you know everything about Ludwig Mies van der Rohe and collect Gerhard Richter paintings: Niche Art and Architecture Tour
Aside from its nightlife, Berlin is also known for being a creative city where everyone looks somewhat like an artist regardless of whether they are actually an artist or not. It's easy to feel overwhelmed while walking around, because every corner is literally covered in art and there seems to be an endless amount of galleries to visit. That's why three local art historians decided to start Niche, which provides private and personalized art tours. You can take one each time you visit the city, and it would be different, since they not only cater it to what you like and what you've seen, but also heavily focus on the innovative architecture and the newest emerging art spaces. If you want to learn enough art history to be able to walk around with a friend and point at art with authority, you can book a Niche tour for around $310. You can even add on a chauffeur if you want to feel extra bougie.
How to be an art-lover without setting foot on a tour or in a museum: East Side Gallery Berlin
And even if it's worth it to book an art tour (albeit obviously expensive), you can enjoy art in Berlin very easily for free. The entire city is covered in colorful graffiti that's as beautiful as what you would see in a museum, and it's an immediate reflection and manifestation of the times (like the wheat-pasted posters asking Google to stay out). There's also the East Side Gallery, which is the largest and longest open-air gallery in the world, with over 105 paintings by artists from all over. My God, Help Me to Survive This Deadly Love, the painting of Leonid Brezhnev and Erich Honecker kissing, which you've probably found on a corner of the internet somewhere, is here.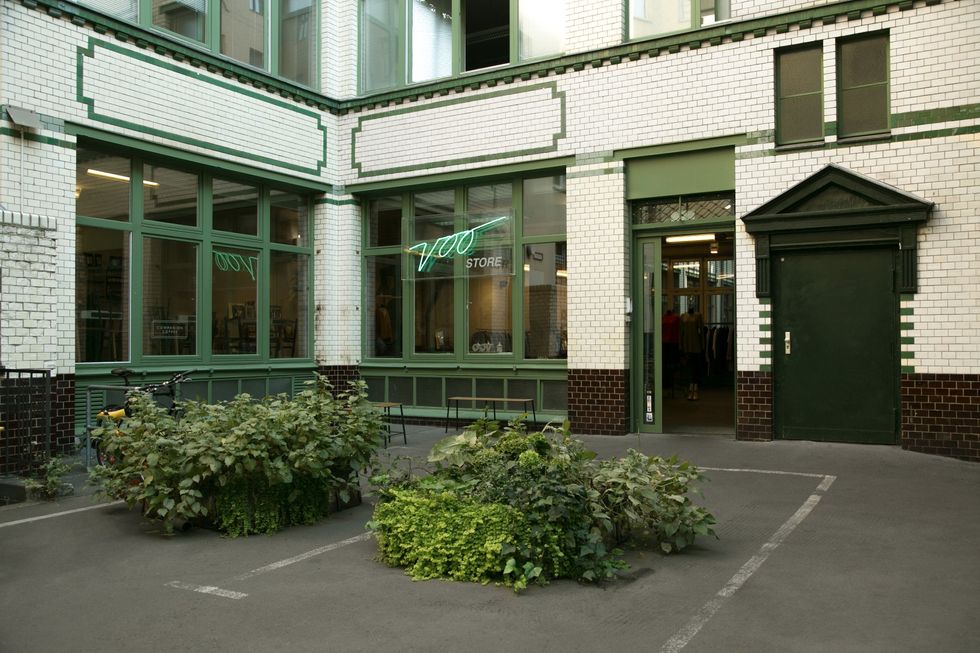 Photo: Courtesy of Voo Store
How to spend all of your money on really pretty things: Voo Berlin and The Store
Everyone in Berlin looks really fucking cool, which will likely make you want to do and buy crazy things while you're there. Some would argue Berliners are just born with it, and some would say it's just because they have really good taste. Stores like Voo Berlin and The Store (located in Soho House Berlin) have some of the best curated designer selections with everything from those starry Vetements platform boots to a Doner Kebab (aka very delish turkish dish) shirt from a local brand. Each store also has a selection of magazines, art books, and coffee drinks, which means you can spend all of your day and money in one spot.
How to buy a lot of one-of-a-kind pieces with very little money: Flea Market at Mauerpark
For someone visiting from New York, this flea market that happens every Sunday feels like a combination of Smorgasburg and Artists & Fleas. There's great street food, but also amazing vintage furniture and clothing shopping. And it's not the kind of vintage that's just as expensive as designer; there are some stands that sell jackets for 15 Euros and records for one. It's almost a guarantee you'll leave here with something and it'll be a piece you've both never seen and would never be able to find anywhere else.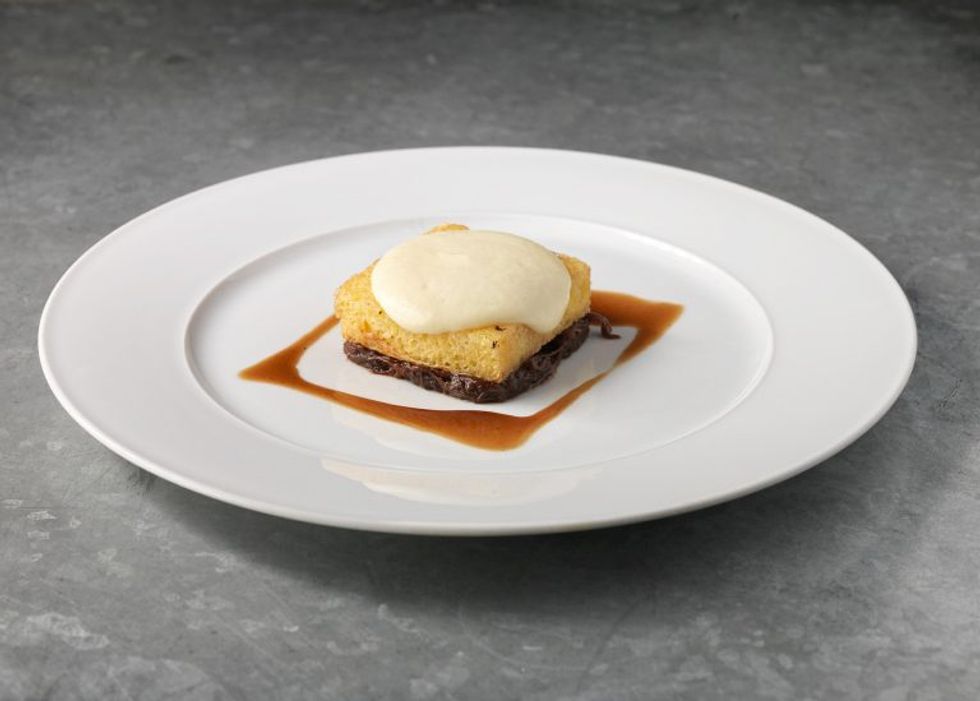 Photo: Courtesy of Cookies Cream
How to eat your weight at really interesting restaurants with really extravagant menus: Cookies Cream and Coda Berlin
A round of drinks in New York costs about as much as a whole meal in Berlin, and it's actually much easier to find a cheap restaurant than it is to find an expensive one. That being said, an expensive meal isn't all that expensive, which means you don't have to feel all that guilty indulging in one or two or three pricey meals by Berlin standards. Cookies Cream is absolutely worth it for the insanely good and creative all-vegetarian menu, and the fact that it's an adventure in itself. The restaurant is hard to find and hidden in an alleyway where a huge chandelier illuminates the way once you approach it. Once you're inside, a meal will cost you a little over $100.
Definitely stop by Coda Berlin the next day, and enjoy dessert as dinner for a completely different but just as elaborate culinary experience. The tasting menu features six desserts and drink pairings for about $120. But each dessert is made from unexpected ingredients like coal dust and tomatoes. The result is sweet dishes that actually aren't that sweet and more than satisfy your craving for "real" food.
How to order more food than you could possibly consume for $20 or less: Almost any Vietnamese or Turkish place you pass on the street
When I first visited Berlin, I ate almost exclusively (aside from going to Cookies Cream, which I had booked weeks in advance) at Turkish and Vietnamese restaurants we stumbled across. There are a lot of immigrants from Turkey and Vietnam living in Berlin, and their authentic cuisine is everywhere and very good. A Doner kebab, which is essentially a Turkish gyro with meat (or no meat, if you are a vegetarian like me and ask politely) a delicious secret sauce, veggies, and sometimes french fries, can cost you about $5 or less. A really big bowl of Vietnamese noodles will set you back about the same amount, and it's almost guaranteed you'll have some to take back home and save for a late-night snack (it's Berlin, after all; you'll need it). The best part of eating this way is that you don't have to think that much about it. These cuisines are a Berlin specialty, and almost any place will provide you a dish you'll talk (and dream) about back home.
Want more stories like this?
How to Spend $15K in Iceland in 24 Hours
How to Go on a Honeymoon by Yourself in Honolulu
After a Near-Death Experience—I Went to Hawaii