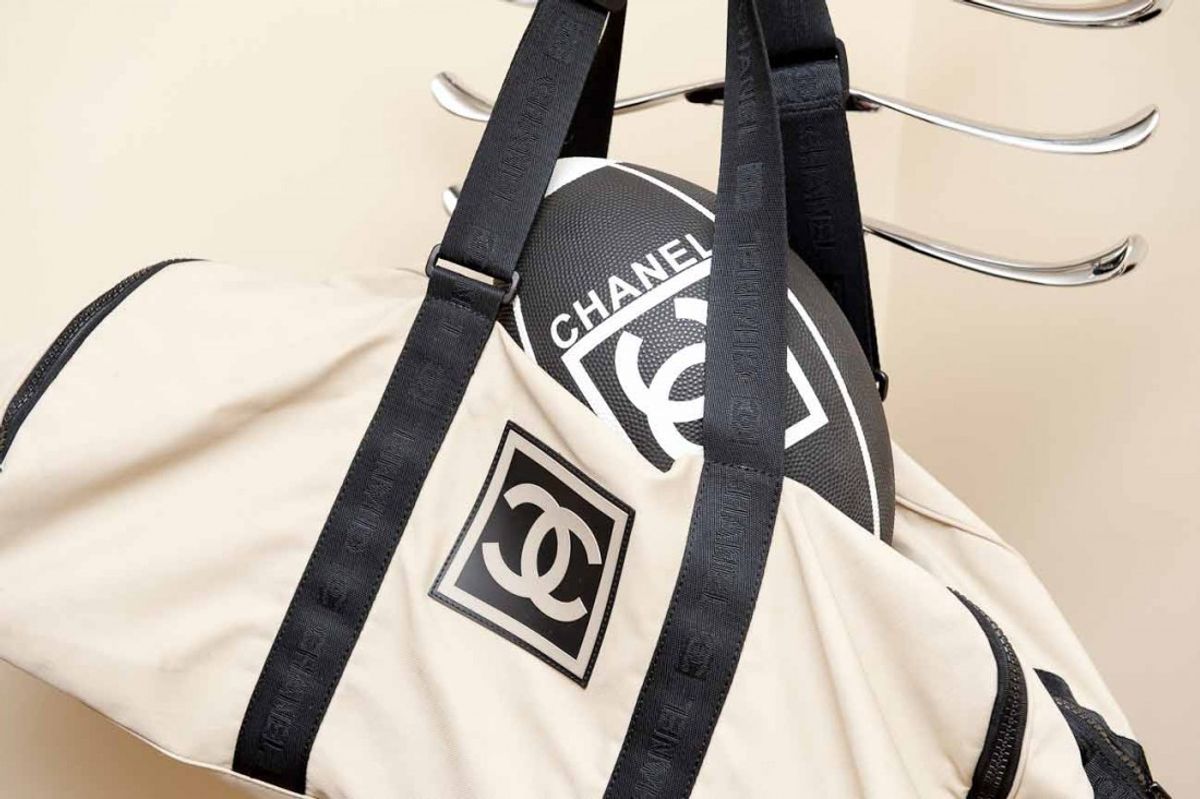 Food
According to the Sakara Life girls; because there's no way we're not going to indulge.
You might have heard of this little thing—the Super Bowl? Yeah, about that.
Despite having a collective sports knowledge that pretty much fizzles out after the shortlist of athletes with namesake Nike collaborations, like clockwork, we find ourselves being dragged to some sort of spirited Super Bowl viewing. And while we're able to rally some semblance of a fired-up attitude after a cold beer and a few chicken wings, sometime after the halftime show things cross over to a dark place. One where we find ourselves mindlessly eating lukewarm jalapeño poppers and stale nachos.
In the interest of attempting some semblance of balance, we tasked the Sakara Life girls—whom you'll remember previously schooling us in how to order cocktails, weird beauty treatments, and the best, ahem, drunk food—with how to get into the five-layer dip and not hate ourselves afterwards. They're Oprah-like like that.
---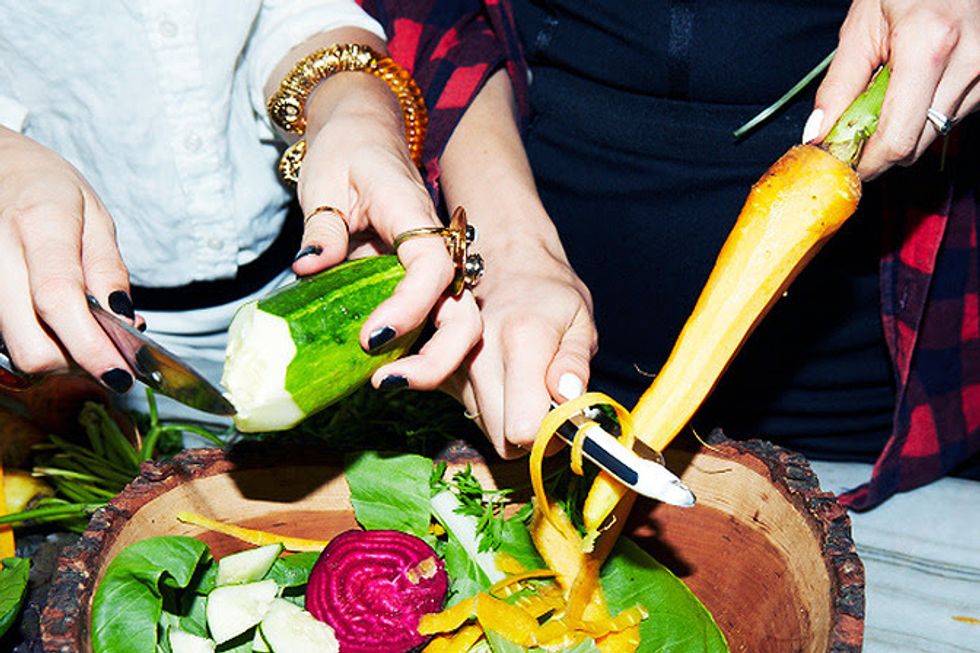 1. Start Your Day Off with a Bang
The Superbowl doesn't start until 6:00 P.M., so as much as you want to write Sunday off as day debauchery, you have the vast majority of Sunday to treat your body well and prepare it for the feasting that is going to ensue. Fill your day with whole-food goodness that is going to get your body in tip-top condition: hydrating greens, cleansing superfoods, and plant-based protein. Stay away from anything processed, fried, and salty (there's plenty of that in your near future). Bonus points if you incorporate a metabolism-boosting sweat session into your day. Our faves? A slow, conscious workout with a mind-body connect like modelFIT, or a wild, let-loose session like The Class with Taryn Toomey.
2. Be That Person
You know, the one that orders the veggie platter at the bar, brings the salad to the party, and eats all the garnishes off the dishes because they're green? Yeah, be her. This doesn't mean you have to munch solely on celery sticks while lustfully eyeing that melty plate of nachos; this just ensures that you are getting the best of both worlds—providing you with a little bit of balance on an otherwise heavy and salty evening. Nutrient-rich whole foods will give your body some extra love before, during, and after you dig in.
3. Plate Everything
The largest culprit to feeling like absolute crap on a night like this is the mindless eating. Whether we're stressed, bored, distracted or, well, drunk, most of us have that robotic hand-to-bowl, bowl-to-mouth practice down pat. And before we know it, the bag of chips is empty and we're pretty sure no one else touched it… Put everything you eat on a plate, so that you have an idea of how much you are consuming, and can keep on eye on things before you're hunched over in the corner not feeling so hot.
4. Pick Your Poison
When football is involved, our options of fried foods are endless. Rather than graze on the french fries, onion rings, potato skins, and pigs in a blanket, choose the one that really lights your world on fire. Those other guys can take a back seat for tonight. Remember that there's always a lighter option—see our SAKARA Superfood Popcorn for a belly-friendly version of the pre-game snack.
5. Lend a Helping Hand
Alcohol is pretty exhausting for your body to deal with, and combining that with processed foods for the evening means it's going to be in desperate need of a vacation. Giving your body some support throughout the day will help everything move along more efficiently, so that it is better prepared for the shitshow. For this type of event, our go-tos are Floracor (prebiotic-probiotic blend that ramps up your body's digestive abilities) and CALM calcium + magnesium supplement (to help swiftly eliminate all of the junk out).
6. Boost with Lemon Water
Between the beer, fried foods, and salt bombs, your tummy is going to feel the consequences later that night and well into the next day. Drink water throughout the entire morning, afternoon, and evening. In between beers, in between dips, in between plays. Squeeze some lemon into it for a little bit of inflammation-fighting, metabolism-revving powers that will help your body de-bloat.
7. Be Picky
There are little swaps here and there that will make a whole world of difference. We're talking leggings/oversize sweater for the next week vs. jetting down to Miami to show off your beach bod…
Here's our cheat sheet:
1. Superfood Popcorn over potato chips
2. Veggie sticks over mozzarella sticks
3. Bean dip over queso dip
4. Guacamole over french onion dip
5. Greek yogurt over sour cream (but really, just skip it altogether…)
6. Sweet potato fries/chips over regular fries/chips
7. Vegetarian chili over cheeseburgers
8. Kale fritters over chicken nuggets
9. Fully loaded vegan nachos over regular nachos
10. Sakara Iced Tea Margarita over beer
8. Put Your Game Face On
Football games are LONG, and the Super Bowl is even longer (thank you, halftime show). Most of us don't get any action during the game, except for that hand-to-bowl bicep extension. Get super into the game—stand up, clap, jump, yell, and chest-bump into one another, indulge in plenty of ab-strengthening laughter spells, challenge someone to a push-up contest. We're not suggesting you make your own halftime show in the bathroom stall in order to get your heart pumping and sweat trickling, but hey, we're not ruling it out either. Get creative, and get moving.
9. Have a Morning-After Plan
Chances are high that you may wake up Monday morning feeling those blues a little heavier than normal, and that your body will be sending you signals to get your hands on something fried and salty to get your blood sugar back up and get those good feelings rolling back in. Have a plan ahead of time for exactly how you are going to start your Monday to guarantee that you get back on track. We suggest something metabolism-boosting and cleansing (like our detox tea with some added turmeric, ginger, cayenne, and raw honey) followed by plenty of dark, leafy, dreamy greens.
10. Don't Sweat It
It's one night. Your body can handle it. Don't make its job even harder than it already is by stressing out, feeling guilty, and sending it hate. You guys are on the same team, so love it unconditionally and it will work (and even shape!) its butt off for you. If you start to stress over how many chips you've had, say to yourself, "I love and accept myself exactly as I am right now."