WWWRN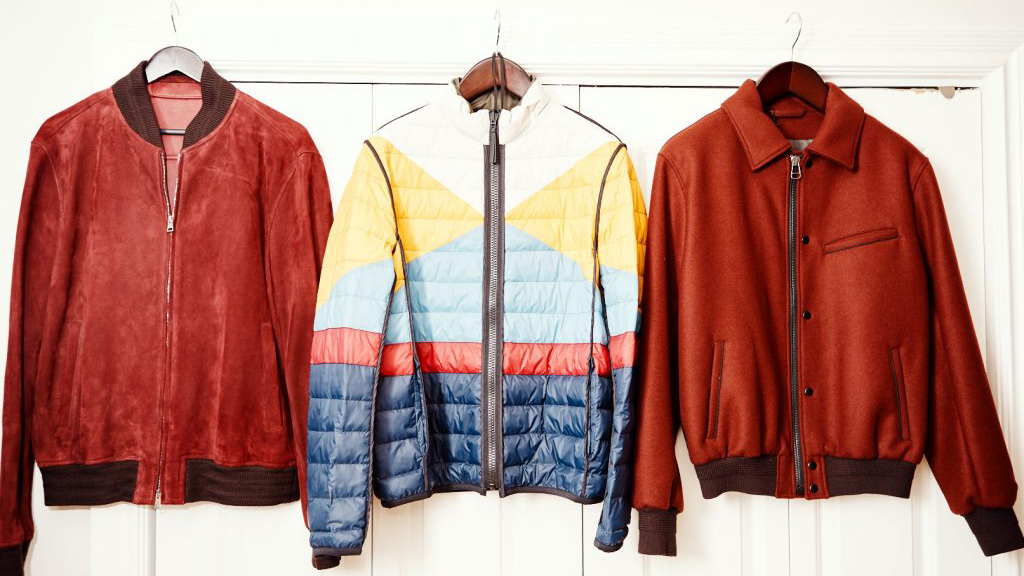 24 Jackets You Don't Own but Should
From a vintage John Galliano to the classic puffer.
When it's as cold as it is right now in NYC, one's outfit is only seen by a few people—roommates and significant others at home, colleagues at work, and...that's about it, unless you're brave enough to go out for dinner or to a party. But everyone sees your jacket: the aforementioned individuals, plus fellow commuters on the subway, shoppers at the grocery store, strangers on the sidewalk, etc. Some may complain that coats cover up the hard work that went into creating a *lewk,* but they're necessary and often come through in the clutch to hide spilled coffee and ripped seams. And considering your jacket is the item strangers will inevitably take note of when forming a first impression, it better be fucking phenomenal. Here are our current favorites, each guaranteed to elicit multiple double takes.
---
Tara Gonzalez
Assistant Editor
1. Scout LA Vintage John Galliano Cowhide Jacket: You know you really want something when you dream about it, and I dreamt about this vintage John Galliano jacket last night. I fell in love with it, but can't afford it and don't think it will fit my broad shoulders. Does that stop me from doing insane financial gymnastics in my mind to think about ways I can somehow buy it just so I can keep it hanging in my closet to love forever? No.
2. PSWL Raincoat: I love extreme weather conditions. If it's raining or snowing, you can see me dramatically staring out of a window, looking like I'm waiting for my husband to come back from the war. The only issue I have with the rain is how it ruins my fluffy coats and I don't really own a single piece of clothing I can just throw on because I don't care what happens to it. That's where this PSWL raincoat enters the dramatic rainy-day movie daydream. I love everything about it, from the pink color to the drawstrings to the way it looks with leopard-print flats (also not ideal for inclement weather, but whatever).
3. Allen Schwartz Brooklyn Overcoat: This year was the first year I ever bought a puffer, and it's the most magical Sandy Liang that's the coziest, puffiest, softest thing I've ever owned. Also, three people this week called it "fly"! But before I found the perfect puffer jacket, I would make myself warm by wearing thinner jackets and lots of layers. This pinstripe jacket is the perfect addition to any outfit, and I can wear it all throughout spring, too.
---
Leah Faye Cooper
Features Editor
1. Coach Leather Coat With Suede Detail: I recently learned that one of my good friends was unaware of how excellent Coach outerwear is (clearly I've failed her) and proceeded to send her link after link to their puffers, varsity jackets, and bombers. While doing so, I came across this, which in my opinion is the perfect leather coat.
2. Zoë Jordan Kari Jacket: I have a thing for Mongolian fur because...who doesn't? I'm dreaming of the day when it's warm enough to shed my knee-length puffy coat, but still cold enough to wear this incredibly cool and cozy jacket.
3. Burberry Faux Fur Jacket: Should I sleep on my sister's couch for two months and Airbnb my apartment so I can afford this jacket? (Rhetorical question; the answer is obviously yes.)
---
Brooke Bunce
Social Media Manager
1. Oak + Fort Coat H035: For those times when I'm feeling like a Wolf of Wall Street when in reality I'm more like a Sloth in SoHo.
2. Sandy Liang Snuggles Fleece: I'm going to be honest: The back pouch pocket might have sold me. You never know when you're going to get super hungry on the subway and need an easily accessible snack holder.
3. Petite Studio Nora Coat in Camel: Although I love boxy, oversize coats, our relationship can only go so far because it's hard to find the *perfect* fit on my barely 5'3" frame. Enter Petite Studio's made-for-short-gals garments, which leave me free to adorn myself in color-blocked coats that make me feel like a modern 1940s-era spy.
---
Hannah Baxter
Assistant Editor
1. Ganni Wool Felt-Trimmed Quilted Shell Down Jacket: This year I challenged myself to not wear a puffer coat no matter how cold it gets outside, but I think I was approaching my winter outerwear all wrong. Instead of shunning all puffy jackets, I just needed to find a cute, cropped, and colorful version rather than a walking sleeping bag. Enter this Ganni vision in reddish orange, my fav.
2. Suzanne Rae Faux Mink Coat: For the days I want to look extra as hell, but still be a friend to the animal kingdom. Add to cart.
3. Joseph Archi Brushed Wool And Silk-Blend Coat: Every woman needs a long, tailored power coat. I'll look and feel like a million bucks in this Joseph dream.
---
Jodi Taylor
Associate Editor
1. Stella McCartney Hooded Faux Shearling Jacket: While this jacket was most definitely not designed for below-zero weather, I'm happy to take the extra time in the morning to add two or three layers to my outfit in order to make it work.
2. Moncler Akebia Down Jacket: Does this not look like the warmest jacket you've ever seen? I love the puffiness of it, and due to the fact that it's black (but of course), I know it will go with absolutely everything in my closet.
3. MISBHV Plaid Wool Down Jacket: Pretty sure this jacket is the missing link to my winter wardrobe. Who knew it could be so easy to look chic while being incredibly warm at the same time?
---
Monique Kamargo
Photo Producer
1. Rag & Bone Preston Coat: My favorite thing about coats is their ability to magically make you look like you have your life together, when in reality you've woken up 45 minutes past your alarm and have been wearing your top inside-out for six hours without realizing it. This long blazer coat will make any outfit look more professional, polished, and put-together.
2. Isabel Marant Bulle Oversized Shell Jacket: My boyfriend often yells at me for continuously wearing jackets in the winter that provide me no actual warmth. While I insist that he just doesn't understand—while simultaneously complaining to him about the cold weather—I'm thinking it may be time to finally find a coat that provides both fashion and function. This one by Isabel Marant looks extra cozy.
3. Pixie Market Silver Oversize Puffy Coat: I love anything oversize and shiny. This silver puffer feels like a no-brainer.
---
Samantha Sutton
Editor
1. MSGM Floral Puffer Coat: Typically my winter coats have one main requirement: warmth. I hate, h-a-t-e being cold, and NYC is most definitely cold during these months (snowstorms seem to hit us hard every February without fail). But I'm also looking for a *cute* option as well, like this printed puffer from MSGM. Best of both worlds? Definitely—meaning it's well worth the investment!
2. DVF Faux Fur Collared Jacket: I'm not kidding when I say I have been looking at this Cookie-Monster-like jacket for months at this point, wondering if I should go against my savings plan and purchase yet another furry something. (Do I really need another? Um, yes. Yes, I do.) It *may* be in my cart as I type, and I'm about to check out in 3, 2, 1….
3. Ienki Ienki Pink Michelin Belted Puffer Jacket With Hood: I keep thinking I'm over millennial pink, but then someone like Gigi Hadid steps out in a pink puffer and makes me say, "Wait—I need that!" I'm currently lusting after this bright belted option from Ienki Ienki. But the question remains: Should I pair it with pink pants, pink booties, and a pink beret, top model style?
---
Sarah Conboy
Editorial Intern
Part of the series:
WWWRN